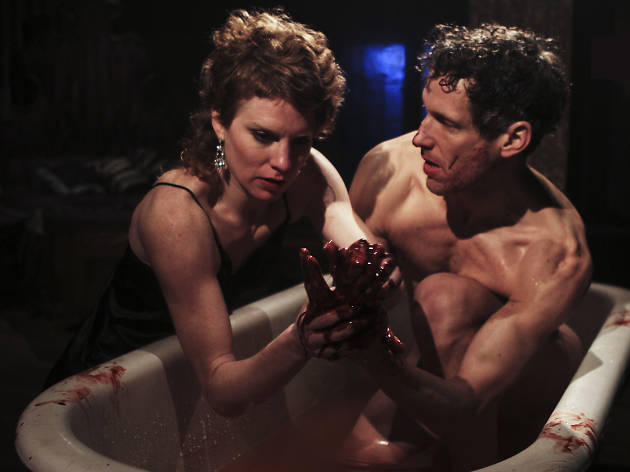 Time Out says
To untimely rip and paraphrase a line from Macbeth: Our eyes are made the fools of the other senses, or else worth all the rest. A multitude of searing sights crowd the spectator's gaze at the bedazzling and uncanny theater installation Sleep No More. Your sense of space and depth---already compromised by the half mask that audience members must don---is further blurred as you wend through more than 90 discrete spaces, ranging from a cloistral chapel to a vast ballroom floor. Directors Felix Barrett and Maxine Doyle, of the U.K. troupe Punchdrunk, have orchestrated a true astonishment, turning six warehouse floors and approximately 100,000 square feet into a purgatorial maze that blends images from the Scottish play with ones derived from Hitchcock movies—all liberally doused in a distinctly Stanley Kubrick eau de dislocated menace.
An experiential, Choose Your Own Adventure project such as this depends on the pluck and instincts of the spectator. You can follow the mute dancers from one floor to the next, or wander aimlessly through empty spaces. I chose the latter, discovering a room lined with empty hospital beds; a leafless wood in which a nurse inside a thatched cottage nervously checks her pocket watch; an office full of apothecary vials and powders; and the ballroom, forested with pine trees screwed to rolling platforms (that would be Birnam Wood). A Shakespearean can walk about checking off visual allusions to the classic tragedy; the less lettered can just revel in the freaky haunted-house vibe.
The only caveat I would offer is to attend Sleep No More fully rested: You need your wits about you. All the same, stumbling groggily up and down staircases and around darkened hallways gives the night the sludgy, abstracted aura of a nightmare. But is it your bad dream, or have you slipped inside Macbeth's?

Follow David Cote on Twitter: @davidcote
Details
Venue name:
McKittrick Hotel
Address:
530 W 27th St
New York


Cross street:
between Tenth and Eleventh Aves
Transport:
Subway: C, E to 23rd St; 1 to 28th St
Price:
$85–$170
Dates And Times
Average User Rating
3.8 / 5
Rating Breakdown
5 star:

6

4 star:

7

3 star:

3

2 star:

0

1 star:

2
I really though this would be an amazing experience but it wasn't. Listed below are all the problems I had with it along with all the good
"required coat check that we pay for"
-the first problem I had was the fact that its required to check your coat and purse but they charge you for it. The tickets were a gift and I went the same day I was given the tickets so I didn't go on the website before hand. I understand its required which is fine but don't charge people for it. There lucky I had cash on me because I honestly never do. I ask the guy why we had to pay if its required and he said he didn't know why and he gets asked that a lot.
"Took my purse, lost my business"
-before you enter sleep no more you have to wait in a bar. For spending so much on a ticket it shouldn't be 12 dollars for a glass of wine that itsnt even a great bottle. Plus it wasn't even a glass it was less than half. My wallet was in the purse that they took so sucks for them they lost my business there.
"Hard to follow the plays story"
-through out the play it gets very confusing, we didn't know any of the characters or what story was going on. Before the play they should of given a background story but I had no idea what was going on. Its also hard to follow the story since theres a ton going on at once. After awhile it looks stupid chasing a character around the whole building so we just started from the top floor and spent 30 min on each floor exploring working are way down to the other floors. This was the only thing that made our experience good and enjoyable. Most of the time we spent exploring was when we ran into characters the most.
"Actors are too good which sometimes makes them rude"
-while we had our own fun by just walking around and looking at stuff we ran into a lot of actors but in this one case they ran into us. This actor came darting in through the next door and slammed into my sister which pushed her into this bookshelf behind her. Of course his job is to stay into character and Im sure he didn't mean to do it but to me theres a line between acting and just being rude. At that point I didn't care about being quiet I kept asking my sister if she was okay and I felt like as a decent human being he should of apologize or at least whispered it.
"way too hot"
-it was very hot in the building I was so tempted to take my sweater off and show off my bra. Considering all the nude I didn't care at the point. I felt like I was gonna pass out. We went to the people in the black mask and they were very helpful they even walk us to the main bar and they have free water there which was great.
"My mask was hard to breath in"
-There is a mask required to wear and you can tighten it or loosen it. I had it on as lose as it could be and it was just pushing down on my nose. I could only breath through my mouth which gets exhausting plus considering all the steps they have. Almost the entire play I was holding my mask out because I couldn't take it. Im assuming other people had the same problem because there was a few people they took there mask off completely. If you do that the people in the black mask will tell you to put it back on.
"no phones, cameras everywhere"
-while in the play you cannot have phones out which I understand but for someone like my dad who owns a business has to check his phone often. there were phone booths and me and my sister where in there recording videos and playing on the phones they had which your able to do. We didn't see any cameras in there but they must of seen us on our phones and told one of the people in the black mask because we were in there for 10min before someone barged in and was come with me. we were confused because everything we were doing was okay except being on our own phones and we quickly ran away to the next floor. so they obviously take the no phone thing seriously
"the only good"
-Despite all the bad the only good was that the actors are good a bit too good and it was very immersive.
Helpful tips
-a ton of stairs, be prepared for a workout
-no phones at all
-very warm in the building
-pay 4 dollars to check purse and coat which is required
-have to wear mask at all times except when at main bar
-cant talk at all but only do it when no ones around
-the people in black mask are everywhere , but mainly only where the actors are. if you go in a room where no one is they won't be there to yell at you about talking or taking your mask off
-cameras everywhere, even in places you wouldn't think
-you can touch everything and open stuff, theres a candy store on the 4th floor thats with the play not a real one to buy from and you can eat the candy if you desire.
I hope this review was as helpful as it would have been for me prior to going
I finally got to experience this show after wanting to see it for years. Spoiler alert: The McKittrick is NOT an actual hotel. It's a huge venue with multiple floors where they throw this show and other incredible themed parties. My friends and I all dressed up, but we found Sleep No More has become so popular the audience was largely made up of tourists in Abercrombie sweaters and Velcro shoes. Get there a bit early to enjoy some time sipping absinthe drinks at the bar, and don't hold on to whoever you came with once you enter the show. Explore everything, don't run after the characters like a lot of people were doing—take your time, stick with what piques your interests and eat the candy in the candy shop! I did enjoy my time and haven't experienced anything like this, but I also felt the show went on a bit too long.
Let me say that if you aren't into artsy or experimental stuff you aren't going to like this. The theater company did a great job of making this a once in a lifetime, surreal experience though. Creepy and beautiful at the same time. If you're expecting a story/narrative you can follow, don't. If you try your best to follow the main group of actors around you'll get a whole different experience, which is what my friend chose to do. I spent more time looking at the sets and peeking in drawers, getting pulled into back rooms and following minor characters around. Supposed to be loosely based of Macbeth though I don't really know how. If you're looking for a unique experience definitely go but I don't think it's what most people are expecting.

Cool and unusual for sure, and I thought all the characters/actors were wonderful. As a whole though, it didn't live up to the hype for me, and I got a bit bored. I also went to this for a group work outing, not so much by choice, (if you're in a group, you WILL get split up). I expected a bit more, and don't think that the cost of the ticket price would be worth it again for me.
Disappointing on so many levels.
I have really mixed feelings about this place. It's like how sometimes you hear a song with some friends and say "Oh I love this song! Turn it up!" and then it starts playing and you remember you kind of hate this song but are conflicted about saying "Oh, never mind" after being so pumped about it 2 seconds ago. I say that because if a friend were to come to town I'd recommend SNM for sure. But I'm not sure I'd go with them... It's partly great because it's SO different from anything else in NYC. But in the end, I felt like I spent $100+ for my mind to be toyed with. It's a really intense psychological experience (even if you DON'T get pulled into a room and kissed by one of the actresses). I'd say, read up on what it is and decide if it's even interesting to you, but then prepare to have an experience you can never really prepare for, and perhaps to even feel manipulated. It also helps not to care about the ticket price... [5 stars for uniqueness and quality of set/attention to detail. -1 star for price/hype and super creepy, manipulated feeling I was left with afterward]
I love this experience, but hate how popular it has become. When going, please be respectful to the actors and the other people around. Pushing and shoving is very unbecoming.
Don't want to give any spoilers, just following the man covered in blood!!!
Worth every penny
Sleep No More had me in tingles and looking around in wonder the whole time. I've never been to a production like it. I went with a friend, and we split up and had two totally different experiences. Another friend has been 6 times and says it's been different every time. The production is mysterious, sexy and exciting. The talent of the dancers and actors and getting to be so close to them is intoxicating, and the atmosphere of the darkly decorated building completely transports you. Made me wish I was wearing a 1920s dress while there. If it wasn't so expensive, I would have been back many times by now.
A very unique experience where you are immersed into and a part of the story all the way through... Definitely go!
Hands down the coolest thing I have ever been to! From the moment you "check-in" to the McKittrick Hotel, you are thrust into a different time. The 40's vibe you get from the speak easy and the singer that croons up on stage is amazing. Absinthe shots and all sorts of other drinks are available for purchase. My friend did not want to split up at first but since our cards that were given to us were different numbers we decided to meet up later. Obviously, meeting up later happened on accident. If you want to bump into a friend after going in separately there are some opportunities where you will get to do so but make sure you remember what they are wearing because otherwise you'll never find them with the creepy white masks that everyone wears. Do not take your mask off; they (quietly) yell at you! I wandered off in hopes to get a one on one and I did with the taxidermist. I won't go into any details because what is the fun in that! If you love the thrill of running through six floors and chasing people anonymously; this is the place for you! Wear comfortable shoes and do your best to attend the latest show you can. The ending at 2 am is unbelievable!