Theater review by Raven Snook

As you enter through the sequined labial flaps of a vagina and slip down its hot-pink passage to the theater, you may assume you're in for a good time. But entertainment isn't all that co-conspirators Becca Blackwell and Amanda Duarte have on their filthy minds in Snatch Adams & Tainty McCracken Present It's That Time of the Month. A mock talk show hosted by a friendly, clown-nosed vulva (Blackwell) and a pervy, testicle-sporting taint (Duarte), this heavily improvised evening feels like a sex-ed episode of Pee-wee's Playhouse, rated NC-17.
Amanda Villalobos and Greg Corbino designed the appropriately outré costumes; Corbino's X-traordinary set—an oversize pair of spread-eagled legs—is accented with ovary chairs, spiraling fallopian tubes and bloody maxi pads. There are audience participation challenges, like a sanitary-belt-tying race and a herpes-sore toss. There are gross-out moments, including flying fake feces, extended fart noises and oatmeal (I hope!) depicting vaginal discharge. There are countless cooch-related puns, sketches and trivia. (It's astounding how ignorant some grown-ups are about vaginas.) And other people unexpectedly pop in, including a "slit crew" that helps with the gags and a different interviewee at each performance. (The comedian, singer and self-described "gynecological wonder" Bridget Everett was the special guest on the night I attended.)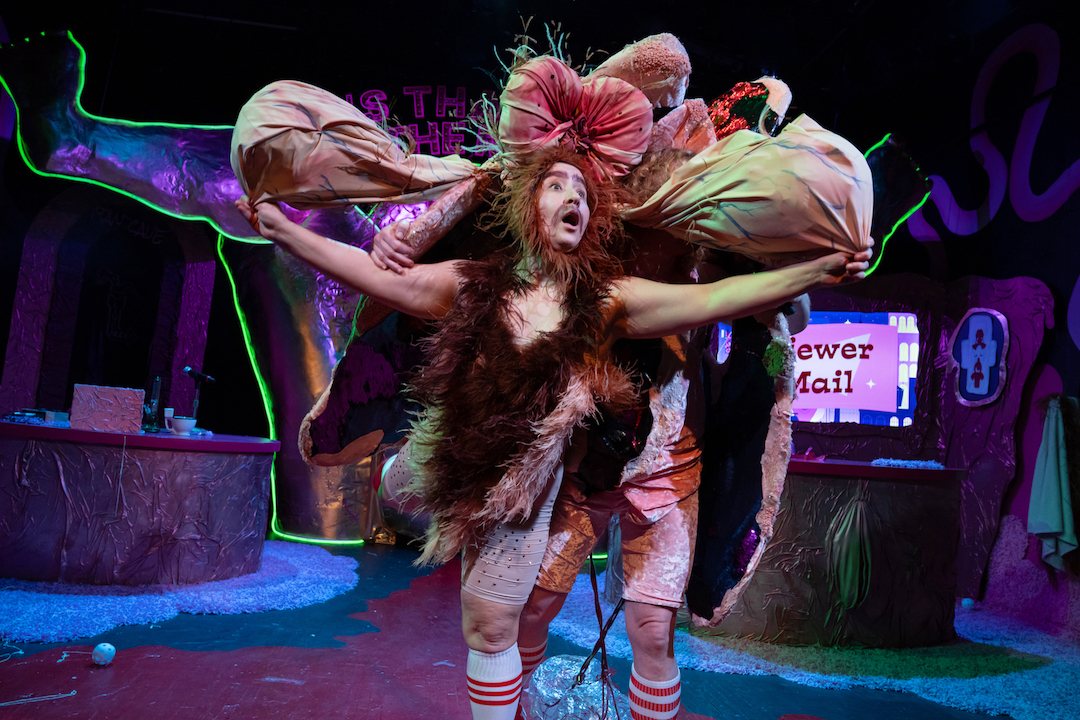 Snatch Adams & Tainty McCracken Present It's That Time of the Month | Photograph: Courtesy Julieta Cervantes
Underneath the shambolic fun and games are pointed lessons about the stigmatization of STIs, the wickedness of certain Supreme Court Justices and the terrifying recent setbacks for trans and reproductive rights. Directed by Jess Barbagallo, the show is overwhelming in both ambition and execution—I haven't even mentioned the music by Ad-Rock (of the Beastie Boys) or the retro animated interstitials by Derek Rippe—and there is so much going on that it's easy to get off track. Even Blackwell and Duarte don't always seem to know what's next; they're consistently charming and sometimes clever when speaking off the muff, but a more written-out script might help keep things tighter.

The show ends with a jolting shift of tone: a heartfelt monologue by Blackwell, a veteran trans writer and performer, about their experiences living beyond the binary in a world that is both hostile to gender nonconformity and obsessed with it. As the kookiness and camp fall away, these final beats of heart provide compelling contrast with the below-the-navel gazing that precedes them.
Snatch Adams & Tainty McCracken Present It's That Time of the Month. Soho Rep (Off Broadway). Written and performed by Becca Blackwell and Amanda Duarte. Directed by Jess Barbagallo. Running time: 1hr 30mins. No intermission.
Follow Raven Snook on X: @ravensnook
Follow Time Out Theater on X: @TimeOutTheater
Follow Time Out Theater on Facebook: Time Out Theater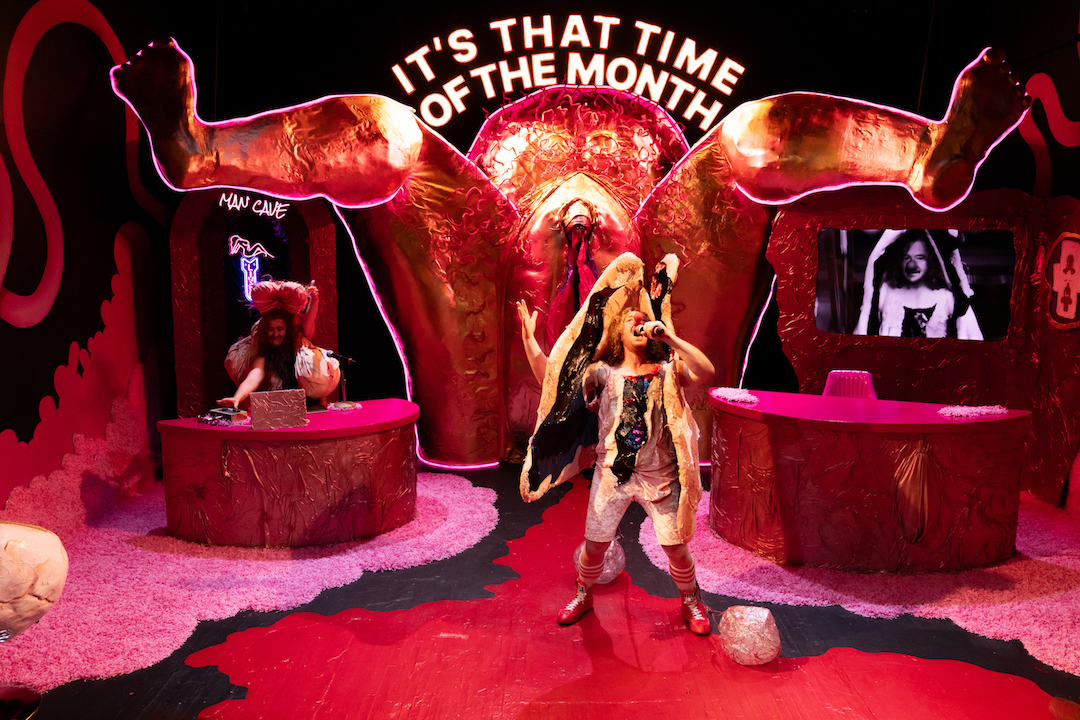 Snatch Adams & Tainty McCracken Present It's That Time of the Month | Photograph: Courtesy Julieta Cervantes