Heads up! We're working hard to be accurate – but these are unusual times, so please always check before heading out.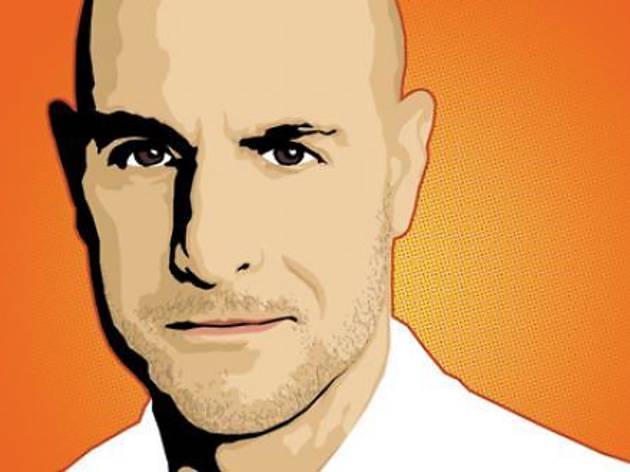 The Hot Seat: Stanley Tucci
He'll cook you dinner, but he won't go to the opera.
Stanley Tucci has always been an amazing actor, but he hasn't spent a lot of time in the spotlight. Maybe it's because his own features seem to dissolve into each character he plays, whether it's an ambitious restaurateur in Big Night (which he cowrote and codirected), the supportive husband of Julia Child in Julie & Julia, or the skeevy murderer in The Lovely Bones, which finally earned him an Oscar nomination. Beyond Hollywood, Tucci is a quiet powerhouse in the theater world. In 2003, he nabbed a Best Actor Tony nom for Frankie and Johnny in the Clair de Lune (one of several awards he's just missed), and this month, he directs his first Broadway show, a revival of the farce Lend Me a Tenor, which stars his old friend Tony Shalhoub. Between mouthfuls of breakfast on his way to rehearsal, Tucci taught us some lessons about life and losing gracefully, whether it's awards or hair.
RECOMMENDED: Full list of Hot Seat interviews
How tough was Oscar season, knowing that Christoph Waltz was the favorite to win Best Supporting Actor?
Listen, I don't necessarily believe in competition between actors. Maybe to get a job, but once you've got the job—[Laughs] you just go and do it as well as you can do it. The thing is: This guy is a great actor. That performance is extraordinary.
How did it feel to finally get the nomination, but for your creepiest part ever?
It's great—I'm proud of it. It was alot of work, and a lot of uncomfortable work, and I'm okay with the performance. So I'm very flattered.It doesn't really matter what the role is, it's how you do it.
So it's the same thing goinghome at the end of the day after playing a restaurateur as playing a murderer?
No, it's much more fun to play a restaurateur. You just need an extra martini after you play the murderer.Well, I wanted to congratulate you on great acting, as well as on an astounding mustache.My 1970s mustache. Thank you.
Are you a convert to facial hair?
No, I won't be growing a mustache.I usually keep a bit of stubble, since I have nothing on top of my head—I like to have some hair someplace.
When did you start losing your hair, and at what point did you just say, Screw it, and shave it off?
Well, it takes a while, because you don't lose your hair all at once. You kind of wish you would; it would be so much easier. I had classic male-pattern baldness, which is not necessarily very attractive. So you do get to the point where you just say, Forget it. I think that happened in my thirties.
But now you're a sex symbol for bald guys. Nobody's done that since Telly.
[Laughs] Well, someone had to do it.
Tenor stars Tony Shalhoub, who appeared with you in Big Night and that lost treasure Quick Change. Did you have him in mind when you were casting Tenor?
[With his mouth full] Absolutely. Excuse me, I'm eating my breakfast.
No problem. What's the breakfast of Stanley Tucci?
Today, I have to say, is questionable. It's a toasted bagel with ham and a fried egg. It's good, but I'll have a heart attack by the end of the conversation.
Don't worry, I have another line,I can call 911.
Good. So Tony was just right for the play. He is very adept at farce, and experienced onstage. He was the perfect person. When we work together we really can complete each other's sentences. When I did his show Monk, it was so much fun because we almost know what the other person is thinking at any given moment.
Tenor is a play about opera; areyou a fan?
No, it's not really a part of my life. [Laughs]
So then why this play?
I liked the performance aspect of the play and the heightened reality of it and the absurdity of it. I love anything with mistaken identity.
Have you ever had yours mistaken?
I always love when people think you're another actor. When I had hair years ago, I used to get mistaken for Andy Garcia. But now for the most part, no.
Hmm, you're not interested in opera, but what about food, which has come up in a couple of your films?
I'm food-obsessed.
I can tell from the ham and egg.
Yeah, the ham and egg. I'll go out of my way to get a great meal wherever I can. And I like to cook for my kids.
If this whole acting and directing thing doesn't work out, do you think you'll open a restaurant?
Listen, I'd love to have a restaurant, but not as the chef—people might flee.
Lend Me a Tenor begins previews Fri 12 and opens Apr 4.
You might also like
See more Hot Seat
See more in Theater