Broadway review by Adam Feldman
Ladies and gentlemen, dinner is served. Stephen Sondheim and Hugh Wheeler's 1979 Sweeney Todd may well be the greatest of all Broadway musicals: an epic combination of disparate ingredients—horror and humor, cynicism and sentiment, melodrama and sophisticated wit—with a central core of grounded, meaty humanity. But while the show's quality is baked into the writing, portion sizes in recent years have varied. Sweeney Todd's scope makes it expensive to stage; its 1989 and 2005 Broadway revivals (and the immersive 2017 Off Broadway incarnation) presented the show with greatly reduced casts and orchestrations. Not so for the thrilling version now playing at the Lunt-Fontanne Theatre, directed by Hamilton's Thomas Kail: This production features a 26-piece orchestra and a cast of 25 led by Josh Groban and Annaleigh Ashford. It's a feast for the ears.
Groban plays the title role: a Victorian barber, né Benjamin Barker, who returns to London after serving 15 years of hard labor for a crime he didn't commit, hoping to reunite with his beloved wife, Lucy, and their young daughter, Johanna. But as he learns from his practical neighbor Mrs. Lovett (Ashford)—who operates the squalid meat-pie shop below his old tonsorial parlor—Lucy poisoned herself after being assaulted by the same lecherous judge (Jamie Jackson) who sent him away, who is now the guardian of the teenage Johanna (Maria Bilbao). With help from Mrs. Lovett and his friend Anthony (Jordan Fisher), who has fallen for Johanna from afar, he plots vengeance on the judge—and, meanwhile, becomes a throat-slashing serial killer whose victims' bodies are put to savory use in Mrs. Lovett's bakery.
Cast against nice-guy type, Groban never quite achieves the coiled menace that could make his character actually scary (a razor-wielding madman should have a bit more edge), but he affectingly conveys the sense of a once-good man hollowed out by grief, and he sings with glorious clarity, range and finesse. And Ashford's performance is a triumph: with breathtaking originality, she mixes fresh comic personality—madcap, sly, performative, libidinous—with howlingly funny physical business, including a priceless bit on a staircase. Yet there are moments of real tenderness to her Lovett as well, especially in her quasi-maternal relationship with her dim but devoted assistant, Toby (Stranger Things's Gaten Matarazzo, in a touching turn).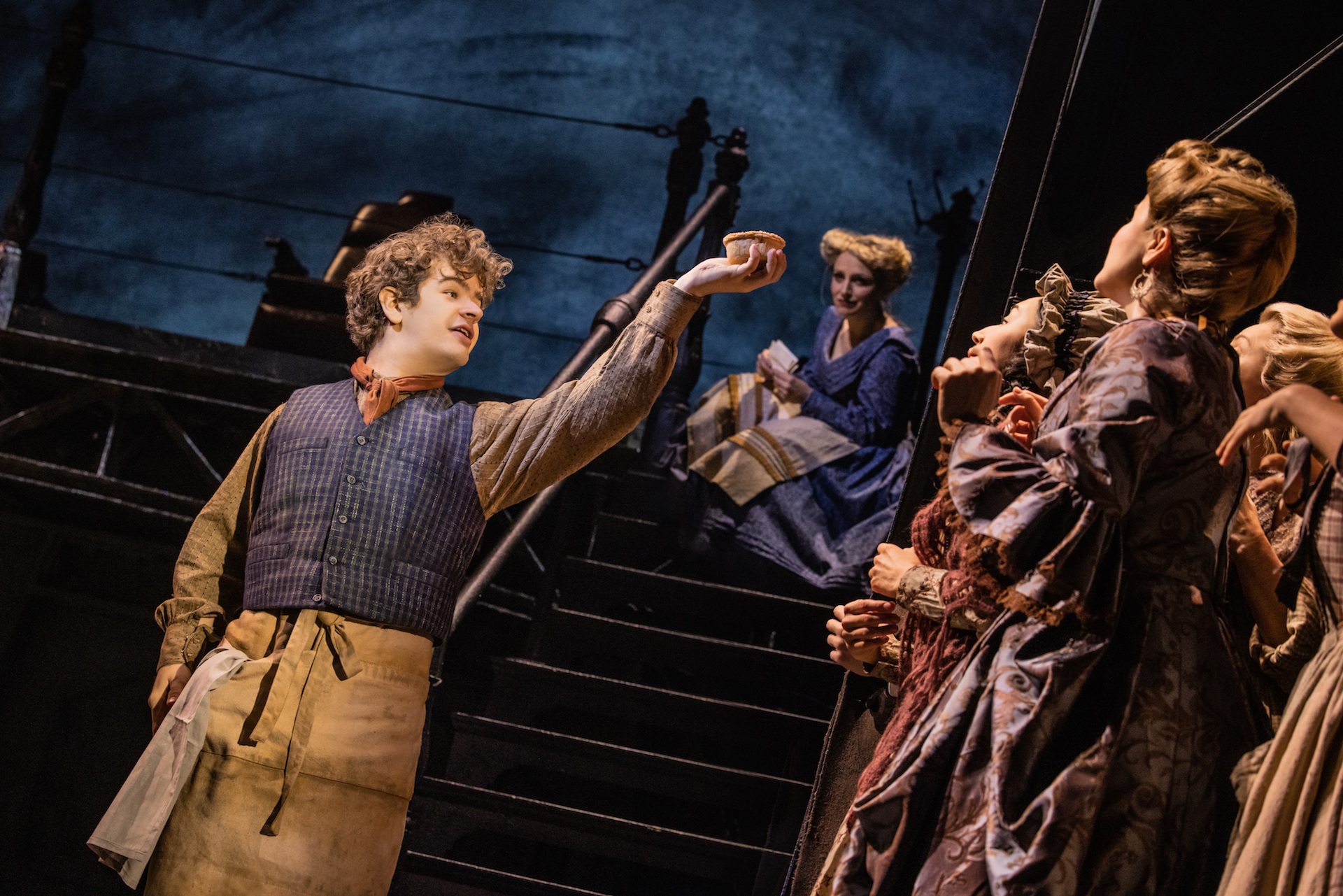 Sweeney Todd | Photograph: Courtesy Matthew Murphy and Evan Zimmerman
The balance of power between the two leads shifts Kail's production in the direction of dark comedy, with especially able assistance in that department from Nicholas Chistopher as the florid pseudo-Italian mountebank Pirelli. Ruthie Ann Miles brings poignant emotional variety to her role as a lewd beggar woman who suspects malfeasance at Mrs. Lovett's shop, and Jackson and Bilbao act as well as they sing, which is impressive in both cases. (Only Fisher's vacant sailor Anthony misses the boat.) I was not always sold on the synchronized movement that choreographer Steven Hoggett has devised for the ensemble, but it has the advantage of keeping the show kinetic even during its recurring sequences of chorus narration.
The storytelling is always clear, as was not the case with the smaller recent revivals, even though the size of this Sweeney's company seems to have left little room in the budget for production design; Mimi Lien's bilevel set—with its minimal furnishing, multipurpose rotating tower and amorphous gray background—is efficient but does little to evoke 19th-century London. (Emilio Sosa's costumes do help establish it, and Natasha Katz's lighting is first-rate.) You won't leave humming the scenery, but that's fine: The superb score, which melds period genres (operetta, music hall) with modern influences (notably that of Hitchcock composer Bernard Herrmann), is the main attraction, and it comes through gorgeously. Powerfully sung and played in Jonathan Tunick's original orchestrations, Sondheim's Grand Guignol masterwork sounds as grand here as it deserves to. Dig in.
Sweeney Todd. Lunt-Fontanne Theatre (Broadway). Music and lyrics by Stephen Sondheim. Book by Hugh Wheeler. Directed by Thomas Kail. With Josh Groban, Annaleigh Ashford, Jordan Fisher, Gaten Matarazzo, Maria Bilbao, Ruthie Ann Miles, Jamie Jackson, John Rapson, Nicholas Christopher. Running time: 2hrs 50mins. One intermission.
Follow Adam Feldman on Twitter: @FeldmanAdam
Follow Time Out Theater on Twitter: @TimeOutTheater
Keep up with the latest news and reviews on our Time Out Theater Facebook page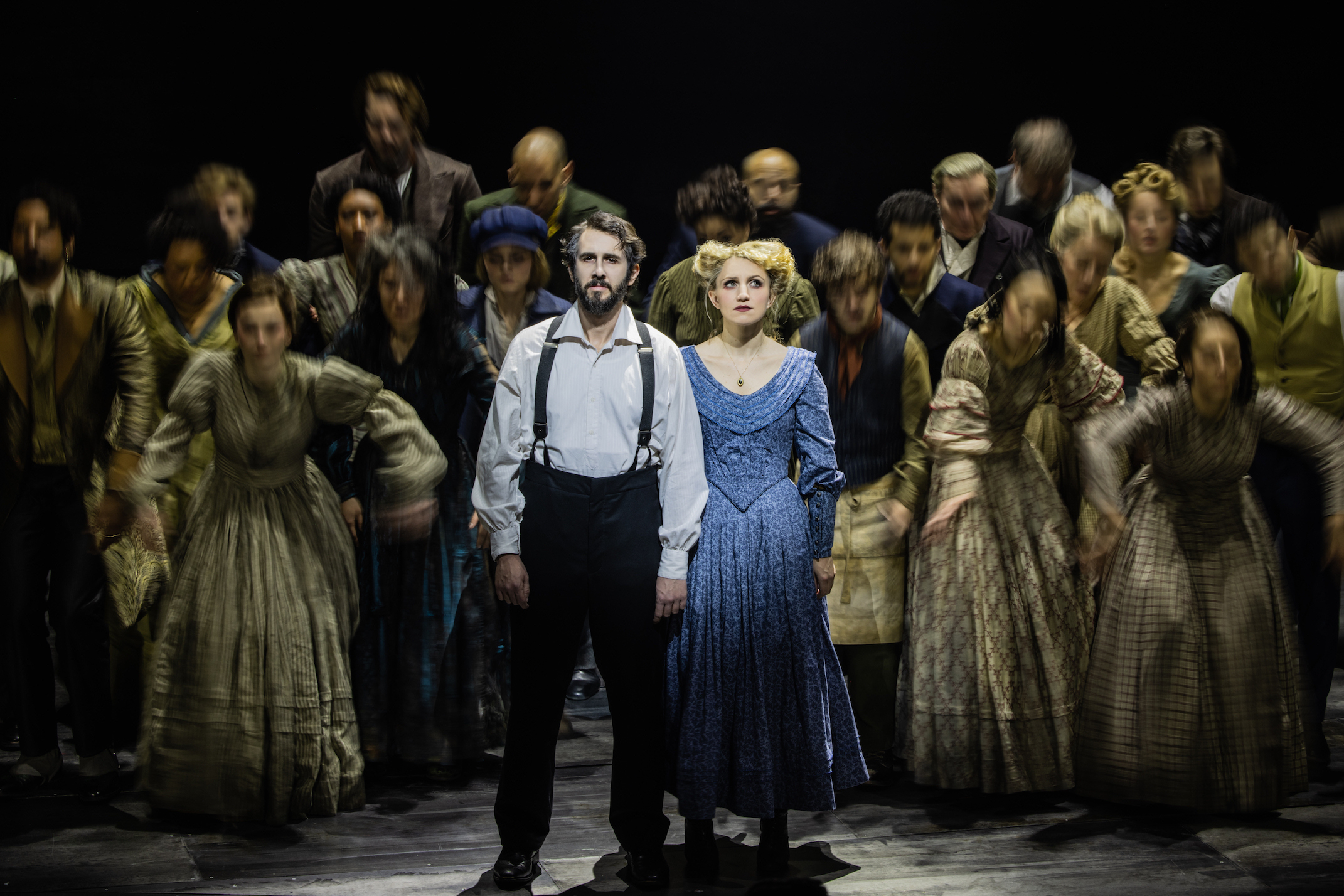 Sweeney Todd | Photograph: Courtesy Matthew Murphy and Evan Zimmerman