Take a tour of Broadway's Charlie and the Chocolate Factory
Set-and-costume designer Mark Thompson walks us through new Broadway musical Charlie and the Chocolate Factory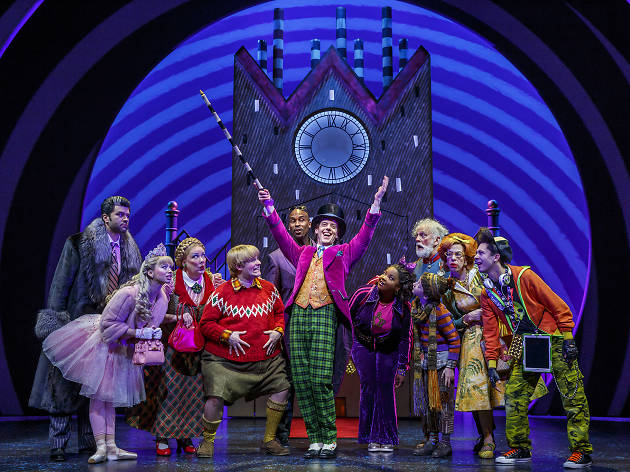 In the theater world, it's rare to get a second crack at a show. But that's exactly what happened to Mark Thompson. The set-and-costume designer for Broadway's latest bet, Charlie and the Chocolate Factory, won an Olivier Award (London's equivalent of a Tony) for his work on the original West End production. Despite the staging of Roald Dahl's classic 1964 children's novel, about an impoverished boy and the eccentric chocolatier who befriends him, doing well enough to run for almost four years, the consensus was it couldn't travel across
the pond without some major reworking.
Thompson, along with songwriters Marc Shaiman and Scott Wittman (of Hairspray and Smash fame) and book writer David Greig, stayed on. Everyone else—including Oscar- and Tony-winning director Sam Mendes—cycled off. A new cast, choreographer and director—three-time Tony winner Jack O'Brien—convened to take a fresh approach.
On a recent Friday morning during rehearsal, Thompson chats in the back of the Lunt-Fontanne Theatre, as the cast—headlined by Christian Borle as Willy Wonka in that iconic purple tailcoat and black top hat—goes through a group number that's set just outside the chocolate factory. "It's playful and full of mischief," says Thompson of the set in front of us. A red carpet is unfurled, welcoming the lucky golden-ticket winners who get to tour the candy mecca, and the eye-popping costumes brilliantly capture each kid's personality: There's Violet Beauregarde, in her plush purple sweat suit with rhinestone accents; Augustus Gloop, bursting out of his shorts and knitted sweater; Veruca Salt, clad in princess pink from head to toe; the screen-obsessed Mike Teavee, looking like every parent's nightmare; and then there's Charlie Bucket, the only seemingly sane one of the bunch.
"Since the first production was created for London, it's only fair we do an American version," says O'Brien. "In America, our connection is to the 1971 movie." As such, the Broadway rendition adds more elements from that cherished Gene Wilder film, including some of its memorable Leslie Bricusse–Anthony Newley songs like "Pure Imagination" and "The Candy Man." But despite these nods to that classic flick, the musical is no carbon copy; to paraphrase Willy Wonka, this is a world of their creation. Here's our tour of the factory.
Charlie and the Chocolate Factory on Broadway
1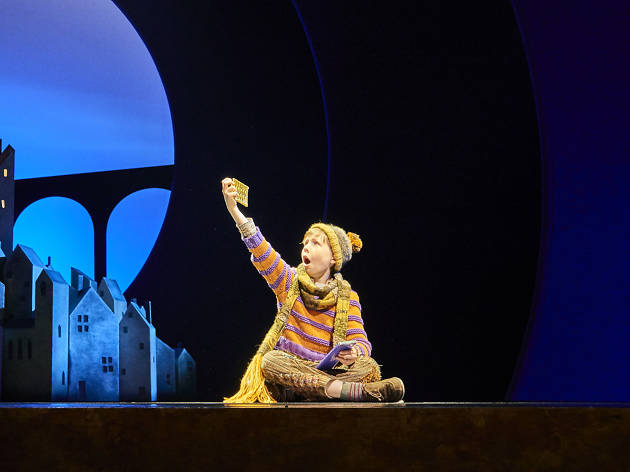 Photograph: Kyle Dorosz
The poor and kindhearted Charlie Bucket is the only kid character played by an actual child. (Ryan Foust is pictured; he alternates in the role with Jake Ryan Flynn and Ryan Sell.) In London, young actors played all five tykes, but Thompson is thrilled that the Broadway production is going with mostly grown-ups. "There was a workshop [for the London production], actually in New York years ago, where we had the kids played by grown-ups, and I thought, personally, it was hysterical. At the end of that workshop, the decision was made to use children because Sam [Mendes] felt very strongly that there should be some sort of identification from the children in the audience with the children onstage. I'm not saying it was the wrong decision; I just think it's a lot more fun if they're grown-ups because the lyrics are densely, densely complex in the songs, and also you can misbehave with grown-ups playing children. Terrible things can happen to them, whereas when you've got a small child who's 10 or 12, you can't do that."
2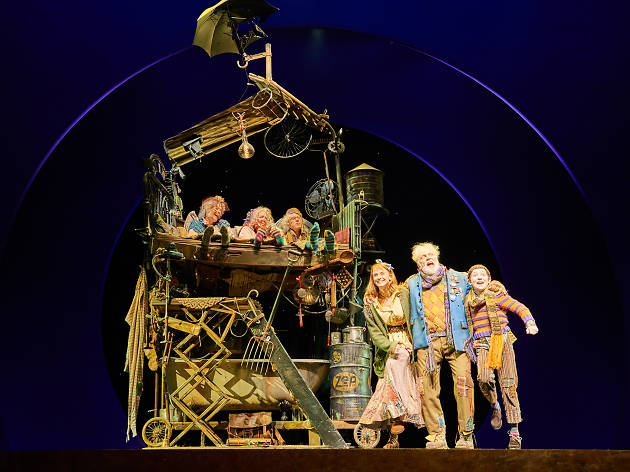 Photograph: Kyle Dorosz
The family's destitute abode—where Charlie lives in comically close quarters with his mom, his bestie, Grandpa Joe (Tony winner John Rubinstein), and his other grandparents—communicates class in a clever and quirky way that's easy for kids to grasp without it being scary. "In the London production, they lived on a dump," recalls Thompson. On Broadway, like in the original movie, all the grandparents share one bed, illustrating their poverty, but the cornucopia of clutter sticking out from all angles gives the two-level structure a cartoonish vibe. "Act I takes place in this purple vortex," says Thompson, referring to the violet swirl that serves as a backdrop for the first half of the show. "All the set pieces that come in and out are rather childlike ideas for what buildings might look like."
3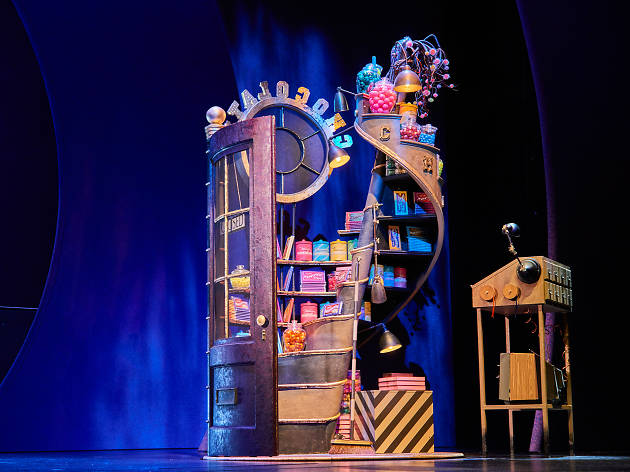 Photograph: Kyle Dorosz
As in the original movie, "The Candy Man" number opens the show. But on Broadway, a disguised Willy Wonka is the sweets purveyor giving all the kids a sugar rush. "You think he's an old, wizened man," says Thompson. "He's watching Charlie from the beginning. It's the point at which Wonka decides that he's lonely, that he has things to hand on." Like the Buckets' house, the sweets store is a standalone set piece that slides smoothly on and off the stage, selling kooky and colorful Wonka-branded confections like the Whipple Scrumptious, taffy, gleaming gum balls and—of course—plain, old-fashioned Wonka Bars.
4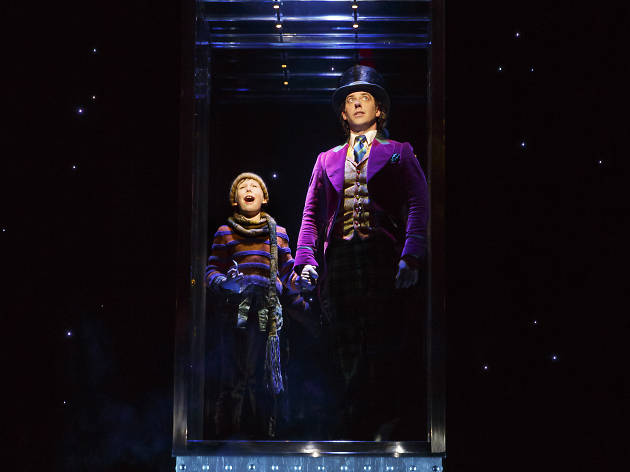 Photograph: Joan Marcus
In Act II, the families finally arrive inside Wonka's mysterious world. The purple vortex of the first act is replaced by what Thompson calls "a blue box." All of Wonka's magic happens within this frame; instead of ushering his guests from place to place, the various candy rooms (and the musical-ending elevator, pictured) come to them. "It's a space that is commandeered and manipulated by Willy Wonka," he adds. "So in plain sight, he changes things. It's almost like a playground. In London, what we tended to do was create enormous sets, but Act II is very episodic. So it was in one room, out of the room; in one room, out of the room. That became tedious. Now it's just by dint of what Wonka brings into the room that it changes. There's a big set of double doors, and the walls are all flippers, so things can come in and out. The actors surround the pieces rather than scenery surrounding them. Even the Chocolate Room, where Wonka sings 'Pure Imagination' is a thing that they surround."
5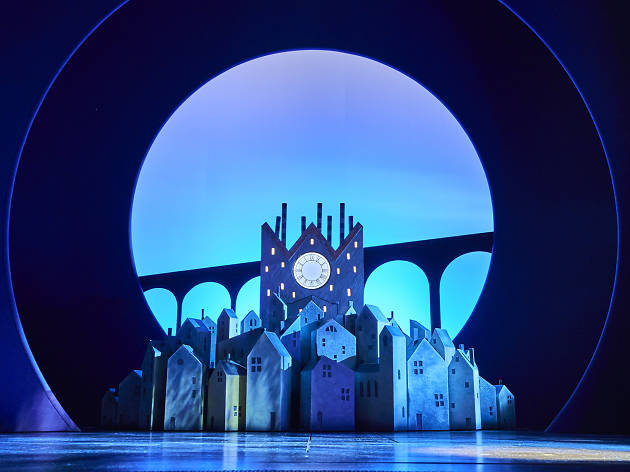 Photograph: Kyle Dorosz
Wonka HQ is fairly Impressionistic, its pointy clock tower looming above a cluster of tiny houses that comprise Charlie's stomping grounds. This gives a sense of how the children view their environment, with the candy landmark superseding everything else. "In London, the factory was sort of big, Victorian and prisonlike," says Thompson. "So it was all brick and tiles and huge copper pipes. That's all gone. Now it's much more paint box, bright and intriguing."
Check out the review for Charlie and the Chocolate Factory!
Strangers with candy should be avoided, our parents warn. Roald Dahl urges us to grab the sugary goods—but be prepared for the consequences.