Heads up! We're working hard to be accurate – but these are unusual times, so please always check before heading out.
Ten historic drawings by Broadway's greatest caricaturist
Al Hirschfeld captured Broadway and showbiz throughout the 20th century and into the 21st—here are the highlights
If ever there were a visual distillation of the spirit of Broadway, it was an Al Hirschfeld caricature. The amazingly long-lived Hirschfeld (1903–2003) was an endless font of iconic drawings of Broadway shows and stars, Hollywood movies and many other subjects. No one before (and no one since) captured so perfectly the sense of movement, glamour and swirling giddiness that is the Great White Way. You can see about a hundred of his drawings in an exhibit called "The Hirschfeld Century: The Art of Al Hirschfeld", now through October 12 at the New-York Historical Society. The show is timed to coincide with a gorgeous new volume from Knopf: The Hirschfeld Century: Portrait of an Artist and His Age (available exclusively at the New-York Historical Society now, and in bookstores July 7). "In 2015 we celebrate many milestones," notes widow Louise Kerz Hirschfeld, president of the Al Hirschfeld Foundation. "It's been 100 years since Hirschfeld saw his first Broadway show; 90 years since his first published caricature; 70 years since he first hid the name of his daughter Nina in one of his drawings (launching a national obsession of Nina-hunters); and 40 years since he received his first of two lifetime-achievement Tony Awards."
Both the exhibition and the book are the most comprehensive Hirschfeld collections of their kind to date. According to the exhibit's organizers, "Forty percent of the pieces have never been exhibited in America before, and nearly half of the art in the book will be new to even the hardiest of Hirschfeld book collectors." So even if you're running around catching all the great theater to see this summer, make time for this historic event. To whet your appetite, we've handpicked 11 images, dating from the artist's schooldays (1914) to his tap-happy portrait of Tommy Tune in White Tie and Tails (2002). That's 10 decades, kids: They don't make 'em like Hirschfeld anymore.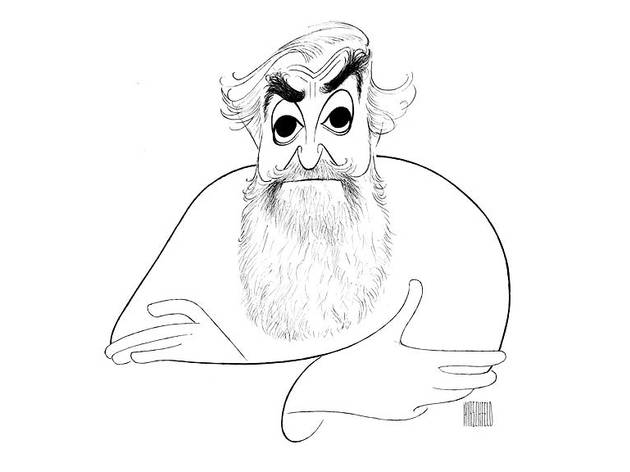 Al Hirschfeld
We start with an image of the man himself.

"I'm still involved with the mystery of line and what it can do," said Hirschfeld in 1985 when he drew this self-portrait for Harvard's Fogg Museum. "I've found no formulas.… All I know is to keep paring it down, eliminating, until it's pure line that communicates."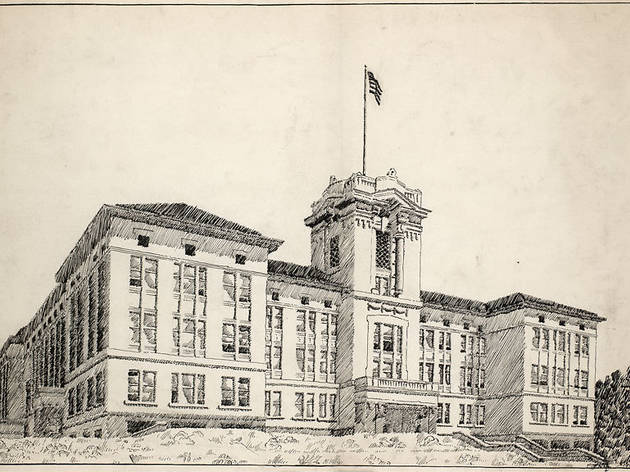 Al Hirschfeld
Clark Public School, 1914
As a young child in St. Louis, Hirschfeld contracted "a sickness for drawing." The Hirschfelds arrived in New York in 1914, the year that Hirschfeld drew this picture of his elementary school down the block from his childhood home, where Hirschfeld attended the National Academy of Design when he was 13.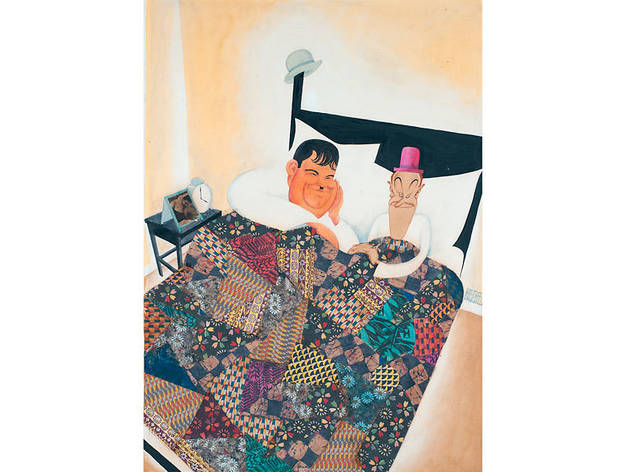 Al Hirschfeld
Watercolor, ink and collage on board
Laurel and Hardy had been a team for less than two years when Hirschfeld created this collaged work to promote their comedy shorts for MGM.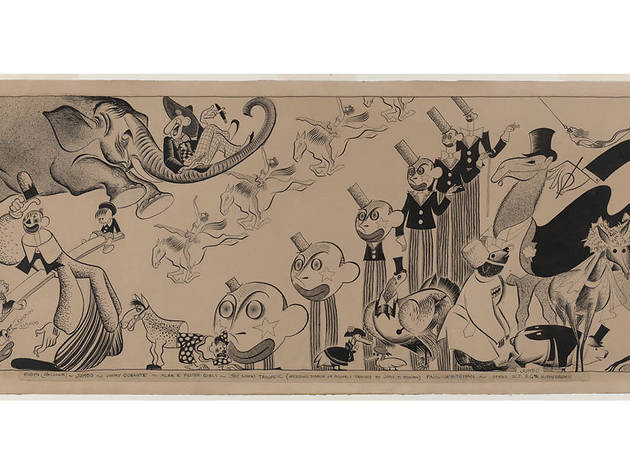 Al Hirschfeld
With A. Robins, Big Rosie the Elephant, Jimmy Durante, the Alan K. Foster Girls, the Lomas Troupe of Animals and Paul Whiteman
This eight-column drawing for The New York Times captured much of the spectacle of this Billy Rose production, which featured a number of circus specialty acts, a score by Rodgers and Hart (conducted by Whiteman), and a book by Ben Hecht and Charles MacArthur.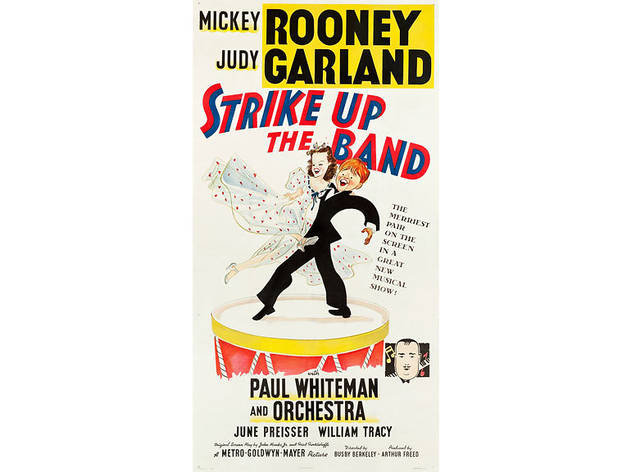 Al Hirschfeld
Lithograph poster
Hirschfeld had been working for MGM for more than 10 years when he drew this poster for the Mickey Rooney and Judy Garland film, one in a series building on the young pair's success since their debut together in 1937.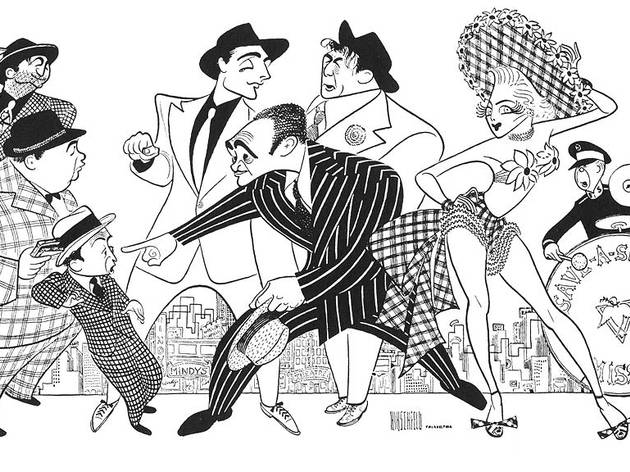 Al Hirschfeld
With Douglas Deane, Tom Pedi, Stubby Kaye, Johnny Silver, Robert Alda, Sam Levene, B.S. Pully, Vivian Blaine, Pat Rooney Sr., and Isabel Bigley
This quintessential New York musical with songs by Frank Loesser was based on Times Square characters created by Damon Runyon.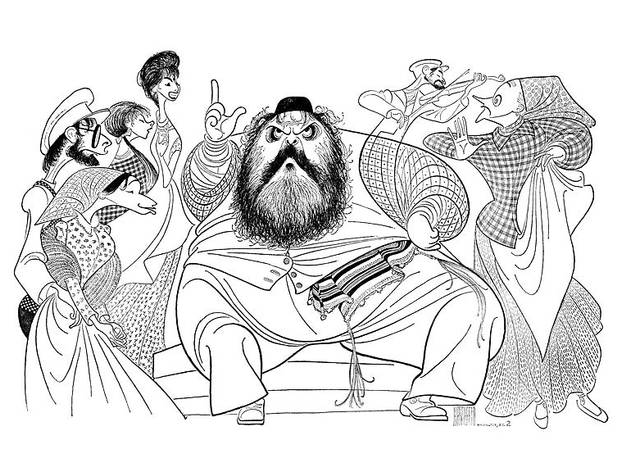 Al Hirschfeld
Fiddler on the Roof, 1964
Austin Pendleton, Julia Migenes, Tanya Everett, Joanna Merlin, Zero Mostel, Gino Conforti and Maria Karnilova
In his sketches of Zero Mostel from this show's out-of-town tryout, Hirschfeld was surprised to discover that he had the actor's vest buttoned from the left rather than the right like a man's. Al had trained himself to draw in the dark without looking, "a collaboration of sight and hand, with no conscious thought at the controls."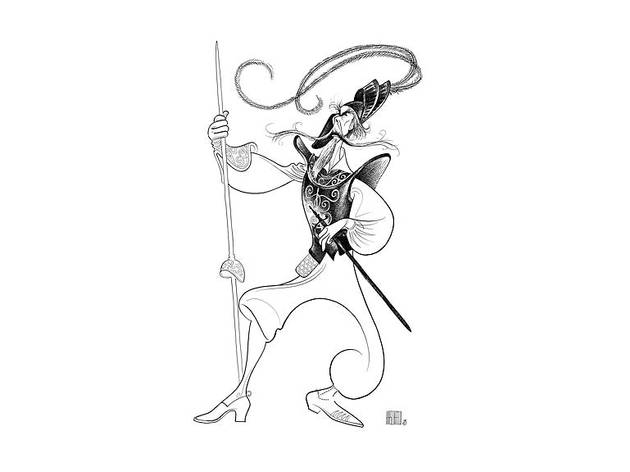 Al Hirschfeld
Richard Kiley in Man of La Mancha, 1977
The day after this drawing of Kiley in a revival of Man of La Mancha was published in the Sunday Times, Agnes Mongan, the curator of Harvard's Fogg Art Museum, wrote to her superior and claimed that Hirschfeld might never do a better drawing, so they should find someone to acquire it for them.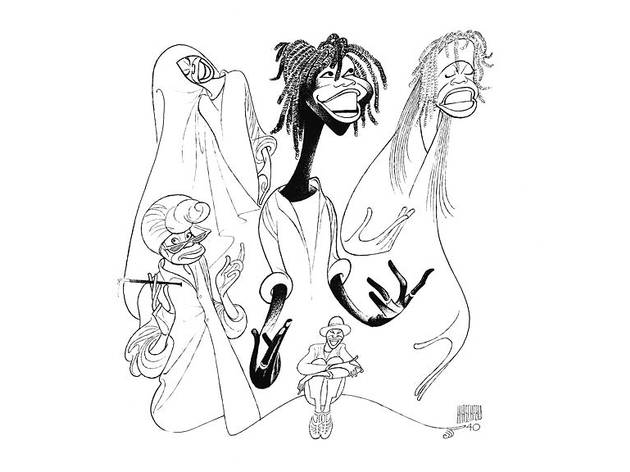 Al Hirschfeld
When Goldberg was first introduced to Hirschfeld at a rehearsal for her 1984 one-woman show, she told him that she had been a fan of his art since she was a girl, but that sometimes she couldn't find all the NINAs in his work and it "hurt." His drawing appeared several weeks later and it had 40 NINAs, a record at that time.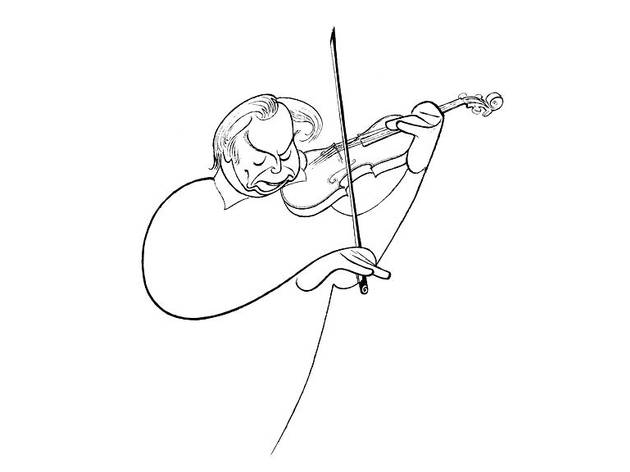 Al Hirschfeld
Stern was one of the 20th century's greatest violinists, renowned for his performances and recordings of a wide range of classical symphonies and chamber compositions, a mentor to many talented musicians, and an advocate for the musical world in New York, the nation and Israel.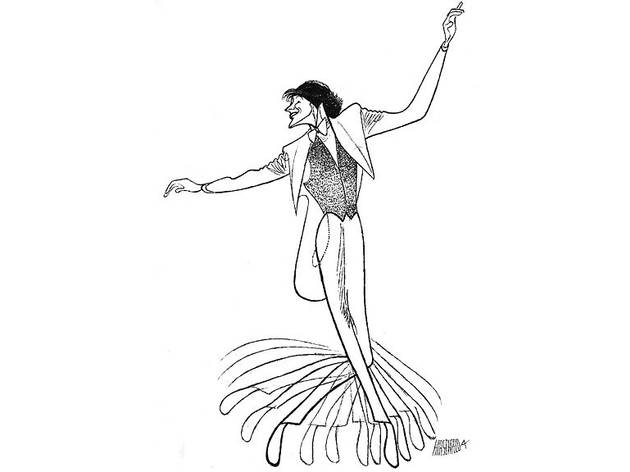 Al Hirschfeld
Tommy Tune in White Tie and Tails, 2002
Five weeks before Hirschfeld died, this drawing was published, his last for The New York Times, nearly 75 years after his first drawing for the paper. It not only captured Tune's easy elegance, but Hirschfeld's as well.