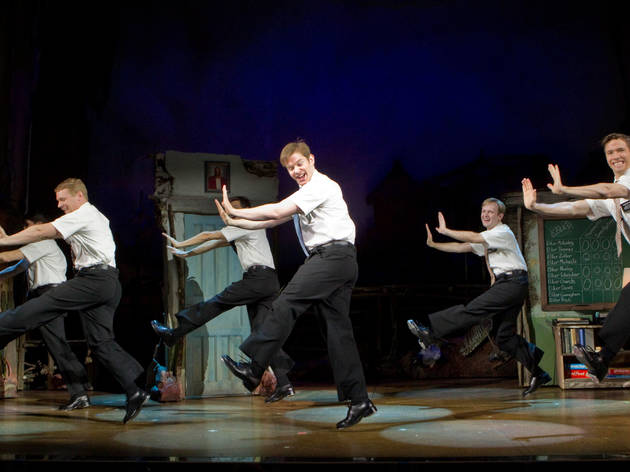 Time Out says
If theater is your religion and the Broadway musical your sect, you've been woefully faith-challenged of late. Venturesome, boundary-pushing works such as Spring Awakening, Bloody Bloody Andrew Jackson and Next to Normal closed too soon. American Idiot was shamefully ignored at the Tonys and will be gone in three weeks. Meanwhile, that airborne infection Spider-Man: Turn Off the Dark dominates headlines and rakes in millions, without even opening. Celebrities and corporate brands sell poor material, innovation gets shown the door, and crap floats to the top. It's enough to turn you heretic, to sing along with The Book of Mormon's Ugandan villagers: "Fuck you God in the ass, mouth and cunt-a, fuck you in the eye."
Such deeply penetrating lyrics offer a smidgen of the manifold scato-theological joys to be had at this viciously hilarious treat crafted by Trey Parker and Matt Stone, of South Park fame, and composer-lyricist Robert Lopez, who cowrote Avenue Q. As you laugh your head off at perky Latter-day Saints tap-dancing while fiercely repressing gay tendencies deep in the African bush, you will be transported back ten years, when The Producers and Urinetown resurrected American musical comedy, imbuing time-tested conventions with metatheatrical irreverence and a healthy dose of bad-taste humor. Brimming with cheerful obscenity, sharp satire and catchy tunes, The Book of Mormon is a sick mystic revelation, the most exuberantly entertaining Broadway musical in years.
The high quality of the writing, design and direction (the latter duty shared by Parker and the seasoned Casey Nicholaw) should surprise no one: Parker and Stone have been honing their musical-theater chops for nearly two decades. The team's student film, Cannibal! The Musical, was made in 1993, and in 1999, South Park: Bigger, Longer and Uncut was aptly (if cheekily) hailed as the year's best new musical. More recently, Team America: World Police paid snarky homage to Rent with the parody ballad "Everyone Has AIDS." As for Lopez, his long-running puppets-behaving-badly hit speaks for itself. These song-and-dance pranksters were destined to one day mock the Church of Latter-day Saints, an institution that, like the Broadway musical, is a singularly American invention.
Starting off in (where else?) Salt Lake City, Utah, The Book of Mormon follows a mismatched pair of proselytizers, Elders Price (Rannells) and Cunningham (Gad). The former is the clean-cut ideal of a Mormon doorbell-pusher: white-bread, well-groomed and safely asexual. Cunningham, however, is a fat, slovenly manchild who tends to lie. Despite Price's callow wish to be assigned missionary work in Orlando, Florida, the two are sent to save souls in war-torn, AIDS-ravaged, poverty-stricken Uganda. The dawning horror on Rannells's face and the spastic, gleeful incomprehension on Gad's upon hearing the news is priceless. The evolving friendship between their two characters lays the emotional foundation for the show, and gives even the cruelest jokes about disease, racism and homophobic self-loathing a sweetish, innocent finish. That human dimension reminds you that the long-lived comic genius of South Park (heading into its 15th year) relies on children blinded by navet, but who can see through society's lies.
Likewise, by smashing together two disparate worlds—prim, über-Caucasoid Mormons and long-suffering, hope-starved Africans—the creators can lampoon Western illusions about that complex, troubled continent (the anthem "I Am Africa" is sung by distinctly pale cast members), while scoring laughs off the sort of horrors that should never be put on a Broadway stage ("I have maggots in my scrotum" is a recurring lament). We chortle disgustedly at an African man who thinks raping a baby will cure his AIDS (a documented crime), but truly grotesque is the notion that a couple of Bible-toting white boys can be of any real help.
In fact, the uses and abuses of faith, the strange persistence of these ancient (or in the case of Mormonism, not so ancient) bedtime stories, is a central theme. Religion, the creators firmly point out, is showbiz, and the satire bites into both the absurdities of Joseph Smith and his angel Moroni, and the intoxicating frivolity of musicals. Of the dozen or so classics referenced by musical pastiche, sight gag or laugh line, there's Wicked, Pacific Overtures, Jesus Christ Superstar, The Music Man, The Lion King (naturally) and The Producers.
Such a magpie aesthetic makes perfect sense for a show that examines, with impressive insight, cultural transmission, adaptation and assimilation. "It was a bunch of stuff you made up," Price says to comfort Cunningham, who fabricates a wildly blasphemous version of Mormonism for the natives. "But it pointed to something bigger." Just so, The Book of Mormon is more than a collection of offensive jokes about female genital mutilation, bestiality and Mormon kitsch; it's about our ineradicable hunger for narrative and mystery—no matter how weird, sick or damnably fake.
Follow David Cote on Twitter: @davidcote
Running time: 2hrs 35mins. One intermission.
Details
Venue name:
Eugene O'Neill Theatre
Address:
230 W 49th St
New York


Cross street:
between Broadway and Eighth Ave
Transport:
Subway: C, E to 50th St; N, Q, R, 42nd St S, 1, 2, 3, 7 to 42nd St–Times Sq; N, R to 49th St
Price:
$69–$175, premium $252–$477
Dates And Times
Average User Rating
4.2 / 5
Rating Breakdown
5 star:

8

4 star:

3

3 star:

2

2 star:

0

1 star:

1
If you're at all a fan of Trey Parker and Matt Stone you NEED to see this musical. Amazing score, super funny and in a small jewel of a theater. I'm going to see it again!

Completely offensive—particularly if you lean religious in any way—The Book of Mormon is also completely hilarious. What's interesting, though, is that as they did with Team America and South Park: Bigger, Longer and Uncut. creators Trey Stone and Matt Parker pair their profanity with really well written, melodically ambitious music. And the performers knock it out of the park.
I've seen Book of Mormon three times and my face hurt from smiling the third time as much as the first time. At first glance, the show could make some uneasy with some of the strong language, but Trey Parker and Matt Sone of Southpark fame have perfected the art of saying horrible things in an accessible way. (Is that a thing?) Having seen hundreds over shows over the years, this is a top 5 of all time. Do not miss this show. And don't be afraid to bring your parents. My mom was laughing harder than me. And my dad made me buy him a shirt that says, "I'm Going to Man Up All Over Myself". Go see it now!
Being a lover of Broadway Shows I had to go see what the hype was all about when it came to The Book Of Mormon. I am not going to lie the musical numbers were good and catchy but I couldn't help to cringe at some of the scenes. I am not calling it my favorite Broadway show but it is not my least. Certain things were not tasteful but what can you expect from the creators of South Park. It had humor in it and I enjoyed it but would I repeat it, probably not. Now every time I see a mormon the first thing that pops into my head is the song "Hello" from the show. Thank You Book of Mormon :-)
If you appreciate intelligence don't go there. We left after the first part, it was extremely boring and stupid. I don't usually laugh when someone says 'ass', but if you like South park this is probably your type of thing.
Being of fan of Matt and Trey, I was looking forward to see how their comic styles could translate to a Broadway show. I was more than satisfied with what I experienced. From the opening scene depicting the findings in "ancient upstate New York", I knew this performance would be fun filled. Following the story of 2 Mormons being sent to spread the word in Africa, they are shocked and appalled at what they find. The songs are catchy and well crafted and the laughs keep coming, despite depicting the poverty, disease, and harshness of areas in Africa. If you are offended by obscene language, please do not go. Since it received 9 TONY awards, apparently critics were not offended. Pricey ticket, but worth the cost.
I am not a Broadway or show person and this was AMAZING!I am a massive fan of south park and was originally drawn to the show due to that – you can 100% tell this was made by them in the best way possible.In regards to acting, singing, humor and wit this take the cake.The crowd is fun and not the usual Broadway vibe (old people) and you leave thinking about all the other shows you would want to go to.The tickets are expensive but well worth it.Would recommend this as a gift, special occasion or birthday any day!
Believe the hype! Book of Mormon is as good as everyone says it is. It makes fun of nearly everything – religion is the obvious target, but nothing is off limits. Though it is technically a musical, in some ways this feels more like a comedy routine than a broadway show. If you're a fan of off-color humor and like theater, this is a must see. And if you're not typically into theater, the only real question is whether you want to shell out for these expensive tickets. I went for a special occasion and it was well-worth the cost – and even worth fighting my way through the crowds in Times Sq!
Hilarious! A must see if you have an open mind and a good sense of humor...