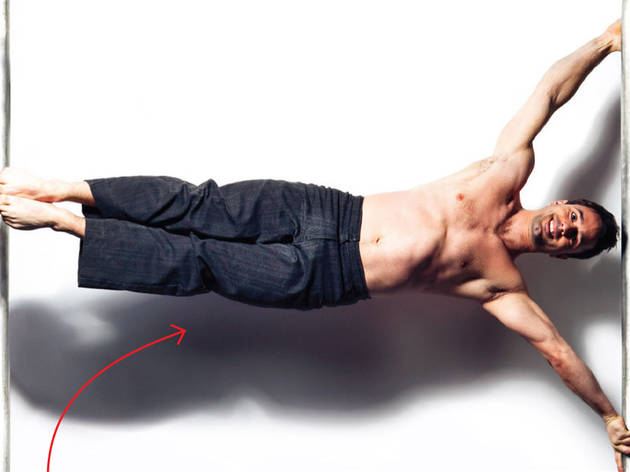 1/7
Photograph: Russ and Reyn
Mathieu Cloutier, 25"You know female pole dancers? Chinese poles is kind of a male version of that. Jumping from one pole to the other, doing half a flip, hanging sideways. My wings [lats] are worked out the most. And wide push-ups are really good for them." RECOMMENDED: Fitness guide to NYC Try these classes X-Pole DancingGet to know your way around a pole as you boost your upper-body and core strength, coordination and balance through sensual dance choreography. Both men and women will pull off moves like the body wave, working everything from your abs to your hamstrings. Various locations and times, visit crunch.com for more information. Members free, monthly membership $65--$99; day pass $25. PeaceCoreSweat through push-ups with trainer Kenny Wong at this indoor--outdoor boot camp, which melds Marine corps drills with yoga and kickboxing. After starting at the studio with weights, medicine balls, body bars, and strength and abs training, the class runs to the High Line. Wong reimagines the elevated park as an obstacle course, with step-ups, dips and push-ups performed on benches, and stairwells used as running steps. 437 W 16th St between Ninth and Tenth Aves, third floor (917-686-0610, peacecore-ny.com). Mon--Fri 6, 7pm; $30, ten classes $250, 20 classes $400. January special: 20 classes $300.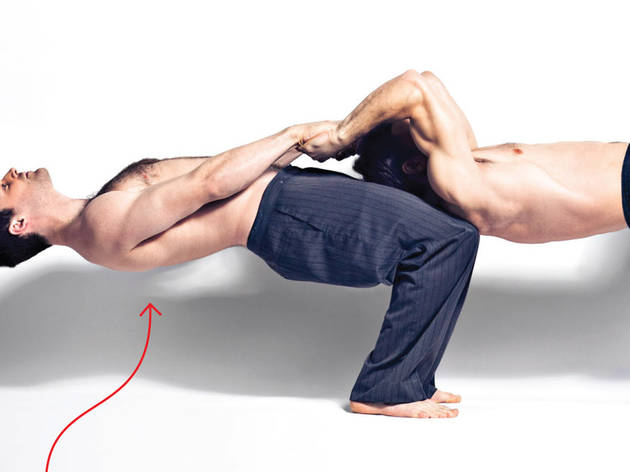 2/7
Photograph: Russ and Reyn
Philippe Normand-Jenny, 25"The teeterboard is a big wooden plank. Two guys jump onto one end from a tower; I'm standing on the other end and am catapulted off of it. The goal is to do the coolest trick possible when you're in the air. You need a lot of coordination between your legs, calves, abdomen and core because you need to be able to tuck really fast."Try these classesAbsolute AbsImprove your core strength at this intense 20-minute 92nd Street Y session, but don't let the brief length of the class fool you. In addition to abs, your entire core will be put to the test with crunches, planks, bridges and exercises on stability balls. 1395 Lexington Ave at 92nd St (212-415-5500, 92y.org). Mon, Wed 6:40--7pm; Sat 10:15--10:35am. Members free, annual membership $1,275, guest pass $35. ZenCoreIn order to pull off impressive-looking stunts, total body power is a necessity. Take Reebok Sports Club/NY's 30-minute sessions to work toward that. The class combines yoga, strength training, cardio and restorative poses in each exercise sequence, so the abdominals aren't the only muscles to get a workout---hips, glutes and shoulders will, too, and there's a cardio element to boot. 160 Columbus Ave at W 67th St (212-362-6800, mpsportsclub.com/clubs/reebok-sports/index.php). Members free, monthly memberships start at $209; guest fee when accompanied by a member $35.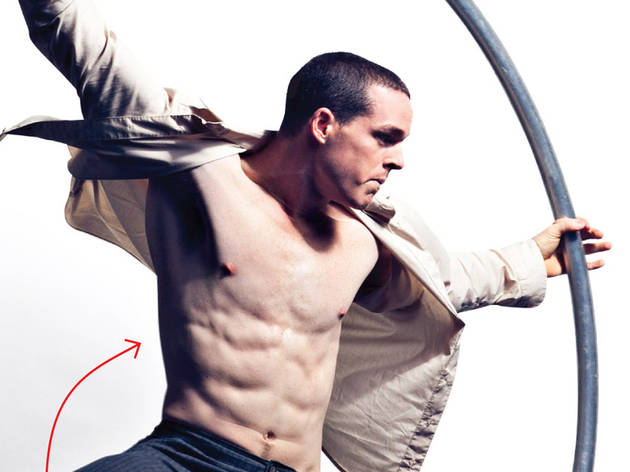 3/7
Photograph: Russ and Reyn
Bradley Henderson, 27"My solo piece is the wheel; you spin in it as if you're in a coin. You have to shift your weight to keep the momentum. It's a lot of cardio. You tend to use your pecs."Try these classesPureStrength H20Take your workout into the water and swim your way to stronger pecs. This Equinox class unites cardio drills, suspension training and resistance work to build lean muscle with no impact on your joints. It's all set to an '80s soundtrack for a pool-party atmosphere. 817 Lexington Ave at 63rd St (212-750-4900, equinox.com). Mon 10--11am. Members free, monthly membership $149--$183; guest $35 (when accompanied by a member).SoulbandsSpinning studio SoulCycle recently introduced resistance bands to their calorie-torching cardio spinning class. The bands hang over each bike, and riders use them for lat pull-downs, rowing, arm pull-downs, side bends, bicep curls and triceps extensions---all while peddling. Your upper body takes a rest when the instructor shifts to intense sprints. 103 Warren St at the West Side Highway (212-406-1300) * 1470 Third Ave at 83rd St (212-639-1300). Times vary, visit soul-cycle.com for more information. $32.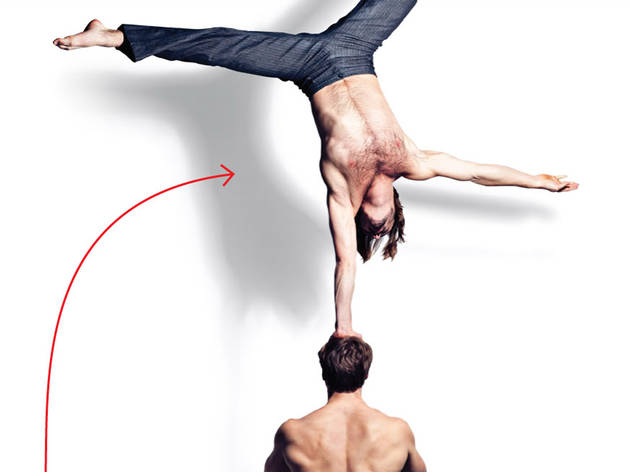 4/7
Photograph: Russ and Reyn
Florian Zumkehr, 23"My solo piece is hand balancing. At the end, I stack three chairs and do a handstand with one arm on top of them. Beforehand, I do splits and stretch my shoulders a lot, because that's really important for the move."Try these classesAthlete's campThis new total body series works hard-to-hit spots and even teaches you to master handstands. Bouldering on the rock wall, medicine-ball distance throws, pulling a sled and upper-body exercises on cargo nets are just a few of the things you'll try over eight sessions. There's plenty of personal attention, too---each group is limited to six people. Chelsea Piers, Pier 60, 23rd St at the Hudson River (212-336-6000, chelseapiers.com/sc). Next cycle begins Tue 3; Tue, Thu 6:30am. Members $400, nonmembers $500. Monthly membership $107--$180.Prema VinyasaAt this 90-minute vinyasa flow class, the instructor uses props to demonstrate how engaging certain muscles can activate your core and increase balance and stability. You'll put this into practice with arm balances, handstands and forearm stands without straining your wrists. Pure Yoga West, 204 W 77th St between Broadway and Amsterdam Ave (212-877-2025, pureyoga.com). Wed at 7:15pm. * Pure Yoga East, 203 E 86th St between Second and Third Aves (212-360-1888). Sun at 11:15am. * Members only, monthly membership $145--$160.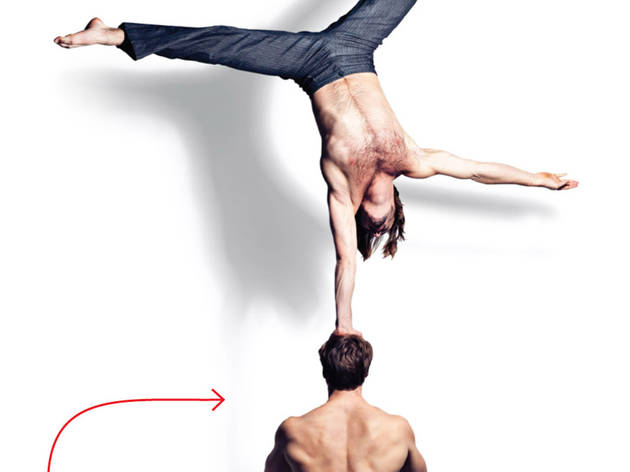 5/7
Photograph: Russ and Reyn
Mason Ames, 25"I do dynamic and static aerobatics with my partner---dynamic being more throws and catches, and static being more balances or counterbalances, where you don't actually lose contact with each other. A lot of the power in the routine comes from my quads, because you push with your legs first and your arms follow through, giving changes in direction or rotation. Everything that controls my wrists has to be strong."Try this classGuyBarreDudes who envy Ames's strong shoulders should head to Flywheel's brand-new class focusing on strengthening and lengthening. Two thirds of each session is dedicated to the upper body, specifically the shoulders, chest, triceps, biceps and abs. Sequences of push-ups, boxing, arm lifts, planks and weights work are performed to a manly playlist heavy on rock, rap and hip-hop. 39 W 21st St between Fifth and Sixth Aves (212-242-9433, new-york.flywheelsports.com). Tue 7pm; $30.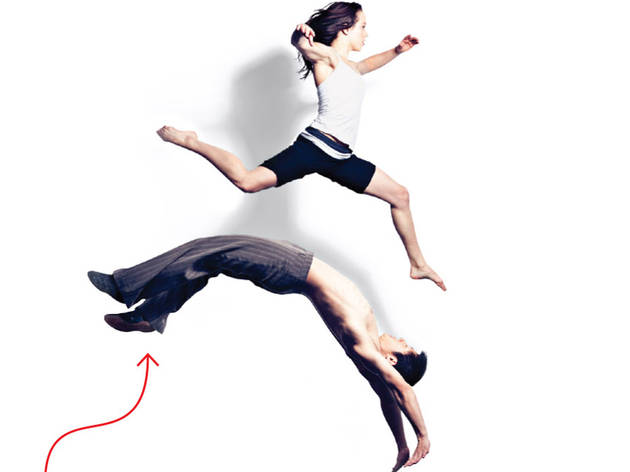 6/7
Photograph: Russ and Reyn
Xia Zhengqi, 28"Hoop diving is a traditional Chinese number. You put hoops on top of each other, stacking them higher and higher, and do tricks jumping through each hoop without touching it. My calves need the most strength."Try these classesBeyondBarreFor a long, lean physique, there's no better workout than ballet. And New York Sports Clubs' approach builds on the discipline by incorporating a glide board to transform your legs even faster. But it's not just about sliding around---the class also includes a traditional ballet-inspired barre workout, free weights for upper-body sculpting, and an intense ab series. Various locations and times, visit mysportsclubs.com for more information. Eight-week session $99.BodystrikesThis Equinox class incorporates three styles of movement to work your legs from all angles. The fusion of martial arts, ballet and strengthening moves like squats and lunges will help you get closer to living out your superhero fantasies. Various locations and times, visit equinox.com for details. Members free, membership $149--$183; guest fee when accompanied by member $35.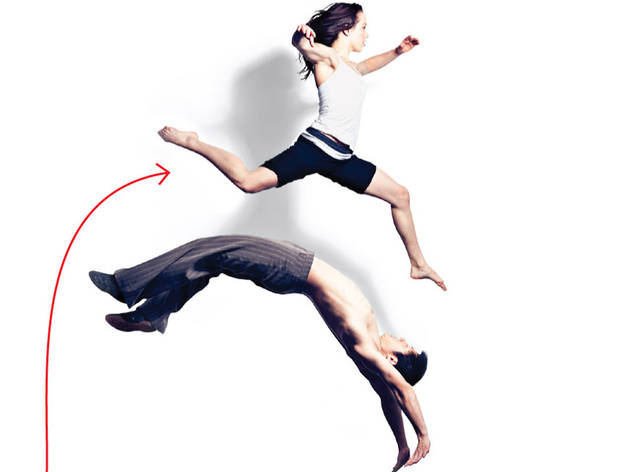 7/7
Photograph: Russ and Reyn
Valrie Benot-Charbonneau, 22"I do hand-to-hand with Mason---throwing in the air, catching, dancing together. I'm the flyer, the one who gets thrown. My shoulders are important, because in one move I'm in a handstand and he's pushing me up, so I really need to be strong."Try these classesBeginning Level Flying TrapezeFor a taste of aerial acrobatics, catapult yourself into this introductory course at Trapeze School New York. In just two hours, you and up to nine other students will experience sailing through the air. Instructors teach the basics of safety and how to hang from your knees upside down, rotate, backflip off the trapeze and be caught by a partner. Various locations and times, visit newyork.trapezeschool.com for more information (212-242-8769). $47--$70.The Ailey Extension: Intro to HortonIf you don't have the twinkle-toed moves of Benoit-Charbonneau and Ames, Alvin Ailey's dance school for the public can help you work on that. Using a technique created by Ailey's mentor, Lester Horton, this class teaches modern technique that will strengthen and stretch your body. You'll learn the fundamental movements of the Horton technique, famously used in Ailey's early works, such as flat backs, primitive squat, lateral stretches, release swings, leg swings and deep lunges. The Joan Weill Center for Dance, 405 W 55th St at Ninth Ave (212-405-9500, aileyextension.com). Wed 7--8:30pm, Fri 7:15--8:45pm, Sat 3:30--5pm, Sun 3--4:30pm; $17.
The cast of Traces
The acrobats describe their moves and we suggest classes to work on those body parts.
Best selling Time Out Offers