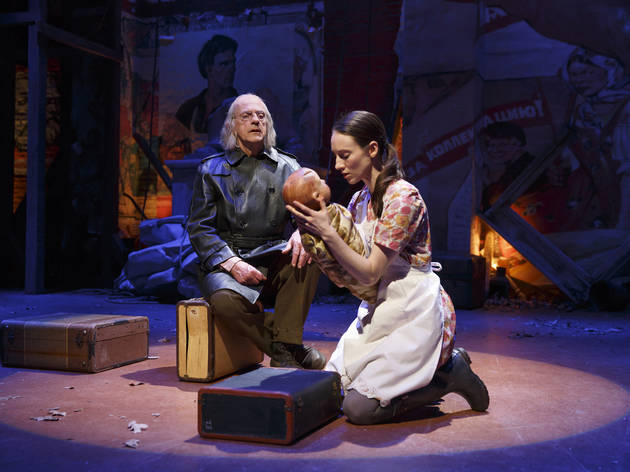 1/5
Photograph: Joan Marcus
The Caucasian Chalk Circle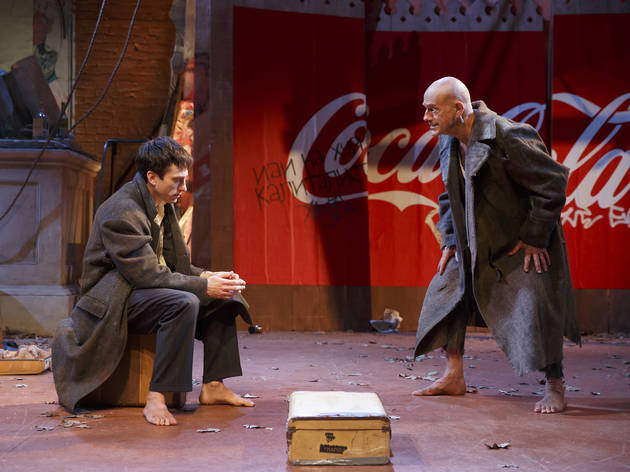 2/5
Photograph: Joan Marcus
The Caucasian Chalk Circle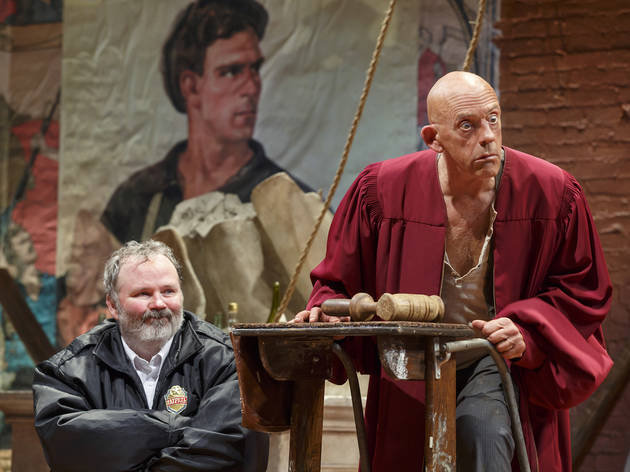 3/5
Photograph: Joan Marcus
The Caucasian Chalk Circle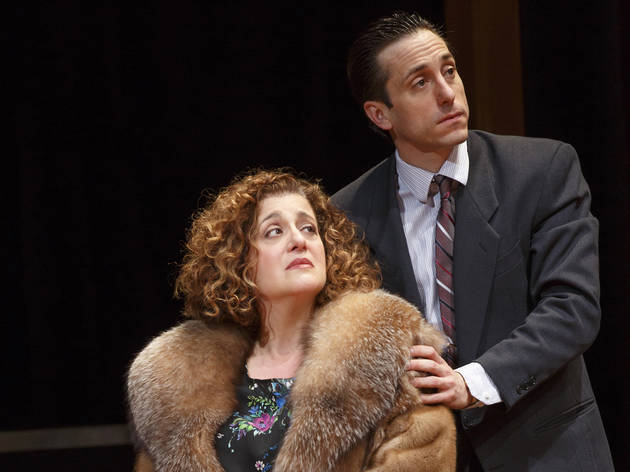 4/5
Photograph: Joan Marcus
The Caucasian Chalk Circle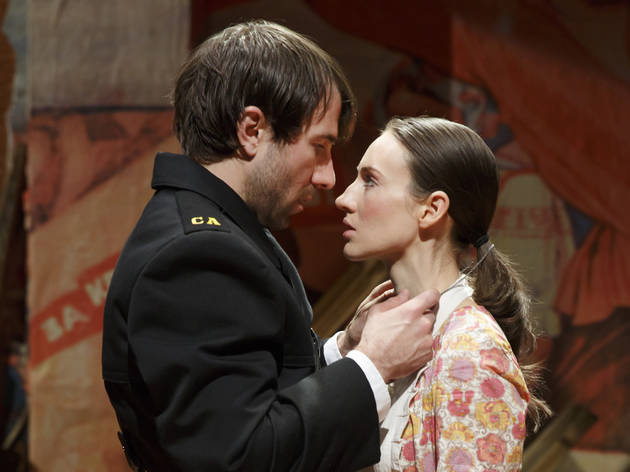 5/5
Photograph: Joan Marcus
The Caucasian Chalk Circle
The Caucasian Chalk Circle. Classic Stage Company (see Off Broadway). By Bertolt Brecht. Music by Duncan Sheik. Dir. Brian Kulick. With ensemble cast. 2hrs 30mins. One intermission.
The Caucasian Chalk Circle plot synopsis
Classic Stage Company chief Brian Kulick presents a revival of Bertolt Brecht's blistering drama, in which a woman's shining good deed is almost quashed by a naughty world. The cast includes Christopher Lloyd, Mary Testa and Elizabeth A. Davis (Once); Duncan Sheik (Spring Awakening) contributes new music.
The Caucasian Chalk Circle theater review
Some folks leave a forgettable Broadway musical humming the scenery; I exit most Classic Stage Company shows whistling the program note. Brian Kulick, head of CSC, is a stronger dramaturg than director, a fact confirmed by his dutiful but dull revival of The Caucasian Chalk Circle. If your notion of Bertolt Brecht is something didactic and severe—fibrous rather than savory—this dry affair will not change your mind. Among other things, it lacks the bravura acting and frisky relevance of Foundry Theatre's recent Good Person of Szechwan (coming to the Public later this season). I'm pretty sure Brecht's famed distancing effect (Verfremdungseffekt) is for preventing easy emotional connection with the characters, not driving people away at intermission.
Kulick starts with an interesting frame. While the production uses James and Tania Stern's 1945 translation (interspersed with wily lyrics by W.H. Auden), Kulick sets the action in a metaphorical post-Gorbachev Soviet Union, the socialist empire on the brink of catastrophic capitalism (a giant Coca-Cola logo gets plastered over faded Soviet Realist murals). Such modern imagery is mostly window dressing for the story: Maid Grusha (Elizabeth A. Davis) rescues the abandoned infant of the governor's wife (Mary Testa), who flees the palace during a peasant uprising. Succumbing to the terrible temptation to do good, Grusha eventually bonds with the baby and claims him as her own.
The second half tracks the unlikely ascent of one Azdak (Christopher Lloyd), a low-born clerk who finds himself thrown into judge's robes by rebels. Lloyd has moments of lusty wildness, but his patented shaggy, hoarse delivery muddies the character's slyness and humor. Azdak's brief time on the bench is marked by rough social justice, but Lloyd's rambling turn shows an error in judgment.—Theater review by David Cote
Follow David Cote on Twitter: @davidcote
RECOMMENDED: See more reviews and stories about Bertolt Brecht
Ticket Offers from Time Out New York
Looking for tickets to a Broadway or Off Broadway show? Time Out Offers brings you terrific discounts on tickets to the latest New York theater. Want even more ideas? Check out Time Out New York's complete listings of Broadway, Off Broadway and Off-Off Broadway shows, and browse all available tickets.