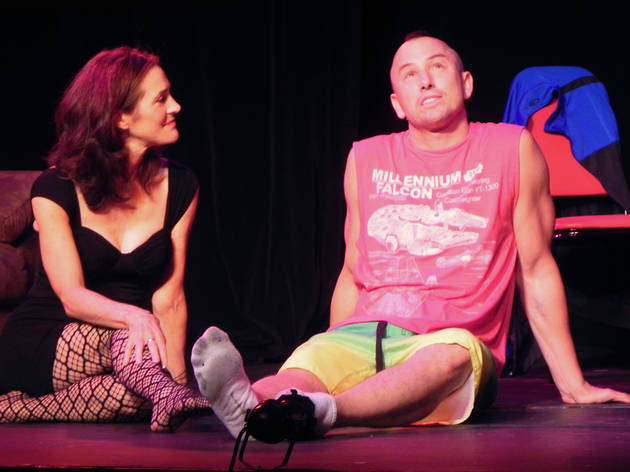 Miles (Scott Decker) hates his cold-hearted fiancée, Kelly. He even tried staging an act of infidelity so that she would break up with him—but this and other attempts to push her away failed. It seems that Miles has outdone himself, though, when he tells his friends—drugged-up Marco (Jim Conroy) and bicurious Lee (Sean Modica)—that he killed a prostitute in his hotel room the night before. The first act of The Dead Hooker Play, which Decker wrote and codirected, relies on shocks and cheap (if amusing) one-liners; but the play improves considerably in Act II, which takes place on the night of the murder. Conroy and Maria Pastel (as Hope, the dead hooker) are standouts, playing very different characters but delivering equally memorable performances. What begins as a shallow and sexist black comedy actually turns into a poignant, touching reflection on death, the misuse of life, and the morality of prostitution and euthanasia.—Michael Gabriel Torres
Click here for full TONY coverage of the 2013 New York International Fringe Festival.
Average User Rating
4.7 / 5
Rating Breakdown
5 star:

2

4 star:

1

3 star:

0

2 star:

0

1 star:

0
The writing was incredible, the humor is ubiquitous, the actors were spot on and hilarious, and the play sends you home thoughtful. What more could you ask from two hours on a Sunday afternoon?
Great show!! Lots of fun and silly dialogue...
Excellent! Very funny and touching. I would just add that all the performers were superb.