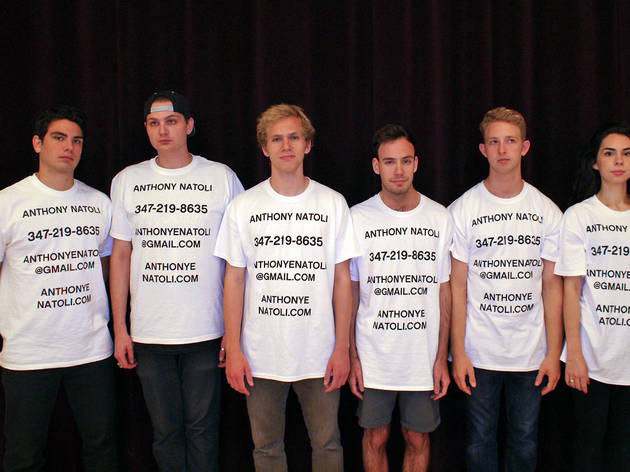 Everything that could be said about Anthony Natoli and The Famous Play has perhaps already been said about him, by him, in that same play. This unapologetic celebration of ouroboros inhabits an exhausting, delightful dimension of playfully self-referential madness, whose snappy commentary hits you before you have time to react to it. The cast performs in uniform white T-shirts with Natoli's personal contact information on them—in front of a white backdrop that also has Natoli's personal contact information on it. Each ensemble member portrays several allegorical characters from the playwright's life, whom Natoli uses as foils to demonstrate the manic cerebral exercises he undergoes to calculate his possible fate as a young and neurotic gay man. (Alex Kryger as Smart Quirky White Person No. 2 and Evelyn Spahr as Slut No. 1 deserve special mention.) After proving his talent as a writer early on, Natoli builds to the strongest part of the piece: a self-described "soul-bearing" monologue that he dissects with surgical precision. Whether Natoli is destined for fame or not, his play is a stunning introduction.—Derek Smith
Click here for full TONY coverage of the 2013 New York International Fringe Festival.
Rating Breakdown
5 star:

1

4 star:

0

3 star:

0

2 star:

0

1 star:

0
Our friends visiting NY enjoyed the immensely. We also thot Mitchel Civello stood out, but we're pretty biased on that point. lol, Civello family, Dallas tex.