Heads up! We're working hard to be accurate – but these are unusual times, so please always check before heading out.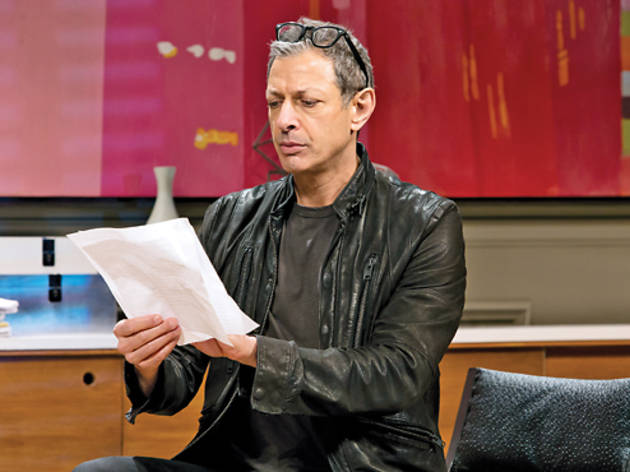 The Hot Seat: Jeff Goldblum
The actor storms Broadway as a swearing, sex-obsessed teacher.
RECOMMENDED: Full list of Hot Seat interviews
In Theresa Rebeck's comedy Seminar, you play Leonard, a well-paid writing teacher who delivers some wickedly dirty lines. Do you have any favorites?
Oh, I think there are a lot of zingy, peachy lines all along the way. In one scene, I talk about [a student] sucking my balls and all that. And it's just outrageous and funny.
Do you consider Leonard a prick?
Part of the joke is that the students and the audience can misconstrue him as a prick and abusive—a bad teacher, unethical and all that—but I think that's wrong. His ego-burning is harsh; it's tough love; it's "scared straight" kind of stuff, where he pulls Band-Aids off very quickly, and there's much pain involved. But at least from this class that we get to witness, everything that he's doing with [his students] is right. I don't think that what he's done to achieve these effective results is going to have bad repercussions. All of the sex is fine and dandy.
You're a teacher yourself, of acting. Does your style bear any similarities to Leonard's?
I'm different than Leonard. I have a strict line about anything personal and sexual, of course. I know there are teachers around who tear people down and just sort of vent their own frustrations and disappointments. I consciously steer clear of anything like that. I'm not a mean guy myself, although I'm very passionate and I have an urgency [when I teach]. But I do share some of Leonard's ideas; I'm firm, and nothing if not forthright.
What did you like about Theresa Rebeck's script?
It's about these smart and interesting characters. The way they talk is snappy and sometimes verbose, but beautifully verbose, like little interesting saxophone-solo lines or jazz lines. Gee, there's even—I hadn't thought of this—five people in this play; that's exactly the number [of people] in my quintet in Los Angeles that I usually play with, the Mildred Snitzer Orchestra. But it is kind of the size of a jazz band or basketball team, and they do sort of throw this thing back and forth to each other in a very nifty way.
You've kept pretty busy on the stage, in productions such as Speed-the-Plow and The Pillowman. What keeps bringing you back to theater?
When I first thought of being an actor, I think it was because my parents had taken us to see children's theater in Pittsburgh. And there was something romantic about the whole smell and idea of it. You know, I'm always looking for the best people and material and places where I can keep going. After having done [Seminar] for a little bit now, it's as much fun as I have ever had. To keep detailing it in front of an audience, to have this part which is very juicy to me—it's just a very delicious little educational project.
Your appearances on The League and Portlandia are great. What drew you to those shows?
I'm a big fan of Curb Your Enthusiasm. Larry David and I were in William Esper's [acting] class together in 1972. I'm a big fan of his and of course of Meisner's training, and some of what I teach has improvisation. Some of the people involved in [Curb Your Enthusiasm] created [The League], so it appealed to me a lot. Sarah Silverman and I had done a thing or two before, and I love her and I had a great time [working with her on The League]. And then Portlandia was also improvised like that. Those guys are terrific.
Did he always act like "Larry David," even in the '70s?
Yeah, he did; he did! I got a big kick out of him. I remember distinctly back then he was always…like that. [Laughs] He was always very, very funny.
Although you're almost 60 years old, you have this ever-youthfulness about you. What's your secret?
Well, I don't know about that. But I do like to get my good night's sleep, and I do exercise and watch my diet. And I don't smoke and I don't really drink. I see people who do and it does show up—maybe not in your twenties—but after a time. But you know, you're always going to get undone by the fleeting form; it's going to wither at some point and get creaky and go away sooner than we imagine.
Jeff Goldblum stars in Seminar at the John Golden Theatre through May 27.
You might also like
See more Hot Seat
See more in Theater