Heads up! We're working hard to be accurate – but these are unusual times, so please always check before heading out.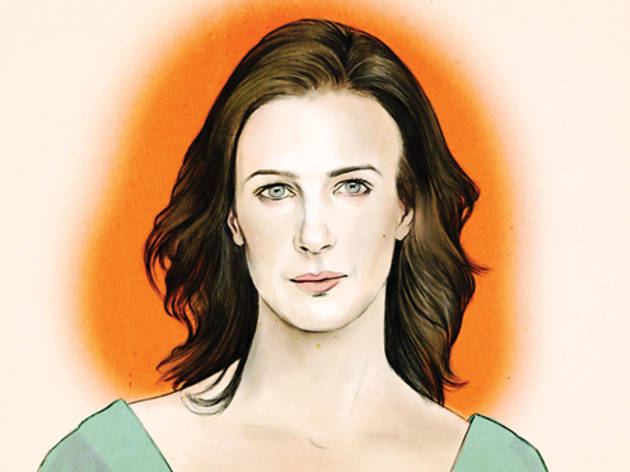 The Hot Seat: Rachel Griffiths
The TV star walks the Broadway boards in Other Desert Cities.
RECOMMENDED: Full list of Hot Seat interviews
Is this your Broadway debut?
It is! I made my Broadway debut last Wednesday morning!
Were you nervous?
I was nervous as hell. I was still at that point where I wasn't quite sure what was going to happen next in the play, I was going cue-to-cue. I've had a two-week rehearsal period, which is insane.
Why was it so short?
Because I'm a replacement [for Elizabeth Marvel], and I'm sure that Stockard [Channing], Stacy [Keach] and Tommy [Sadoski] didn't want to go into that room for a month to help some little wanna-be from Australia make her debut [Laughs]. So the pressure was on. But it was really good.
Your rehearsals must have been intense.
They were! It was like doing unbelievably awful family therapy every day. I'd come out thinking I had been hit by a bus. The play is a really intense, visceral drama, but it's offset by these incredibly intelligent, well-read, sparkly people [in the cast], who feel that the worst crime as a human being is to be boring.
Were you starstruck by your costars at all?
I didn't waste much time being starstruck because I had to meet their expectations and not let them down. I'm not going to spend my time twiddling, saying, "Oh my god, it's Stacy Keach!" I had to go, "I'm in a thing with Stacy Keach! I have to hold my own and bring what I need to bring to make this thing work."
Channing, Keach and Sadoski did this play together last winter. What was it like coming into an established cast?
It was intimidating. I saw the play, and that was the best [Off] Broadway cast in living memory. I had a long talk with [director] Joe [Mantello] when I was thinking about doing it, and he said, "Look, you can't reinvent the play." And I'm like, "Joe, I've got two weeks. My objective is just not to fuck it up."
So you saw Elizabeth Marvel play your character.
I couldn't do what Beth did with that role. It came out so awesomely, with this fierceness, this extraordinary depth. I would never be able to top that, so I'm coming with different stuff. There's a slightly more elastic quality I have, and I think I've brought a little bit more shtick to it. There's maybe a bit more Brenda [from Six Feet Under] channeled: funny, sexy and fragile. But I was lucky to have seen Beth do it because she nailed it, and now I know what's required—there are three or four moments in the play that have to be that strong, that unapologetic and that intense. And that's slightly outside my comfort zone.
I'm surprised to hear you say that, because you have taken on a lot of really complicated characters.
Complicated isn't hard for me, but these are, like, two page monologues. When I've worked in film and television, I've had much smaller outbursts; these are vitriolic, intelligent, thoughtful, intense, monoblasts. The classical background that Beth had really served her well. I'm a modern actress, which means I don't have to talk for very long. [Laughs].
Is this harder work than the film and TV roles you've had?
What's hard about them is different. Doing 14- to 15-hour days of television and making your last take at 11 o'clock at night as good as your first take at six in the morning—that's hard. It's hard incorporating stupid network notes over a scene that had previously been coherent, or delivering a stupid exposition that doesn't feel like normal conversation for the viewers that missed last week. What's hard onstage is maintaining your energy and finding pace. I've realized that all my pace skills are very out of whack. I'm used to these short bits, and I'm never quite sure how long to leave a line—you get lazy about that stuff. [In TV] you can take a long time to gather your thoughts before you speak, and you know they can cut it in editing. But you can't do that here because the whole energy of the play will drop.
What's the most challenging relationship you need to portray in this role?
It's probably the complex relationship that exists between a writer and her work. [My character] Brooke is a writer, and she's a good writer. But one of the central questions in the play is, Who has the right to tell a story? Do you have the right to tell a story about your siblings, about your parents? Do you own that story, or is it owned by the family group? Do you need permission to write it? I've had long conversations with [playwright Jon Robin Baitz] about the narcissism and arrogance of being a writer—the certainty that your truth has a right to be seen and the consequences of that. That's what this play is about, both the need and the consequences of telling the truth.
Have you done any writing yourself?
Not in a way that's important. [Laughs]. I've written some short films, and I have that creative curiosity of wanting to tell this story or that story, but it's not the same. I think it's such an awful, awful profession in terms of the loneliness and isolation. It requires you to observe, to disconnect yourself from others in order to make sense of things. You really have to have some gene inside of you, insisting that it must be done.
So you're an actor who feels sorry for writers.
I have much more sympathy for writers than I used to because of this play. And I am so thankful, because this role is amazing and could only come out of a writer who has not been encumbered by any producer, money, network—you know. This is a writer. And it's a very exciting thing.
Would you like to appear on Broadway again, after this show?
Let's see how we open, shall we? [Laughs] I mean, I still have all sorts of bad habits [from television] I'm getting over. The other day, Joe informed me that the right side of my body doesn't move as much as my left side. I was like "Really?" and I did a whole show that was fixated on the right side of my body. [Laughs].
Other Desert Cities opens Thu 3 at the Booth Theatre.
You might also like
See more Hot Seat
See more in Theater