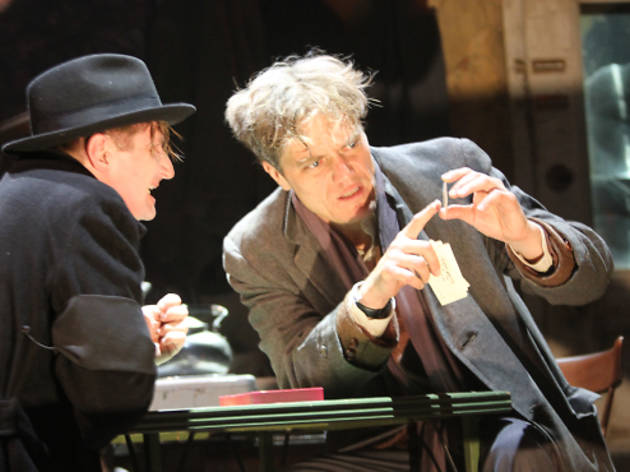 1/11
Photograph: Gerry Goodstein
The Killer
2/11
Photograph: Gerry Goodstein
The Killer
3/11
Photograph: Gerry Goodstein
The Killer
4/11
Photograph: Gerry Goodstein
The Killer
5/11
Photograph: Gerry Goodstein
The Killer
6/11
Photograph: Gerry Goodstein
The Killer
7/11
Photograph: Gerry Goodstein
The Killer
8/11
Photograph: Gerry Goodstein
The Killer
9/11
Photograph: Gerry Goodstein
The Killer
10/11
Photograph: Gerry Goodstein
The Killer
11/11
Photograph: Gerry Goodstein
The Killer
The Killer. Theatre for a New Audience (see Off Broadway). By Eugène Ionesco. Translated by Michael Feingold. Directed by Darko Tresnjak. With Michael Shannon, Robert Stanton, Paul Sparks, Kristine Nielsen. Running time: 3hrs 5mins. Two intermissions.
The Killer: In brief
The intense Michael Shannon (Revolutionary Road) stars as a man who discovers a seeming urban paradise—marred only by an unstoppable serial killer—in a rare revival of Eugène Ionesco's 1957 play, newly adapted by critic Michael Feingold. Darko Tresnjak directs for TFNA; the cast also includes Kristine Nielsen, Paul Sparks and Robert Stanton.
The Killer: Theater review by David Cote
Death stalks the corpus of Eugène Ionesco (1919–1994), the Romanian-born playwright commonly grouped with Samuel Beckett and Jean Genet (among others) as pioneers of Theatre of the Absurd. There's the homicidal tutor in The Lesson, while Exit the King is one long, elaborate pratfall to the grave. In this extraordinary 1959 piece, the first to feature Berenger, his avatar and everyman, Ionesco puts death front and center, personified as a faceless, chuckling cipher.
Getting to that terrifying face-off between Berenger and the murderer is a long, beguiling (and slightly tiring) journey through two acts of social satire, paranoid slapstick and garish urban anomie: Kafka by way of Chaplin (or is it the other way around?). Berenger (Shannon, haunted and mercurial) stumbles upon a "radiant city" at the center of his drab town, tended diligently by the Architect (a frighteningly cool Robert Stanton). Naturally, this Eden has a snake: a motiveless killer who drowns his victims in a lagoon. When Berenger finds a clue thanks to his sickly friend Edward (Paul Sparks, in full wormy glory), he decides to hunt the malefactor.
Director Darko Tresnjak pulls out every stop for this bravura staging—amplified by Jane Shaw's dense sound design and buttressed by Michael Feingold's witty, musical translation. It's a dream cast (including Kristine Nielsen as a mouthy landlady), and you can feel their relish in wrestling with rich and daunting material. For a work so obsessed with dying, this macabre masterpiece blazes to life. Thanks to Theatre for a New Audience for digging up the body.—Theater review by David Cote
THE BOTTOM LINE An Ionesco rarity slays 'em in Brooklyn.
Follow David Cote on Twitter: @davidcote
Rating Breakdown
5 star:

1

4 star:

0

3 star:

0

2 star:

0

1 star:

0
It seemed a prerequisite to read "The Killer" before my first venture into Ionesco territory. The text is daunting and verbose, I found, prompting questions about how it might be brought to life. Another review added to my doubts about spending three hours in such company. But my concerns were completely dispelled by the current production at Theatre for a New Audience. The casting is superb: Michael Shannon's vivid portrayal of the haunted and excessive Beringer is pitch-perfect; Robert Stanton creates a sinister functionary as the Architect; and Kristine Nielsen adds welcome verve as the bossy Concierge and the frighteningly recognizable political opportunist, Ma Piper. The entire ensemble works together seamlessly
Necessarily departing from Ionesco's stage directions, the production uses the intimate space of the theatre to conjure up Ionesco's bleak and claustrophopic interior landscape. The revolving stages add to the sense of movement without progress. Sound and lighting frame the action sensitively. Congratulations to the Theater for a New Audience for bravely mounting this haunting and difficult piece with such assurance.