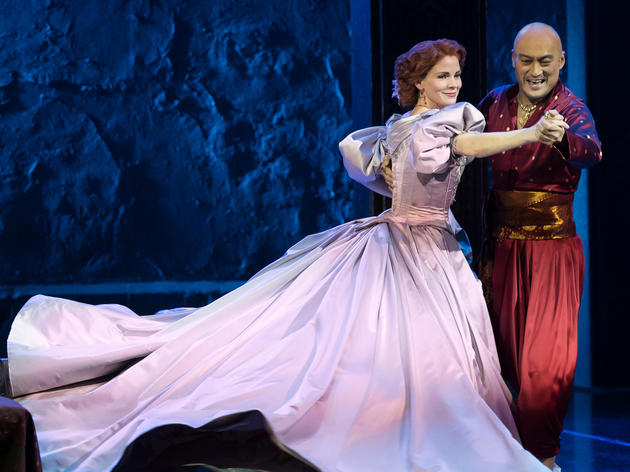 1/10
Photograph: Paul Kolnik
The King and I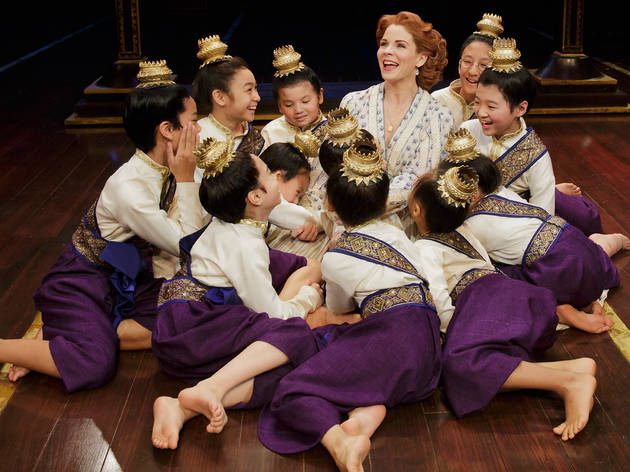 2/10
Photograph: Paul Kolnik
The King and I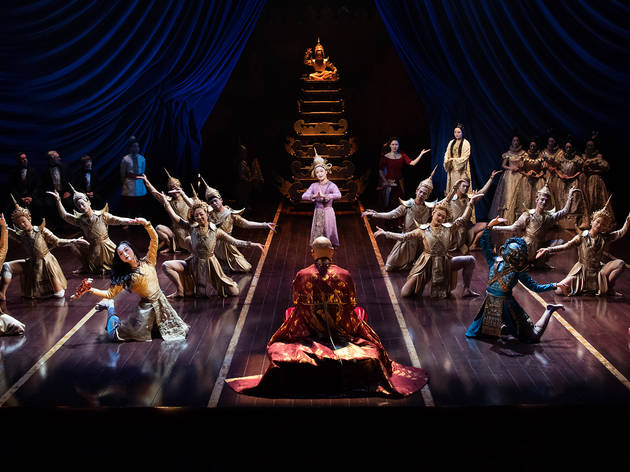 3/10
Photograph: Paul Kolnik
The King and I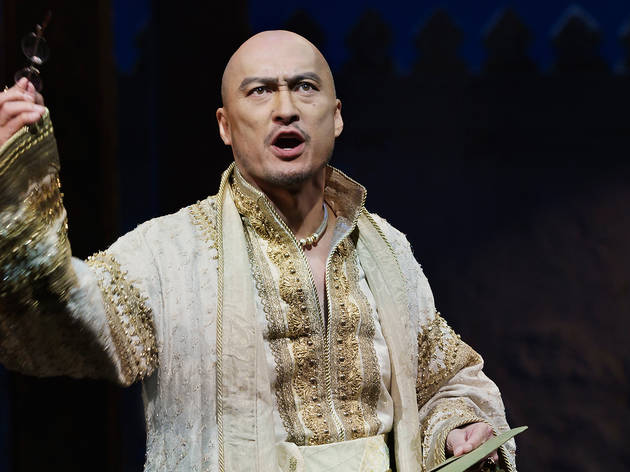 4/10
Photograph: Paul Kolnik
The King and I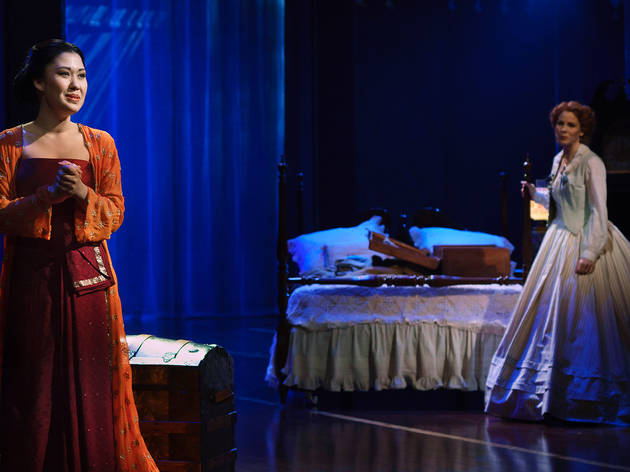 5/10
Photograph: Paul Kolnik
The King and I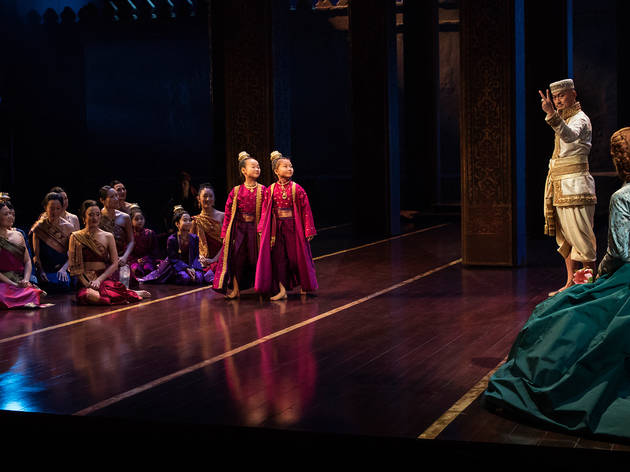 6/10
Photograph: Paul Kolnik
The King and I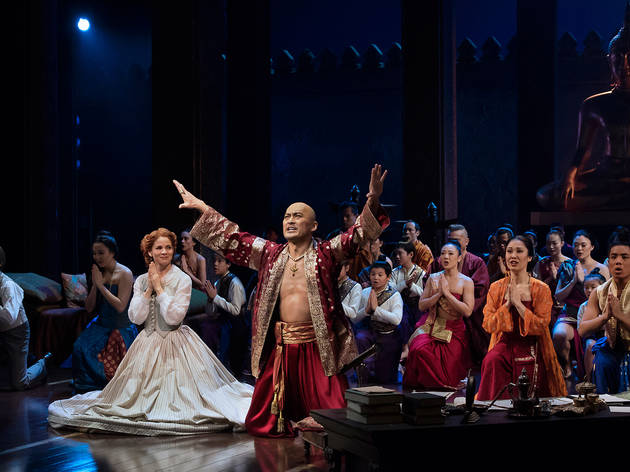 7/10
Photograph: Paul Kolnik
The King and I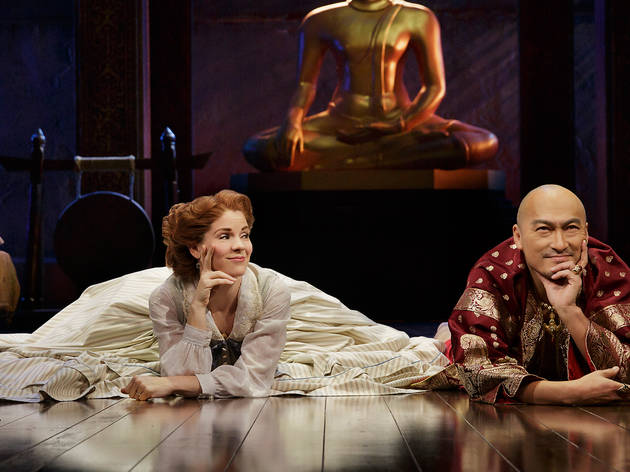 8/10
Photograph: Paul Kolnik
The King and I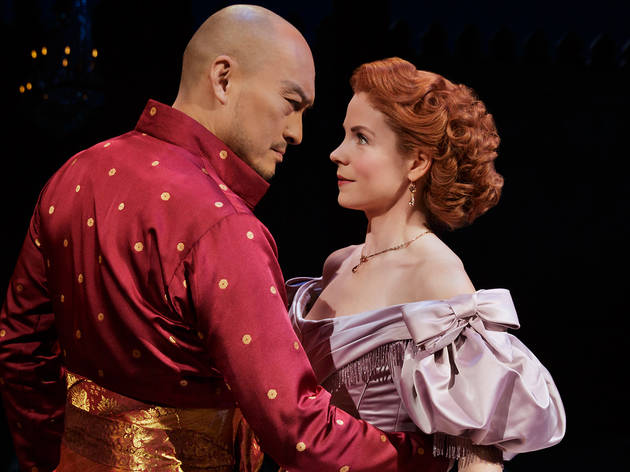 9/10
Photograph: Paul Kolnik
The King and I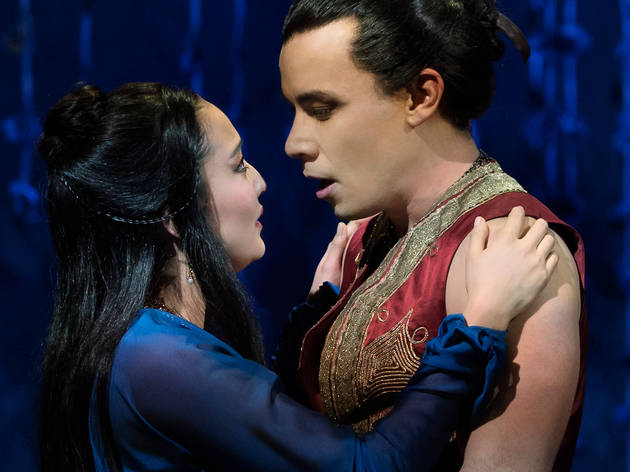 10/10
Photograph: Paul Kolnik
The King and I
Time Out says
The King and I: Theater review by David Cote
[Note: As of May 3, 2016, the roles of Anna and the King are played by Marin Mazzie and Daniel Dae Kim, respectively.]
Lincoln Center Theater's The King and I arrives this spring much like the ship Chow Phya heaves into view of Bangkok on the Vivian Beaumont stage: a majestic vessel of excellent construction, expertly piloted and bringing with it many wonderful things—starting with Kelli O'Hara. What's more, in a year of bland nostalgic revivals, this grand and glorious production gives you hope in the nonprofit stewardship of our theatrical heritage. Artistic revolutions and usurpations have shaken Broadway over the decades, but Rodgers and Hammerstein's timeless lessons about empathy and equality bear repeating.
Anyone doubtful about another look at the 1951 classic (now in its fourth Broadway revival) should note that its message of female empowerment is no less revolutionary to societies in the Middle East than in its setting, Siam (Thailand) in the early 1860s. That realm is ruled by the dictatorial and spoiled but kindly King (Ken Watanabe), who invites the British Anna (O'Hara) to teach English to his several wives and 77 children. He's blithely patriarchal; she stubbornly insists on being treated with respect; a delicate, wary romance slowly flowers between them.
Many of the key players from LCT's equally gorgeous 2008 South Pacific—director Bartlett Sher, costume designer Catherine Zuber and set designer Michael Yeargan—are back to navigate the politically choppy waters of this material. Because, let's be frank: Although Hammerstein's characterization of the King has pain and pathos in addition to comic bluster, he speaks a pidgin English that few actors can pull off today. Luckily, the Japanese Watanabe shows a man struggling with a foreign tongue. (His accent can be thick, but that adds authenticity.) The 55-year-old Watanabe also cuts an older figure than Lou Diamond Phillips did in the 1996 revival, which adds gravitas as well as humor to his outbursts and temper tantrums.
O'Hara sounds angelic as ever in "Getting to Know You," "Hello, Young Lovers," "Shall We Dance?" and other numbers—her silky, shimmering soprano a treasure—and the role plays to her strengths: wryness, warmth and quiet dignity. Sher directs her and the rest of an exceptionally good cast—Ruthie Ann Miles as Lady Thiang, Ashley Park as unhappy wife Tuptim and Conrad Ricamora as her clandestine lover, Lun Tha—with palpable respect for the material and a care to avoid orientalist humbug. When we get to the second-act ballet, "The Small House of Uncle Thomas," the Siamese version of Uncle Tom's Cabin, you marvel at the sophistication (and welcome strangeness) of Rodgers and Hammerstein's theme: intercultural change and evolution. Nothing is lost in translation; this King and I speaks a universal language of love.
Vivian Beaumont Theater (Broadway). Music by Richard Rodgers. Book and lyrics by Oscar Hammerstein II. Directed by Bartlett Sher. With Kelli O'Hara, Ken Watanabe. Running time: 2hrs 50mins. One intermission.
Follow David Cote on Twitter: @davidcote
Details
Rating Breakdown
5 star:

3

4 star:

0

3 star:

0

2 star:

0

1 star:

0
This revival of "The King and I" was beautifully executed. The set design will blow you away in the first scene with a ship emerging from the fog, extending into the audience in an almost 3D-esque experience. With its versatile sets and perfectly detailed costume design, you are immediately drawn in by the aesthetics. And then the female leads start singing... and the only way to describe this is "angelic." The show is family friendly and as the theater is so compact any seat feels like first class. Anything the Vivian Beaumont Theater touches is gold and this was no exception.
The most sumptuous of the musicals of Rogers and Hammerstein, "The King and I" gets a beautifully mounted revival at the Vivian Beaumont Theater at Lincoln Center. Bartlett Sher's inventive staging takes full advantage of the Beaumont's three-quarter-round configuration and directs the action to every section of the house. It is both intimate and grand, with gorgeous costumes and elegant set pieces creating the scenes. The magnificent Kelly O'Hara is a perfect Anna, and Hoon Lee, taking over from Ken Watanabe, is quite impressive. Both have taken fresh approaches to roles that past stars like Yul Brynner made their calling card, and succeed admirably in making these characters their own.
Of course, the most glorious aspect of "The King and I" is the score, and the orchestra, chorus, and leads perform it with all they've got. The show is jammed with beloved tunes composed at the height of Rogers and Hammerstein's partnership, and you'll recognize all of them. I got tingles watching the March of the Siamese children, and I dare anyone to not choke up just a bit at the climactic deathbed scene, as the chorus sings Something Wonderful while the young prince, now king, declares his new regime.
Ladies and gentlemen, if you wanted to ever be introduced to what perfect classic theatre is, "The King and I' provides one of the best examples I have ever been blessed to witness.
Rodgers and Hammerstein's "The King and I" triumphs on every single point. However, the strongest elements start with the superb direction for Bartlett Sher, creating a masterful vision of the show on all front. Second, Kelli O'hara is marvelous as Anna, with her beautiful soprano voice hitting all the perfect notes.
This is a show for both kids and adults. Also, there isn't a bad seat in the house. My dad and I had the "cheap" seats in the house, seated at the very top, but you could really see EVERYTHING.
Definitely check this out before Kelli leaves!