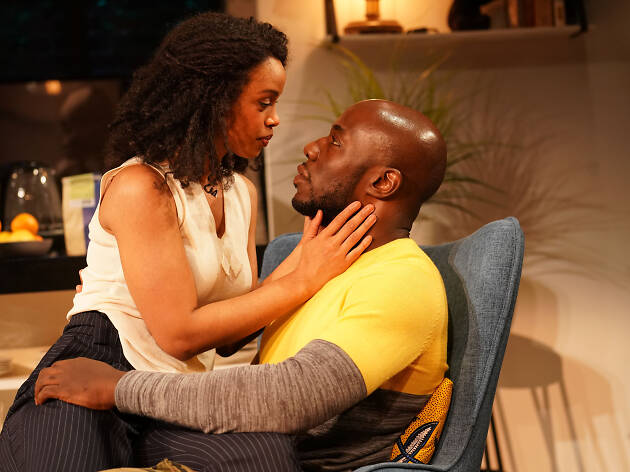 Time Out says
Friendly warning! We're working hard to be accurate. But these are unusual times, so please check that events are still happening.
Theater review by Helen Shaw
Some conversations are awful but necessary. We must have them, but we hate having them. For instance: Men commit rape; many victims are left alone and disbelieved in the wake of that violence; and there are gaps in social empathy that open particularly wide under the feet of black women. If we need to talk about such things, yet we try to avoid them, how can a piece of art slip past our defenses to delve deep? Playwright Loy A. Webb has a strategy: For the first half of her play The Light, she gives us almost no idea of the conversation that is coming.
Webb's drama starts as delirious, wish-fulfillment romance. Sensitive firefighter Rashad (McKinley Belcher III) and charter-school principal Genesis (Mandi Masden) are an ideal couple, and fully 40 minutes of this 70-minute play are devoted to watching them banter and swoon on Kimie Nishikawa's pretty Hyde Park condo set. Eventually, though, Genesis throws a wrench in Rashad's proposal plans by asking him to believe her—to share her distrust of a superstar male singer—without pressing her for details. But Rashad won't comply until Genesis cracks her own past open. Why can't he simply take her word?
For Webb, the trouble lies in the way that many men apportion their sympathies: They can be outraged when someone they love has been hurt, yet they're often unable to rouse themselves for women outside their immediate circle. Webb and director Logan Vaughn don't quite make Rashad and Genesis seem real; at first the characters are too carefully expositional, and later we're too aware of their being manipulated into battle positions by their playwright-puppeteer. Yet their fight, when it finally comes, is bruising. The actors commit themselves so totally they can barely stand during their curtain call. The Light is about choosing to feel someone else's pain, and its best illustration of that idea consists in simply watching Masden and Belcher lift their internal floodgates and let a terrifying tide course right through them.
MCC Theater (Off Broadway). By Loy A. Webb. Directed by Logan Vaughn. With Mandi Masden, McKinley Belcher III. Running time: 1hr 10mins. No intermission.
Follow Helen Shaw on Twitter: @Helen_E_Shaw
Follow Time Out Theater on Twitter: @TimeOutTheater
Keep up with the latest news and reviews on our Time Out Theater Facebook page
Details