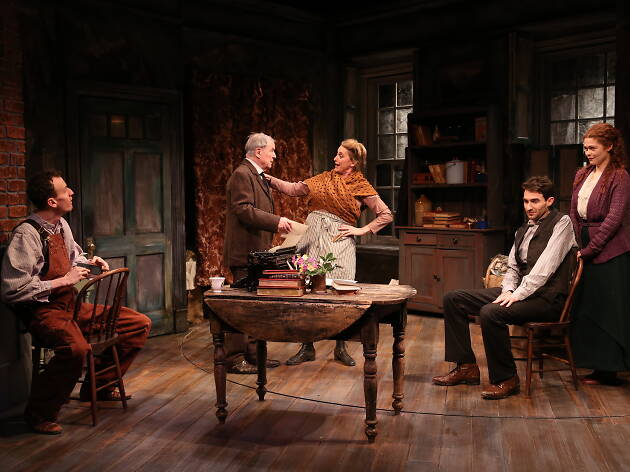 The Irish Rep takes a deep dive into the oeuvre of Irish master playwright Sean O'Casey, presenting a trio of the dramatist's best-known works. Ciarán O'Reilly directs The Shadow of a Gunman (starting January 30), set during Ireland's bloody War of Independance. Neil Pepe directs Juno and the Paycock (starting March 9), starring O'Reilly and Maryann Plunkett as an unhappy couple in a family torn by strife. Finally, Charlotte Moore helms The Plough and the Stars (starting April 20), an Easter Uprising tragedy. Each of the three plays is rolled out separately, then joins the others in a repertory schedule.

The Shadow of a Gunman
Theater review by Helen Shaw
When Sean O'Casey wrote his way into history with The Shadow of a Gunman, it was 1923, the Irish Civil War was still raging and the future of the just-established Irish Free State was still under its own deep shadow. O'Casey was a road laborer with no produced plays, and he hadn't yet written the other two plays in his Dublin Trilogy, Juno and the Paycock and The Plough and Stars, which would make him the North Star of Irish realism. No one yet knew that he had such a talent for turning merry character observation into modern tragedy. It must have felt like a bomb had gone off under the bed.
The first half of The Shadow of a Gunman is a tenement comedy that is almost sleepy. It is 1920, and apart from the grinding poverty everywhere and the Irish War of Independence raging outside, poet Donal (James Russell) has only two problems: his garrulous salesman roommate, Seumas (Michael Mellamphy), is too noisy; and the nationalist residents of the building have somehow come to believe that Donal is an IRA gunman on the run. Sweet neighbor Minnie (Meg Hennessy) certainly thinks he's from the 'Ra, and Donal is willing to play the part as long as it keeps her coming by to flirt. It's a short play, but O'Casey takes his time: There's a long scene when an old man from a front room just reads Donal a letter. Conversations loop and knot. The characters are poor, yet rich in the time to talk.
Still, the British paramilitary squads called the Black and Tans are everywhere. In a beautiful midnight scene, Donal stares up at the moon, trying to come up with the right metaphor. She's like a queen, he thinks, borrowing from Shelley—her face passing over Dublin as though she were reading it. The story she's reading, though, turns abruptly into horror. The play concludes in an extended spasm of violence. Donal has casually disdained his fellow tenement residents as fools, but now each person's foible reveals itself as a mortal danger; this man's empty boasting or that girl's hero worship will put each one at risk when the Tans burst in.
As a play, The Shadow of a Gunman is a bit schematic. That's why it's the least frequently produced of O'Casey's Dublin Cycle; you can see the plot's melodramatic turnings a mile down the road, so you take your excitement from O'Casey's rich character portraits. Luckily, director Ciarán O'Reilly presides over an embarrassment of riches from lead to bit player. (The old man with the letter is none other than Robert Langdon Lloyd, a past master who worked with Peter Brook and Paul Scofield.) First among the stellar cast would be Mellamphy, who sets up an incredible wall of sound—blather, asthmatic snuffling, stage business and pure fuss—only to reveal that Seumas may be more in touch with the Muse than Donal himself. And just next to him is John Keating, an Irish Repertory Theatre stalwart, who briefly plays a terrifying drunk. I've only ever known Keating as a gentle clown. Here he's a loaded gun.
Kicking off a four-month Sean O'Casey season, the Irish Rep treats this relatively minor work like royalty. Charlie Corcoran's impressive set wraps around the entirety of the Rep's mainstage, with laundry hanging from the balcony and a row-house facade built into the wall of the orchestra. There are two sound designers (Ryan Rumery and M. Florian Staab), two costume designers (Linda Fisher and David Toser), and a level of precision that only comes from deep perception and care. That's one of the lessons of the play, as it turns out. Donal, his mind on poetry, doesn't recognize the qualities of his neighbors because he barely glances up from his typewriter: He puts them in danger out of sheer inattention. This production could never be accused of that. It chooses to look carefully and closely—and noticing, the play argues, is itself a moral act.
Irish Repertory Theatre (Off Broadway). By Sean O'Casey. Directed by Ciarán O'Reilly. With ensemble cast. Running time: 1hr 45mins. One intermission.
Follow Helen Shaw on Twitter: @Helen_E_Shaw
Follow Time Out Theater on Twitter: @TimeOutTheater
Keep up with the latest news and reviews on our Time Out Theater Facebook page