The Patron Saint of Sea Monsters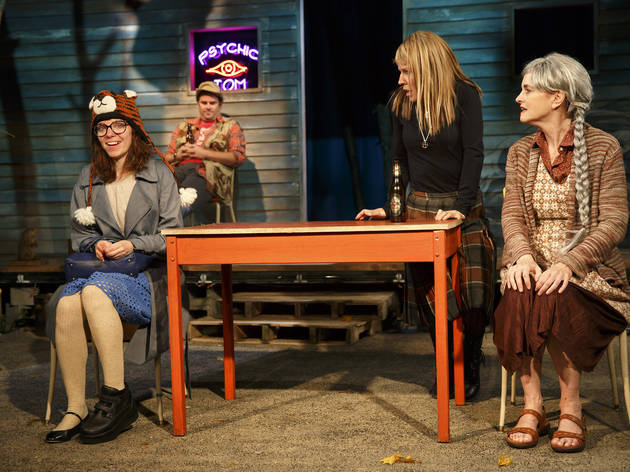 1/7
Photograph: Joan Marcus
The Patron Saint of Sea Monsters
2/7
Photograph: Joan Marcus
The Patron Saint of Sea Monsters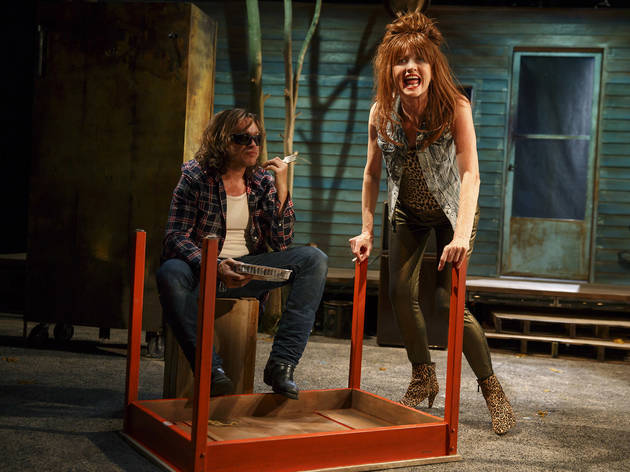 3/7
Photograph: Joan Marcus
The Patron Saint of Sea Monsters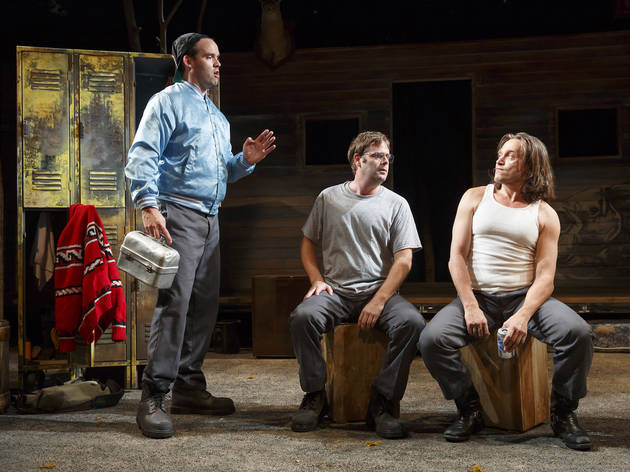 4/7
Photograph: Joan Marcus
The Patron Saint of Sea Monsters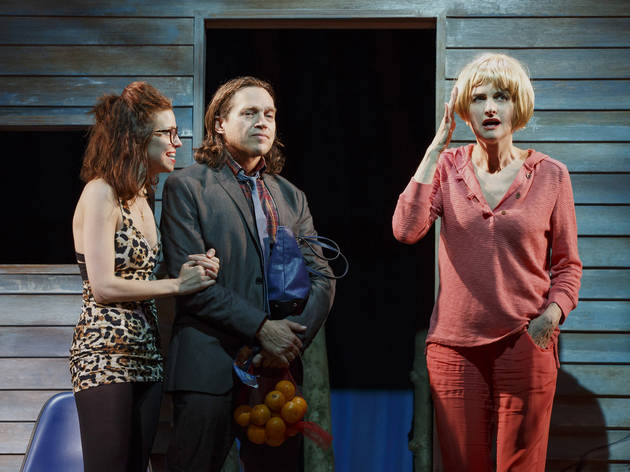 5/7
Photograph: Joan Marcus
The Patron Saint of Sea Monsters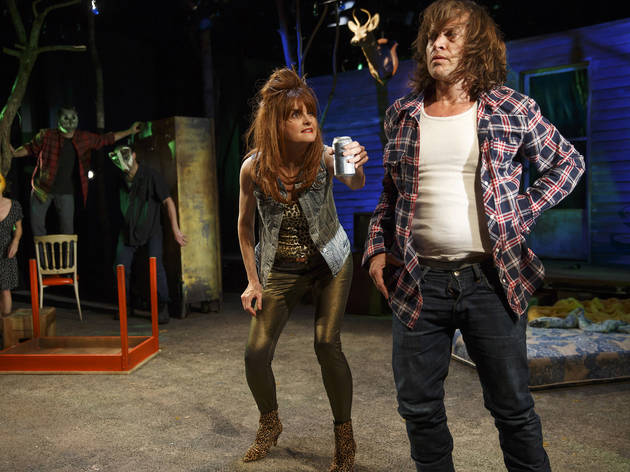 6/7
Photograph: Joan Marcus
The Patron Saint of Sea Monsters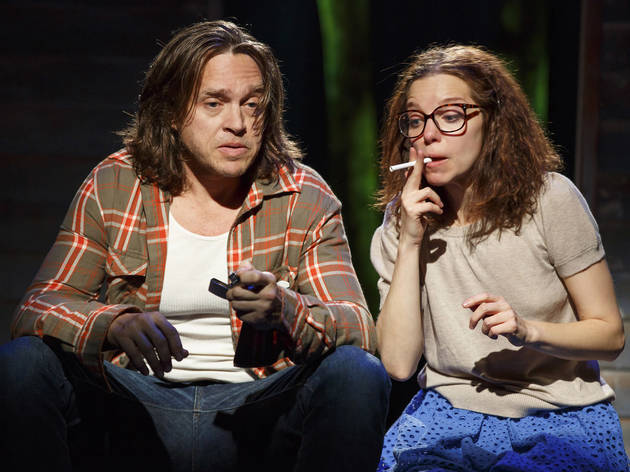 7/7
Photograph: Joan Marcus
The Patron Saint of Sea Monsters
The Patron Saint of Sea Monsters. Playwrights Horizons (see Off Broadway). By Marlane Meyer. Directed by Lisa Peterson. With ensemble cast. Running time: 2hrs 25mins. One intermission.
The Patron Saint of Sea Monsters: In brief
Laura Heisler and Rob Campbell star as an oddly matched potential couple in Marlane Meyer's offbeat quasiromantic comedy. Lisa Peterson directs the world premiere at Playwrights Horizons.
The Patron Saint of Sea Monsters: Theater review by Helen Shaw
Baffling, higgledy-piggledy, frustratingly self-amused and yet glimmering with possibility, Marlane Meyer's The Patron Saint of Sea Monsters handily demonstrates the risks of overindulgence in the High Weird style. And honestly, it's often just a volume issue. Turn the strangeness up, and sometimes it works—even on an assaultive level. The first two microscenes, for instance, take place on a footlighted platform, transforming the play's initial flashback moments into uplit Victorian horror. It's disorienting and clever—there's very little to look at, so wildly exaggerated performance seems Guignol-appropriate.
Then, unfortunately, Meyer and director Lisa Peterson (and this is a pattern for them) simply abandon the technique. The curtain whisks aside and we're in Rachel Hauck's cluttered set, a dark, boarded area glittering with the gazes of a dozen taxidermied animals. From their commedia opening, the actors have learned a dangerous lesson—they feel they can sell their zany material if they plunge their voices up and down, if they strike attitudes, if they pull faces. From then on, each one tries to out-odd the others (Meyer provides no straight man), and Peterson exerts zero dynamic control. Meyer abandons writerly discipline, changing her characters' basic characteristics anytime she needs to give us another little gothic thrill. Events unfold in the "and then, and then" pattern, giving the now-quasihysterical production no structure to rebel against.
Delusional, socially awkward doctor Aubrey (Laura Heisler) has returned home to find love. Her chosen soul mate is the dangerously thick layabout Calvin (Rob Campbell), a former high-school golden boy who has just been laid off for drinking. Their romance—in which Calvin plays a reluctant part—must try to survive the swampy atmosphere of a town filled with menacing pawnshop owners (brilliant Danny Wolohan, creating intact comedy out of nothing) and homicidal, trailer-dwelling welfare queens. Luckily, Aubrey exists in a haze of semi-religious exceptionalism; she believes St. Martyrbride—the play's titular (fictional) saint—will ensure her future happiness, despite Calvin's history as the Bluebeard of their senior class.
There are detours galore—serious-toned asides about the current state of Congress; dancerly interludes from St. Martyrbride, frolicking with her votive whale; a last-minute twist to make us believe Calvin's idiocy may mask a poet's soul. Performances are frantic, and scenes grow so short they stop having narrative value, yet the play has no sense of hurry—certainly, there's time to get in a bitchy dig at voting Republican, a subplot about spousal abuse played for yuks, and a long, heartfelt monologue about marriage delivered by a character who has, till then, been functionally illiterate.
Tellingly, the show's best scene (a locker-room conversation between Calvin and his buddies) is played in earnest. The quirk relaxes; the classist condescension abates. Unfortunately, this reprieve comes early in the evening. I love a good Twin Peaks–style gumbo, but even I'll avoid it when it's this badly overcooked.—Theater review by Helen Shaw
Ticket Offers from Time Out New York
Looking for tickets to a Broadway or Off Broadway show? Time Out Offers brings you terrific discounts on tickets to the latest New York theater. Want even more ideas? Check out Time Out New York's complete listings of Broadway, Off Broadway and Off-Off Broadway shows, and browse all available tickets.