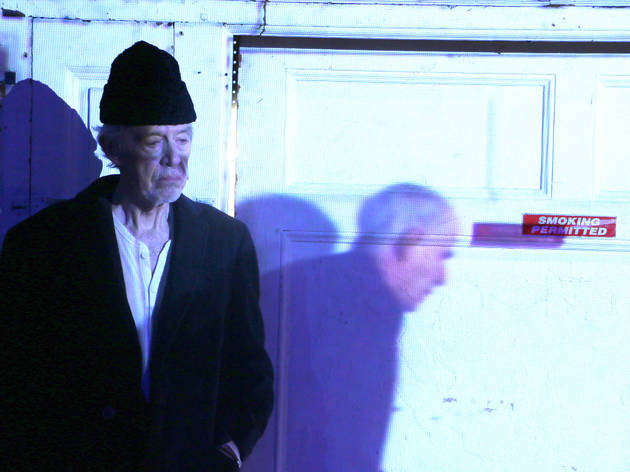 1/6
Photograph: Keith Skretch
This Was the End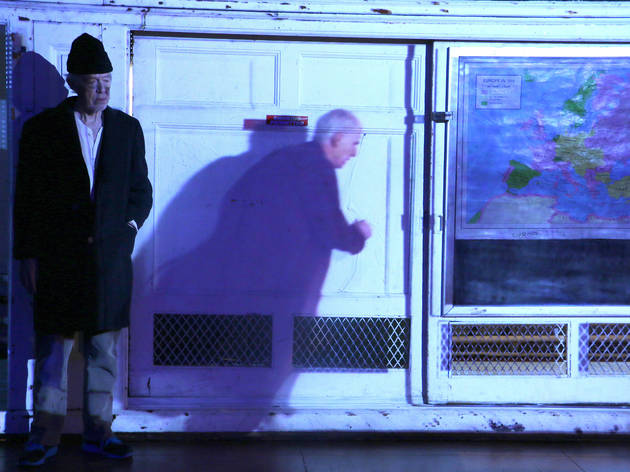 2/6
Photograph: Keith Skretch
This Was the End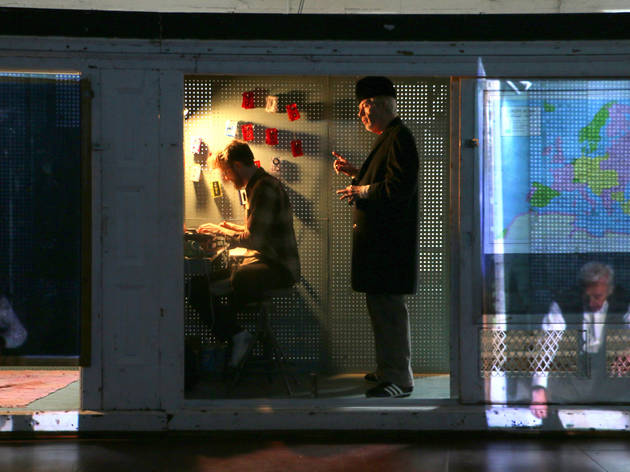 3/6
Photograph: Keith Skretch
This Was the End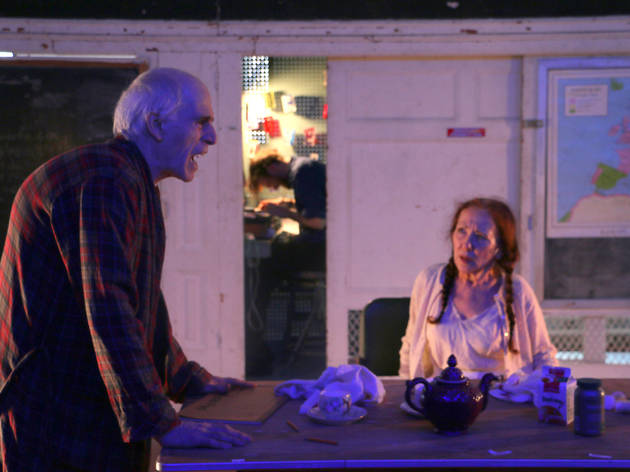 4/6
Photograph: Keith Skretch
This Was the End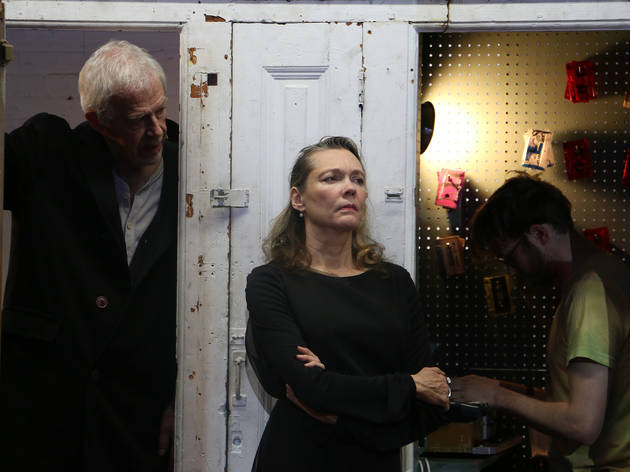 5/6
Photograph: Keith Skretch
This Was the End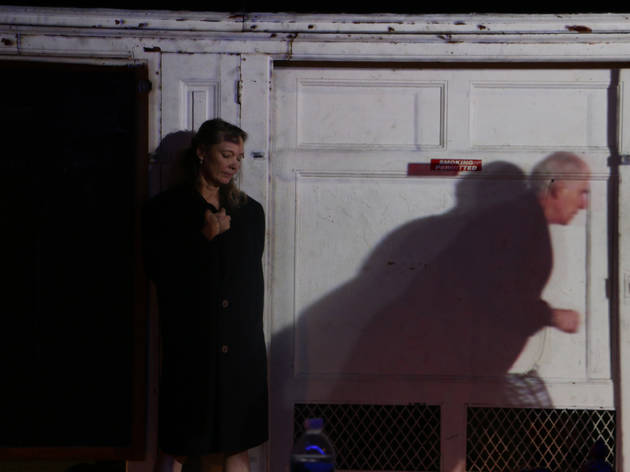 6/6
Photograph: Keith Skretch
This Was the End
Time Out says
This Was the End: Theater review by Helen Shaw
[Note: This is a review of the production that ran at the Chocolate Factory in 2014. The show has now returned, with its original cast, for an encore run at Mabou Mines.]
Memory and image, literary ghosts and an actual possession all phase together in Mallory Catlett's sublime This Was the End, a postmodern séance for, among other things, downtown New York. Built as a palimpsest over half-remembered scenes from Uncle Vanya, the video-rich work plays with old media and new, using a quartet of older actors to imply a performance that has been going on, somewhere, for decades.
Long years have passed since their first, familiar tragedies, but Vanya (Paul Zimet), Sonya (Theatre of the Ridiculous fixture Black-Eyed Susan), Astrov (naughty James Himelsbach) and Yelena (an exquisite Rae C. Wright) still harass one another in desultory fashion, playing endless games of tag and taking mild potshots at their ancient peccadillos. Despite real gentleness in the performances, this is not necessarily a happy sunset: Astrov's bottles of morphine have turned into thousands of prescription drug bottles, and Sonya, once so determined to keep her uncle alive, finally seems resigned to his wish for rest.
Scenes interlace, occasionally as snippets of overheard dialogue ("This is from the beginning of Act II," a voiceover recording murmurs at us) and as a sort of sliding, amnesiac's journey through the 19th-century text. It's like hearing Chekhov remixed by a mad DJ, and ah! There he is. A door swings open to show us the sound-installation artist G. Lucas Crane seated at his tape machines, looping live-made recordings of the current performance and turning them into an intoxicating, noisy score. This is matched by Keith Skretch's astonishing video design (Ryan Holsopple provides "technology interaction"), so whenever the noise-music's emotion overwhelms the room, the projected elements strobe in time to its analog frenzy. Catlett's piece has been gestating for half a decade, and the result is a work of unparalleled technical integration. The whole thing functions as a musical sculpture, a wayback machine dedicated to the material quality of memory, the way it codes itself into grooves and fissures.
Some in the audience will recognize Peter Ksander's set—a long classroom cupboard with sliding chalkboard and map—as a relic from the historic Mabou Mines schoolroom at P.S. 122. After Catlett developed the work in a Mabou Mines residency (and knowing the place would be torn apart during renovations), she took the whole long closet-wall with her. The video sometimes projects an exact image of the wall, fitting like a 1:1 scale map over its surface. Then, when the music judders, the pixelated overlay spasms, so the wall itself seems to sob.
For the performers, the closet becomes a cabinet of wonders, cracking open to let Black-Eyed Susan (or a life-size projected image of her) slip out—but it also exhales other, more otherworldly things. At the very start, when video of Black-Eyed Susan's vividly made up face peeped out from behind a hinging wall, I thought for a moment that it was recently departed Mabou Mines trouper Ruth Maleczech, checking in on the project from beyond. There are other ghosts here too; Zimet's infinite "chase" sequences recall Spalding Gray in Rumstick Road, for instance. It just depends on which vanished thing you love and miss most about downtown. Because that's the one that will haunt you.
The Chocolate Factory (see Off-Off Broadway). Conceived and directed by Mallory Catlett. Adapted from text by Anton Chekhov. With ensemble cast. Running time: 1hr 5mins. No intermission.
This Was the End: In brief
Four elderly actors (including Paul Zimet and Black-Eyed Susan) navigate the currents of Uncle Vanya in Mallory Catlett's experimental multimedia look at aging and memory.
Details
Best selling Time Out Offers