Theater review by Adam Feldman
Words fail everywhere in Brian Friel's exquisite Translations, and never is this failure more beautiful than in the moonlit courtship scene that ends the play's first half. The setting is rural Ireland, in 1833, and a delegation of British soldiers has arrived in the town of Baile Beag. Among them is the sweet-natured Lieutenant Yolland (Raffi Barsoumian), infatuate with all things Irish; having hazarded upon a land he takes for Eden, he is charged with the Adamic task of officially renaming the towns there. Yolland speaks no Gaelic, and the headstrong local woman he loves at first sight, Maire (an excellent Mary Wiseman), speaks almost no English. But when they find themselves in the woods after a dance one night, their stumbling cross-talk has an eloquence beyond expression.
As the cultural aggression implicit in the soldiers' presence turns literal, Friel's rich, reflective masterwork offers both a critique of colonialism and a Chekhovian portrait of linguistic erosion. Translations mostly takes place at a makeshift school in a drafty barn, where the tippling pedant Hugh O'Donnell (Seán McGinley) teaches local adults Latin and Homeric Greek: dead languages whose cultures live on through them, potentially like the Irish Gaelic they all speak. It is an organizing irony of the play that their dialogue is rendered throughout in English, a tongue they mostly lack; it is up to the audience to understand which language is being spoken when.
The play's simple and effective revival at the Irish Rep is directed by Doug Hughes and performed by a capable ensemble cast that includes company mainstay John Keating as a myth-besotted savant and the emotionally translucent Erin Wilhelmi as a mute woman. Owen Campbell and Seth Numrich play Hugh's two sons: the bookish and nationalist Manus and the more accommodating Owen, who works with the British Army as their local Éire linguist. (They think his name is Roland, and he doesn't correct them.) The differences between the O'Donnell brothers—and between them and the similarly named Donnelly twins, the offstage leaders of a guerilla operation—foreshadow the divisions that will haunt Ireland for generations to come. Friel wrote the play in 1980, in the middle of the Troubles, and what is lost in Translations serves as a reminder that wars of words can claim casualties.
Translations. Irish Repertory Theatre (Off Broadway). By Brian Frield. Directed by Doug Hughes. With Seth Numrich, Mary Wiseman, Raffi Barsoumian, Seán McGinley, Owen Campbell, John Keating, Erin Wilhelmi. Running time: 2hrs 20mins. One intermission.
Follow Adam Feldman on X: @FeldmanAdam
Follow Time Out Theater on X: @TimeOutTheater
Keep up with the latest news and reviews on our Time Out Theater Facebook page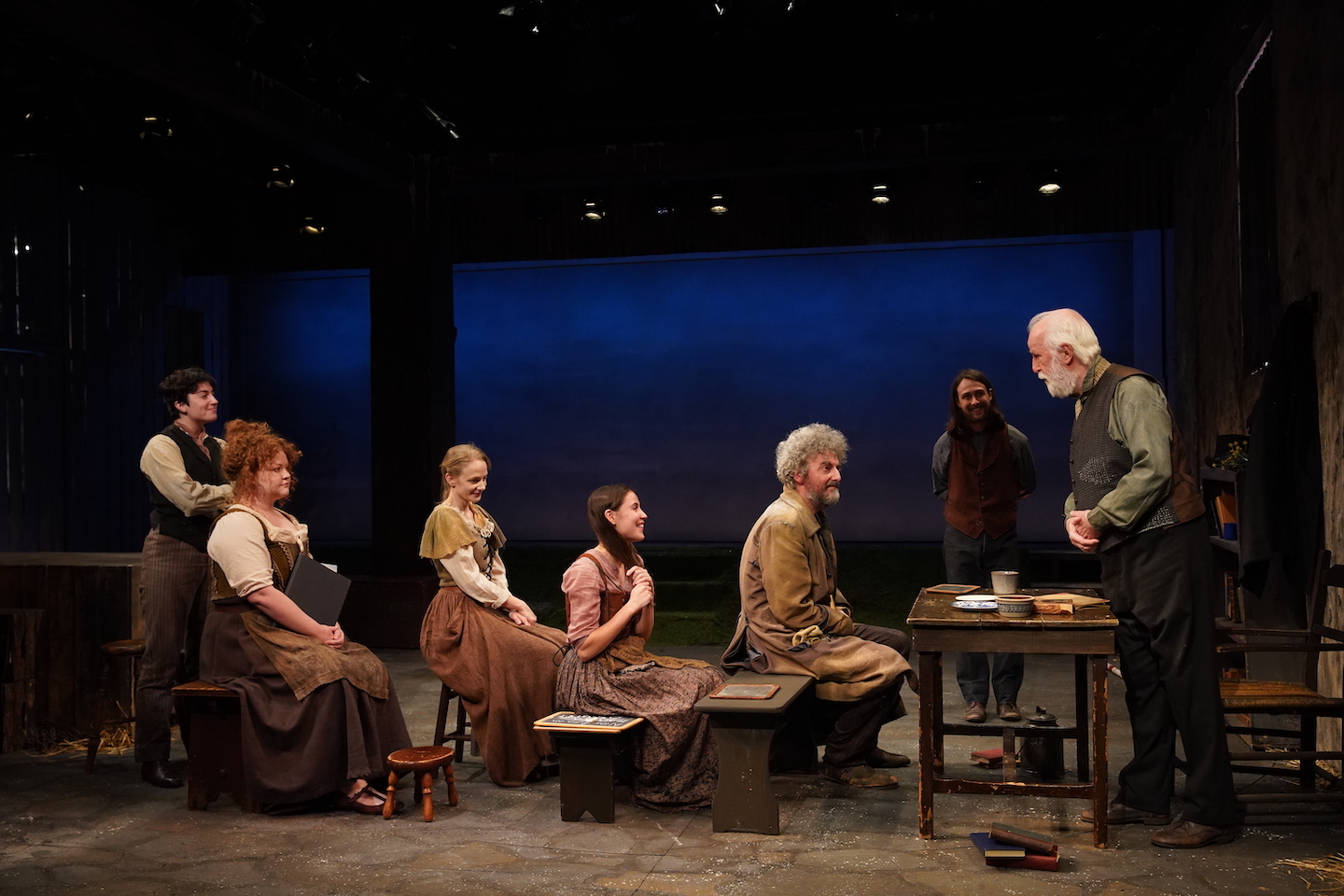 Translations | Photograph: Courtesy Carol Rosegg