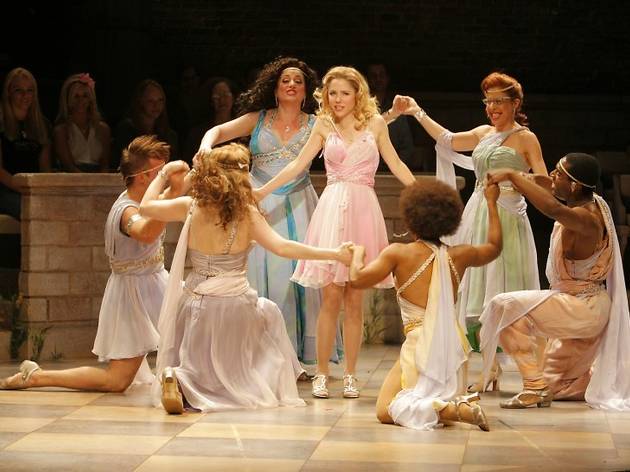 Time Out says
"With Xanadu, the Helen Hayes / A guilty-pleasure dome becomes / Where gleeful mock'ry finds its niche / And to the charms of camp and kitsch / The audience succumbs."—not amuel Taylor Coleridge
You can put lipstick on a pig, they say, but it will still be a pig. Fine—but what this folk wisdom overlooks is that a lipsticked pig is funny. And by that standard, Broadway's sparkling Xanadu is a heckuva prize porker. The infamous 1980 roller-disco movie on which the show is based may be senseless trash on wheels, but the new, improved Xanadu knows what it is, and uses that knowingness to hilarious effect. The show is not about sense, but a specific sensibility: camp, by whose alchemy Xanadu turns the worthless into the priceless.
Watch the movie in advance to better appreciate the skill behind this expertly piloted takeoff, which flies by in a delirious 90 minutes of pure entertainment. The sun-kissed, golden-voiced Kerry Butler—deliciously spoofing Olivia Newton-John—plays Clio, a Greek Muse reincarnated in 1980 as a roller girl named Kira, with leg warmers and an Aussie accent as dense as the outback brush. The strapping Cheyenne Jackson is ideally cast as her love interest, Sonny, a hunky lunkhead whose artistic aspirations she helps bring to fruit. And as Clio's twisted sister Muses, Calliope and Melpomene, the peerless musical comedians Jackie Hoffman and Mary Testa don't just chew the scenery; they all but unhinge their jaws to swallow it whole.
"This is like children's theater for 40-year-old gay people!" quips Hoffman, and so it is. But anyone can enjoy the inspired silliness of Douglas Carter Beane's book, the finely aged cheese of Jeff Lynne and John Farrar's songs (mostly culled from the film's best-selling soundtrack) and the aplomb of director Christopher Ashley's balance of winking and wide-eyed innocence. Xanadu may be more Fringe Festival than Broadway, but it's a whole mess of fun. So do yourself a favor: Buy a ticket. Have a blast. Kiss the pig.
Helen Hayes Theatre (see Broadway). Book by Douglas Carter Beane. Music and lyrics by Jeff Lynne and John Farrar. Dir. Christopher Ashley. With Kerry Butler, Cheyenne Jackson, Tony Roberts. 1hr 30mins. No intermission.
Details
Best selling Time Out Offers