Heads up! We're working hard to be accurate – but these are unusual times, so please always check before heading out.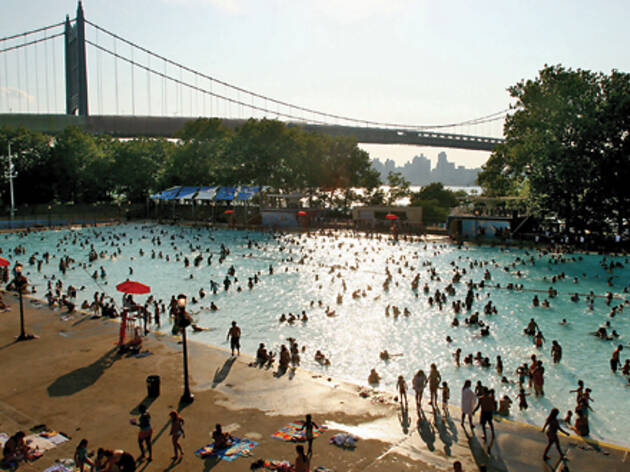 101 things to do in New York City in the summer
1. Run around the city in costume during the Great Urban Race
Always wanted to complete an obstacle course dressed as an Oompa-Loompa or Austin Powers? Here's your chance. This urban adventure is in its fifth year in New York, and takes place in 40 cities around the world. Similar in format to the Amazing Racetelevision show, it tasks teams of two—usually in fancy dress—to run around the city for a few hours, solving clues and completing mental and physical challenges, like stacking three golf balls on top of each other or shooting a basketball blindfolded. Winning teams receive modest cash prizes and qualify for the National Championships in New Orleans, which boasts a $10,000 reward; however, most teams are in it for the fun and to support a good cause—a portion of the proceeds are donated to charity.Brooklyn race: June 11; $45--$65. Manhattan race: Aug 20; $50--$70. Register atgreaturbanrace.com or call 773-687-4595.
2. Booze and rock out at Union Pool—for free
Beer! Bands! Tacos! Sunshine! Williamsburg watering hole Union Pool boasts all four warm-weather delights as part of its "Summer Thunder" series. Catch rowdy rockers K Holes (June 25, with free shots of Jameson), Hidden Fees (July 23), Blues Control (Aug 27) and more acts playing gratis gigs in the bar's outdoor space. 484 Union Ave at Meeker Ave, Williamsburg, Brooklyn (718-609-0484, unionpool.blogspot.com). Sat 4--8:30pm. Through Sept 24; free.
3. Explore Figment's art installations on Governors Island
The participatory art group takes over the whole island for its annual festival (June 10--12; newyork.figmentproject.org), but it's also installed fun projects for the duration of the summer. The 14-hole minigolf course (Fri 10am--4pm; Sat, Sun 10am--6pm; free)includes the Bed Bug Hazard, an obstacle as frustrating as ridding yourself of the pests, and the returning Skee-Ball challenge. Once you master those, explore the 17 installations in the sculpture garden: Invisible Sculptures adds pleasant odor-delivery devices to nine trees, triggered by pulling ropes hanging from the branches, or you can try to find the life-size F-117 replica camouflaged in Astroturf in Stealth Fighter. After all that excitement, take the weight off at the frankly indescribable Burple Bup pavilion.Governors Island (212-253-2727, govisland.com). Fri 10am--5pm; Sat, Sun 10am--7pm; free. Through Sept 25.
4. Devour an Elvis ice cream cone at Ample Hills Creamery
Twenty-four rotating flavors—made with Battenkill Valley Creamery milk, organic cane sugar and cage-free eggs—are on offer at this sunny artisanal ice cream parlor, which opened in May. Take a seat at the L-shaped marble counter, or watch the creamy treats being made through the production-room window. Flavors range from simple and seasonal, such as strawberry and pumpkin, to more baroque creations, including the Elvis Impersonator, made with banana ice cream, ribbons of peanut butter and candied bacon, or the Chocolate Monkey, made with banana ice cream, ribbons of peanut butter and chocolate chips. 623 Vanderbilt Ave at St. Marks Pl, Prospect Heights, Brooklyn (718-670-3346, amplehills.com). Single scoop $3.95, double scoop $5.85, homemade cone $1.50, sauce or topping $1.
5. Get your Rocks Off on a boat
Booze, rock out and take in an up-close view of Lady Liberty during one of this summer's Rocks Off concert cruises. Board the three-tier Queen of Hearts to see fun garage-rock trio the Greenhornes (July 23) or local funk outfit Budos Band (July 28).Pier 40, W Houston St at the Hudson River (866-468-7619, rocksoff.com). Various dates, see website for details; 8pm, doors 7pm; $35, advance $30.
6. Do yoga outdoors
There are multiple options for those seeking to do their sun salutations in the sunshine, and they're free to boot! Socrates Sculpture Park offers hatha yoga on Saturday mornings (32-01 Vernon Blvd at Broadway, Long Island City, Queens; 718-956-1819,socratessculpturepark.org; 9:30--10:30am, 11am--noon; Through Sept 25), Laughing Lotus Yoga Center runs vinyasa classes on Wednesdays evenings (14th St Park, Tenth Ave between 14th and 15th Sts; 212-414-2903, laughinglotus.com; 7--8pm; June 8--Aug 31), Sunday mornings you can do vinyasa with Yoga Sole in Prospect Park (Enter at 15th St at Prospect Park West; 718-541-1382, yogasole.com; 10am--11am; July 3--31) and Lululemon Athletica runs vinyasa classes for hundreds of people at a time inBryant Park on Tuesday mornings and Thursdays evenings (42nd St at Sixth Ave; 212-768-4242, bryantpark.org; Tue 10am--11am, Thu 6--7pm; through Sept 29).
7. Get buzzed at a new rooftop bar
Biergartens are traditionally Bavarian, but Eataly's anticipated rooftop suds spot, La Birreria, is resolutely Italian, with exclusive brews by Birra del Borgo and Birra Baladin. The 4,500-square-foot, 150-seat brewery and restaurant, slated to open in early June, will also brew its own cask-conditioned ales 30 feet from where you'll be sitting. See our rooftop bar guide for more sky-high boozing spots. 200 Fifth Ave between 23rd and 24th Sts (212-229-2560, eataly.com)
8. Pick over the new vendors' wares at Brooklyn Flea Williamsburg
Get some fresh air while you lazily pick through Jimmy D'Amico's collection of rare LPs or peruse Phil Fehr's vintage comic books and sports cards, both at the market's new waterfront location in Williamsburg, Brooklyn. When your feet need a break, chill out on the vintage furniture in the Brooklyn Art Library's "reading room" and pull a book from their stack, or refuel at one of the many gourmet food vendors. A glazed treat from Clinton Hill doughnut shop Dough ($2) or a gourmet hot dog from Brooklyn Bangers ($4) will give you the juice to keep going. 27 North 6th St between Kent Ave and the East River, Williamsburg, Brooklyn (brooklynflea.com). Sun 10am--5pm.
9. Warm up the dance floor at MoMA PS1
It's easy to see why the annual Warm Up party series is so popular: You get to drink beer, eye contemporary art and dance beneath a large-scale outdoor installation. And then there's the quality of the musical lineup, which in previous years has included Afrika Bambaataa, ?uestlove, Francois K, Danny Krivit, the Scissor Sisters and LCD Soundsystem. Details of this summer's performers have yet to be released, but we suggest blocking off Saturday afternoons for this: It's going to be worth it. 22-25 Jackson Ave at 46th Ave, Long Island City, Queens (718-784-2084, ps1.org). Sat 2--9pm; $15; July 2—Sep 3.
10. Fly a rainbow flag during NYC Pride
At the core of this weekend celebrating Gay Pride and advocating equal rights is the NYC Pride March through the streets of Manhattan, on June 26 (starts at Fifth Ave and 36th St; noon, free). Warm up the night before with lesbian dance party Rapture on the River (Pier 54, West Side Hwy at 13th St; June 25 3--11pm. Tickets $25--$35 fromboxofficetickets.com/hop) with DJs Mary Mac and Susan Levine, or don a pair of "budgie smugglers" (a Speedo) for the Australian-themed Bondi Beach Bash onGovernors Island (June 25 6pm--midnight; fvevents.com; $50--$200) with DJs Phil Romano and Hector Romero. On Sunday, continue the postmarch celebrations with DJs Ana Paula, Vito Fun and Lina at Dance on the Pier (Pier 54, West Side Hwy at 13th St; June 26 2--10:30pm. Tickets $55--$125 from boxofficetickets.com/hop). Visitnycpride.org for more information on the march and other official NYC Pride events.
11. Play with giant balloons at Rainbow City
Unleash your inner kid in the giant playground Rainbow City (aolartists.com/rainbowcity), a large-scale outdoor art installation consisting of 40 inflatable sculptures. Each colorful balloon is an interactive experience, so banish your usual art-gallery etiquette and touch, bounce or squeeze to your heart's content. The works were created by Miami art collective FriendsWithYou, who have a concurrent solo show at the Hole NYC titled ":)" (312 Bowery at Bleecker St, 212-466-1100,theholenyc.com; June 9--Aug 6; free). When you've had your fun at Rainbow City,check out what else the venue—the Lot at 30th Street—has to offer: Throughout the summer the temporary plaza will host food trucks like Coolhaus and Red Hook Lobster, as well as an outdoor bar called the Lot on Tap. W 30th St at Tenth Ave (thehighline.org). Rainbow City: June 8--July 5. Mon--Wed 11am--10pm; Thu, Fri 11am--11pm; Sat 8am--11pm; Sun 8am--10pm. Free.
12. Take a constitutional along the High Line's section two
Since opening in 2009, this elevated park has become a firm favorite with New Yorkers. When a new area from 23rd to 30th Streets opens on June 8 there'll be more mini ecosystems to stroll through—from thicket and lawn to canopied walkway and field of wildflowers—and plenty of viewing platforms at which to stop and admire vistas of the Hudson, Brooklyn and, er, the traffic below. Enter at Tenth Ave at 30th St or 20th St (212-206-992, thehighline.org). 7am--10pm; free.
13. Ride the new carousel at Brooklyn Bridge Park
Opening late summer, Jane's Carousel, a 1922 merry-go-round that was temporarily housed in a building on Water Street in Dumbo, will enchant kids, nostalgists and antique nerds alike. Artist Jane Walentas spent more than 20 years restoring the amusement, which will be set up in an airy pavilion designed by French architect Jean Nouvel. One twirl around and you'll be lulled into simple, childlike bliss. Brooklyn Bridge Park, Empire--Fulton Ferry Park, enter at New Dock and Water Sts, Dumbo, Brooklyn (brooklynbridgepark.org). $TBA.
14. Ride the ferry to Sandy Hook Beach
Get out of the grimy city to a pristine seven-mile stretch of waterfront bliss on SeaStreak Ferry, which transports sunseekers to Sandy Hook from two Manhattan locations. A 45-minute ride (complete with free Wi-fi, a full bar and a sun deck) will bring you to the prime swimming spot, a peninsula famous for its silky-smooth sand. E 35th St at FDR Dr. Departs Mon--Fri 8:45, 11:15am; Sat, Sun 8, 10:30am, 1:20pm. * Pier 11, South St at Wall St. Departs Mon--Fri 9, 10:50am; Sat, Sun 8:15, 11am, 1:35pm * (seastreak.com). Round-trip $43, one-way $25.
15. See a free SummerStage show
Never take for granted how lucky we are to be in a city where a free show in the park has become a quintessential summer experience (even when you're stuck in the interminable line for said free show). For New York's largest free performing-arts festival, 18 parks around the city offer gratis programming, with Central Park's Mainstage at the center of the action. Check the website for a complete schedule, but here's a quick taste: This year's musical lineup covers classical (Yo-Yo Ma), jazz (Toots Thielemans), hip-hop (Funkmaster Flex), indie rock (Friendly Fires) and even comedy (Reggie Watts). Theater nerds can geek out over the classical (Sophocles' Oedipus), the reinterpreted (Shakespeare's Henry V) and the popular (Indomitable: James Brown); and dance audiences can choose from among tap, hip-hop, step, flamenco and contemporary performances. June 7--Sept 2 (summerstage.org)
16. Defy gravity at the Scream Zone in Coney Island
No summer is complete without a visit to Coney Island, and this year, when you're done staging your own Nathan's hot-dog-eating contest, you can hit the Scream Zone. The new amusement park has four rides sure to provide an adrenaline high, including two massive coasters that will give the old Cyclone a run for its money. Scream Zone, Boardwalk near W 12th St, Coney Island, Brooklyn (718-373-5862,lunaparknyc.com/screamzone). Hours vary, see website for details; $7--$20 per ride.
17. Feel fancy at Cocktails@Cooper-Hewitt
What do you do when you have possession of Andrew Carnegie's Georgian country-house--style mansion, complete with a bucolic garden? Throw a mother-flippin' party! The Smithsonian's National Design Museum is on the same page and brings a different DJ into its private grounds every Thursday through June. And what's a party without libations? Alongside wine and beer ($6), there's an Electric Lemonade specialty cocktail ($9). 2 E 91st St at Fifth Ave (212-849-8400, coooperhewitt.org). Thu 6--9pm; through June 30. Free with museum admission: $15, seniors and students $10, members free.
18. Catch a flick at Rooftop Films
Watch an alfresco flick on a pretty perch at this long-running series, now in its 14th year. A panoply of rooftop venues across the city are hosting screenings of more than 175 films, from romance (Falling Overnight, July 22) to documentaries (Fake It So Real,July 28). After the latter, a look into the world of independent pro wrestling, witness a live match, as the subjects battle it out at Williamsburg's Crown Vic (60 South 2nd St at Wythe Ave, Williamsburg, Brooklyn; 8pm; $10)—and be sure to look out for additional after-parties offering cheap beer or an open bar. Locations, times and prices vary; visitrooftopfilms.com for details. Through Aug 20.
19. Cool off in the city's pools
When the pavement starts to emit more heat than your apartment's radiator and the mass of shiny, reflective skyscrapers offers no escape, it's time to book it to the closest swimming hole. That would be any of the city's 54 outdoor pools, opening June 29. Head to the largest example (330 feet in length), the Astoria Pool (Astoria Park, 19th St and 23rd Dr, Astoria, Queens; 718-626-8623, nycgovparks.org; 11am--3pm, 4--7pm; free), for a cheap snack bar and a hopping social scene, or check out our roundup of the best swimming pools. Various locations; visit nycgovparks.org.
20. Shop and chow down at Hester Street Fair
Head to the Lower East Side for retro jewelry, antique decor and old-fashioned hats at this bustling bazaar, a revival of a similar market that existed in that very spot more than a 100 years ago. While you browse the goods, which change weekly, fuel up withchilorio brisket tacos ($4) from Brooklyn Taco Company—just one of the nearly 20 food options on a given day. Hester St at Essex St (hesterstreetfair.com). Sat 10am.
21. Drink in the view from the Met's roof garden
See the dazzling expanse of Central Park from the top of the Met, where you can also check out current exhibit "Anthony Caro on the Roof." While you ponder Caro's futuristic sculptures, sip a Midday Martini, a summery mixture of coconut rum, mango and pineapple juice ($12). 1000 Fifth Ave at 82nd St (212-535-7710, metmuseum.org). Tue--Thu, Sun 10am--4:30pm; Fri, Sat 10am--9pm.
22. Get a tan
In summer, a New Yorker's needs are often drastically simple: Give us a grassy knoll and a sunny day, and we're happy. Escape your shoebox apartment for prime sunbathing territory in Brooklyn Bridge Park, where you can lay down a blanket and soak in UV rays on the soft slope of Pier 1. Throw in a basket lunch, and you've got a perfect afternoon. See our roundup of the best picnic spots to find a sunny locale near you. Old Fulton St at Furman St, Brooklyn, Brooklyn Heights (brooklynbridgepark.org)
23. Discover the Animation Block Party
If you were the kid who spent more time in class doodling in your notebook than raising your hand, chances are you'll enjoy the whimsical offerings at this eighth annual animation bash. Student, professional and independent animated short films will be on view for three evenings, complete with an open-bar after-party at Matchless (557 Manhattan Ave at Driggs Ave, Williamsburg, Brooklyn; July 29 at 11:30pm; free) on opening night. Locations and prices vary; visit animationblock.com for details. July 29--31.
24. Get down at WEPA! Wednesdays at El Museo del Barrio
A roster of DJs spin a mix of Latin tribal, Afro-Cuban and house beats at this free weekly bash in the outdoor courtyard, while you can browse the museum's galleries during extended hours. Check out "Voces y Visiones: Signs, Systems and the City," a collection of modern and contemporary urban art. 1230 Fifth Ave between 104th and 105th Sts (212-831-7272, elmuseo.org). Wed 6pm; free. Through June 29.
25. Enjoy free concerts, movies at Celebrate Brooklyn
Popular acts like the Decemberists and Animal Collective are playing gigs in Prospect Park...but they're all sold out. Don't fear, though: There are also plenty of freebie shows worth catching. Chill out to local found-audio experimenters the Books (June 17 at 7pm, gates 6pm), or move to peppy rock when New Jersey icons the Feelies and two of indie rock's finest new acts, Real Estate and Times New Viking, take over the stage (July 23 at 7pm, gates 6pm). Cinastes should consider joining the West Side Story sing-along (July 21 at 8pm), or taking in the silent classic Metropolis alongside the Alloy Orchestra (Aug 4 at 7pm). For more options across the city, check out our complete guide to free outdoor movies. Celebrate Brooklyn at the Prospect Park Bandshell, enter at Prospect Park West and 9th St, Park Slope, Brooklyn (bricartsmedia.org). Various dates and times, see website for details; free.
26. Stroll the Brooklyn Heights Promenade
Workweeks spent in dank subways and dim offices can make you to forget the city's charms. Fall in love all over again with a walk down this iconic stretch, where you can stop and smell the flowers (literally) and gaze at the Brooklyn Bridge and Empire State Building. After you get your fill of postcard views, satisfy your stomach at the Brooklyn Ice Cream factory (1 Water St at Fulton St, Dumbo, Brooklyn; 718-246-3963,brooklynicecreamfactory.com; Mon--Thu, Sun noon--10pm; Fri, Sat noon--11pm) with a scoop of chocolaty goodness ($4).
27. Graze at New Amsterdam Market
By the desolate site formerly occupied by the Fulton Fish Market, commerce is bustling once again. Every Sunday, locavores and artisan purveyors gather to buy and sell local produce and gourmet products. Some weeks the vendors are curated around a theme, but motif or no, the quality of this snackfest is consistently excellent. South St between Beekman St and Peck Slip (newamsterdammarket.org). Sun 11am--4pm.
28. Cool off in the Floating Pool Lady
In the spirit of the "floating baths" that helped 19th-century tenement dwellers get clean, the seven-lane Floating Pool Lady sits atop a barge, and though Barretto Point is its permanent home, it can be floated to locations around the city. The Pool Lady premiered on the Brooklyn Heights waterfront in 2007 (you might remember ungodly crowds and long, sun-weary waits) and has piqued the curiosity of New Yorkers ever since. Her current location is a hike from the subway so hope that the sweating populace skip the trek in favor of a cold shower and leave the fair Pool Lady to you.Viele Ave between Barretto and Tiffany Sts, Bronx (718-430-4601, nycgovparks.org). Open late June through Labor Day, check website for exact dates and opening hours; free.
29. See how the other half do
The Gansevoort Park Avenue hotel launches a free series of Sunday-afternoon parties, opening up the rooftop pool that's usually reserved for guests (and scenesters) to the plebs and inviting DJs of the house and trance persuasion—Paul Oakenfold, Sharam and Chris Lake in June—to spin. Smooth your entry with an R.S.V.P. atgansevoortsummerseries.com, where you can also search for your sunburnt mug among the photos the next day. Gansevoort Park Avenue, 420 Park Ave South at 29th St (212-929-0067). Sun 3--9pm; free.
30. Lindy Hop at the Jazz Age Lawn Party
Bust out your best Daisy Buchanan frock or Gatsby suit for this '20s-themed fete. Old-timey tunes from Michael Arenella and his Dreamland Orchestra, cocktails from St. Germain and complimentary dance lessons from Roddy Caravella will complete a day of throwback revelry—as will red-blooded American activities like a game of tug-of-war and a pie-baking contest. Immortalize the afternoon with a snapshot in front of one of the antique cars on display. Governors Island (dreamlandorchestra.com). June 25, 26, Aug 20, 21 11am--5pm; advance $7, at the door $10, children under 12 free.
31. Booze by the water
Head to picturesque Riverside Park along the Hudson for some day drinking at Pier I Cafe. While you relax under an umbrella on the tree-lined terrace with a Coney Island Lager ($6), temporarily forget the noisy chaos behind you. A steady lineup of live music and dance lessons, like salsa, cha-cha and bachata tutorials taught by instructors from Piel Canela Dance School (Sun 6pm; free; June 5--27; visit pielcaneladancers.com or call 212-924-6160 for more info), will keep you entertained. W 70th St at Riverside Park South (212-362-4450, piericafe.com). Mon--Thu noon--11pm, Fri noon--12:30am, Sat 11am--12:30am, Sun 11am--11pm.
32. Cool out at the Blue Note Jazz Festival
In honor of the iconic club's 30th anniversary, jazz musicians will be taking over the city for the entire month of June. Highlights include a reimagining of George Gershwin's work by none other than pop luminary Brian Wilson (Highline Ballroom, 431 W 16th St between Ninth and Tenth Aves; highlineballroom.com; June 11 at 7:30pm; $125) and a funk flashback with Chaka Khan (B.B. King Blues Club & Grill, 237 W 42nd St between Seventh and Eighth Aves; bbkingblues.com; June 18; $65). Locations and times vary; visit bluenotejazzfestival.com for more details.
33. Toughen up at Gotham Girls Roller Derby
Angela Slamsbury. Bitch Cassidy. Anne Phetamean. No, those aren't names of badass characters in a feminist graphic novel—they're names of badass women athletes in New York's all-female roller derby league. Turn out for bouts (once or twice a month June 4--Oct 29) as four boroughs (teams include the Brooklyn Bombshells and the Queens of Pain) leave it all in the rink. Afterward, slug a beer with the gals at the after-party, which is announced during the match. Laid-back rock bar Manitoba's (99 Ave B between 6th and 7th Sts; 212-982-2511, manitobas.com) is a favorite watering hole. Location and times vary; visit gothamgirlsrollerderby.com for more information.
34. Pump your fists at a dance music festival
Just kidding about the fist-pumping, but you will want to lace up your dancing shoes for these electronic-music festivals. Hard NYC returns on August 20 with German dance punk duo Digitalism, bass handler Caspa and the West Coast's Destructo in tow(Terminal 5, 610 W 56th St at Eleventh Ave; hardfest.com; 8pm; $35). And over Labor Day weekend, Electric Zoo commandeers Randalls Island for three days of house, trance, techno, dubstep and electro. Headliners include international heavy-hitters Tisto, Armin van Buuren, David Guetta, John Digweed and plenty more beatsmiths, many of them returning to the Zoo (Sept 2--4 11am--11pm, three-day pass $249--$324; madeevent.com/electriczoo).
35. Go kayaking from the Downtown Boathouse
While you'd probably never consider swimming in the moat surrounding Manhattan, you can still indulge in some aquatic activity with a kayaking excursion on the Hudson. Head to one of three locations on the island's West Side for free weekend river outings. Pier 40, West Side Hwy at Houston St; Pier 96, West Side Hwy at 56th St; West Side Hwy at 72nd St (downtownboathouse.org). Sat, Sun, holidays through mid-October 9am--6pm from all locations, plus Mon--Fri 5--7pm at Pier 96; free.
36. Get an eyeful at 5Pointz
Trek out to graffiti mecca 5Pointz, an industrial complex covered in street art, which has displayed work by aerosol artists like Stay High 149, Cope2 and Tracy 168. Every Sunday, stop by to hear the stylings of beat-box performers led by Kid Lucky while you take in the art (4:30pm). 45-46 Davis St at Jackson Ave, Long Island City, Queens (5ptz.com)
37. Be a free agent for the Brooklyn Kickball League
Partake in the ultimate hipster sport without committing to a weekly team. Simply post a message on the "Join" section of the Brooklyn Kickball League's site to add your name to the roster of 350 roving players. If you're contacted to participate in a match, the fee will be at the discretion of the team. Various times and locations; visitbrooklynkickball.com for more details.
38. Reclaim the city at Summer Streets
Take it to the tarmac at the city's fourth annual fest, during which police will shut down vehicular traffic along a route between the Brooklyn Bridge and Central Park for three Saturday mornings. That means you'll be free to walk, bike or pogo stick to your heart's content, without the threat of speeding taxis. From Chambers and Court Sts to Madison Ave at E 72nd St (nyc.gov). Aug 6, 13, 20 7am--1pm; free.
39. Learn some steps at Midsummer Night Swing
Learn how to dance samba, Texas two-step and, of course, swing at this outdoor shindig. First, instructors lead a basic lesson (such as mambo by Eddie Torres on July 8), then musical acts like Western trio Hot Club of Cowtown (July 6) or New Orleans jazz group Palmetto Bug Stompers (July 12) take over to lead a good, old-fashioned get down. Damrosch Park at Lincoln Center, W 62nd St between Columbus and Amsterdam Aves (midsummernightswing.org). Lesson 6:30pm, concert 7:30pm; $17, six-night pass $90, season pass $160. June 27--July 16.
40. See Shakespeare in the Park
Catching these high-end productions under the stars is an essential New York treat—and a free one, too. This year boasts two of the Bard's problem plays: Measure for Measure and All's Well That Ends Well, which is helmed by Daniel Sullivan, who directed last year's excellent rendition of The Merchant of Venice both in the park and on the Great White Way. Tix are handed out at the theater at 1pm. Make sure you get there early: People have been known to start queuing as early as the night before. Or you can try your luck registering for tickets online and hoping your number comes up. The Delacorte Theater in Central Park, enter at Central Park West and 81st St (shakespeareinthepark.org). June 6--July 30; free.
41. Play Ultimate Frisbee in Central Park
Looking to start a game with fellow disc jockeys? The Great Hill Open Ultimate League puts on friendly, all-level bouts four times a week (Great Hill, west side from 103rd St to 107th St, enter at Central Park West and 106th St; Tue, Thu 6pm; Sat, Sun 10am).If you want to get your own match going, stop by the North Meadow Recreational Center (midpark at 97th St, enter at Fifth Ave and 97th St), where a 'bee is yours for the borrowing with an ID deposit. For more sporty fun to be had in the park, consult our sports in Central Park guide.
42. Down suds and BBQ in Ditmas Park
On select weekends, the lovely Ditmas Park bar--flower shop Sycamore teams up with different craft breweries to throw barbecues in its ivy-lined back garden. On June 4, stop by for a crawfish boil, when a jumbo bucket of crawfish and a pint of Louisiana's Abita brew is yours for $25 (servings are at 2 and 5pm). For a rowdy, buzzy day of baseball, join the bar's tailgate party for the Brooklyn Cyclones opening game. The admission price affords you a plate of food from the grill (hot dogs, hamburgers), a seasonal pour from Stone Brewing Company and a ticket to that day's game against the Staten Island Yankees, which the group will head to via the Q train (June 18 12 noon--6pm; $25). Grab tix to both events on Sycamore's site. 1118 Cortelyou Rd between Stratford and Westminster Rds, Ditmas Park, Brooklyn (347-240-5850,sycamorebrooklyn.com)
43. Splash around at Jones Beach
Six and a half miles of ocean beach and a two-mile boardwalk await you at this prime swimming destination, a 45-minute train ride from Penn Station (take the LIRR to Freeport and then the bus to Jones Beach). If bathing doesn't strike your fancy, partake in some pickup beach volleyball or test your putting skills in a game of minigolf (daily sunrise--midnight; $7; June 26--Sept 6). For more spots to take a dip, check out our list of the best beaches. Ocean Pkwy at Wantagh Pkwy, Wantagh, NY (516-785-1600,nysparks.state.ny.us)
44. Root, root, root for the home team
This summer, catch the Yanks on their home turf (Yankee Stadium, 1 E 161st St between Jerome and River Aves, Bronx; 718-293-6000, newyork.yankees.mlb.com; $27.80--$337.80) as they battle their fierce rivals, the Boston Red Sox (June 7--9), or watch them face off against the Mets at Citi Field (Roosevelt Ave at 126th St, Flushing, Queens; 718-507-8499, newyork.mets.mlb.com; $23--$217) for the second Subway Series of the year (July 1--3). Just remember to remain civil and avoid fistfights. No one wants to be that guy who shows up in ESPN highlights. For a much cheaper, more laid-back alternative, hike out to Coney Island to see minor-league team the Brooklyn Cyclones (MCU Park, 1904 Surf Ave at W 17th St, Coney Island, Brooklyn; 718-372-5596, brooklyncyclones.com; $8--$16). Even if sparks don't fly on the field, there's still a good chance you'll catch a fireworks show—14 night games this year end with 'em.
45. Scope out next big thing in indie rock
From June 16 to 19, more than 250 bands descend on venues in the 'Burg and Greenpoint, Brooklyn, for The L Magazine's third annual Northside Festival. For a big-ticket show, catch indie-rock icons Guided by Voices' mid-'90s lineup, playing outdoors with support from Surfer Blood, Wavves and the Babies (McCarren Park, 900 Lorimer St between Bedford and Driggs Aves, Greenpoint, Brooklyn; thelmagazine.com; June 18 at 7pm, doors 4pm; $35, advance $30). Looking for a bill of on-the-rise bands? We're loving young garage-rock acts the Strange Boys and White Fence, who both play theKnitting Factory (361 Metropolitan Ave at Havemeyer St, Williamsburg, Brooklyn; 347-529-6696, knittingfactory.com; June 18 at 11pm, doors 10:30pm; $12, advance $10).
46. Watch movies on the Elevated Acre
See three New York--set flicks atop a lower-Manhattan building as part of this year's River to River fest. Desperately Seeking Susan (June 20), The Godfather: Part II (June 27) and The Brother from Another Planet (July 11) are all slotted for the fest, which offers some great views of the Brooklyn Bridge. Pick up a ticket for the gratis showing at the entrance at 6pm on the day of the screening, or nab them atrivertorivernyc.com. Elevated Acre, 55 Water St between Broad St and Old Slip (rivertorivernyc.com). June 20--July 11 at 8pm; free.
47. Stargaze on the High Line and in Brooklyn Bridge Park
Think you can't see the stars from New York? Think again. With the help of three telescopes on the Pier 1 promenade in Brooklyn Bridge Park and the elevated view of the High Line, as well as guidance from the Amateur Astronomers Association, you'll be a regular Galileo in no time. The High Line, enter at 14th St between Washington St and Tenth Ave (aaa.org/highline). Tue dusk--9:30pm; free. Through October. *Brooklyn Bridge Park, Pier 1, enter at Old Fulton St at Furman St, Brooklyn Heights (brooklynbridgepark.org). Thu at 8:30pm; free. June 9--Sept 29.
48. Jam out at the Charlie Parker Jazz Festival
Salute Bird's legacy during this two-day fete, which goes down in a pair of the legendary musician's old stomping grounds: Harlem (Marcus Garvey Park, Madison Ave between 120th and 124th Sts; summerstage.org; Aug 27 at 3pm; free), where jazz harmonica player "Toots" Thielemans, saxophonists James Carter and Tia Fuller, and singer Ccile McLorin Salvant will play; and the East Village (Tompkins Square Park, Ave A between 7th and 10th Sts; summerstage.org; Aug 28 at 3pm; free), where you can enjoy sets by the Archie Shepp Quartet, the Gerald Clayton Trio and others.
49. Go natural at the New York Botanical Garden
Surround yourself with 250 acres of flora and fauna at this natural oasis. Check out the latest exhibit, "Spanish Paradise: Gardens of the Alhambra" ($20, seniors and students $18, children $8, children under 2 free; through Aug 21), which will transport you to a Mediterranean paradise with date palms, pomegranate trees and Italian cypress. New York Botanical Garden, Bronx River Pkwy at Fordham Rd, Bronx (718-817-8700,nybg.org). Tue--Sun 10am--6pm; grounds only $6, Bronx residents $5, seniors and students $3, children $1, children under 2 free.
50. Celebrate the summer solstice
Times Square doesn't exactly seem like the ideal spot for a pagan ritual, but you should still head there to Zen out on the longest day of the year, at Solstice in Times Square: Mind Over Madness Yoga (Times Square, Broadway at Seventh Ave between 45th and 47th Sts; timessquarenyc.org; June 21 7:30am--sunset; free). Show up early to nab a free provided mat (while supplies last), as instructors from studios across the city provide lessons for all skill levels. If yoga's not your thing, head to Socrates Sculpture Park's Summer Solstice Celebration (32-01 Vernon Blvd at Broadway, Long Island City, Queens; 718-956-1819, socratessculpturepark.org; June 21 5--9pm; free) for a day of craft workshops, face painting and kayaking.
51. Act like a kid on Governors Island
A thousand folks are expected to take over Governors Island for this year's Come Out & Play Field Day, where you can try your hand at dozens of brand-new and zany games. To give you an idea of what to expect, last year's festivities included Olympic competitions in which athletes had to follow the restrictions of the Sabbath, a humans-versus-zombies survival quest, a gentrify-the-hood challenge and more inventive contests. Governors Island (comeoutandplay.org). July 16 11am--5pm; free.
52. Dress up to get down at the Coney Island Dancers Disco Beach Party
These boardwalk parties have been keeping the sunny disposition of the legendary nightclub Paradise Garage alive since 1996, and this year the shindigs get a new twist: costume themes! Head to the shore with sword and tunic for a Spartacus party (Aug 20) and round up your softball team and go as the Baseball Furies to the Warriors bash (Sept 24). Coney Island Boardwalk at 10th St, Coney Island, Brooklyn (347-496-2032,coneyislanddancers.com). Various Saturdays through Sept 24; visit website for details. Noon--9pm; free.
53. Kick it at the Williamsburg Waterfront
Yeah, the free weekly Jelly shows in East River Park (and McCarren Park before that) are a thing of the past. But you can still watch bands this year (with a lovely nighttime view of Manhattan across the East River, we might add). Don't miss prog-rockers Coheed and Cambria (June 11; free), hip-hop phenom (and onetime TONY cover model) Kid Cudi (July 6; $49.50) and twee heroes Death Cab for Cutie with Frightened Rabbit (Aug 2; $39.50), as well as NYC legends Sonic Youth with support from Wild Flag and Kurt Vile and the Violators (Aug 12; $32.50). 110 Kent Ave at North 8th St, Williamsburg, Brooklyn (osanb.org). 5:30--10pm.
54. Ride the waves at Rockaway Beach
Test your surfing prowess in the designated areas of this Queens beach. If you're a novice, summer is the ideal time to start riding low waves, while more experienced boarders will savor hurricane season in September and October. If you don't have your own equipment you can rent a surfboard from Boarders Surf Shop (192 Beach 92nd St at Rockaway Beach Blvd; 718-318-7997, boarderssurfshop.com; $50, half day $35) or take a lesson through New York Surf School (718-496-3371,surflessonsnewyork101.com; individual lesson $110, group lesson $55), which will provide you with a wet suit and board. Stick around afterward for free sunset concerts at Beach 20th St (June 3, July 1, Aug 5; 6--9pm). The lineup includes soul band the Poindexters and reggae outfit Judah Tribe. Boardwalk between Beach 9th and 117th Sts, Rockaway Beach, Queens (718-318-4000, nycgovparks.org)
55. Party into the workweek
Forget about Monday during the weekly Nouveau York bash at Le Bain. The party is a prime place for pretty-people-watching and getting down to blasting neodisco tunes. Best of all, its location in the Standard Hotel's rooftop bar promises some awesome views over the Hudson River that are just perfect for summer nights. 444 W 13th St at Washington St (212-645-4646, standardculture.com). Sun 4pm; free.
56. Tour Brooklyn Brewery
Williamsburg's stellar brew haven now offers tours during the workweek, in which you can sample four of the brewery's suds, which have included the Intensified Coffee Stout or the Blunderbuss Old Ale. It's a much more intimate, in-depth version of their weekend tours—and they fill up fast; e-mail tours@brooklynbrewery.com soon to reserve a spot. Afterward, keep the party going by ordering another pint ($4, six for $20) in the tasting room. 79 North 11th St between Berry St and Wythe Ave, Williamsburg, Brooklyn (718-486-7422, brooklynbrewery.com). Mon--Thu 5pm; $8.
57. Watch movies in Bryant Park
The HBO Bryant Park Summer Films Festival returns for another year of warm-weather screenings. We're really digging the lineup, which includes One Flew Over the Cuckoo's Nest (June 20), Preston Sturges's romantic-comedy classic The Lady Eve (July 25), Cool Hand Luke (Aug 1), Airplane! (Aug 8) and more of our faves. Find a full calendar of this summer's free flicks in our outdoor-movie guide. Bryant Park, between 40th and 42nd Sts and Fifth and Sixth Aves (212-512-5700, bryantpark.org). June 20--Aug 22; Mon sunset, lawn opens 5pm.
58. Take in free tunes at Lincoln Center
Each Thursday, you can kick off your evening (or better still, your date) with a free-of-charge show at the David Rubenstein Atrium. This summer, witness rising violin virtuoso Sean Lee (June 9), or the soulful singing and ivory-tickling of Louisiana native Jonathan Batiste (July 7). 61 W 62nd St at Broadway (212-875-5456,lincolncenter.org/atrium). 8:30pm; free.
59. Get creative at the New Museum Block Party
Make your own fun—literally—at this art-and-community-themed block party, where artists and New Museum educators will lead a series of hands-on workshops. At the family-friendly event, you can repurpose everyday materials like bottles and hair curlers into new objects; then put your creations to good use during the Block Party Parade, which will march from Sara D. Roosevelt Park and the New Museum. Once you reach your destination, explore the exhibitions on a free docent-led tour (event participants get a complimentary day pass). Sara D. Roosevelt Park, Broome St between Chrystie and Forsyth Sts (212-219-1222 ext. 235, newmuseum.org). July 23 noon--5pm; free.
60. Throw bowls in Central Park
Wear flat-soled shoes or go barefoot to a game of lawn bowls, similar to bocce andptanque, at the New York Lawn Bowling Club in Central Park. Although regular use of the city's only bowling green requires membership ($105 annually), an open house on Monday evenings allows newcomers to learn the game from members and play socially(May--July, 5:45pm to sunset). Additionally, the club (and green) is celebrating its 85th anniversary this summer with free lessons and pickup games noon--4pm on June 25.Central Park greens, enter at Central Park West at w 69th St, or Fifth Ave at W 72nd St (nybowls.com)
61. Cut a rug by the Hudson
Ever wanted to dance with the devil in the pale moonlight? We're sorry to inform you Beelzebub's washing its hair (we checked), but find another partner and head to Hudson River Park's MoonDance series to hot step to salsa, swing or tango with music by live bands. Arrive at 6:30pm for a dance lesson before that night's orchestra strikes up and practice your steps as the sun sets over Jersey—the romantic view should help your partner forgive you for treading on their toes. Pier 84, W 44th St at the Hudson River (212-627-2020, hudsonriverpark.org). Sun 6:30--10pm, July 10--Aug 7; free.
62. Light up at a bar
Bring up to ten of your buddies and smoke your meat in the 1,500-square-foot back area at Williamsburg watering hole East River Bar. Don't delay, the bar plans to start charging for use of its grills soon. For more options, check out our roundup of bars with bring-your-own-meat grilling policies for more options. 97 South 6th St between Bedford Ave and Berry St, Williamsburg, Brooklyn (718-302-0511, eastriverbar.com)
63. Boulder in Central Park
According to Garrett Koeppicus, from Brooklyn Boulders climbing gym(brooklynboulders.com), Central Park has more than one 100 routes with which to challenge yourself. One of the most popular spots is Rat Rock, in the southwest area of the park (enter at Columbus Circle)—it offers around 14 routes graded between V0 and V10, with plenty of easy beginner climbs. A less crowded (but more litter-strewn) spot is Worthless Boulder on the north end of the park (enter at 110th St and Seventh Ave).Here advanced climbers can test themselves on a steeper overhanging boulder. Just make sure you take a friend along as a spotter. centralparknyc.org
64. Slug iced coffee brewed for 20 hours
At Williamsburg caffeine haven Blue Bottle Coffee, baristas pour four liters of water into a huge globe sitting atop a Kyoto slow-drippers. The water filters through at a rate of one drop every one to two seconds, meaning the coffee brews for 12 to 20 hours before being refrigerated. Try the Kyoto coffee black over ice ($4.25), but be warned: It's served undiluted, so it has a caffeine kick like a mule. 160 Berry St between North 4th and 5th Sts, Williamsburg, Brooklyn (718-387-4160, bluebottlecoffee.net)
65. Feast on amazing lobster rolls
Craving some fresh, affordable lobstah? During the week, Red Hook Lobster Pound's food truck shells out just-off-the-boat Maine lobster rolls ($16) throughout Manhattan (follow its Twitter feed, @redhooklobster, for location updates). On weekends, catch them at either Brooklyn Flea locale: On Saturdays in Fort Greene (176 Lafayette Ave between Clermont and Vanderbilt Aves, Fort Greene, Brooklyn; 11am--5pm) or on Sundays in Williamsburg (27 North 6th St at Kent Ave, Williamsburg, Brooklyn; 11am--5pm).
66. Play pickup volleyball in Tribeca
Work up a sweat after work during Battery Park City's free pickup volleyball games, which go down each Wednesday atop Esplanade Plaza. The coed matches are meant to be fun (no pro spikers, please), and a scorekeeper and balls are available at each game. Battery Park City, enter at Liberty St at South End Ave (212-267-9700,bpcparks.org). Wed 6--7:30pm; free. Through Sept 28.
67. Vacation at a tiki bar
Pretend you're on that tropical vacation you can't afford at Lower East Side cocktail haven Painkiller. Once you toss back a few classic mai tais (Jamaican rum, over-proof demerara rum, lime juice and house-made orgeat and curaao; $12), you won't know the difference between Tahiti and Delancey. Go on a tour of the tropics by visiting all of the spots in our roundup of beachy bars. 49 Essex St between Grand and Hester Sts (212-777-8454, painkillernyc.com). Mon--Thu, Sun 6pm--2am; Fri, Sat 6pm--4am.
68. Explore City Island
Spend the day in a sleepy seaside destination without leaving NYC. The Bronx's City Island is just a short public-transit trek away (take the 6 train to the end of the line and then hop on the BX29 bus to City Island) and offers fresh seafood and a sea breeze. Enjoy a bowl of clam chowder ($3.50) at on one of the outdoor picnic tables at Johnny's Famous Reef (2 City Island Ave; 718-885-2086), peruse the City Island Historical Society and Nautical Museum (190 Fordham St; 718-885-0008, cityislandmuseum.org; Sat, Sun 1--5pm) and, if you're a movie buff, ask locals to point you to the beautiful old home known as the Queen Anne, which was seen in both The Royal Tenenbaums andLong Day's Journey Into Night.
69. Watch rock & roll films in Coney Island
Enjoy screenings of Hedwig and the Angry Inch (June 25), Rock 'n' Roll High School(July 9), This Is Spinal Tap (July 16), Don't Look Back (Aug 27) and other essential rock movies during the Coney Island Film Society's Rock 'n Roll Summer series. Each Saturday-night shindig kicks off with old-timey drive-in movie trailers at 8:15pm. In true rocker fashion, booze is available for purchase at the back bar. Coney Island Museum, 1208 Surf Ave at 12th St, Coney Island, Brooklyn (coneyisland.com). Sat 8:30pm, doors 8pm; $6. Through Sept 17.
70. Picnic at the site of a former loony bin
Talk about change: Randalls Island once housed institutions for quarantined smallpox victims and the clinically insane; now it's home to the Randall's Island Sports Foundation, a nonprofit organization that recently added more than 60 fields accommodating a variety of sports. Visitors can picnic on many of the grassy expanses in the 273-acre park, but a grilling area can be found at the south end near the Sunken Meadow baseball fields. Randalls Island Park, 1 Randalls Island (randallsisland.org)
71. Boogie down at Uptown Fridays
Don't spend your precious time on the line at MoMA's Free Fridays. Instead, head to theStudio Museum in Harlem for free admission and guided tours of the institution's exhibits, such as "Stephen Burks: Man Made," featuring artifacts from an ongoing collaboration between the noted industrial designer and West African artisans. Once your cultural thirst is quenched, cut loose with a cocktail during the dance party in the museum's courtyard. 144 W 125th St between Adam Clayton Powell Jr. Blvd (Seventh Ave) and Malcolm X Blvd (Lenox Ave) (212-864-4500, studiomuseum.org). Begins June 24 6--9pm; free. Select Fridays, see website for details.
72. See big-ticket concerts for nothin'
Watching a top-tier outdoor gig during a summery night is a fantastic NYC experience—but doing so for free is even better. This season, catch troubadour Rufus Wainwright with the New York City Opera at Winter Garden at the World Financial Center (20 Vesey St at West St; 212-945-0505, artsworldfinancialcenter.com; June 28 at 7pm; free), and rap heavyweights Rakim, EPMD and Funkmaster Flex at Central Park SummerStage Mainstage at Central Park (Rumsey Playfield, midpark at 71st St, enter at Fifth Ave and 72nd St; 212-360-2777, summerstage.org; Aug 21 at 3pm; free). For more free shows, head to our guide to the best summer concerts.
73. Cheer at the Hong Kong Dragon Boat Festival
Celebrate the fifth day of the fifth lunar month in the Year of the Rabbit at this two-day cultural festival. Watch colorful Asian dragon boats race on Meadow Lake as rowers paddle to the beat of drums, catch performances such as performances from Shaolin monks and traditional dragon dances, then dig into buns, dumplings and other ethnic goodies at the festival food court. 111th St to Van Wyck Expwy between Flushing Bay and Grand Central Pkwy, Flushing Meadows--Corona Park, Queens (hkdbf-ny.org). Aug 13, 14 9am--5pm; free.
74. Picnic during a movie in Central Park
Be there when the gates open to claim a primo picknicking spot for the Central Park Conservancy Film Festival. This year's lineup focuses on classic music movies. Find a schedule of what's playing in NYC in our outdoor-movie guide. Sheep Meadow, midpark at 69th St, enter at Fifth Ave and 72nd St (212-310-6600, centralparknyc.org). Aug 23--27 at 8pm, gates 6:30pm.
75. Flap your flippers at the Mermaid Parade
Catch and release the fishy exhibitionist in you and sign up to march in this arty procession ($2--$10, register at coneyisland.com), a revival of the Coney Island Mardi Gras that ran from 1903 to 1954. A tip for your costume: Make it aquatic, elaborate and barely there. Afterward, continue partying at the ninth annual Mermaid Parade Ball, where revelers will be entertained with live music and burlesque performances. Parade starts on Surf Ave at 21st St, Coney Island, Brooklyn (718-372-5159,coneyisland.com). June 18 at 2pm; free. Mermaid Parade Ball: New York Aquarium, Surf Ave at 8th St; June 18 7--11pm; $25.
76. Clean out your ears at the Brooklyn Hip-Hop Festival
Last year the BHF expanded from a one-day affair into a whole week of cultural activities, and this year's hip-hop blowout will be no different. The NYC-centric schedule includes a competition for local artists to win a main stage time slot, a graffiti and street art exhibition, a DJ showcase and a family-friendly block party. Longtime rap hero Q-Tip will headline the Main Stage under the Brooklyn Bridge on July 16, as well as cocurating the rest of the lineup; considering he's been in the game for more than 20 years, old-school hip-hop fans should be licking their chops in anticipation of the surprise guests that might appear. Brooklyn Bridge Plaza and the Tobacco Warehouse, 26 New Dock St at Water St, Dumbo, Brooklyn (bkhiphopfestival.com). July 11--16; prices vary, main stage $15.
77. Watch opera for free
The Metropolitan Opera treats patrons to two gratis programs this summer. In July, relive your days of trailing a jam band around the country by following the company through six parks in all five boroughs for its Summer Recital Series. Attend every concert and you'll have visited Central Park SummerStage (July 11), Brooklyn Bridge Park (July 13) and Socrates Sculpture Park (July 26). The Summer HD Festival (Aug 27--Sept 5) in Lincoln Center Plaza hosts ten consecutive screenings of popular Met performances, including this year's hot production of John Adams's Nixon in China (Aug 31). Location and time vary; visit metoperafamily.org for details.
78. See the peacocks at the Cathedral Church of St. John the Divine
Get up close and personal with wild animals that aren't vermin or rabid. On the grounds of this grandiose gothic building—the largest cathedral in the world (USA! USA!)—you'll see its three peacocks (two blue and one white) sunning themselves on the grass or garden trellises. Or catch one of the church's regular tours: We recommend the Vertical Tours (Sat noon, 2pm; $15, seniors and students $12), which lead you up a spiral staircase to a buttress where you can admire the nave and stained-glass windows. The tour continues to the roof for glorious views of Morningside Heights. 1047 Amsterdam Ave at 112th St (212-316-7540, tours 212 932-7347; stjohndivine.org)
79. Relax on the waterfront at Water Taxi Beach
Recline on the sand with a drink in hand—not on New York's public beaches, that would be illegal—at Water Taxi Beach's two remaining locations. Make sure to pour one out for the LIC spot before hitting the foosball and Ping-Pong tables at South Street Seaport, or the beach volleyball and basketball courts on Governors Island. In addition to ticketed DJ parties and concerts, you can head to the Manhattan beach every Sunday for gratis live music from 3pm until sunset. South Street Seaport: North side of Pier 17, Fulton St at South St (877-974-6998, watertaxibeach.com). Wed 4--10pm; Thu 4pm--midnight; Fri 4pm--2am; Sat 1pm--2am; Sun 1pm--midnight. Governors Island: Governors Island (watertaxibeach.com). Fri 10am--5pm; Sat, Sun 10am--6pm.
80. Bring the young'uns to Hoboken
On Tuesday evenings, take the kiddies on the PATH to Hoboken for free family-friendly tunes from acts like Astrograss (June 21), the Hey Ya Brothers (July 12) and Starfish (Aug 16). These gigs at Shipyard Park offer some splendid views of Manhattan from over the Hudson River. Consider heading to Jersey earlier in the afternoon to hit up the the town's best shops. Sinatra Dr North at 13th St, Hoboken, New Jersey (hobokennj.org). Tue 7--8pm;free. June 7--Aug 23.
81. Hop it to Prospect Park Zoo
The menagerie's Discovery Trail, specifically its seasonal Australian Walkabout section, welcomes two additions this year: a pair of joeys, or baby yellow-footed rock wallabies. As you wander through the open-air exhibit, you'll also see a Western gray kangaroo and two long-necked emus. To see what else is on view, take a peek at out Prospect Park Zoo guide. Prospect Park Zoo, 450 Flatbush Ave at Empire Blvd, Prospect Park, Brooklyn (718-399-7339, prospectparkzoo.com). Mon--Fri 10am--5pm; Sat, Sun 10am--5:30pm; $8, seniors $6, children 3--12 $5, children under 3 free.
82. Gasp at the King of New York competition
Tiny bikes, crazy stunts and wicked tricks await when this annual BMX and skateboard competition wheels back into view. Pros and amateurs will compete in a range of styles, from street to flatland, while DJs spin and bands play. This year, see attempts to break the world record for highest bicycle bunny hop. Location and price TBA; visitkingofnewyorkevent.com for more info. Aug 6, 7 noon--6pm; free.
83. Sample queer culture at the Hot Festival
The 20th-annual celebration of LGBTQ performance cooks up a monthlong explosion, opened by polymath Tom Judson (also known as Gus Mattox, his porn-star handle), who takes on cabaret in his new act, The Tom Judson Show (June 24, 25 at 7:30pm; $15, seniors and students $12). A storied activist provides another highlight in From the Front Porch: An Evening with David Mixner (Benefit: July 11 at 7:30pm; $100--$3000. Also July 18 at 7:30pm; $20, advance $15, priority seating $50), as the man himself spins yarns interspersed with folk music. Dixon Place, 161A Chrystie St between Delancey and Rivington Sts (hotfestival.org). June 24--Aug 6.
84. Slow. The. Fuck. Down. With Portraits in Dramatic Time
When temperatures start rising, things need to proceed at a more languid pace, making David Michalek's new work particularly apt. At first glance, the giant projections on the facade of the David H. Koch Theater look like still images, but are in fact short films slowed down to the point where movement is almost imperceptible. Make yourself comfortable for the three-hour duration and watch actors like Alan Rickman, Liev Schreiber and a shirtless William H. Macy perform in engrossing vignettes. 20 Lincoln Center Plaza at 63rd St (212-721-6500, lincolncenter.org). July 5--31 8:45--11:45pm; free.
85. Cheer on the New York Red Bulls
If baseball leaves you cold but you miss shouting at grown men chasing a ball, visit New Jersey and this soccer team's impressive 25,000-seat stadium for what, so far, has been a successful season. With attacking legend Thierry Henry leading the line and Rafael Marquez shoring up the back, the Red Bulls are pushing for the top spot in the Eastern Conference. Try to befriend a season-ticket holder and persuade them to buy you a ticket to the MLS All-Star game (July 27 at 8:30pm; $75--$400), where the cream of the U.S. league takes on England's Premier League champions, Manchester United. Keep an eye on the team's website in case tickets are released to the general public. Red Bull Arena, 600 Cape May St, Harrison, NJ (newyorkredbulls.com). Tickets start at $25. Through Oct 20.
86. Have lunch at the Red Hook ball fields
Although it's home to Fairway and Ikea, Red Hook's remote location and lack of subway lines make it feel like unexplored terrain. Hop onto your bike or take the Water Taxi service from downtown Manhattan (it's $5 during the week, but free on Saturdays and Sundays) and make a beeline for the much-praised Latin-food vendors that set up on the Red Hook ball fields. Sample excellent Salvadoran pupusas and other national delicacies, and watch some serious teams play soccer—kickball in McCarren Park this ain't. Red Hook Recreational Area, Clinton St at Bay St, Red Hook, Brooklyn (redhookfoodvendors.com). Sat, Sun 10am--8pm through October.
87. Go beyond Central Park
No, that green stretch in the middle of Manhattan is not the only park our fair city has to offer. Try a different locale for your next nature excursion, such as stunningRiverside Park (Riverside Dr between 59th and 158th Sts, 212-870-3070), complete with more than 330 acres of views, monuments and recreation areas, like ball fields, a skate park and tennis courts. For even more outdoor options, reference our guide to thecity's overlooked parks.
88. Celebrate Bastille Day on 60th Street
Take Marie Antoinette's advice and stuff yourself silly with all manner of French sweets (macarons, crpes and canels provided by Francois Payard and others, to be exact) at this Gallic celebration. Approximately 60 vendors will be on hand, as well as musical acts and gratis wine and cheese tastings courtesy of the French Institute Alliance Franaise. Francophiles will want to try their luck with the raffle—prizes include trips to the mother country and gift certificates to Parisian-style bistros. 60th St between Fifth and Lexington Aves (bastilledaynyc.com). July 10 noon--5pm; free.
89. Celebrate Harlem during Harlem week
What started as Harlem Day in 1974 has mushroomed into a month of events celebrating the neighborhood's artistic talent and cultural history. Highlights include Summer in the City (Aug 20 noon--9pm; free), incorporating a reggae dance tribute to Bob Marley and an outdoor film showcase at St. Nicholas Park; and the Harlem Day street fair (Aug 21 10am--9pm; free), filled with musical performances, fashion shows and vendors. Go to harlemweek.com for more information.
90. Go on a retro getaway
Take a trip to yesteryear in the wooded Catskill Mountains—that's right, the same location where Johnny wooed Baby in Dirty Dancing. While it's not quite the same as the grand resort in the movie, you can get a slice of 1963 at Kate's Lazy Meadow, a nine-acre haven offering retro Airsteam trailers. Each one comes equipped with a picnic table and charcoal grill that's perfect for whipping up some BBQ on a lazy summer day.845-688-7200, lazymeadow.com. Trailers $175--$200 per night.
91. Fight on the streets
Our favorite public mischief makers, Newmindspace, are planning another epic tussle pitting flesh against soapy spheres at the Bubble Battle. Last year more than 1,000 people descended on Times Square with bubble-blowing contraptions. Where the throwdown will happen this year is anyone's guess—keep an eye on their website for more information nearer the time and for an announcement regarding this year's Lightsaber Battle. This melee is less gentle, with hundreds of folks swinging plastic, LED-lit swords. Location TBA (newmindspace.com). June 19 at 6pm; free.
92. Meet Muppets at the Museum of the Moving Image
Delve into the universe of the Muppets—and those of Fraggle Rock, Sesame Street and other awesome, timeless creations from the mind of Jim Henson—during the Museum of the Moving Image's six-month-long exhibition "Jim Henson's Fantastic World." The exhibit includes everything from the puppeteer's illustrations from the '50s to set pieces from Labyrinth. And don't worry: Kermit, in all of his green glory, will be there, too. 36-01 35th Ave at 37th St, Astoria, Queens (718-777-6888, movingimage.us). $10, seniors and students $7.50, children 3--18 $5, members and children under 3 free. July 16--Jan 16.
93. Dine at the Whitney
Browse the dozen works in the "Singular Visions" exhibition, before heading to the latest addition to Danny Meyer's gastronomic empire, Untitled. Gramercy Tavern alumnus Chris Bradley mans the burners at this museum restaurant, turning out daytime fare (except Mondays), as well as dinner service on Saturdays and Sundays. The frequently changing evening menu consists of three family-style courses—recent spreads have included new-potato-and-green-bean salad with ramp vinaigrette, grilledbronzini with tomatoes and oregano, and Stumptown banana tiramisu. Reservations are taken online only at untitledatthewhitney.com. 945 Madison Ave at 75th St (212-570-3670). Sat, Sun 6--9:30pm; $46 per person.
94. See Brits tackle the Bard
Britain's Royal Shakespeare Company hits NYC this summer for six weeks' worth of shows as part of the Lincoln Center Festival. Enjoy top-shelf productions of Julius Caesar, Romeo and Juliet, As You Like It, King Lear and The Winter's Tale at the historicPark Avenue Armory. And it won't only be the accents that are authentic; the venue is adding a jutting stage that recreates the RSC's Stratford-upon-Avon theater, thrusting the players into the audience's space. 643 Park Ave between 66th and 67th Sts (212-721-6500, lincolncenterfestival.org). July 6--Aug 14. $68.75--$250.
95. Plug into the electric atmosphere at the US Open
The US Open is the culmination of each year's Grand Slam tournament—and it's definitely a scene, with A-list celebs regularly among the fans spotted at Flushing Meadows--Corona Park. Tickets are on sale starting June 13, but if you don't nab them in time (or are unwilling to shell out the big bucks), don't despair. You can still see the pros volley during Qualifying Week (Aug 22--26) or on Practice Day (Aug 28)—both are free for spectators. For more insider tips, check out last year's scoop with tennis superstar Andre Agassi. USTA Billie Jean King National Tennis Center, Flushing Meadows--Corona Park, Flushing, Queens (888-6736-849, usopen.org). Aug 29--Sept 11; matches are played at 11am and 7pm, except for the Men's Final at noon; prices vary, check the website for details.
96. Witness cutting-edge theater
You never know what's in store (in terms of quality or subject matter) at the New York International Fringe Festival (now in its 15th year), which brings tons of shoestring-budget shows and starry-eyed thespians from across the globe to downtown theaters for two weeks near the end of summer. Come with an open mind to this hodgepodge of one-man shows, weirdo musicals, performance-art pieces and more. Various venues (fringenyc.org). Lineup TBA. Aug 12--28. Each show $15.
97. Become a farmer for a day
Sunday is market day at Eagle Street Rooftop Farm (44 Eagle St between Franklin and West Sts, Greenpoint, Brooklyn; rooftopfarms.org; Sun 9am--4pm, through October, check website for closures)., but it's also an open day for volunteers who want to get their hands dirty. Drop in at any point to lend a hand with chores like seed planting, harvesting, watering, caring for chickens and rabbits, and tending the compost pile. Take a break at 2pm for a free workshop, usually a lecture or demonstration to do with agriculture and urban farming or a cooking demonstration. For a more intensive farm experience, sign up for Gone Farming at Stone Barns, a new adult program running through July. Spend the morning doing farm chores like egg collecting, then stop for lunch provided by the Blue Hill Caf (630 Bedford Rd, Pocantico Hills, NY; 914-366-9600,stonebarnscenter.org. July 7, 15, 21 10am--3pm; $200 [includes lunch, a dozen eggs and take-home farm craft]).. In the afternoon, learn a farm craft, such as how to make a fleece shawl or scarf, or planting kitchen herbs in a self-made container.
98. Sketch your surroundings in Battery Park City
Get in touch with nature and your artsy side at a fresh-air drawing class. Artist Larry Dobbins will provide guidance and feedback as you produce landscapes of the harbor and South Cove—itself a public art work environmental artist Mary Miss, architect Stanton Eckstut and landscape architect Susan Child. The lesson is free and materials (including watercolors, pencils or oil pastels, paper and lap easels) are provided. South Cove, Battery Park off South End Ave (212-267-9700, bpcparks.org). Through Oct 29 except major holidays (July 2, Sept 3, Oct 8). Sat 10am--noon; free.
99. Watch a race around the harbor and fete the winners at a luau
Teams from around the globe face off in the Liberty World Outrigger Competition(newyorkoutrigger.org/liberty), racing traditional Polynesian canoes from Brooklyn Bridge Park, up the Hudson and back, then past Liberty Island and Governors Island before finishing from whence they came. After the hard work is done, party with the boaters at the Frying Pan's Liberty Luau, chowing down on a buffet and taking in a performance by Polynesian dancers. And if you think it looks like the sport for you, try the free New York Outrigger novice sessions (Hudson River between 26th and 27th Sts;newyorkoutrigger.org; Sat 10:30am--1:15pm; free) to get out on the Hudson with local experts. Crews launch from Brooklyn Bridge Park, Empire--Fulton Ferry State Park, New Dock St at the East River, Dumbo, Brooklyn (718-802-0603, brooklynbridgepark.org). June 25 beginning at 7am. Liberty Luau: Frying Pan, Pier 66A, W 26th St at the Hudson River (212-989-6363, fryingpan.com). 6--10pm; $30, advance $20 at welcome table at Brooklyn Bridge Park.
100. See outdoor art
Brave the humidity and admire some monumental art outside the antiseptic—if refreshingly cold—environs of galleries or museums. We recommend Rob Pruitt's The Andy Monument in Union Square (E 17th St at Broadway; 212-223-7800,publicartfund.org; through Oct 2), a gleaming tribute to the Pop Art innovator. Travel uptown to see Circle of Animals/Zodiac Heads by imprisoned Chinese artist Ai Weiwei(Pulitzer Fountain, Grand Army Plaza, Central Park, Fifth Ave between 58th and 59th Sts; zodiacheads.com; through July 15), and if you're feeling hungry on the way, alight at Madison Square Park (E 23rd St between Fifth and Madison Aves; 212-538-4071,madisonsquarepark.org) to ruminate on Jaume Plensa's gargantuan head of a girl, Echo(through Aug 14), while demolishing a burger from Shake Shack (212-889-6600,shakeshack.com). For four more works out of doors, take a look at our Public art guide.
101. Get greasy for the Coney Island Rockabilly Fest
Close out the summer by doing the jive, bop and stroll during Labor Day weekend. Organized by the folks at Cockabilly Records, the bash features sleazy tunes from Hickry Hawkins and the Panty Sniffers, Everymen and Filthy Still, and burlesque from the likes of Lil Miss Lixx. Coney Island; locations, times and prices vary; visitcockabillyrecords.com for details. Sept 2--4.