Heads up! We're working hard to be accurate – but these are unusual times, so please always check before heading out.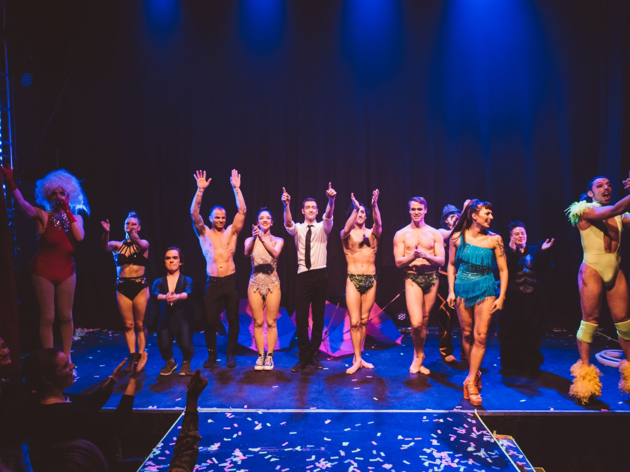 13 New Yorkers remember the last night before lockdown
We spoke with chefs, small business owners, art directors, and more about what was going through their heads a year ago
This week is one year since the WHO declared Covid-19 a pandemic. To mark what we're calling the Pandemiversary, Time Out is looking back at the past year in cities around the world, and ahead to what the future may hold.
It's crazy to think that almost a year has passed since life changed dramatically in NYC. While all New Yorkers' experiences have varied over the last year, it's safe to say that all of our lives have been impacted in some way. To reflect on this week's milestone, we caught up with NYC chefs, business owners, restaurateurs to see what was going through their heads right before lockdown a year ago and what they're currently up to now.
New Yorkers remember their last nights out before lockdown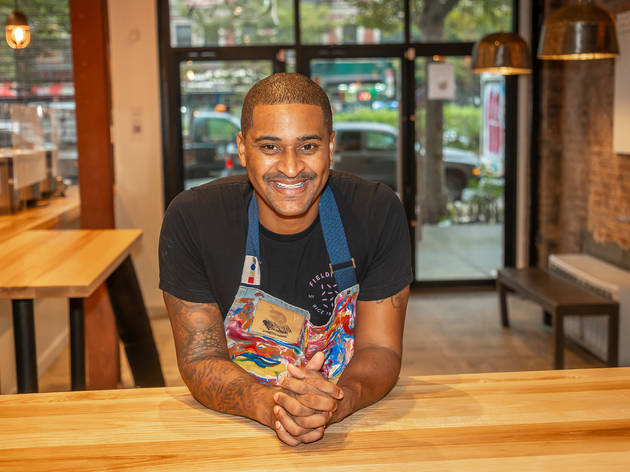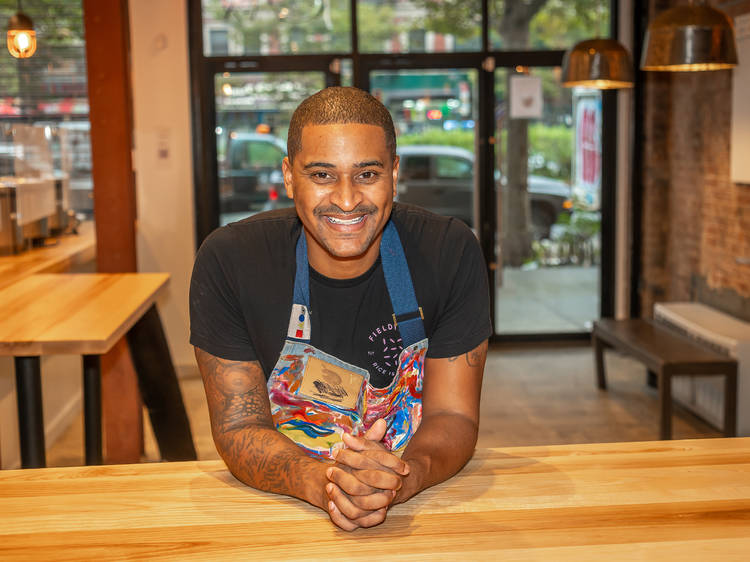 Photograph: Courtesy Noah Fecks
Joseph 'JJ' Johnson, owner of FIELDTRIP
"I remember the day before the lockdown went into effect vividly. I was in the restaurant and, around 6pm, I got an alert. At that time, we didn't know if restaurants were considered essential businesses or not. All of a sudden, the entire community of Harlem poured into FIELDTRIP. We couldn't cook food fast enough. I think I cooked until 12:30am that night. At one point, I told people to just go into the fridge and grab a beer or a bottle of wine while waiting for their order. It was a beautiful thing, they were all supporting us. The next day, we started doing delivery only. I knew it wasn't going to just be two or three weeks. I had three months in mind but it clearly went longer than that. At the time I only had three staff members and was able to keep them all on. We actually grew as a business through the pandemic: we have three locations now. The Long Island City food hall and the Rockefeller Center locations are operating indoor dining at 35 percent, but the Harlem location isn't open yet because we feed children and families in need through it and it's more important to us to be able to do that there than open for indoor dining. My belief is that if Governor Cuomo can get New York City to 70% indoor capacity and bring back arenas and Broadway while private businesses make sure everyone is safe in their offices, the rest will work itself out."

Current status: "I think consumers should really support more local restaurants and eateries in their immediate community. Go check them out! It can be just for a snack, not a complete meal, but go support them."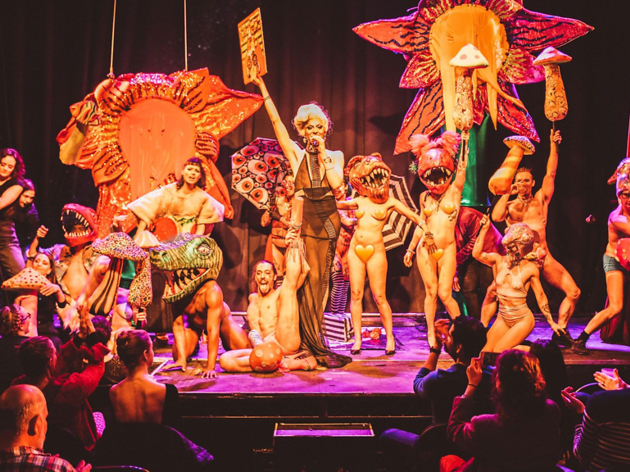 Photograph: Kenny Rodriguez
Anya Sapozhnikova, House of Yes co-founder and performer
"Wednesday, March 11 was "Dirty Circus": one of the memorable last days at House of Yes before we closed. The house was one-third full. It felt as if there was a blizzard outside keeping everyone away. The energy in the room was tense, yet everyone there wanted to be there no matter what. Deep down, the feeling of this being one of the last ones started to creep in. During Act Two, I closed my eyes, threw a handful of raffle tickets over my head like confetti, and proceeded to lick the stage in an attempt to locate the winner with my tongue. I thought: This might be the last time this happens for a while… if ever again.
"During the last act of the show, a gentleman in the front row who I had met earlier that night told me it was his first time here. I watched him watch the show, his eyes glistened. I realized tears were coming out of mine. Before taking our last bow, I grabbed the mic, and thanked everyone for being there with us, and said that we'll forever remember this night."
Current status: "For now, we have plenty of digital happenings from cool workshops and workout classes to digital dance parties! Those that want to help us now can join our Patreon! That is the best place to support us and also get priority access for our in-person gatherings that we will be developing in the future."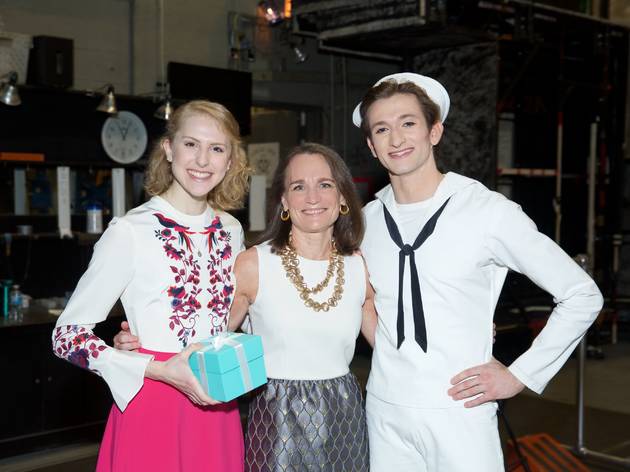 Photograph: Courtesy Julie Skarratt
Katherine Brown, Executive Director of NYC Ballet and David H. Koch Theater
"What stands out in my memory of the day before we shut down is the intense pressure to make extremely high stakes decisions without enough information, ironically something we have all since come to accept as the normal condition. We had been monitoring the coronavirus situation closely for weeks, and in the days leading up to the shutdown began to realize all the ways the safety of our artists, staff, and audience could be compromised in the theater's close quarters. On March 12, with great reluctance, we made the decision to close as of 6pm the next day. While New York City Ballet's winter season had ended on March 1, there was a visiting company performing at the Theater that had to cancel in the midst of a three-week run, leaving in such a rush that some of the performers were still in costumes and make-up. At the time we could never have imagined that operations would be closed down for so long. My email to the staff informing them of the closure said we'd evaluate where things stood after two weeks. Little did we know."
Current status: "The impact of Covid has been massive, and the Company is facing close to $50 million in lost revenue. It has been particularly difficult for the dancers whose work relies on close physical interaction. But at the one-year mark, we are cautiously optimistic as things slowly begin to open up. It is our fervent hope that circumstances will permit a return to live performances for the beginning of our Fall season on September 21 and we are focused on that goal. In the meantime, a beautiful array of the Company's performances and programs can be found for free on-line, along with a request for contributions, from those who are able, that will help the Company return to the stage stronger than ever."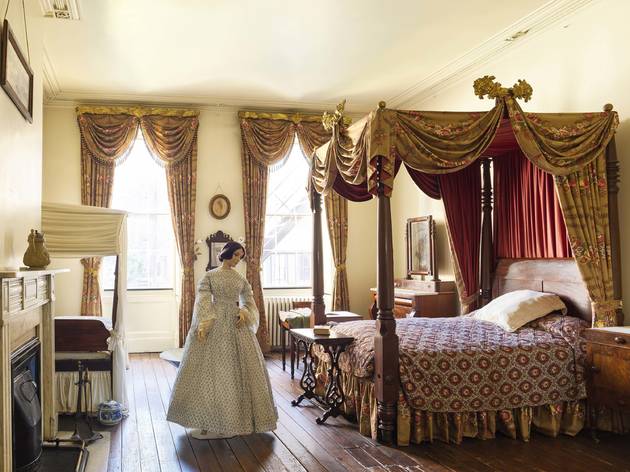 Photograph: Courtesy Merchant's House Museum/Annie Schlechter
Pi Halsey, President of the Merchant's House Museum
"A year ago on Friday the 13th (truly a harbinger of bad times ahead), we announced we were closing the museum temporarily, for two weeks. Ha! It had become crystal clear that 'an abundance of caution' (which, sadly, turned out to be quite the understatement) was in order. There was absolutely no question, the museum had to close immediately, if not sooner—for the safety of the staff, volunteers, and for the public."
Current status: "The museum is now open to the public for in-person tours on a very limited basis and offers education programs virtually—and is still fighting the proposed development next door—all of which translates into dire financial straits: donate, donate, donate, please!"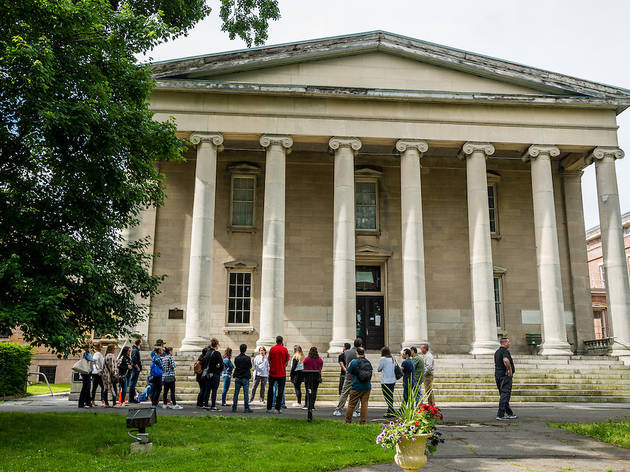 Photograph: Courtesy Snug Harbor Cultural Center / Lance J. Reha
Aileen Fuchs, President & CEO of Snug Harbor Cultural Center & Botanical Garden
"It was incredibly surreal to end one day determined to keep our events and programs as scheduled, and then come back the following morning to form our cancellation plans. Our team worked closely with other organizations and City and State leadership as we navigated these uncertain waters. Above all, we were committed to having Snug Harbor's outdoor grounds continue to stay open, to avoid layoffs among staff, and to get critical protections in place as soon as possible to protect our essential teammates."
Current status: "We're proud that Snug Harbor's grounds and gardens remained open for community enjoyment and wellness throughout the pandemic—one of the few cultural institutions and the only NYC botanical garden to do so—and we're excited to re-open our indoor art galleries in the spring and introduce new programs that will get you excited to experience Snug Harbor in a whole new way."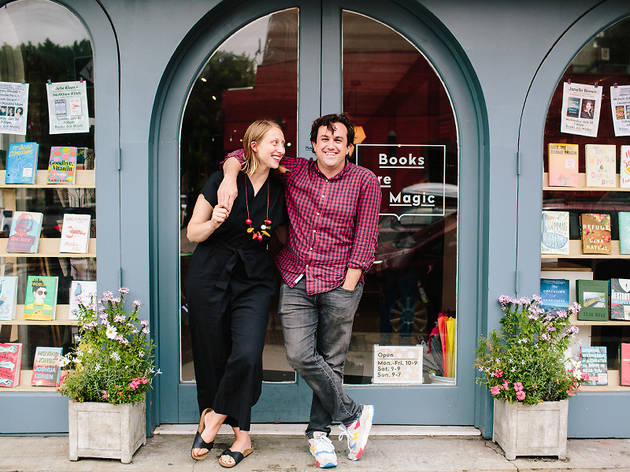 Photograph: Courtesy Books Are Magic
Michael Fusco-Straub, owner of Books Are Magic
"We had a number of large events leading up to the day of shutdown. The last one I attended in the store was March 10 for Kevin Nguyen's book New Waves had around 75 people or so. We were all pretty nervous. I remember coming home and crying in the early days. We had no idea what to do! We had zero guidance from our elected officials. There were so many unknowns. We tried to be as safe as we knew how to at the time, while still getting books into peoples hands. The shop was closed to customers for 16 weeks. I thought two weeks and we'd be back open. My wife and co-owner Emma had her novel All Adults Here come out in May and I remember thinking that there was no way she'd have to cancel her book tour. The tour happened, but it was virtual. We managed, through the amazing support from our customers, to keep the entire staff paid in full for the entirety of the shutdown. We had a tiny crew that would come in every day to fulfill online orders. In order to be safe, I picked them up in my car in the morning and drove them home in the afternoon. What we didn't know at the time, was that we created this little bubble in the store where we only had contact with each other and the amazing mail carriers that came to pick up the hundreds of packages we were shipping out every day. We had our events and marketing teams working remotely, hosting virtual events on zoom and maintaining our socials. I cannot stress enough how incredible our staff was during all of this. They kept it together and really kept the ship running smoothly despite everything being upside down."
Current status: "We've been open with capacity restrictions since July. Customers can order online for pickup if they know what they want and be patient and kind to our incredible staff when coming by."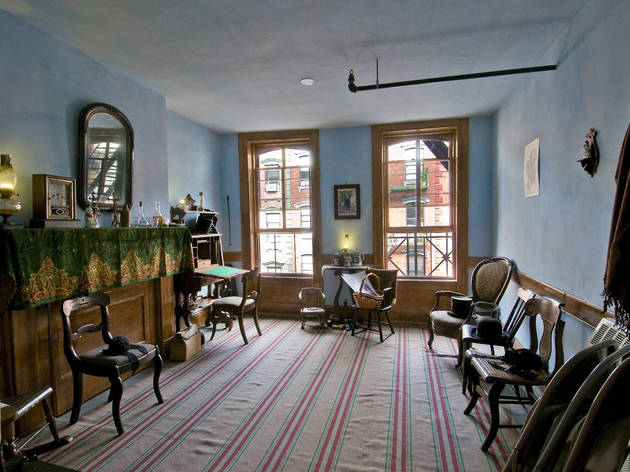 Photograph: Tenement Museum
Rachael Grygorcewicz, Vice President of Visitor Operations at the Tenement Museum
"I recall the end of the day on March 13, the night before we closed, being with several of my colleagues, looking around and wondering if this would be the last time I would see them for a long while. In the days leading up to that, it was one bad turn after another. First, we canceled our gala, our school groups started canceling for spring sessions in mass, the Met announced their closing and, at that point, we knew we'd soon follow. We officially planned for a two-week closing but internally considered it could last for as long as a month. We told the staff to take anything they needed from their desks. Now the idea of a two-week closure sounds ridiculous—but that is where we were. There were a number of decisions that had to be made very quickly. The museum was reliant on ticket sales for 75% of our operating budget. Overnight the earned revenue went to 0, and at that point we knew we could not rely on that changing in the short-term. We knew we had to drastically cut our expenses immediately. This meant tough decisions about layoffs, furloughs and reduced hours for the executive team and down. By the end of the day, we had reduced the staff by roughly 75 percent. I went into the office with just a few members of the staff to "close up shop" the day after the shutdown and I distinctly remember standing in the center of our visitor center and seeing it completely empty for the first time in my 13 years at the museum. It was surreal."

Current status: "You can support the museum by donating, taking our virtual tour, visiting us in person for weekend walking tours and attending our virtual gala on April 29th."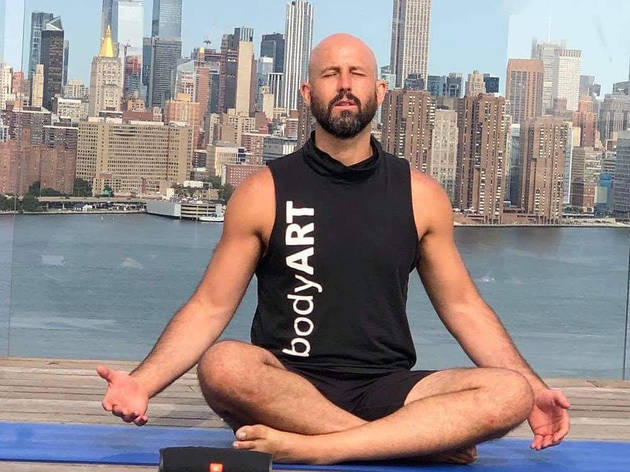 Photograph: Courtesy BodyART Studios
Ryan Beck, owner of BodyART Studios
"I had just flown back from meeting with potential investors in LA, and we were about to launch a big promo campaign with Athleta. Our training space at Google was still open and operational, but the general feeling was anxious and people were on edge. At that time, we had an event scheduled with Lululemon for mid-April, and we told all the sponsors that we fully expected the pandemic to pass in 2-3 weeks and everything would proceed as planned. But when the NBA and Broadway closed, we suddenly realized that the situation was much more severe. After the initial shelter in place, we immediately moved all our programming outdoors and our amazingly resilient crew has consistently trained in all types of weather, climates, and temperatures.
Current status: "We are now hosting innovative cold-weather training sessions, outside on Upper West Side, SOHO, and Williamsburg (as well as online)...we've inspired an entire army of winter athletes, who thrive in cold temps! #wintersports"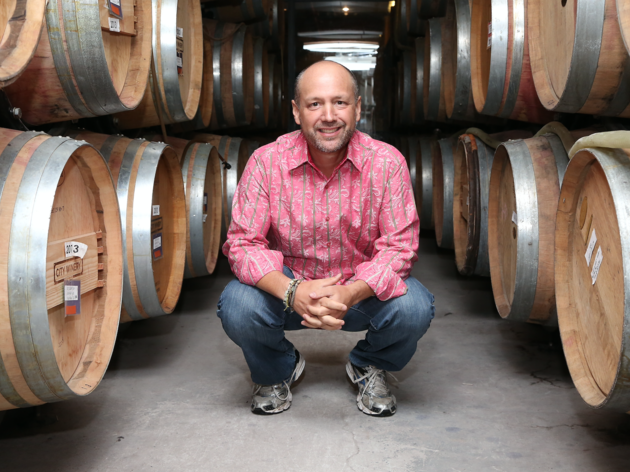 Photograph: Courtesy City Winery
Michael Dorf, founder and CEO of City Winery
"We were still in construction at our new flagship at Pier 57, looking at the programming for the spring launch, tickets going on sale, and inviting many people to come and see our new joint. We were wondering how long we might have to pause construction, when would we ever be able to open…With so much money into our new space, this was very concerning. I remember thinking, well, if we are closed for 2 or 3 months tops, that might give us enough time to really finish our decorating and be ready to have people without wet paint on the walls."
Current status: "Cuomo recently announced the ability to have live music starting April 2nd and that is our plan to launch! Please come by starting March 15th for dinner or April 2nd for a show and drink a lot of wine. Can always go to our website and buy wine, but go out, see music, go to restaurants."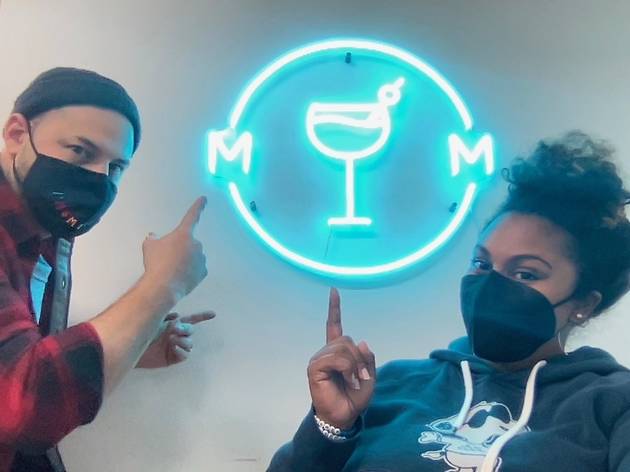 Photograph: Courtesy Muddled Memories
Cody Goldstein, CEO of Muddled Memories
"Our team was scheduled to fly to Anaheim, California on March 15th for a large corporate event. We got a call that the show was 'postponed due to Covid.' I knew the events industry was about to change. Sadly, our clients started canceling upcoming events, and we were unable to contract our amazing staff. My partner Camille and I made the decision to adapt and start an entirely new business. Our goal was to create a way to get Muddling Memories cocktails in people's hands. The Virtual Speakeasy was born in our small one-bedroom apartment. We ship our premium bar kits to attendees who get our acclaimed mixologists to lead them through a unique drinking experience. Our plan was always to create a business that could live during, and after the pandemic. We have rehired our staff and are offering additional employment opportunities in a growing environment."
Current status: "Thankfully, people have enjoyed a great cocktail with friends virtually while staying home and can book our services on our website."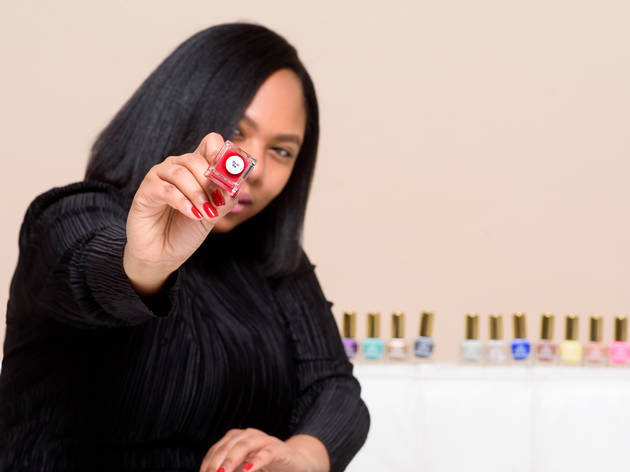 Photograph: Courtesy Breukelen Polished
Ariel Terry, CEO of Breukelen Polished
"The last day before lockdown was very airy and weird. Being in NYC the city slowly began to slow down and people seemed to have been disappearing; the city was not buzzing as usual. It was such a state of unknown for most people that I truly did not have any expectations, but I did not think we would be facing this situation and still in it a year later. After about four months had gone by, I believe most folks started to feel like this was our new normal and the amount of love and gratitude received from customers was simply that. Everyone was happy to be living and able to talk to other people."
Current status: "We are open and still here to serve and provide our customers with beautiful nail polish and products which can be found on our website www.bkpolished.com"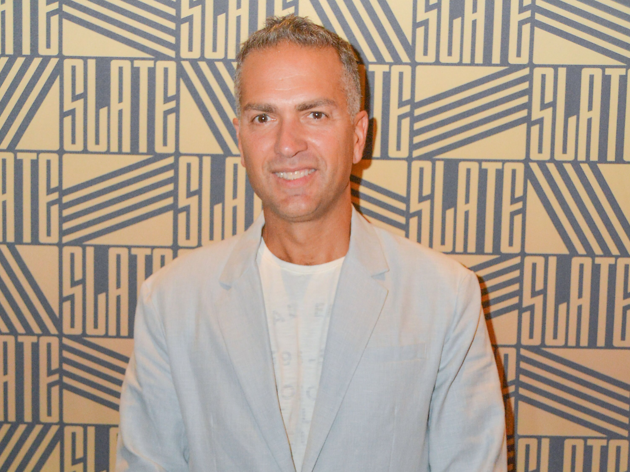 Photograph: Courtesy Slate
Aristotle "Telly" Hatzigeorgiou, owner of Clinton Hall and Slate
"It was March 15, 2020, a Sunday. Our senior leadership devised a strong plan to take all necessary steps to shut down our businesses, Clinton Hall and Slate NY. We had all of our management on the phone for a conference call to talk through what we thought was going to be the next 3-4 weeks, TOPS! We fast-tracked a closing process because we did not want to have our staff be in harm's way. Everyone was a little on edge. It was the fear of the unknown as to be expected. Clinton Hall was about to expand and add on a 12,000 sq ft property in Staten Island (that property will open this spring/summer), and Slate NY just had a blockbuster 20th Anniversary party on 2/20/2020. It's a bit ironic that the last event we had at Slate NY was a Corona Hard Seltzer launch party (for an event called Seltzerland) on March 11. I remember not truly understanding what was happening, what our futures would be, and how I could protect all of the people in my family and extended (work) family."
Current status: "Out of our six businesses, we only have two open at the moment, Clinton Hall FiDi and Clinton Hall Bronx. We are doing a fraction of the revenue we did in years past and are barely getting by. We hope that everyone will support our businesses by coming down, enjoying our food, and having a Supercraft beer. Post it to your socials and tell all of your friends! We all need a bit of help!"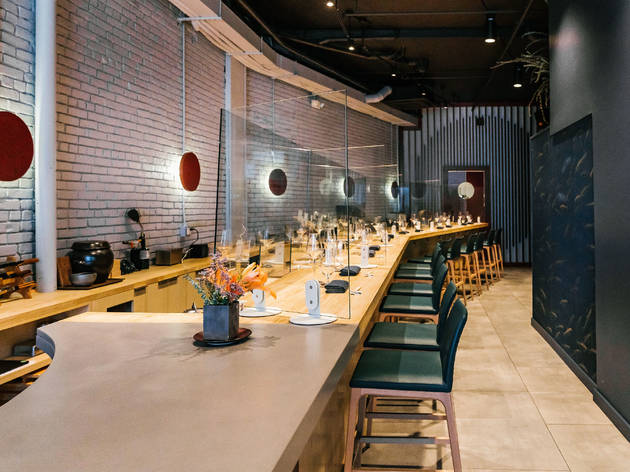 Photograph: Courtesy Kissaki
Garry Kanfer, owner of Kissaki
"On the last day before the lockdown, we were extremely busy at Kissaki Bowery and the feeling in the air was that everyone wanted one last night out. The future was uncertain. It was a scary and humbling time. It was also a sad day realizing we had shut down. We believe in adapting to any situation so we started developing to-go options and how to execute them with the highest safety standards in mind. We started working with designers to create the best sushi packaging on the planet and procured our own fishery and wildlife permits, so we could deal directly with fishermen to bring in the best fish from Japan. While we were waiting on the packaging to come in, we started a campaign to feed front-line workers. We also debuted Sushi and Nigiri making robots to help with production and cut down the human interaction with our product. Kissaki has never looked back since."
Current status: "With open locations on Bowery, the Upper West Side, Long Island City, the Hamptons, and Greenwich, we are continuing to expand and bring all of our guests amazing food that's handled with the utmost care and consideration."