Heads up! We're working hard to be accurate – but these are unusual times, so please always check before heading out.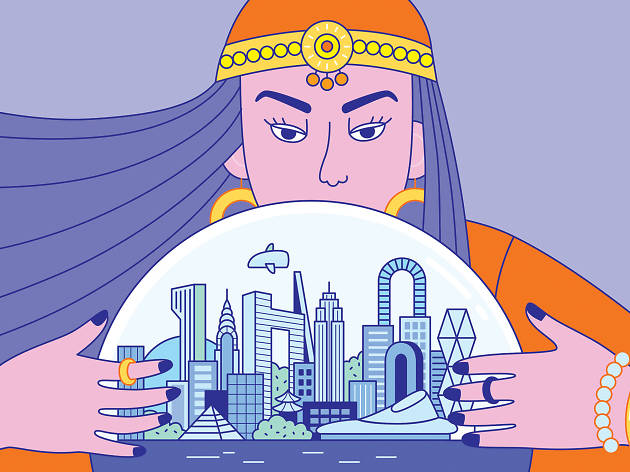 A psychic predicts what NYC will be like in the future
Peri Lyons, an actual psychic living in the East Village reveals what we can expect to encounter in the future—like, way, way in the future.
When we wanted to figure out what New York will be like in the future, we spoke with everyone from and NYC real-estate developers and transportation experts to NYC climate change scientists. Sometimes, however, its best to go with someone who's a bit more… intuitive. So we called up actual psychic Peri Lyons of Peri Lyons Brilliance Consulting, to get the low-down on what the Gotham of Tomorrow will really be like.
What will change the most in the next 50 or so years?
The waterfront is going to be really redefined. There's going to be a motherfucker of a storm about six years away that is going to make Sandy look like a rubber duckie.
Any other seismic shifts on the horizon?
In about eight years, there's going to be some sort of really strange, really unexpected person coming in who's going to make some pretty serious and necessary changes. I'm pretty sure it's a woman, and she's going to be propelled along to affect some drastic changes in pollution control.
Will dating change in NYC?
I think gender is not going to be that relevant. New York has always been about money, but I think dating is going to become about a different sort of prestige than money—it'll be more about the good you do for the community. I think that apps are going to become obsolete, and something more three-dimensional will become commonplace.
How do you see the real estate and housing markets developing?
In 50 years, it will be mandatory to have an organically run generator for energy. We'll see a lot of buildings sharing a floor or two with things like hydroponic farms, and we'll start to use organic waste as a form of fuel. I also think a lot people are going to be moving to Newark.
What will be the biggest cultural shifts?
There's going to be a big boom in live theater that will set itself up as a commercially viable alternative to the corporate presence on Broadway.
Anything else?
Not really. New York is strangely timeless, in a way. New Yorkers have some attributes that will always be there. We like to walk, we're social, we're cultural, and we're a funny combination of egalitarian and amusingly snobbish at the same time. I'm weirdly optimistic about New York.
Want more mystical guidance?
From tarot card readers to mediums, we've done the research and tracked down the top psychics in New York