Heads up! We're working hard to be accurate – but these are unusual times, so please always check before heading out.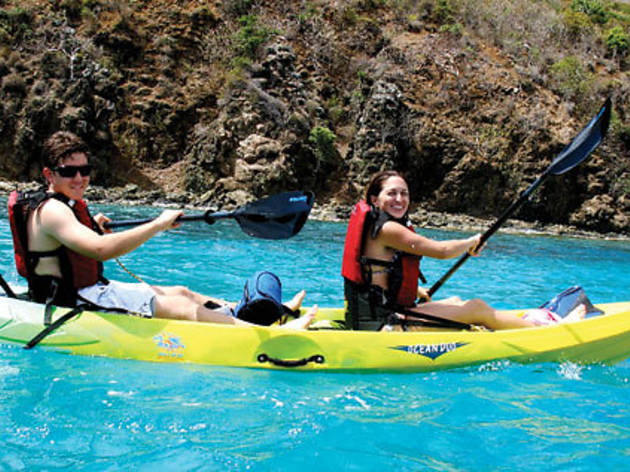 Adventure getaways
Paddle through a bioluminescent bay, go back to summer camp, and jump out of a plane.
San Juan, Puerto Rico (4 hours from NYC)
Do this

Puerto Rico's natural wonders are the main draw for tourists with a wanderlust and a taste for cheap thrills. Landlubbers can lace up their Merrells as soon as their Jet Blue flight lands and jump on Eco Action Tours' guided hike of tropical rain forest El Yunque(787-791-7509, ecoactiontours.com; $50, park entrance fee $3). "This rain forest has more species than all the forests in the U.S. put together," says Eco owner Peter Zervigon. "It's like Jurassic Park in there." Those more interested in exploring under the sea can hop on East Island Excursions Sand & Sea day sail (877-937-4386,eastwindcats.com), where $69 (plus $14 for transportation from San Juan hotels) takes you to a coral reef and an uninhabited island for some snorkeling and beachcombing; in true island fashion, rum drinks are included onboard. Come nightfall, join up withKayaking Puerto Rico (787-435-1665, kayakingpuertorico.com) for a tour of PR's bioluminescent bay, full of plankton that sparkle a brilliant blue when disturbed ($45, plus $20 transportation charge from San Juan)—you can't swim here, but your paddles and boat will glow. When hunger finally catches up to you, try the cuisine at Ajili Mojili(1052 Ashford Ave at Joffre St; 787-725-9195, hdmdesigns.com/ajili); named after a local seasoning, the restaurant offers Puerto Rican dishes like the house specialty, vealmofongo (fried mashed plantain dough with garlic and pork rinds, $23).
Stay here

Hosteria Del Mar B&B (1 Tapia St; 787-727-3302, hosteriadelmarpr.com) offers rooms from $69 per night (including complementary breakfast), is located conveniently between the airport and scenic Old San Juan, and—best of all—is right on the beach.
Port Jervis, New York (2 hours from NYC)
Do this and stay here:
Leave your adulthood in the city over Memorial Day weekend and remember what realsummer felt like, before leaving early on Friday for two months out of the year became the most you could hope for. Urban Escapes Summer Camp (212-609-2547,urbanescapesnyc.com) is located on 500 acres of Kittatinny Mountain wilderness, and its all-inclusive package offers a bevy of activities, such as a 100-foot zip line, hiking, basketball, yoga, capture the flag, bonfire parties and swimming in a private mountainside lake. Those who prefer to go it solo can explore, read, take in the views or just find peace in the shade of a tall tree. "Basically, it's [about] reliving your childhood," says Urban Escapes founder Maia Josebachvili. Come dinnertime, gorge on burgers, hot dogs and other classic camp grub (including vegetarian options), plus beer and wine you don't have to sneak out of your duffel bag. (Being an adult isn't so bad, eh?) Bring a sleeping bag or some sheets and a blanket; you'll be huddling in a cabin with eight to ten new friends when the lights go out, though you can put in a request if you want to share a cabin with someone specific. Regular fee (Friday afternoon--Monday morning) is $299 plus $10 for transportation from the train station. TONYdiscount: Enter "TIMEOUT" online to score the whole package for $240.
Addison County, Vermont (4 hours from NYC)
Do this
Vermont's mountains stretch only about 4,000 feet up, so for the best view in the state, leap out of a plane: Vermont Skydiving Adventures (4369 Rte 17, West Addison; 802-759-3483, vtskydiving.com) offers tandem dives for $230. If you'd rather stay grounded, take in the verdant views courtesy of the Bike Center (74 Main St at Mill St, Middlebury; 802-388-6666, bikecentermid.com), where weekend rentals run $35 for a hybrid bike and $70 for a road cycle. When the time comes to pump the brakes, relax with a free tour and beer samples at the Otter Creek Brewery (793 Exchange St near Elm St, Middlebury; 802-388-0727, ottercreekbrewing.com; Sat 5pm). When you get the munchies, make a pit stop at American Flatbread (137 Maple St near Main St, Middlebury; 802-388-3300, americanflatbread.com). The company's frozen pizzas are available in supermarkets nationwide, but meaty pies (like the New Vermont Sausage, featuring pork sausage, sun-dried tomatoes, onions, mushrooms, mozzarella and Parmesan for $18.50) can be ordered only in the Vermont company's three restaurants.
Stay here

The Old Hotel B&B (233 East River Rd, Lincoln; 802-453-2567, oldhotel.net; rooms start at $65 per night) offers old New England charm and hospitality (its husband-and-wife owners are also a local pastor and teacher, respectively), complete with a charming backyard garden and sunny front porch; feline fans will be pleased to find that the hotel's friendly cats keep guests company. "It's magic," says Addison County local and New York Times best-selling author Chris Bohjalian, whose novels (often set in Vermont; Secrets of Eden is his latest) have drawn plenty of attention to the state. "When my wife and I had our 25th wedding anniversary, we loved the Old Hotel so much we put our guests there."