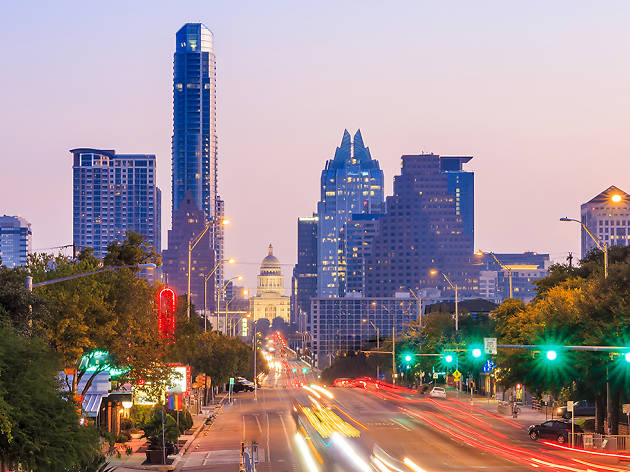 Be Spontaneous in Austin
Find the best hotels in Austin, as well as the absolute best things to do in the city
Austin's world-class music festivals attract hundreds of thousands of people every year, but even outside of SXSW and Austin City Limits, the city is buzzing with live gigs. As any Austinite will tell you, that's only the tip of the city's attractions. The Texas capital has a flourishing food scene (including some of the best BBQ joints in the country), great shopping—and a thriving bat population! Experience it all with 10 of our favorite things to do in the city.
The excitement I felt when I found out my spontaneous travel destination was Austin, was palpable. It's as if Time Out New York and Booking.com knew that Austin, Texas was my spirit animal. If you know my brand, Eat Travel Rock, at all; you're aware that I love to combine food and music...and of course travel, in any situation. Well this was the ultimate trifecta. Good times were about to be had—by one. I have traveled solo many times but for quick work trips. I have never traveled on a solo vacation before, and I must say that I was pumped. No one other that myself dictating when and where to go, what to see, what to eat. The decision making began the evening before my flight when I actually found out that Austin was my destination. I immediately went on the Booking Now app on my iPhone and began to search. The ease and functionality was superior to any travel app I'd ever used. Since Booking Now is for travel less than 48 hrs out, I was a bit worried that desirable accommodations might not be readily available. Incorrect. The most luxurious hotels in town, as well as unique and boutique hotels were easy to find...and more importantly, affordable. Many of the hotels even had discounts that were just for Booking.com and Booking Now customers. I booked a gorgeous room at the JW Mariott in a matter of a minutes and I was all set. Ready to wing it in Austin!
When I arrived in Austin, and after I got settled into my glorious city center accommodations with a stunning view of the Colorado River I got my game face on. Fortunately, Time Out New York and Booking.com wanted me to explore the musical culture of the Live Music Capital of the World. This was going to be fun, to say the least. My first challenge was to "bear hug the unknown", and seek out a local record shop...one that is hidden or known only to locals. I decided to walk down South Congress, or as the locals call it, SoCo. I didn't let the 100 degree heat sway me from my mission. I found a tiny little spot called Friends of Sound, and believe me, it was hidden. I shopped a bit and of course picked up some old school Country tunes like pre-outlaw Waylon Jennings and the Best of Johnny Cash. I then cozied up to the manager to see if he had any great recommendations for where to see some live music. He and a fellow shopper gave me some great tips for where to find some great live shows that evening.
I ventured out for my first ever solo "night out on the town." It was great. Amidst the hustle and bustle of buzzing 6th Street in downtown Austin, I hardly felt alone. The vibe was electric, and music was pouring out of every doorway and corridor. I was headed toward the Red Eyed Fly and it reached me before I reached it. The music was loud! I asked the door guy to fill me in and he said the Death Metal show on the outside patio was $10. Sold! Now, I'm usually very non-discriminating when it comes to rock music. I love it all. But death metal has always been an enigma to me. Well, I let go of all that and head banged with the best of them with a Lone Star beer in hand. Next up, I wanted to venture even farther from 6th Street. I found this tiny little club called Beer Land. They had a surfer-esque garage band on stage and they were totally my taste. I sat back and realized how fortunate I was to be experiencing something so magical. Not even 24 hours before, I didn't even know I'd be in Austin. Now here I am, sipping on a cold beer and soaking up one of the coolest musical scenes on the planet. Bless your heart Rock N' Roll.
My final challenge was to find an iconic spot in town where a part of musical history occurred. After some research, it became clear where I needed to visit. Arlyn Studios is a place where music history has been made; over and over again. This recording studio is not only the home studio of Willie Nelson, but many of my all-time favorites have recorded here: Waylon Jennings, Sublime, Neil Young, Snoop Dogg, Gary Clark Jr., Phish and Merle Haggard, just to name a few. Their history is rich, but even more impressive is what the music is made with. Arlyn Studios possesses one of the few Neve recording consoles in existence. As the gracious owner of Arlyn, Lisa Fletcher, explained to me, "It's like the Bentley and Rolls Royce of sound boards coming together." I was lucky enough to have Lisa give me an after hours tour of the entire studio. It was an experience that will last a lifetime.
After all of my musical challenges were completed, it was time to eat. Many recommendations came from locals as well as Time Out Austin. Lonesome Dove Western Bistro was first. Wow. Chef Tim Love's latest adventure in on point. The menu is eclectic and the food was outstanding. I would definitely say the best piece of fried catfish I'd ever had. The staff was accommodating and friendly. It was my happy place.
You can't go to Texas without filling up on tacos. Torchy's Tacos was all I'd been hearing about. I took an Uber to this little lot and there was Torchy's, a cute little food trailer in a dusty parking lot surrounded by red picnic tables. It was taco heaven.
Finally, I had brunch at Odd Duck. I could not hear enough about this James Beard Award nominated hot spot. Everything they serve is locally sourced and sustainable. I sat at the bar right next to farmer Chris, the chicken farmer from whom they directly source their eggs from. It was one of those authentic experiences that can't be described, only felt. I knew I was in a special place, away from the tourists and the hustle, where I could feel the true sense of this remarkable city.
Needless to say, traveling solo may be my new favorite thing. Not only was I able to learn so much more about Austin, the music and the culture, but I was able to learn more about myself. My sense of adventure is alive and well, and people and places (and music) that once seemed foreign or intimidating, are now welcomed and appreciated. I'm so grateful for this quick journey, and even though I'm back in Chicago—in my comfort zone—Austin is already calling me back.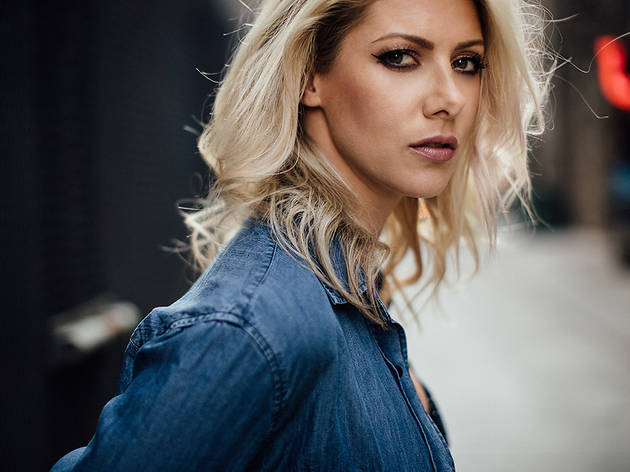 Kelly Rizzo of Eat Travel Rock is an on-the-scene source for the best in food, travel and music. Follow her at @eattravelrock as she hosts her celebrity interview web series, Eat Travel Rock TV, and as a lifestyle contributor on VH1.
Top 10 things to do in Austin
Top-rated hotels on Booking.com