Heads up! We're working hard to be accurate – but these are unusual times, so please always check before heading out.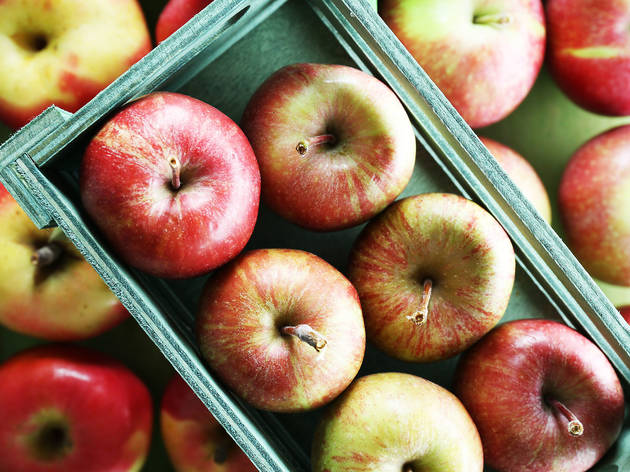 The best apple picking farms and orchards near NYC
We've rounded up the best farms and orchards in the tristate area to go apple picking this fall
Fall has officially begun, so reinforce your baskets and ready your red wagons! If you're looking for a cool out of town spot for a sweet day trip from NYC, hit one of the dozens of orchards opening to the public for apple picking season. If you're looking for more bang in your basket, you'll love the wineries, vegetable farms, petting zoos and pumpkin patches we've included to upgrade your apple-picking experience. Times, prices and availability vary, so phone ahead or you may find yourself, well, up a tree! For additional info on apple picking in the area, visit nyapplecountry.com or pickyourown.org.
RECOMMENDED: Find more things to do in New York this fall
New Jersey & Pennsylvania
This Garden State homestead has a lot more than apples to pick from (though it's got plenty of those). Visitors can load up on peaches, pumpkins, Indian corn, blackberries and raspberries throughout the fall. On Family Fun Days, little ones run wild in a bouncy house, take a pony ride, hop along at the bunny run and trot along the new goat walk. There's also a cornucopia of corn activities, including a maize maze. All those ears will probably make folks hungry—so reward yourself with homemade ice cream, flavored with bounty from the farm. 84 Route 513, Chester, NJ (908-879-7189, alstedefarms.com). Daily 9am–6pm; apples $2/lb, pumpkins 65¢/lb. Admission Mon–Thurs 9am–6pm free; Mon–Thurs noon–6pm, Fri 9am–6pm $5; Sat, Sun 9am–6pm $7. Through end of October.
Demarest Farms' PYO won't disappoint—you can pick your own apples, pears and pumpkins, depending on the season (August through October is prime time for picking). It's also a great place to cruise through a corn maze, sip freshly pressed apple cider, taste local ice cream, grab a handful of Indian corn to decorate the house and pick up seasonal flowering plants like mums. 244 Wierimus Rd, Hillsdale, NJ (201-666-0472, demarestfarms.com). Mon–Fri 3–4:30pm; Sat, Sun 10am–4:30pm. $5 (includes a hayride and access to the corn maze and farm animals).
At this Central Jersey farm, you can fill your barrel with Cortland, Empire, Fuji and Granny Smith, or sweeten the pot with in-season peaches. Tractor rides start in late-September and run through the top of the orchards to picking areas. In October, you can pick jack-o'-lanterns-to-be and enjoy a bumpy hayride on weekends. At the nearby roadside market, visitors can load up on fresh produce, homemade doughnuts, apple cider and pumpkin pies. 223 Meyersville Rd, Gillette, NJ (908-647-0957). Daily 9am–6pm; various prices. Through late October.
The 70-acre orchard has amassed a devoted following—not just for its bountiful apples, flowers and pumpkins but also for its legendary cider. Winesap, Braeburn and Fuji apples are up for grabs in the pick-your-own area, or choose pumpkins from the farmers' market. Leave time for a leisurely drive through scenic Bucks County. 3325 Creamery Rd, New Hope, PA (215-297-8079, soleburyorchards.com). Thu–Sun 9am–6pm; Aug 29 through Nov 15.
Fred and Ranghild Bostrom planted the first fruit trees on Sun High's 25 acres back in 1945. Today, you can pick apples and pumpkins and relax with board games in front of a refurbished beehive oven while fresh fruit pies bubble and bake. Weekend hayrides are a popular draw as are visits with the farm's inhabitants, including sheep, rabbits, ducks (and adorable ducklings in springtime), donkeys and an alpaca named Jersey Gold. The farm's on-site market sells crafts, fresh produce, baked goods, apple cider and homemade ice cream. 19 Canfield Ave, Randolph, NJ (973-584-4734, sunhigh.com). Daily 9am–6pm; various prices. Through late October.
Right around the corner from Gary and Pam Mount's main farm, the couple's Van Kirk Orchard is ideal for apple picking, with dwarf trees planted in blocks so that they're easy to find and plunder (no ladders or poles necessary). Guests can meet farm animals, get lost in a corn maze, take wagon rides and naturally, pick plenty of apples and pumpkins. Wooded trails and the barnyard (filled with sheep, goats and ducks) are open year-round. And be sure to take a long break in the new Terhune Orchards Vineyard & Winery tasting room, where you can taste award-winning wines grown on the farm. 330 Cold Soil Rd, Princeton, NJ (609-924-2310, terhuneorchards.com). Daily 9am–5pm; $1.35/pound. Through October.
Visit beautiful Weavers Orchard for pick-your-own apples, blackberries, blueberries, cherries, kiwi berries, peaches, pears, plums, pumpkins, raspberries and strawberries. It also has freshly pressed cider in the year-round farm market, alongside a bakery, deli and delicious Nelson's ice cream. If you're not sure what to do with all the seasonal fruits and veggies you've plundered, then attend a cooking class and leave the orchard as a master. 40 Fruit Ln, Morgantown, PA (610-856-7300, weaversorchard.com). PYO Mon–Fri 7am–7pm, Sat 7am–5pm; $1.69/lb
The Wightman family—which started this homestead in 1922—has a plethora of labyrinths, including a crawl maze, giant hay maze, pipe maze and a challenging rope maze. After you've plucked some peaches and Granny Smiths, swing by the market for healthy produce and not-so-healthy homemade apple-cider doughnuts. 1111 Mt. Kemble Ave (Rte 202), Morristown (973-425-0840, wightmansfarms.com). Sat, Sun 9am–5pm; $11 membership fee plus $1.79/lb. Through October.