Heads up! We're working hard to be accurate – but these are unusual times, so please always check before heading out.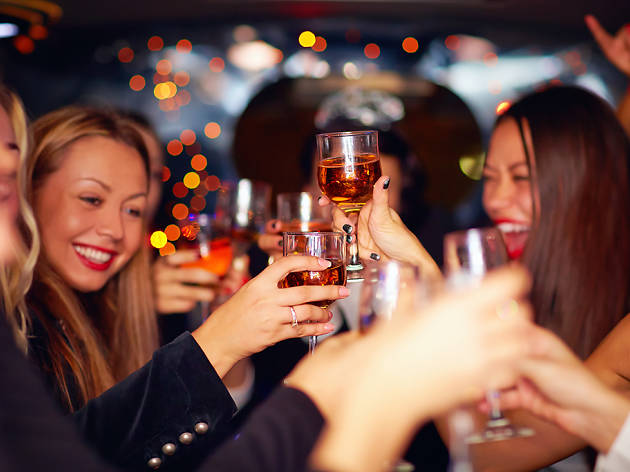 Where to celebrate girls' night out in New York
Girls just want to have fun, right? Round up the troops—we've created these kick-ass girls' night out itineraries.
Crank Cyndi Lauper, swipe on some lipstick and grab all the junk food and Prosecco you can carry—it's girls' night out! Getting all glammed up with your girl gang is just the start of effortless fun. But the next step in the planning process is often the hardest—where the hell should you go? New York is the greatest city in the world for its wide-range of amazing venues and things to do, but too many choices can give a girl a headache. Lucky, we did all the work for you and curated awesome itineraries based on what you and your fellow females are into. From lady-friendly watering holes, the best places to dance in NYC and amazing beauty bars, your next girls' night out will be a slam dunk.
For the beauty lovers
When you first walk into Beauty and Essex, you're literally inside EZ pawnshop, but head toward the door in the back, which reveals a full-blown restaurant! The dining area serves meals that warm the soul, like grilled cheese with smoked bacon and tomato soup dumplings, whereas the second-floor is equipped with a spacious lounge and bar, serving tasty cocktails like the Melon Mojito. But it's the designated ladies room, where free champagne is served, that has us squealing in girlish delight.
If you and your crew want to get your hair and makeup done before a big night out, Joli Beauty Bar boasts an intimate but lovely space in the back for small groups. Bonus: You can bring your own booze and snacks! Book a group appointment in advance at the French-inspired, East Village pamper house, and soon you'll be sitting in a reclining chair (with a comped glass of wine in tow), chick-chatting with your girls and the fiercely-cool staff while they spruce up your mane and give your face a flawless finish.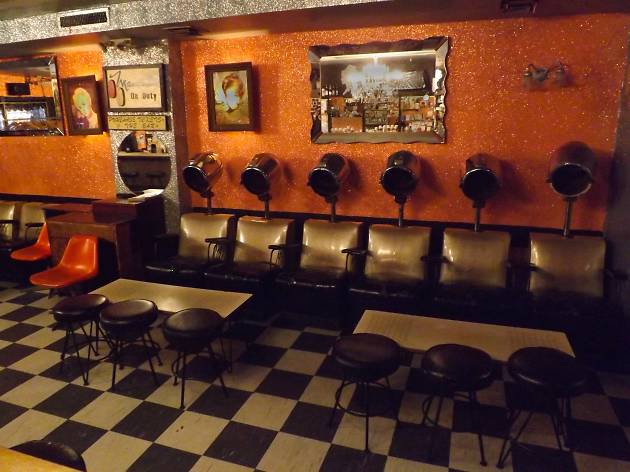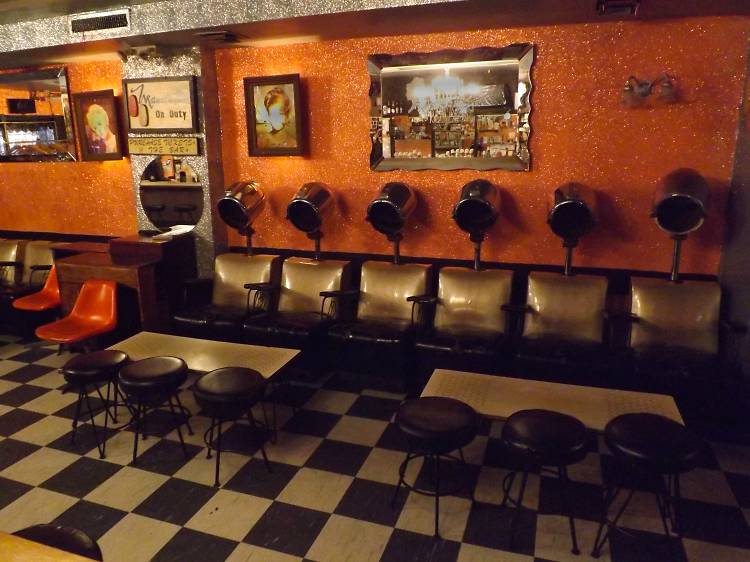 What better way to celebrate girls' night out—or life itself—than with beautiful nails, dancing and a cocktail? This East Village salon-turned-saloon pays tribute to the bygone glamour days with 1950s helmet-style hair dryers and doo-wop songs blasting through the stereo. The back room is spacious enough to do the hand-jive after tossing back a free Blue Rinse margarita (tequila, curaçao, lime juice), which comes with a $10 manicure (Wed–Sun).
For the mystical booze-hounds
Much like toying with Ouija Boards and playing "Light as a Feather, Stiff as a Board" during your teenage years, partaking in some mystical revelry as an adult is always fun and never spooky (okay, maybe a little) as long as your girls are around. Map out your spiritual pathway for the coming year—and see if you'll be planning bachelorette parties anytime soon—with a 10-minute consultation from an expert tarot card reader at this eclectic jewelry and apothecary shop in Williamsburg. Every Thursday from 6pm–8pm.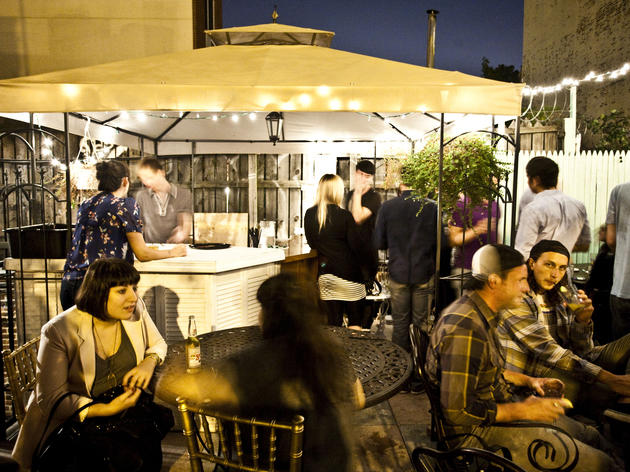 After your 10-minutes with a fortune teller, you're going to need a drink. Pop into Night of Joy but keep up with the mystical theme, as the the Brooklyn watering hole reminds us of a witches' den. Yes, the macabre Victorian decor—complete with ottomans, throw pillows and antique-looking tchotchkes—is part of the draw. Budget-friendly, tasty cocktails—like a citrusy orange-blossom lemonade with rum— are just as delicious as they are dangerous. But the real stunner is upstairs there's a—wait for it—frozen margarita station on the roof deck. Yum!
In Bushwick, a giant teal warehouse—identifiable by the word yes painted on the side—contains the answer to your most pressing question: Where should we go next? Art and party collective House of Yes has reestablished itself as a bastion for dancers, artists, burlesque fans and folks who aren't afraid to get a little bit weird, so the answer has never been more clear: It's time to party on, Wayne. The spot curates fiercely fun and magical functions every damn night. So whether it's gawking at stilt walkers and acrobats or getting mystified by circus performers, there's a party for your wildest fever dream close by.
For the literary gang that wants to get lit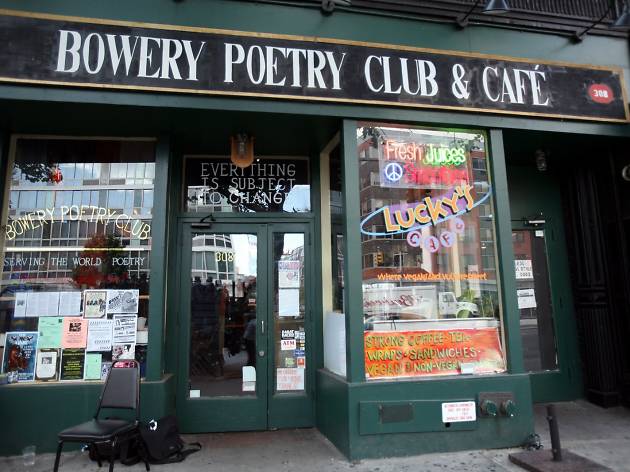 If you're fond of the written word and want an activity where you can spend the first wee hours of the night fully immersed in poetry, head to PoetNY Open Mic at 6:30pm, followed by the riveting and competitive Bowery Slam. You'll be more than satisfied by the local talent and unexpected guests the night brings.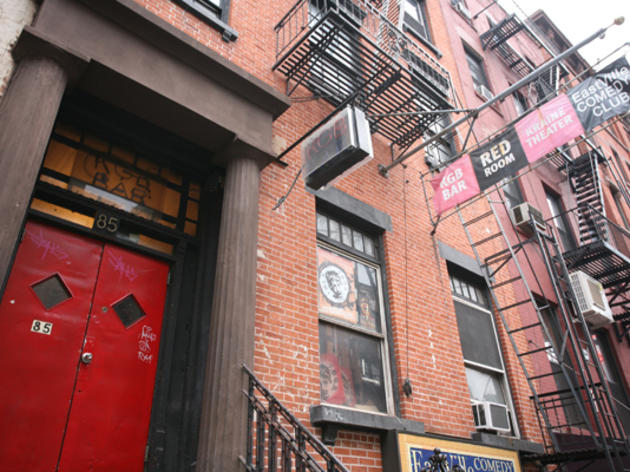 This East Village watering hole is a magnet for hardcore readers, especially since it has its own Literary Journal. Beer and reviews, what more could a bookworm want? The dim parlor-style bar is nestled in the second floor of a walk-up, offering cheap Baltika beer, whiskey on the rocks and free readings—all of which lure New York's literary underground, including stars like A.M. Homes and Kathryn Harrison.
This prohibition-style speakeasy looks like a spot where Sherlock Holmes would hang—especially since there's a trick bookcase, which leads to a VIP-only lounge. The bar is pretty kitsch—cocktails are poured into teacups and bottled beer is brown-bagged before being served. For access, look for a sign that reads THE LOWER EAST SIDE TOY COMPANY. Pass through the gate, walk down an alleyway and up a set of stairs to find a dimly lit den fitted with a gleaming bar. Sporting your best Daisy Buchanan getup is optional, but definitely not discouraged.
For the girls with game
The Susan Sarandon-backed Ping-Pong hub is great for those who like to compete and celebrate their victories (or wash down their losses) with booze. We suggest you and your squad try a diverse selection of domestic and imported craft brews ($8–$12) followed by a table tennis match (walk-in rates for an hour of table time start at $30 before 6pm on weekdays, and increase in the evening and on weekends).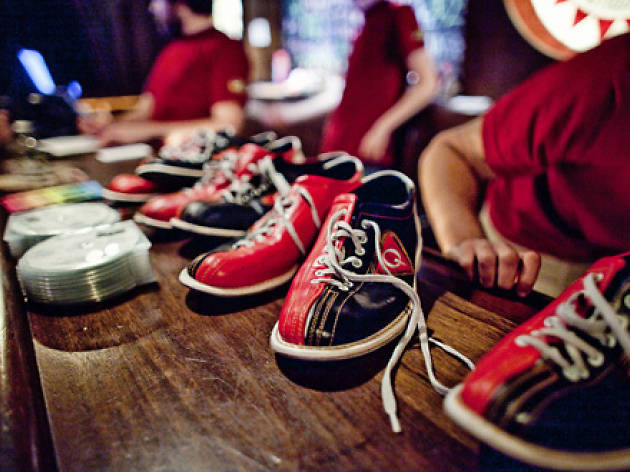 This bowling alley and live-music venue fully embraces the new mania for local nostalgia. The space takes its design cues from Coney Island with old freak-show posters and carnival-game relics, and all of the beer sold inside—by Sixpoint, Kelso and the Brooklyn Brewery—is made in the borough. This is a great place to kill a few hours with a big rowdy group: You can tackle a pitcher and the stoner-food menu from the Blue Ribbon team (delicious fatty brisket, Old Bay–fried chicken) laneside between frames. The plush tufted couches are the most luxurious alley seating we've ever seen.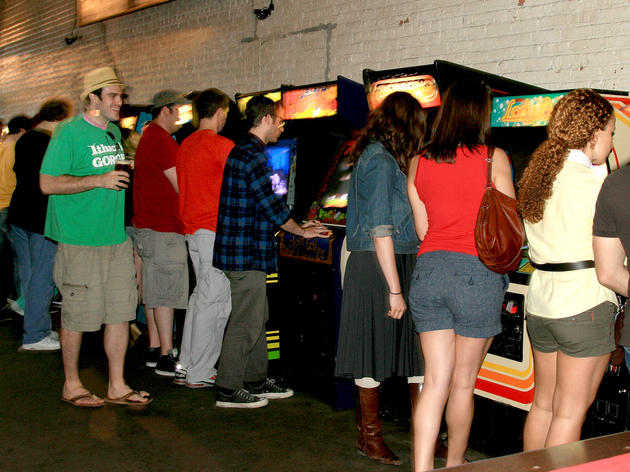 If recreational sports are too much for your drunken state, end the night at Barcade located in Williamsburg, Chelsea and Midtown. Sip all-American craft brews, nosh on burgers and fries and play like it's 1980 with ace arcade offerings like Pac-Man—or Ms. Pac-Man, if you prefer.