Heads up! We're working hard to be accurate – but these are unusual times, so please always check before heading out.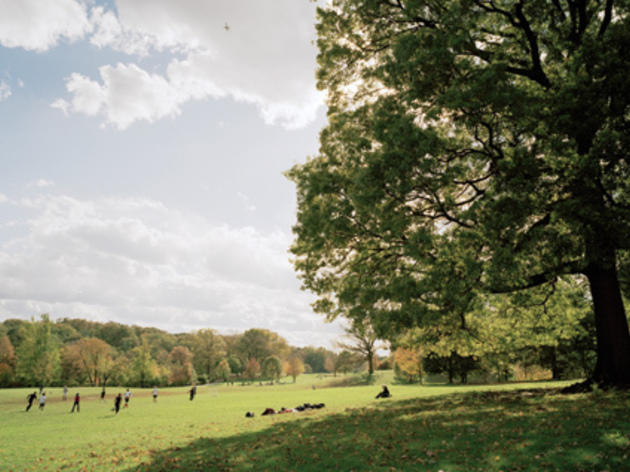 1/23
…have a picnic: Prospect Park (Long Meadow)Looking to spend all day snacking on the grass? Avoid tripping over a tourist on Central Park's Great Lawn by heading to Prospect Park's far more spacious Long Meadow. (It's rumored that Frederick Law Olmsted and Calvert Vaux, who designed both spaces, liked the latter better anyway.) Stretching from Grand Army Plaza to Prospect Park Southwest, this mile-long patch of green is the largest unbroken meadow to be found in any park in the country. Disembark at the 15th St–Prospect Park F or G stop for easy access to the public barbecues nearby; or just pack your blanket and some ready-to-eat snacks and make for the gently sloping pasture. Enter at 15th St and Prospect Park West, Park Slope, Brooklyn (prospectpark.org). Call 718-965-8944 for a barbecue permit for groups of 20 or more.—Ryan Rose Weaver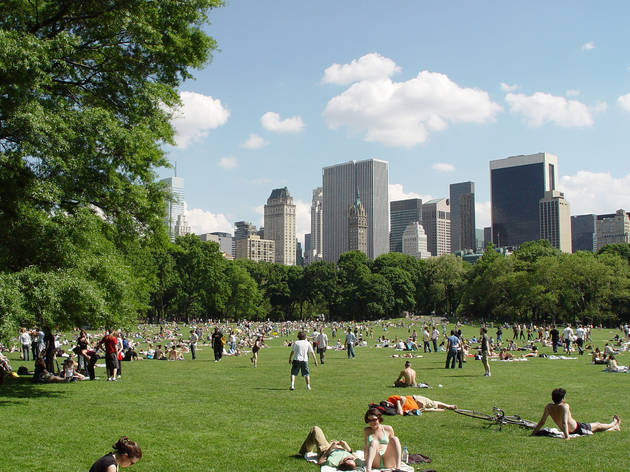 2/23
Photographer: Maureen Plainfield/Shutterstock
…work on your tan: Central Park (Sheep Meadow)Prime sunbathing time is between 10:30am and 3pm; we suggest you claim your spot early on this 15-acre expanse, one of the most popular ray-catching spots in NYC. Flocks of UV seekers gravitate to the field—which once was actually used for grazing sheep—for its wide-open sky and unobstructed view of the surrounding buildings. It's one of the park's designated Quiet Zones (alcohol, pets, organized sports and audible music are verboten) and even offers free Wi-Fi, so you can surf the Web while you bake in the sunshine. Enter at Central Park West and 66th St (centralparknyc.org)—Caroline Lazar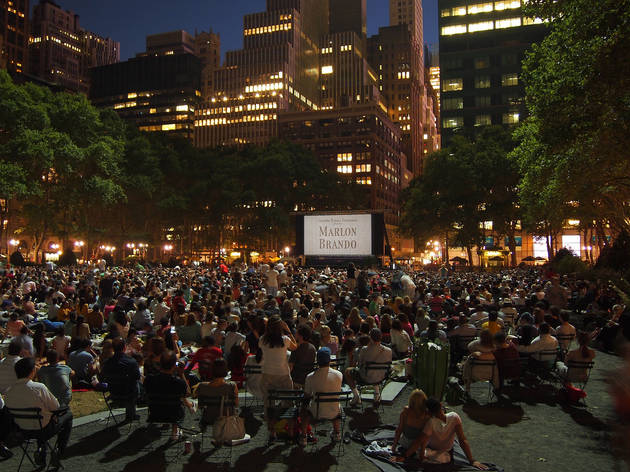 3/23
Photograph: Courtesy Bryant Park Corporation
…catch a free movie: Bryant ParkCome summertime, NYC has no shortage of gratis movie screenings—in Central and Brooklyn Bridge Parks, and on beaches, bar patios and tenement rooftops. But the Bryant Park–HBO Summer Film Festival remains the biggest draw, and for good reason. The Monday night staple boasts stellar sound, a massive 40-by-20-foot screen and a relaxed viewing environment—despite being surrounded by the madness of midtown. Oh, and the lineup is pretty ace too: Remaining highlights for 2013 include The African Queen (July 22), A Foreign Affair (July 29) and E.T. (Aug 19). Sixth Ave between 40th and 42nd Sts (bryantpark.org). Mondays; lawn opens 5pm, screenings at dusk; free. Through Aug 19.—Tim Lowery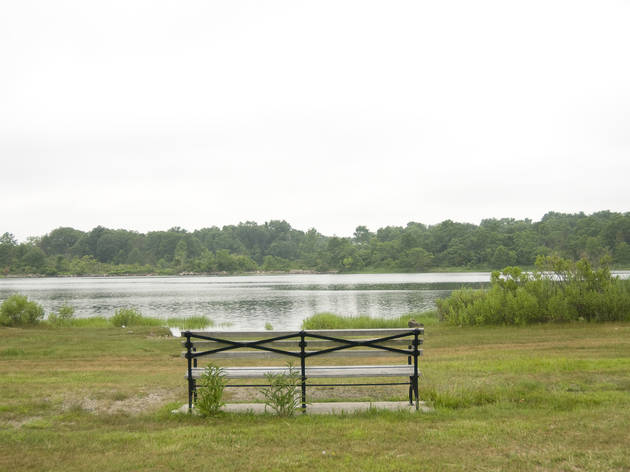 4/23
Photograph: Alex Strada
…spend a whole day: Pelham Bay ParkThis Bronx park—at nearly 2,800 acres, the largest in all five boroughs—offers a huge variety of outdoor activities. Savor the sand, sun and surf along the sparkling curve of Orchard Beach, or launch a kayak into Long Island Sound. While the park encompasses areas for all manner of sports, the most impressive is the Pelham Bay Golf Course, NYC's only 36-hole green (games $18–$48). Retreat to one of the wooded paths on foot, bike or even horseback (the Bronx Equestrian Center arranges trail rides for $30 per hour per person). Finish the day by cooking dinner at one of the three barbecuing areas—just be aware that grills are highly coveted; stake one out early. Middletown Rd to Park Dr between Bruckner Blvd and Long Island Sound, Bronx (nycgovparks.org/parks/pelhambaypark)—Gabriela Riccardi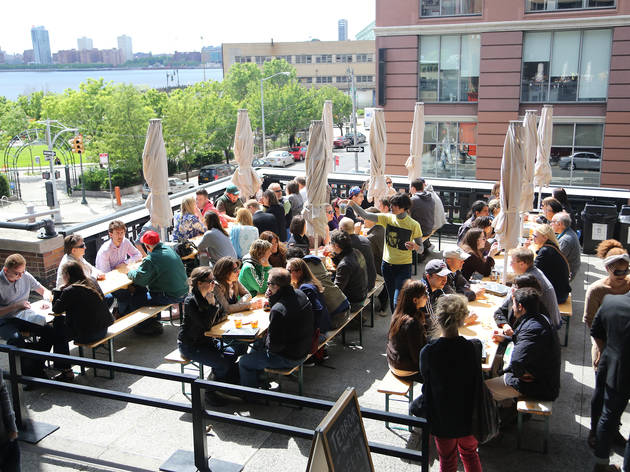 5/23
Photograph: Whitney Lawson
…day-drink (legally): The High Line (Terroir at the Porch)Let's ignore for a moment that the criminal act of mixing friends, 40s and plastic cups can make for an amazing afternoon on the grass (not that we know from experience or anything). For a law-abiding buzz, we suggest this open-air destination, which features a casual vibe and lovely views of the Hudson. Nab a picnic table and down drafts from New York breweries like SingleCut, Ithaca, Keegan and Alphabet City ($8), or sample from an array of wines ($8.75–$14 per glass). Sober up with bites such as a veal-and-ricotta meatball sandwich ($12), a cheese plate ($5) or marinated olives ($5), courtesy of chef Marco Canora. The High Line, enter at 16th St and Tenth Ave (wineisterroir.com)—Tim Lowery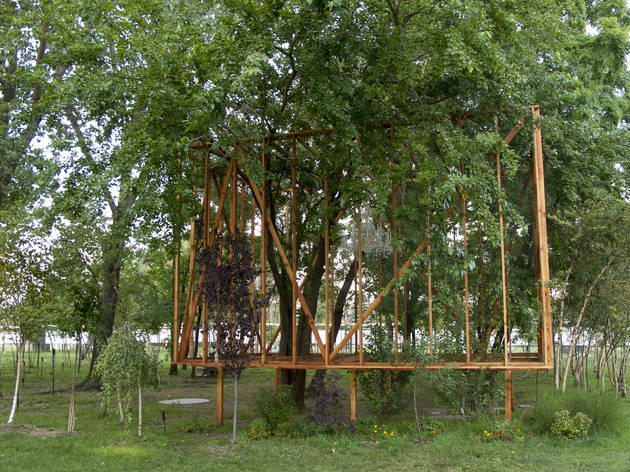 6/23
Photograph: Time Out New York
…see public art: Socrates Sculpture ParkThis unorthodox spot in Long Island City is the quirky crown jewel of the Queens waterfront. Here, you can browse works by artists who labor for months to create larger-than-life pieces that invite you to interact and explore. This summer, check out installations that play with humans' relationships to outdoor architecture: tree wood, a sort of minimalist tree house created by Toshihiro Oki architect PC, and Heather Rowe's Beyond the Hedges (Slivered Gazebo) (both through Aug 4). Come back in the fall to see 15 diverse new commissions from Socrates' Emerging Artists Fellowship Program (Sept 9–Mar 31). 32-01 Vernon Blvd at Broadway, Long Island City, Queens (socratessculpturepark.org)—Ryan Rose Weaver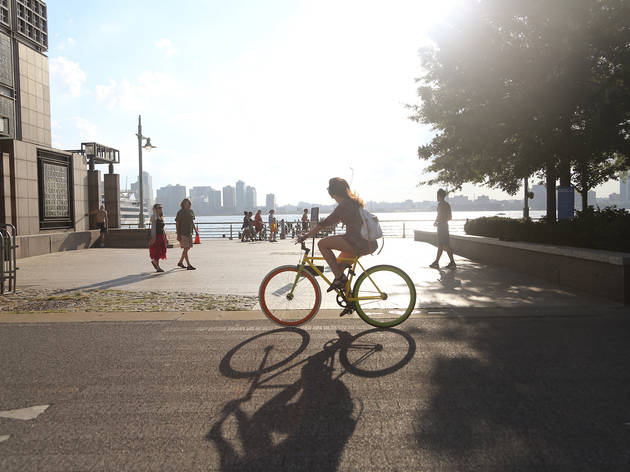 7/23
Photograph: Whitney Lawson
…ride a bike: Hudson River Park BikewayCycling up this Hudson-adjacent path, which runs five miles along the western edge of Manhattan, makes a lovely escape from the bustle of the city. Meticulously maintained greenery lines the route, which is open to bikers, skateboarders and Rollerbladers only (a separate pedestrian path runs parallel to the bikeway). We suggest a predusk ride, as the sunset over Jersey is nothing short of spectacular. If you don't have a steed of your own, bicycles are available to rent starting at $14 an hour at Bike & Roll on Pier 84 (W 44th Street at the Hudson River). Battery Park City to W 59th St at West Side Highway (hudsonriverpark.org)—Caroline Lazar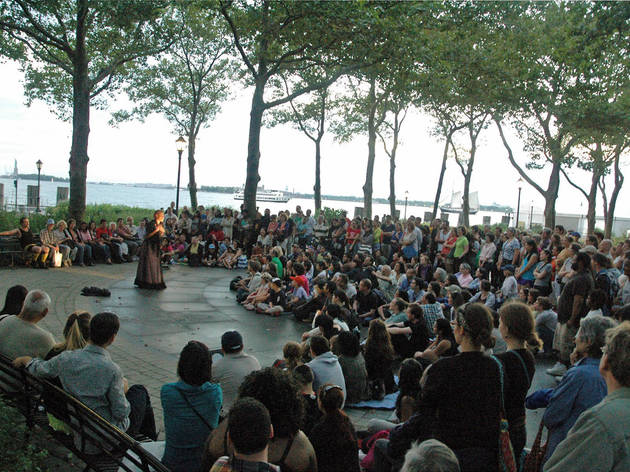 8/23
Photograph: Miranda Arden
…watch free Shakespeare (aside from the Delacorte): Battery ParkThose long lines for the Public Theater's überpopular Shakespeare in the Park can be a killer. Consider a less time-consuming way to catch gratis high-class drama: The 14-year-old New York Classical Theatre performs free alfresco plays in locations all over the city. This year, the company is mounting stormy tragicomedy The Tempest in Battery Park, one of its regular haunts (Tue–Sun 7pm, Thu 11–Aug 4). Wear comfortable shoes—the troupe's "panoramic theater" style means that audiences follow performers from location to location. Visit newyorkclassical.org for details. Battery Pl at State St (nycgovparks.org/parks/batterypark)—Jenna Scherer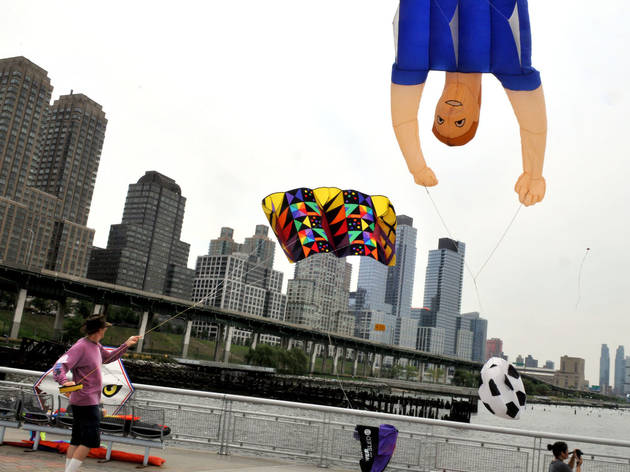 9/23
Photograph: Courtesy NYC Parks
…fly a kite: Riverside Park SouthWaterfront views and an expansive swath of sky make this green space an ideal location for catching the wind any day of the week. But be sure to drop by on August 17 for the FlyNY Kite Festival. The afternoon of kite-making workshops (sponsored by the Cooper-Hewitt National Design Museum), flying time and live music is perfect for aerial-engineering buffs and kids alike. Riverside Dr between 65th and 72nd Sts (nycgovparks.org/parks/riversideparksouth)—Caroline Lazar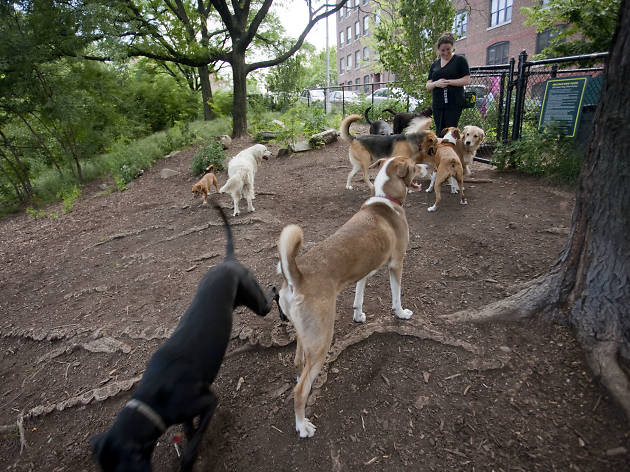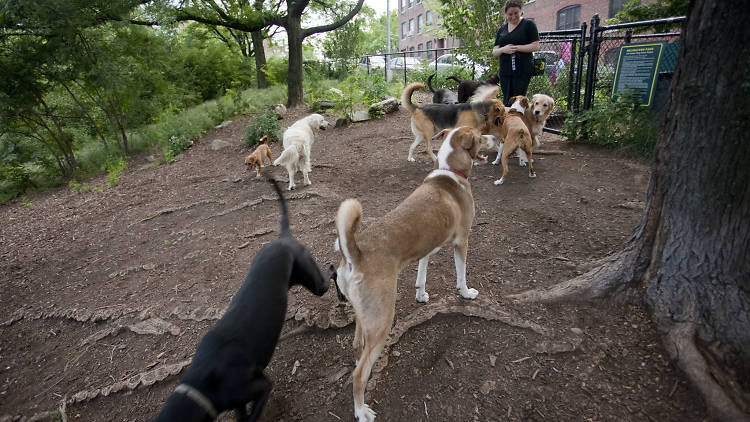 10/23
Photograph: Alvina Lai
…walk your dog: Hillside Dog ParkSituated a few blocks from the Brooklyn Bridge, this sloping two-acre park is one of the largest canine play spaces in the city. Here, mutts can get their ya-yas out day or night: The fenced-in area is off-leash at all times and coated with a bed of soft wood chips that's easy on the paws. Owners can chill out on picnic tables and benches under the trees, and both dog and human drinking fountains are available. There's also a pup-sized wading pool that makes unofficial appearances during the summer months, and a separate run for smaller breeds. Columbia Heights at Vine St, Brooklyn Heights (hillsidedogs.org)—Jenna Scherer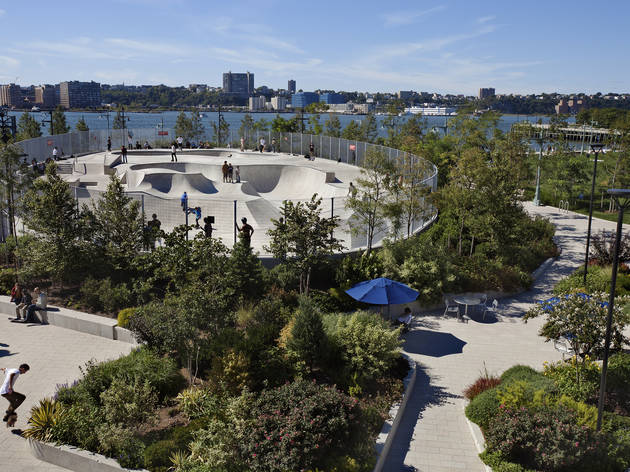 11/23
Photograph: Courtesy of Hudson River Park Trust
…go skateboarding: Pier 62 SkateparkFollow the sounds of clattering boards to get to this semisecluded skating sanctuary. The three-year-old spot's 15,000-square-foot digs include a ten-foot-deep bowl, a long flow section, and enough wedges, rails and ledges to keep you busy all afternoon. Best of all, boarders and Rollerbladers of all ages are welcome. During our last visit, we spotted both a little kid learning the ropes and a middle-aged tattooed dude. (The space has also been graced by none other than Tony Hawk.) 23rd St at the Hudson River (hudsonriverpark.org). Free; signed waiver required to skate.—Tim Lowery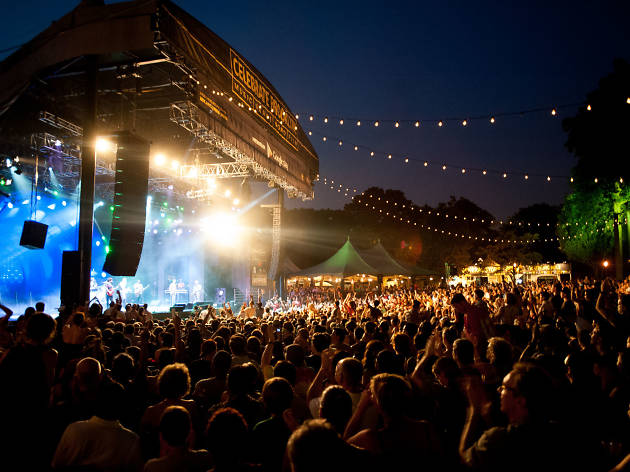 12/23
Photograph: Ryan Muir
…catch a concert: Prospect Park (Celebrate Brooklyn! at Prospect Park Bandshell)This annual fest gets our vote for best park-based music series by rocking not only a virtuosic and varied lineup of acts, but also a mouth-watering variety of local Brooklyn food from the Farm on Adderley and the Good Batch, plus a selection of beers, including Goose Island and Shock Top ($7–$8). Though most shows are free (with a $3 suggested donation), the series is supported by fund-raising concerts from boldfaced names such as Robert Plant and the Sensational Space Shifters (July 27, $50–$80) and the Barenaked Ladies, Ben Folds Five and Guster (July 30, $49.50–$55). Sounds like a good excuse to jam out under the trees to us—especially with aforementioned beer in hand. Enter at Prospect Park West at 9th St, Park Slope, Brooklyn (718-855-7882, bricartsmedia.org/cb)—Ryan Rose Weaver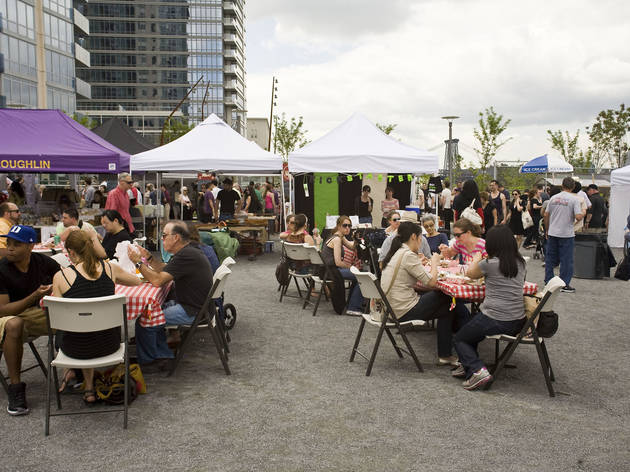 13/23
Photograph: Jolie Ruben
…grab a bite: Brooklyn Bridge Park (Smorgasburg)With a whopping 75 innovative food vendors slinging eats within the aged brick walls of Dumbo's open-air Tobacco Warehouse, Smorgasburg's arrival in Brooklyn Bridge Park on Sundays is a sure sign that this waterfront green space has come of age. Stuff your face with a Ginny from Asia Dog (kimchi and nori flakes, $4.50), and wash it down with a boozy milk shake from Butter & Scotch ($10). Insider tip: Come on the early side, as some vendors run out of their most popular dishes and drinks hours before the market closes. 26 New Dock St at Water St, Dumbo, Brooklyn (212-625-3505, smorgasburg.com). Sun 11am–6pm, through Nov 24.—Ryan Rose Weaver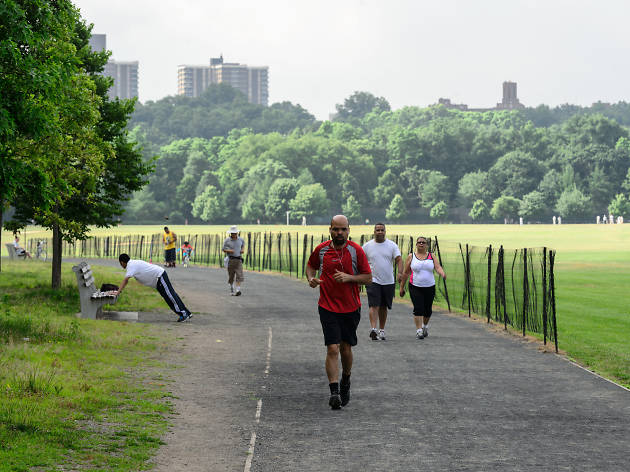 14/23
Photograph: Filip Wolak
…go for a run: Van Cortlandt ParkWhether you're a leisurely jogger or a hard-core sprinter, this Bronx spot offers the city's biggest variety of track options. Those looking for fresh scenery and more of a challenge can find it on Van Cortlandt's many paths; don't miss the famed cross-country trail, which winds and twists along three- and five-mile loops. Looking to pair up with a buddy or meet other enthusiasts? Try the Van Cortlandt Track Club (vctc.org), which holds weekly runs on Saturday mornings at 8am. There's also a quarter-mile track inside the park's stadium so you can train year round. Broadway at 242nd St, Bronx (vcpark.org)—Gabriela Riccardi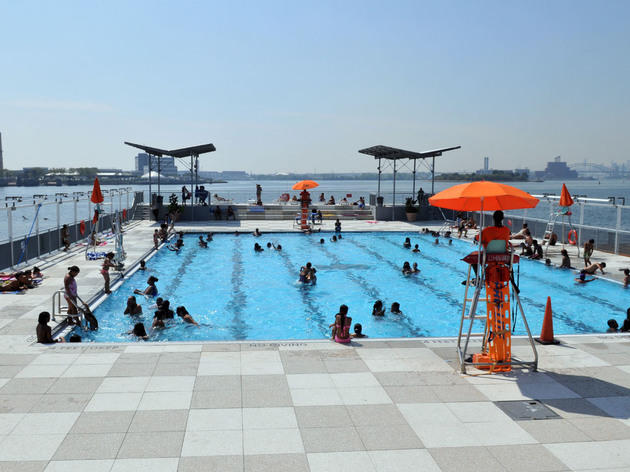 15/23
Photograph: Courtesy NYC Parks
…take a swim: Barretto Point Park (Floating Pool Lady)This lush mecca in Hunts Point is a far cry from the empty industrial lot that stood on the spot seven years ago. The Floating Pool Lady, currently anchored at the park, has its own story of transformation: The swimming area was constructed atop a retired barge that bobs in the East River; the seven-lane, 20,000-square-foot pool is so popular that swimmers line up at the gate to be admitted in shifts. Cross the gangplank to take a splash, and gaze out at the waterfront as you float. Viele Ave at Barretto St, Bronx (nycgovparks.org/parks/barrettopointpark). Daily 11am–3pm, 4–7pm. Through Sept 2.—Gabriela Riccardi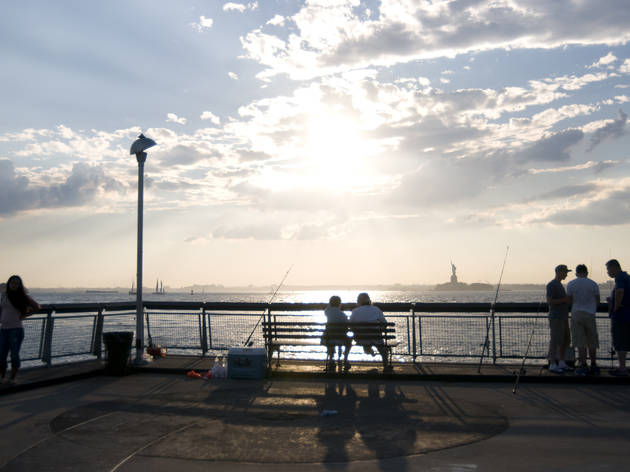 16/23
Photograph: Alex Strada
…watch the sun set: Louis Valentino Jr. Park and PierThis small Red Hook peninsula has one very big element working in its favor: It's among the best spots in the city to see the sun go down. The park overlooks landmarks like the Statue of Liberty and Governors Island, and given its location—on Brooklyn's western edge, with unimpeded views of the horizon—you couldn't ask for a better vista as night falls. Time your trip to coincide with a screening during Red Hook Flicks (through Aug 27), a free outdoor film showcase that happens every Tuesday at dusk. Coffey St between Ferris and Van Dyke Sts, Red Hook, Brooklyn (nycgovparks.org/valentinopier)—Amy Plitt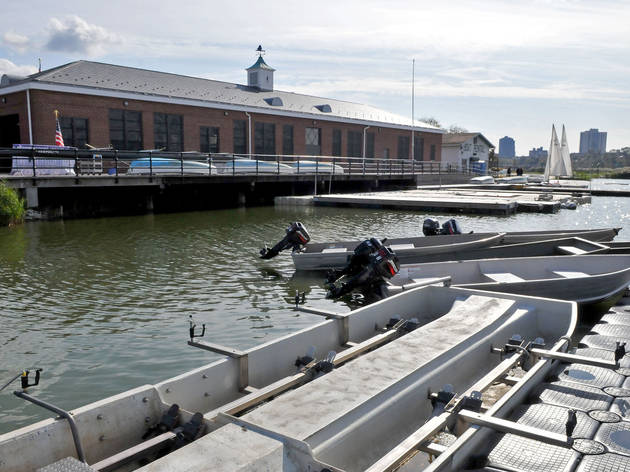 17/23
Photograph: Courtesy NYC Parks
…rent a boat: Flushing Meadows–Corona ParkThis sprawling greenway is home to the 93-acre Meadow Lake, New York City's largest lake and the perfect place to rent a boat for the day. In the shadow of the iconic Unisphere—the mammoth stainless-steel globe constructed for the 1964 World's Fair—boaters can glide across the pond in a rowboat, paddleboat or hydrobike (a funky-looking watercraft that you peddle like a bicycle). 111th St to Van Wyck Expwy between Flushing Bay and Grand Central Pkwy, Flushing, Queens (nycgovparks.org/parks/fmcp). Boat rental $20/hr.—Caroline Lazar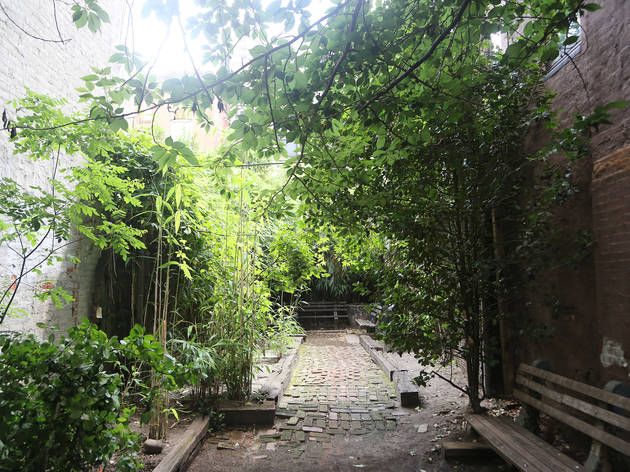 18/23
Photograph: Whitney Lawson
…pretend you're in Pawnee: Septuagesimo UnoRemember that Parks and Recreation episode that sees Leslie (cover lady Amy Poehler) building the smallest park in Indiana? In NYC, that distinction goes to the .04-acre Septuagesimo Uno (Latin for "71"). Sandwiched between two Upper West Side brownstones, this micropark was built in the 1960s as part of Mayor John Lindsay's "vest-pocket park" initiative, which involved transforming derelict lots into green spaces. This narrow, bench-lined alley, shaded by bamboo leaves and a single tree, makes for a surprisingly Zenlike urban escape. (Bonus points if you make out with Adam Scott while you're there.) 71st St between Amsterdam and West End Aves (nycgovparks.org/parks/septuagesimouno)—Jenna Scherer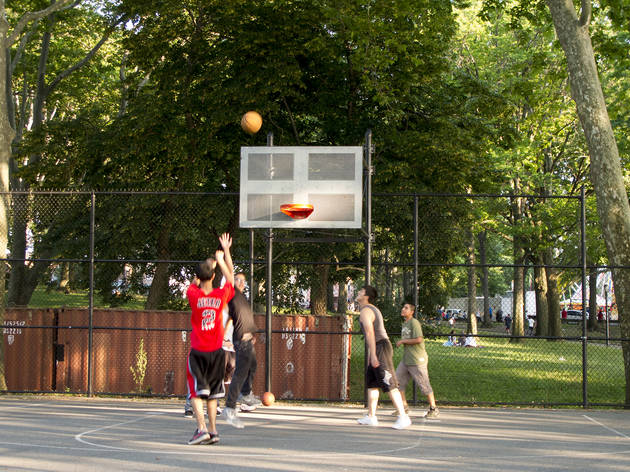 19/23
…join a pickup game: Astoria ParkDrop by this popular Queens park any night of the week, and you'll be hard-pressed not to find a spontaneous match in progress. Roller hockey, soccer, flag football, basketball and kickball leagues meet weekly; Frisbee games are hosted regularly by the New York City Public Ultimate League (nycpul.com). If team sports aren't your bag, the park also includes a skate park, a track, a handful of bocce and tennis courts, and New York's oldest public swimming pool. Visit astorians.com to find ongoing meet-ups and join the fun. 19th St from Astoria Park South to Ditmars Blvd, Astoria, Queens (nycgovparks.org/parks/astoriapark)—Caroline Lazar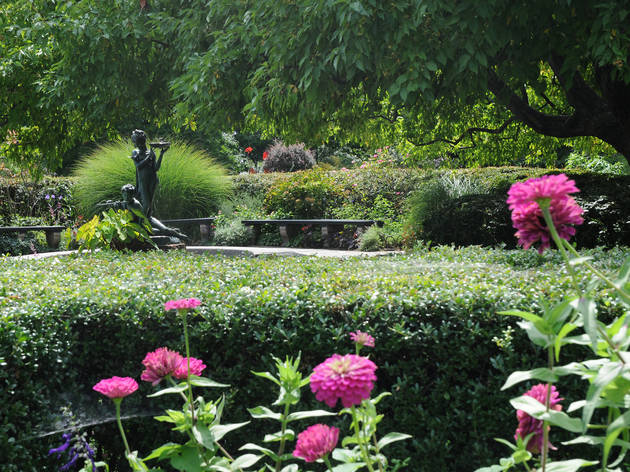 20/23
Photograph: Courtesy Central Park Conservancy
…Instagram flowers: Central Park (Conservatory Garden)Pass through the intricate Vanderbilt Gate on Fifth Avenue to find a sprawling garden within one of the city's best-known landmarks. Six acres of flora are worked into three styles, with an Italian-inspired green at its center. Drift past trees blooming in delicate pinks and whites to the secluded English garden at the southern end, where you can snap shots of seasonal and annual flowers. But the best display is found in the French garden to the north, which this year blooms with vivid pansies, violas and more (no filter required). Fifth Ave at 105th St (centralparknyc.org)—Gabriela Riccardi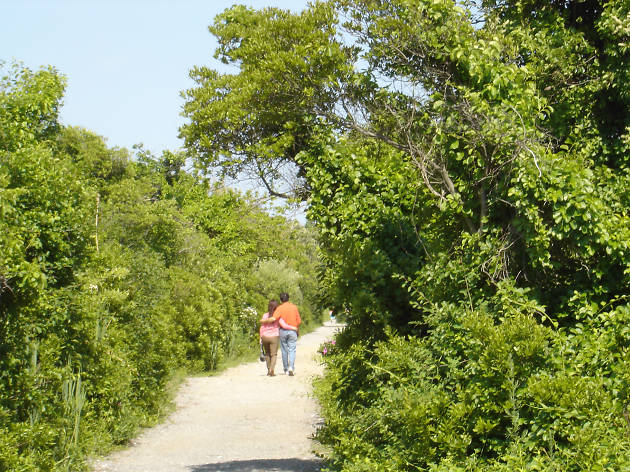 21/23
Photograph: Courtesy National Park Service
…go for a hike: Jamaica Bay Wildlife RefugeOne of the most vibrant avian sanctuaries in the United States, this 9,155-acre refuge features five miles of trails and is home to more than 300 species of migratory birds. Join gratis ranger-led hikes, offered year-round, which follow a series of bucolic paths through diverse habitats ranging from saltwater marshes to freshwater ponds). The unguided explorer can take the beautiful East Pond route along the Woodland Trail to check out lavender-strewn marshlands and swans galore. Crossbay Blvd at Broad Channel, Jamaica, Queens (nyharborparks.org/visit/jaba.html)—Caroline Lazar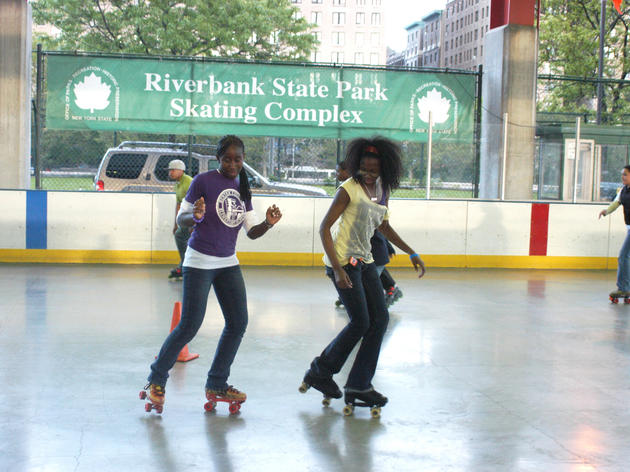 22/23
Photograph: Charles O'Neil
…go roller-skating: Riverbank State ParkHead uptown to hit the only outdoor public roller rink in New York City (at least until Prospect Park's Lakeside rink opens for grapevining next spring). After the freeze of winter, the venue trades in blades for wheels as it transitions from an ice rink (Nov–Mar) to a roller-skating arena (Apr–Oct). Weather permitting, take a spin under the rink's canopied roof for fun on a budget: Admission is just $1.50 per person, and $6 gets you a pair of rental skates. 679 Riverside Dr between 137th and 145th Sts (nysparks.com/parks/93). Fri 6–9pm; Sat, Sun 2–5pm, 6–9pm—Gabriela Riccardi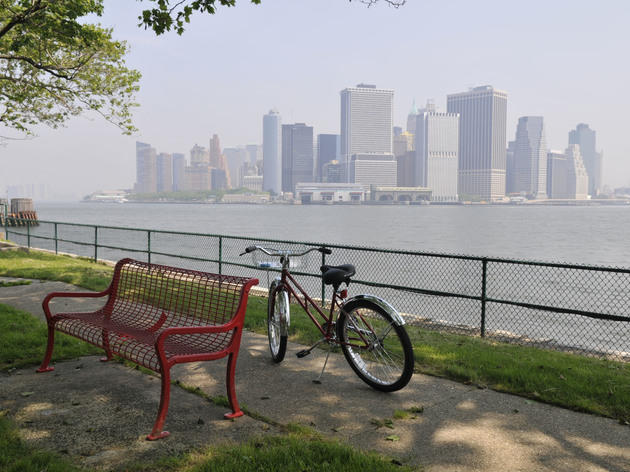 23/23
Photograph: Donald Yip
…see a vista: Governors IslandJust 800 yards from Manhattan, this seasonal sanctuary provides unparalleled views of New York's most exalted sites. Look west to see the august face of the Statue of Liberty in New York Harbor, or stop at the northern end of the island to gaze at lower Manhattan and the recently topped-off One World Trade Center. On the Brooklyn waterfront to the east, you can clearly spot the Verrazano, Manhattan and Brooklyn Bridges, along with Brooklyn Bridge Park. Not bad, NYC, not bad. govisland.com—Gabriela Riccardi
Best New York City parks: Things to do in parks all over town
There's no end of things to do in New York City parks; here are the best places to have a picnic, watch the sun set, grab a drink, fly a kite and much more.
There are hundreds of parks in New York City, and countless things to do in them. To help you narrow down your options, we've put together a rundown of the best parks to visit for a whole variety of activities, whether you want to see an outdoor movie, have a picnic, rent a boat, kick back with a glass of beer or even pretend that you're in Parks and Recreation's Pawnee, Indiana. Without further ado, here are the best places to…

RECOMMENDED: Find more on NYC parks