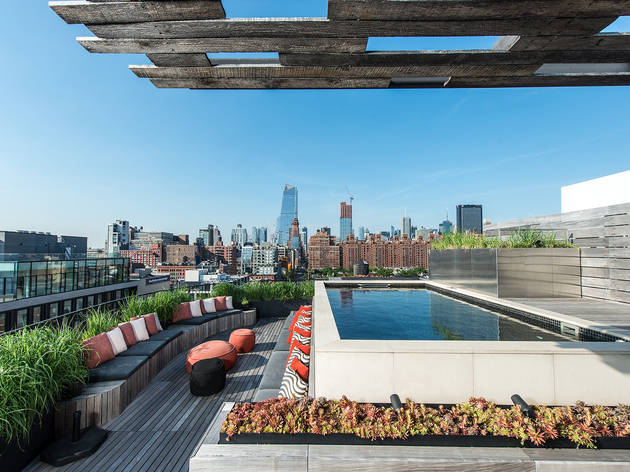 Check out photos of these mind-blowing NYC private rooftops
Warning, New York: These residential rooftops will fill you with envy. (But, boy, are they damn pretty.)
Thank god for rooftops. And while we're happy with just being on one (a PBR and a mediocre view? Sign us up!), some New Yorkers really have it made. Take a photo tour of some of the city's swankiest, priciest outdoor digs and rooftop pools.
RECOMMENDED: Find more things to do on NYC rooftops
Mind-blowing NYC residential rooftops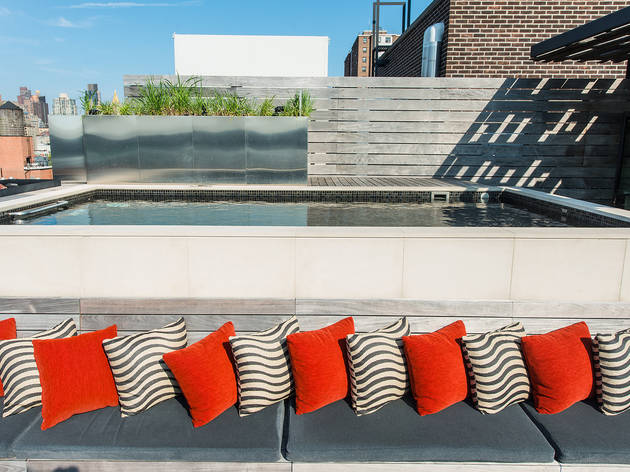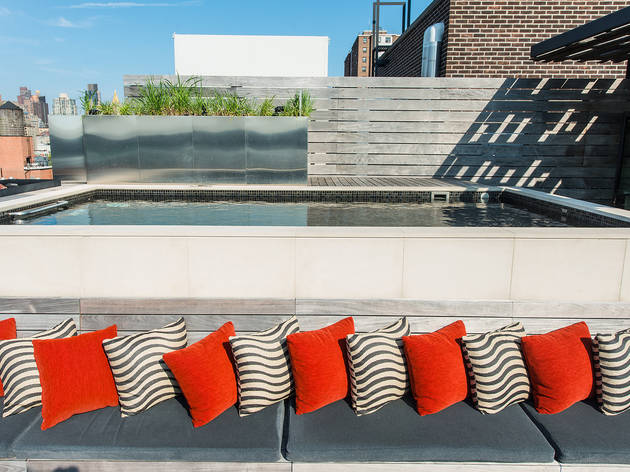 Photograph: Teddy Wolff
When developer Keith Jacobson acquired this Chelsea penthouse and its 2,000-square-foot rooftop for $7 million, he decided to create his own private weekend getaway—an alternative to the many summers he spent joining other New Yorkers in pilgrimages out of town. "I had this idea that I wanted to put a pool up there," he says, so with the help of D'Apostrophe Design's Francis D'Haene, the 12th-floor roof with High Line views transformed from a "white box" to an urban sanctuary complete with an elevated 16-foot-long, four-foot-deep heated pool with water current technology.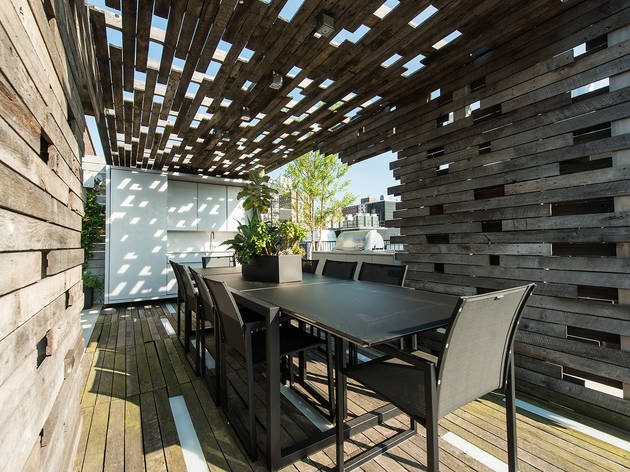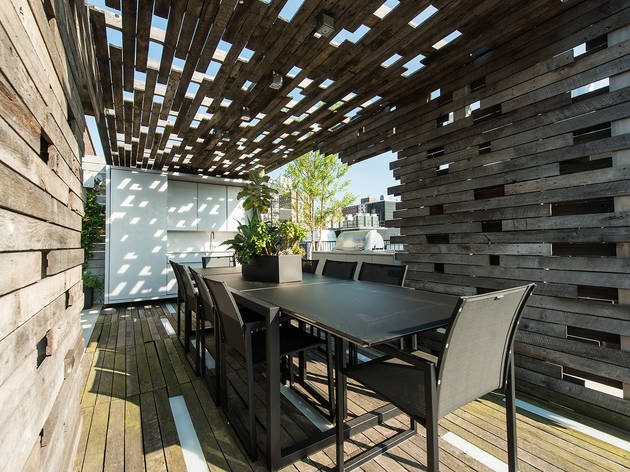 Photograph: Teddy Wolff
Jacobson's priority was to create a "space where you could entertain upstairs and didn't have to come into the apartment at all," adding that with the available amenities, he can also cook and clean, all in the same area. The rooftop has a full kitchen and then some: two dishwashers, two refrigerators, a sink, a grill, an ice maker, a bar, a lounge space, a dining area that sits under a distressed-wood trellis and, last but not least, a bathroom with an open-air shower.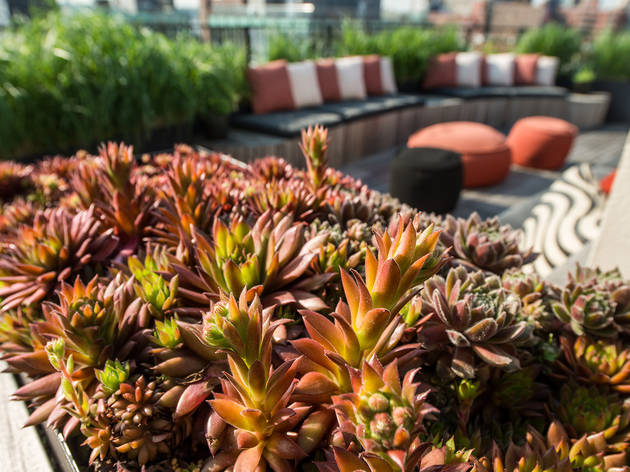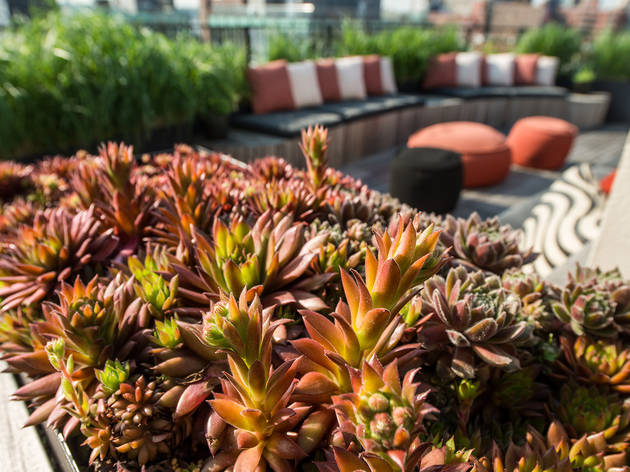 Photograph: Teddy Wolff
"I wanted to bring the look and feel of the High Line onto the roof," says Jacobson. So instead of taking the manicured-garden route, he outfitted the space with "tall natural grasses and succulents."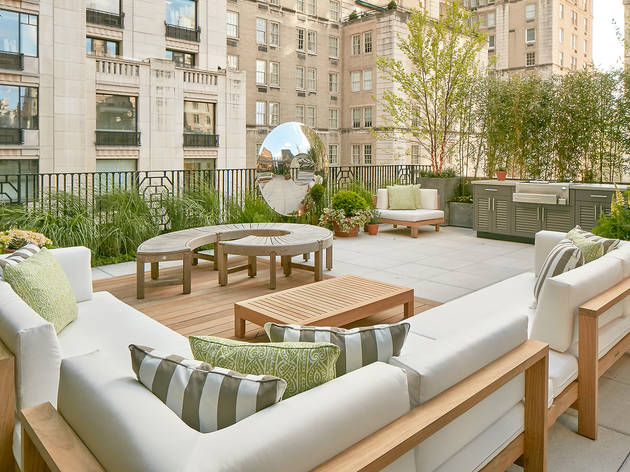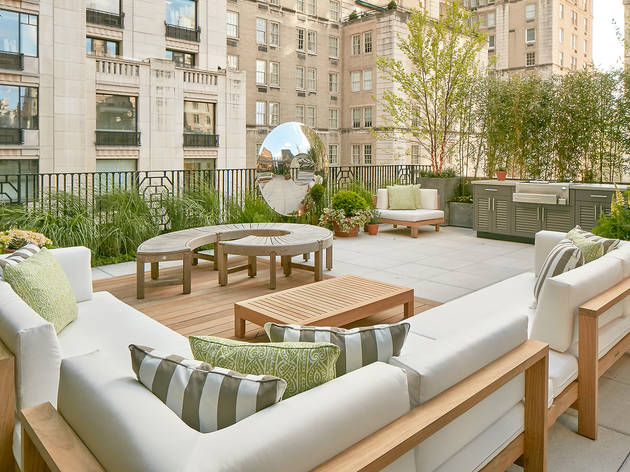 Photograph: Courtesy Charles Mayer
Have a spare $49.5 million? If so, this on-the-market pad (and its stunning alfresco digs) could be yours. "We were inspired by the close proximity to Central Park and the idea of bringing the beauty and serenity of a country estate into the city," says Hollander Design Landscape Architects' Stephen Eich. (The firm designed the space for the annual Kips Bay Decorator Show House, which transforms a different luxe Manhattan apartment each year.) Beyond all the greenery, the 1,000-square-foot urban oasis boasts modern-art touches such as a sculpture by David Harber titled Torus.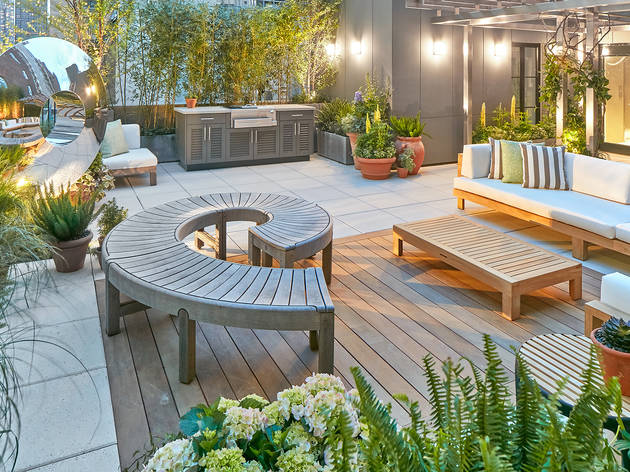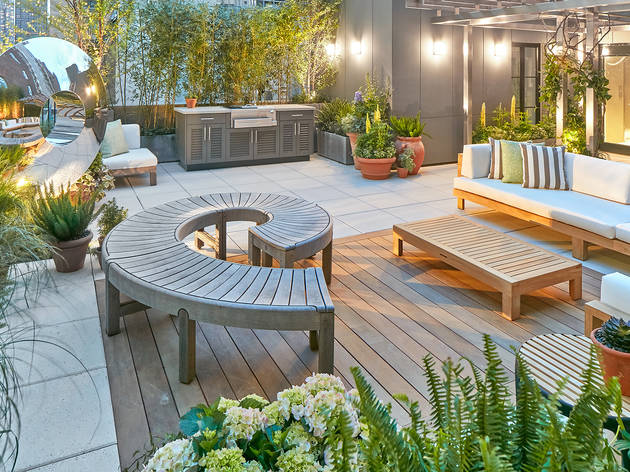 Photograph: Courtesy Charles Mayer
An expansive chaise and a distinct spiral white-oak bench furnish the deck, which sits adjacent to a custom outdoor bar with a sink, a cooler, ice storage and a garnish station. (This really puts our PBRs-on-the-roof hosting routine to shame.)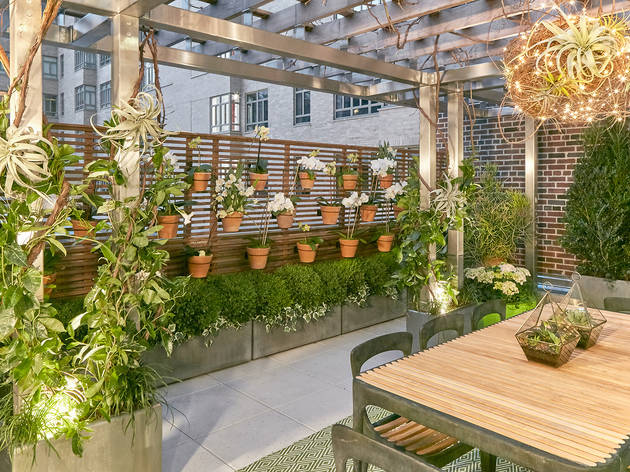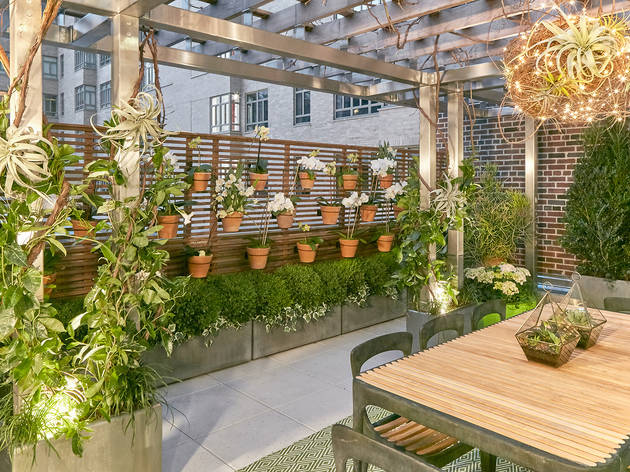 Photograph: Courtesy Charles Mayer
"We wanted the space to be fun and whimsical," says Eich, so the designer added "bamboo for privacy" and "low-clipped boxwood hedges for the evergreen quality," plus a mix of silver and blue perennials. Orchids hang from terra-cotta pots along a fence, and a cast aluminum dining table sits under "a vine-covered pergola with a custom grapevine chandelier."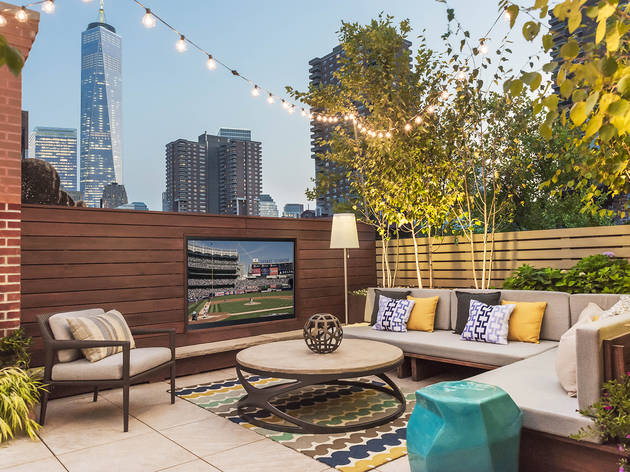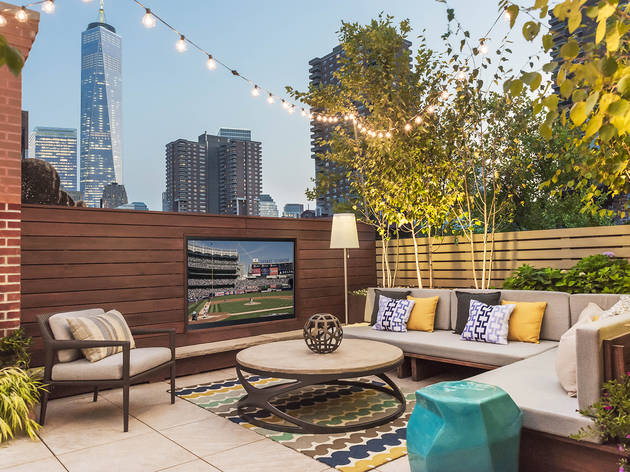 Photograph: Alex Herring
Tasked to convert this 550-square-footer into a comfy outdoor room with the bells and whistles most New Yorkers would only dream of having inside their apartments, landscape designer Evan Lai split the rooftop into two levels, creating both a kitchen and a living area. (The owner, a bicoastal businessman, wanted a bucolic outdoor space similar to the one he and his family have in Cali.) With its inviting seating areas, homey utilities, hydrangeas, birch trees and a vibrant color scheme, it's a taste of Left Coast living, smack-dab in NYC.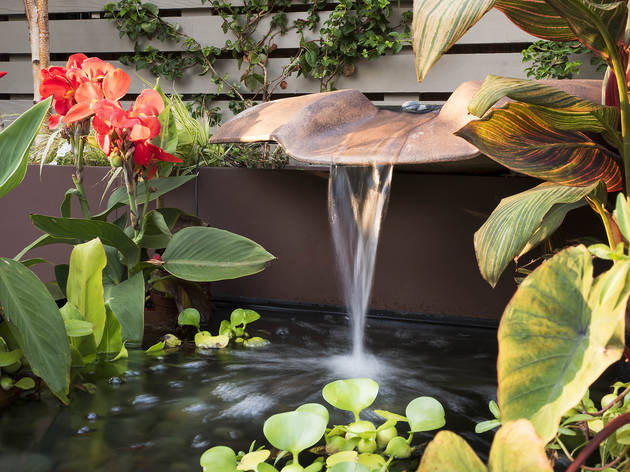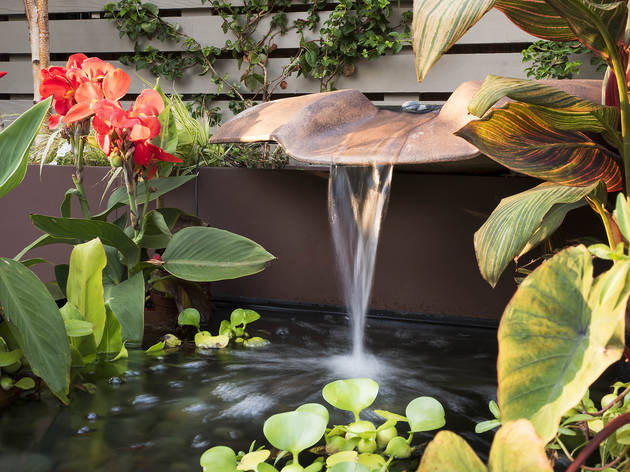 Photograph: Alex Herring
"The owner really wanted something that feels like California, with indoor and outdoor living," says Lai. With that in mind, the final product included a built-in television, custom furniture, a BBQ grill, a kitchen with a refrigerator and a fireplace to extend the season into fall.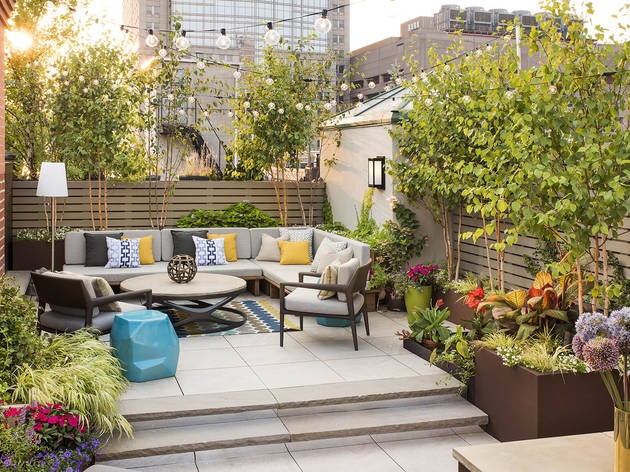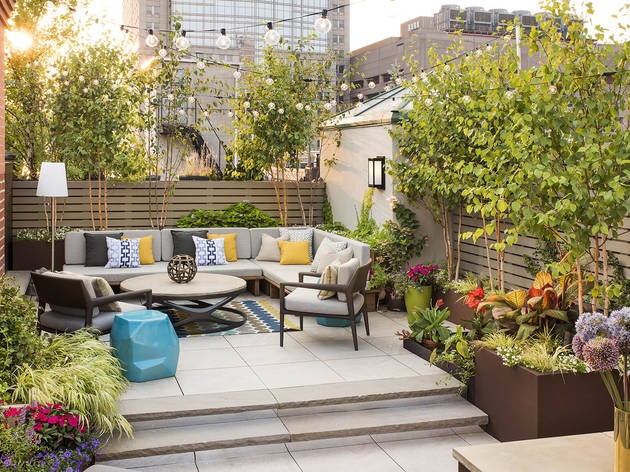 Photograph: Alex Herring
It wouldn't be a rooftop without a view! Lai says they elevated the terrace so that the outdoor living room sits on "raised paving to see over the parapet wall toward Tribeca and One World Trade."
Looking for public rooftops?
From classic pizza to Vietnamese pub grub, take a gander at the best rooftop restaurants NYC has to offer
Best selling Time Out Offers