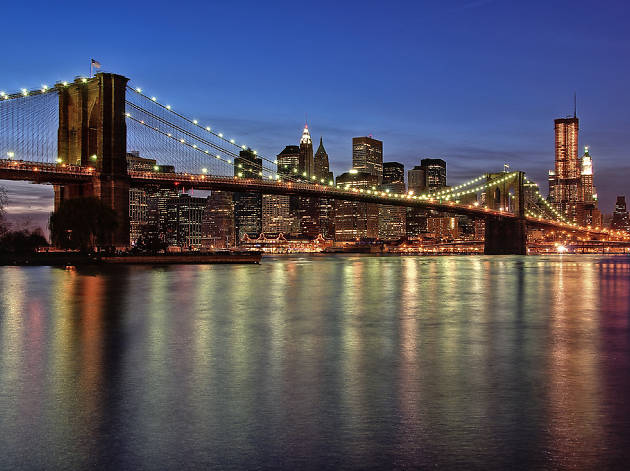 11 city secrets from New York tour guides
From lesser-known NYC facts to under-the-radar locations, here's the insider knowledge you want to know
As New Yorkers, we tend to avoid the city's tourists. On the other hand, tour guides not only embrace them, but also make a career out of them. These guides know pretty much every square inch of the city, from the biggest New York attractions, to tourist attractions that locals love. Curious to find out more, we asked some New York tour guides to tell us their favorite spots in the city and some lesser-known NYC facts that they've picked up along the way.
Secrets from New York tour guides
1. Much of NYC is run on steam power
"Ever see those orange-and-white stacks on the streets with excess steam vapor coming out?" co-founder and lead guide for BQE Tours: the Brooklyn Queens Experience, John Garay asks. "That's a by-product of the process." The steam is part of a heating network that travels under the streets of Manhattan to heat, cool or supply power to high-rise buildings. It might be surprising to some that our "city of tomorrow" is powered in a seemingly old-fashioned manner.
2. The air conditioner was invented in Brooklyn
Jeff Stirewalt, operations director of Brooklyn Unplugged Tours, explained that the air conditioner was invented around 1902 at the Sackett & Wilhelms print shop as a solution to help ink dry faster and prevent paper from wrinkling due to humidity. "And—voilá—the air conditioner was created."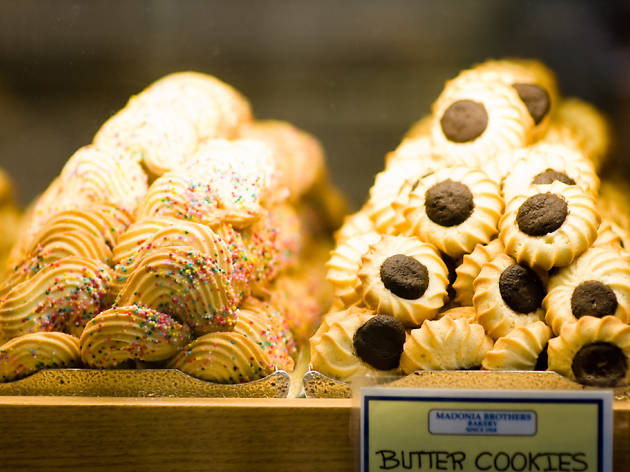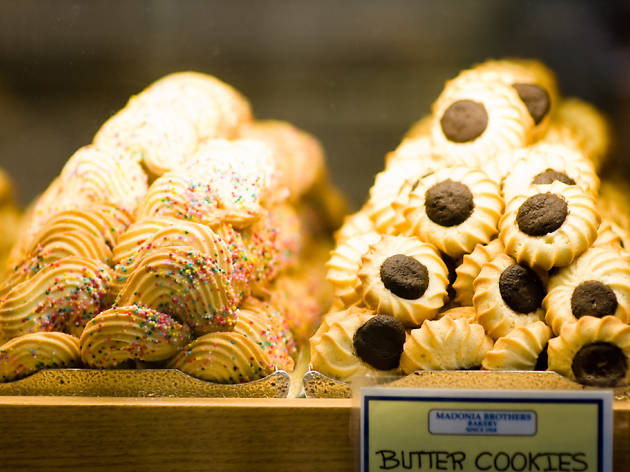 Photograph: Courtesy Creative Commons/Flickr/smcgee
3. You can go experience the old-school spirit of Arthur Avenue
Susan Birnbaum, president of SusanSez NYC Walkabouts chooses Arthur Avenue in the Bronx for her Italian fix. "It's the real Little Italy," she says. "It's great food and quirky. It's like going back in time to the 50s, 60s and 70s. New York is like an onion: you just keep peeling it and you get different things."
4. Tiger Wood's dad got his golfing inspiration in New York
New York can actually be thanked for golf genius Tiger Woods. Tony Muia, owner and operator of A Slice of Brooklyn Bus Tours tells us that the golf bug bit Lt. Col. Earl Woods while stationed at Fort Hamilton in Bay Ridge in the 1970s. He frequently played the Dyker Beach Golf Course across the street from Fort Hamilton, one of two golf courses that exist in Brooklyn. "Years later he passed his passion for golf onto his son, Tiger."
5. You can get a history lesson at a graveyard
Harry Houdini may have one final trick up his sleeve according to Garay. His gravesite at Machpelah Cemetery in Queens featured a statuary bust despite the fact that graven images are forbidden in Jewish cemeteries and it has been stolen and destroyed several times over the years. Who would steal a bust of the world's most famous magician and escape artist? "Go check it out along with Green-Wood Cemetery in Brooklyn, which just happens to be gorgeously landscaped and filled with history."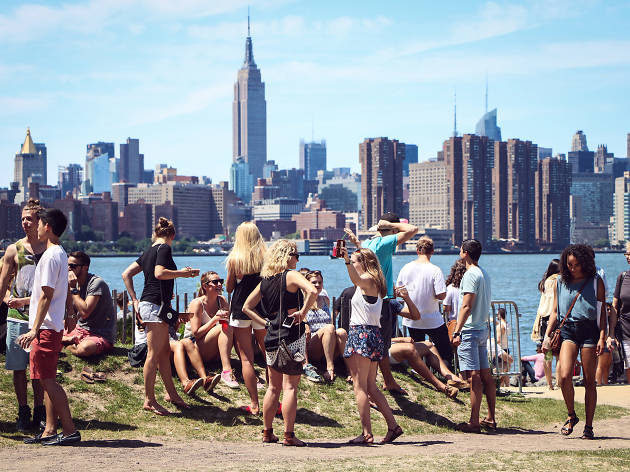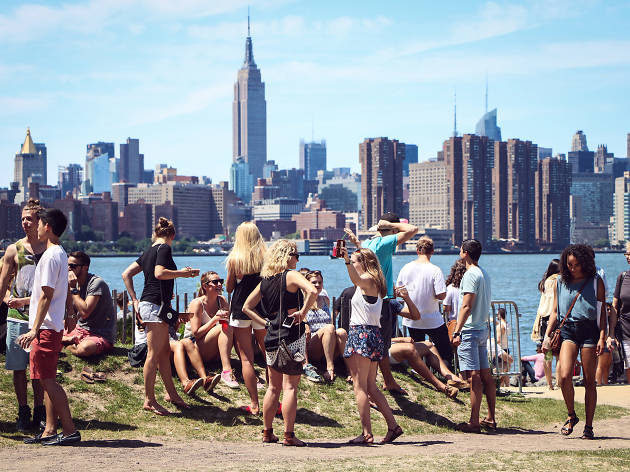 Photograph: Courtesy Creative Commons/Flickr/Chrissy Hunt
6. Smorgasburg on Saturdays has the best panoramic view of Manhattan
Some guides like Stirewalt like more classic spots such as Smorgasburg on Saturdays in Williamsburg. "The famed food flea market is the place to enjoy all sorts of tasty treats—and the best panoramic view of the Manhattan skyline."
7. You can catch film screenings in a secluded park
"I love Socrates Sculpture Park in Long Island City, Queens, especially for the summer outdoor film screenings," reveals Garay. "It's a special secluded park with nice views, laid-back vibes and engaging art."
8. You can get incredible Brooklyn Bridge views in the Financial District
"One of my personal favorite spots is the corner of Old Fulton Street and Water Street," says Muia. "You come walking down Old Fulton towards the water and when you hit that corner you look straight up to the right and realize you're standing under the most amazing view of the Brooklyn tower of the Brooklyn Bridge. It's so close you feel like you can reach up and touch it. 10 years doing tours and I never get sick of the view. It blows me away every time."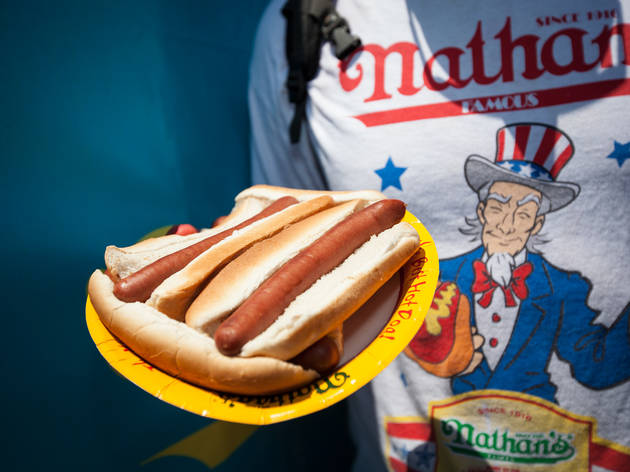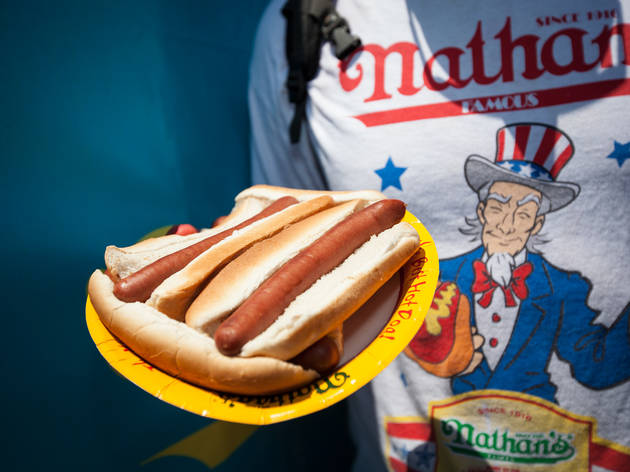 Photograph: Phyllis B. Dooney
9. The hot dog wasn't invented by Nathan's
Nathan's may have made the hot dog famous, but the credit actually should go to a German immigrant named Charles Feltman. "The frankfurter was invented in Coney Island, but not by Nathan's," says Stirewalt. "Nathan Handwerker stole the idea from the real inventor, who served franks on a bun because he ran out of plates. Nathan was encouraged to steal the idea by Eddie Cantor and Jimmie Durante who were singing waiters at the time."
10. The Red Hook waterfront has some of the best views of the city
"Another favorite waterfront space is the Louis Valentino Jr. Park-and-Pier in Red Hook, Brooklyn, with its tremendous views of the Statue of Liberty and the lower Manhattan skyline," reveals Garay. "And it's not overrun with tourists... at least not yet."
11. More people than you think throw up on tours
Muia reveals how he has to deal with the daily perils of doing tours on a bus. "We've had passengers who, unbeknownst to us, get car sick and vomit on the bus," he says.
Best selling Time Out Offers