Compare vintage NYC street scenes with their modern counterparts
How much has New York City changed in the last century? Find out by checking out these before-and-after photos.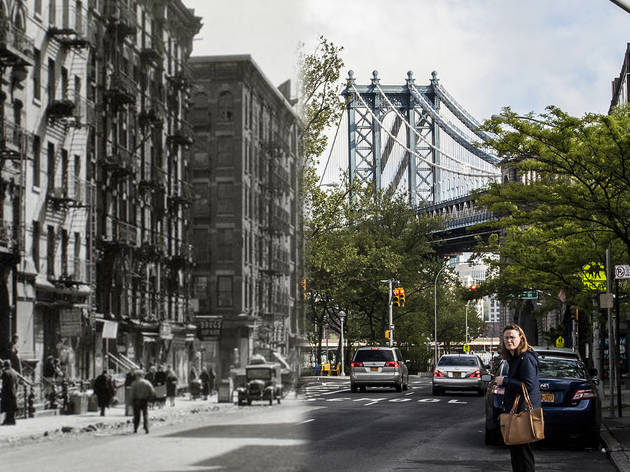 If there's one constant about living in New York City, it's that things change all the time. The cheap pizza place that you got dollar slices from when you first moved to the city might now be a chain store; the dive bar where you fell off a barstool after too many $2 beers could be torn down to make way for a condo—and so on and so forth, probably until the end of time. We hate to see our beloved haunts get replaced by something that's less interesting—or, even worse, to see places of historical importance abandoned or deomolished—but there's no denying that the changes are fascinating to witness.
That's why we've created the composite images below: On the left, you'll see a New York City street scene as it was decades ago; on the right, that same scene but in the present day. (Swipe the red line in the middle of each shot back and forth to get different perspectives—you can also choose to just see the old or new photos.) Sometimes the changing are startling—we knew there was an elevated train in Brooklyn, but to see it is a whole other thing—while others, not so much.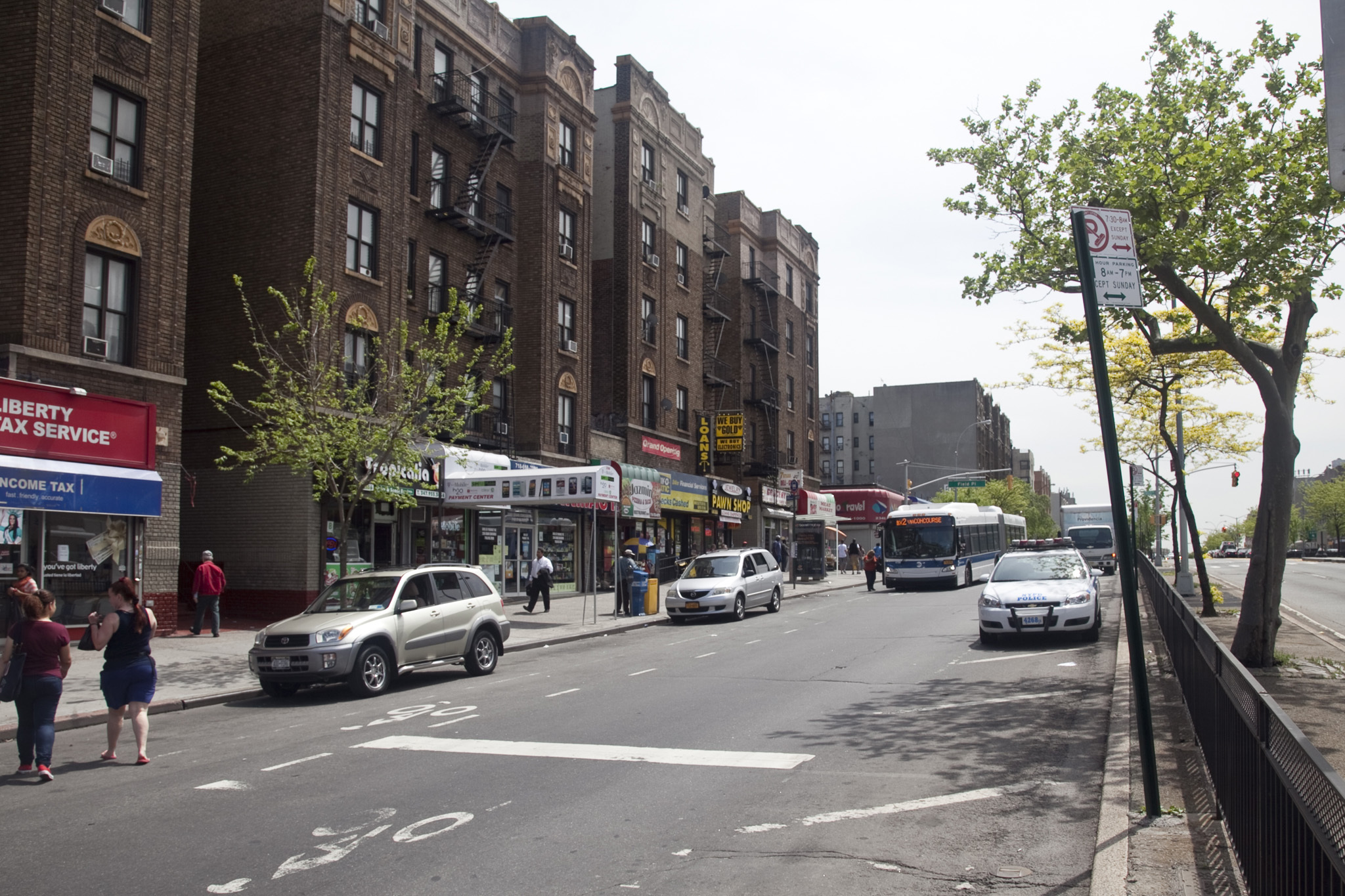 Photographs: (old) New York Public Library; (new) Melissa Sinclair
On the left, you'll see the century-old Grand Concourse during its heyday—families would abandon Manhattan for the relatively uncrowded and beautiful real estate along the road. That changed, of course, as the Bronx experienced economic downturn and sections became blighted—but today, the Concourse is once again becoming an attractive destination. (The Andrew Freedman Home, at Grand Concourse and 166th Street, is even operating a small B&B these days.)
Photographs: (old) Berenice Abbott/New York Public Library; (new) Krista Schlueter
The photo on the left is one of hundreds taken by Berenice Abbott during and after the Great Depression; what began as a impulse to document the city became "Changing New York," a project funded by the Federal Art Project (part of the Works Progress Administation). Abbott snapped images of the city's neighborhoods, capturing quotidian street scenes; this image, taken on the Lower East Side, shows the Manhattan Bridge framed by tenement buildings on either side. The scene isn't so different now, although the bridge is now flanked by the Henry Rutgers Houses, a NYCHA housing project.
Photographs: (old) Berenice Abbott/New York Public Library; (new) Noffar Gat
Another Abbott photo, this one captures the intersection of Graham and Metropolitan Avenues in Williamsburg. We're not gonna lie: The buildings in 1937 are way cooler than the boxy, vinyl-siding–festooned shops that currently occupy the corner. The Graham Ave subway station, pictured in both, was pretty new at this point: It had only opened in 1924.
Photograph: (old) Berenice Abbott/New York Public Library; (new) Noffar Gat
Seriously, we weren't kidding when we said Berenice Abbott took hundreds of photos of New York City in the '30s. What's cool about this comparison is that some of those buildings are still standing: The wood-sided home at the right in Abbott's photo remains, albeit with some updates, as does the structure at 263 Mulberry Street next door—that's actually part of St. Patrick's Old Cathedral, just across the street. (And who knew ads on buildings weren't a recent development?)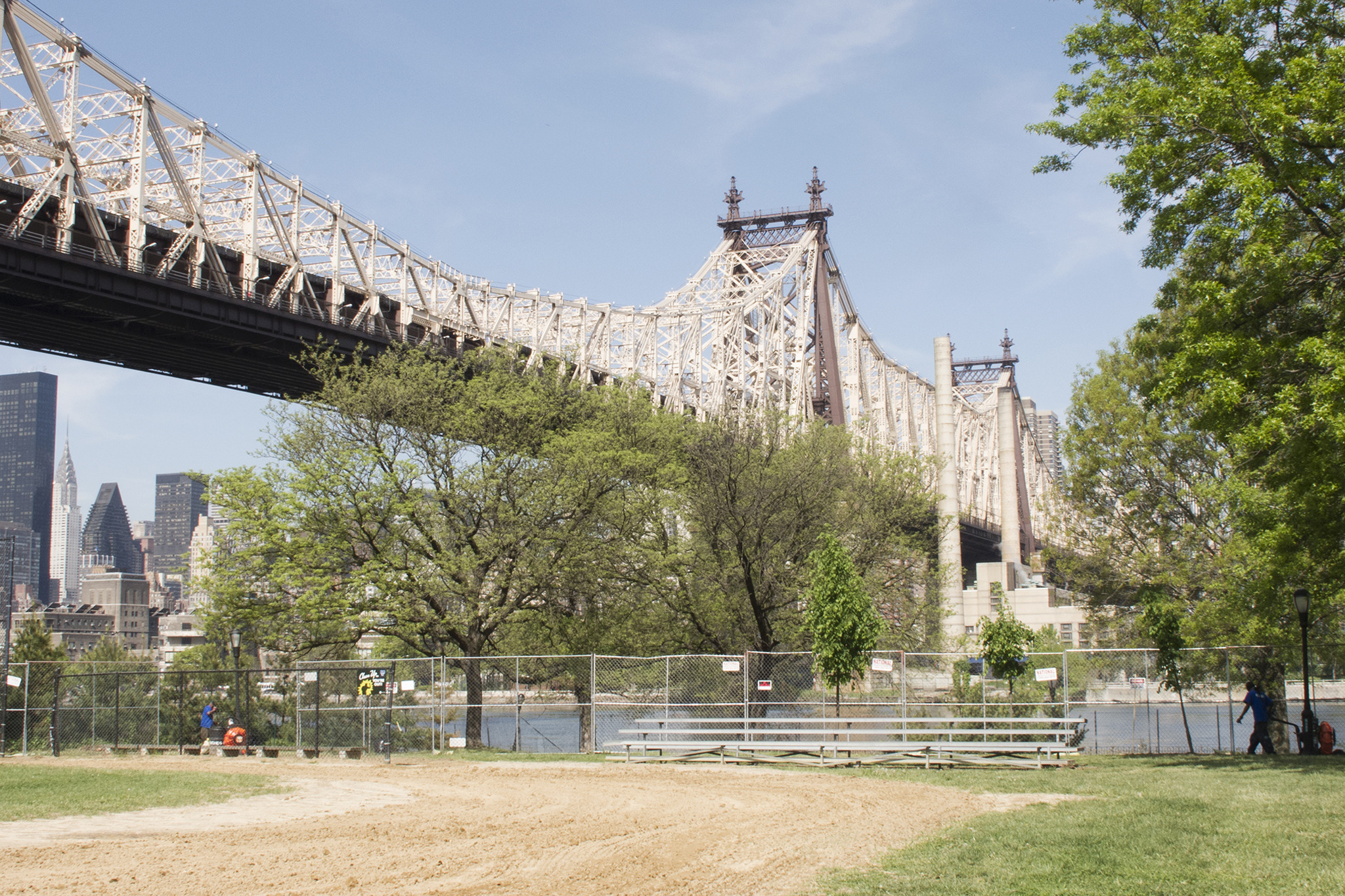 Photographs: (old) Berenice Abbott/New York Public Library; (new) Jennifer Arnow
Although this structure was officially renamed for Ed Koch in 2011, we'll always think of it by its colloquial moniker: the 59th Street Bridge. (Feelin' groovy!) The Abbott photo, taken from the Long Island City side of the span, shows a couple of boats in the foreground (one is a Lehigh Valley Railroad barge—you can see a similar one at Red Hook's Waterfront Museum); now, this space is part of Queensbridge Park, and the Queensbridge Houses—the country's largest public housing project, which opened in 1940—are nearby.
Photographs: (old) Brooklyn Historical Society; (new) Fiora Watts
Yep, that's an elevated train running along Flatbush Avenue. According to the Brooklyn Historical Society, this is the Atlantic Avenue station—it served the BMT Fifth Avenue line, connecting Downtown Brooklyn to Bay Ridge. (So kinda like the R train today.) Though the BHS puts the historic photo at 1895, the control house at the left of both images—which is still there today, albeit unused—was apparently built in the early 1900s. (It's a history mystery!)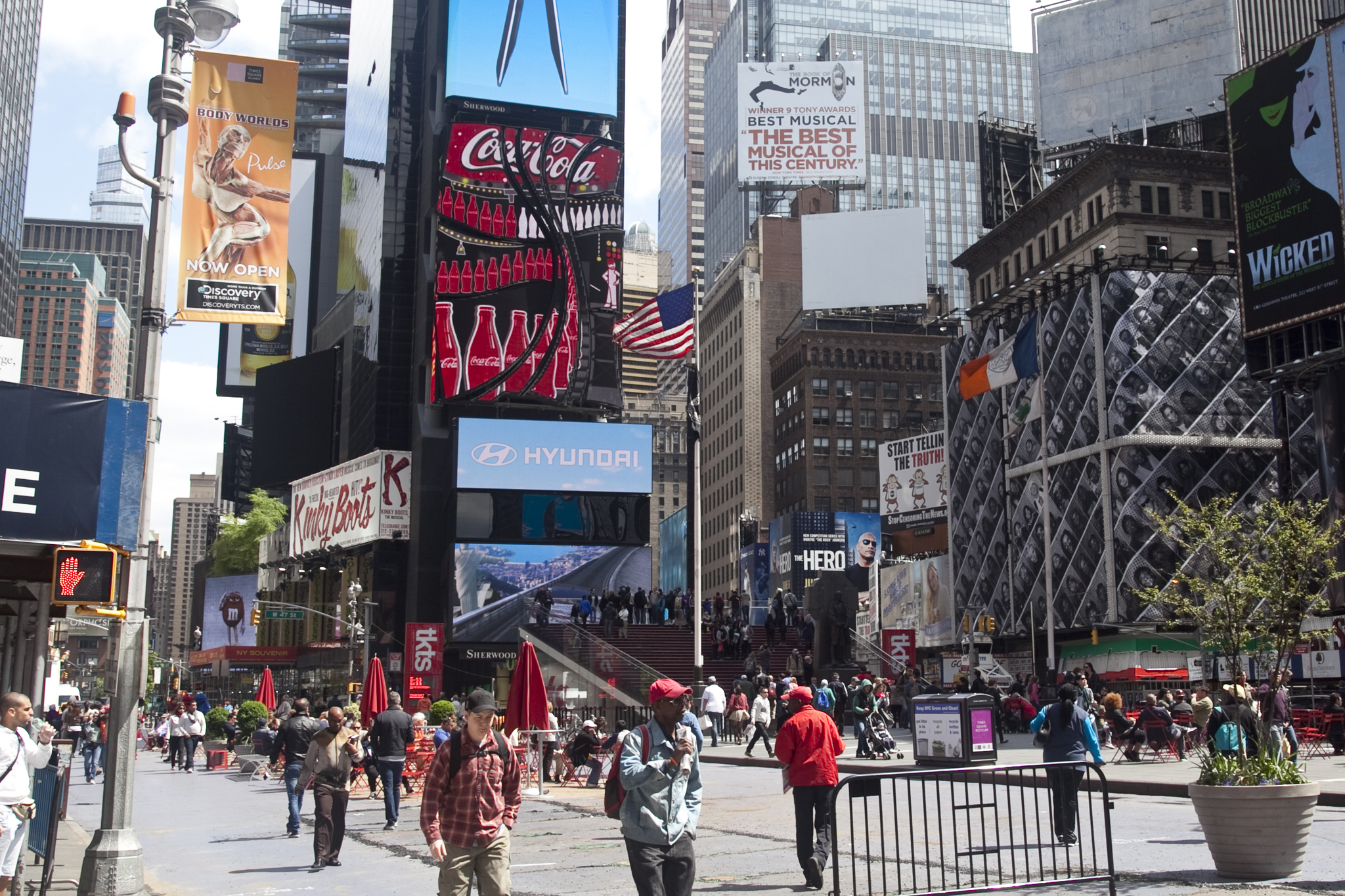 Photographs: (old) The Estate of Andreas Feininger and the Bonni Benrubi Gallery; (new) Melissa Sinclair
Times Square then: glitzy, covered in ads, full of cars and people. Times Square now: glitzy, covered in even more ads, full of even more people (but maybe less cars). It's good to know that some things—even if it's just Times Square—will probably never change in NYC.