Food-coma getaways
Stuff your face in New Orleans and Providence and on the North Fork of Long Island.
1/4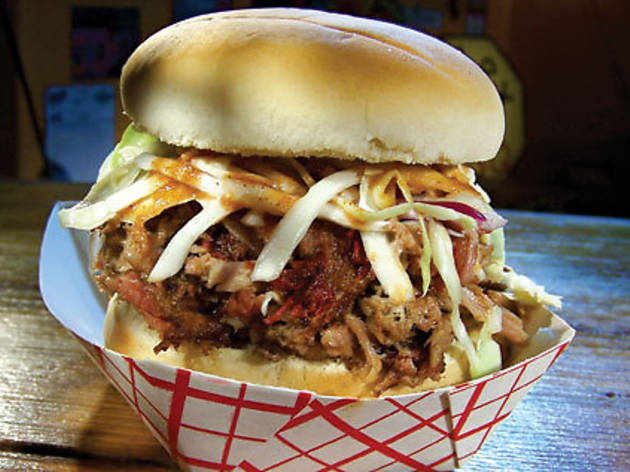 2/4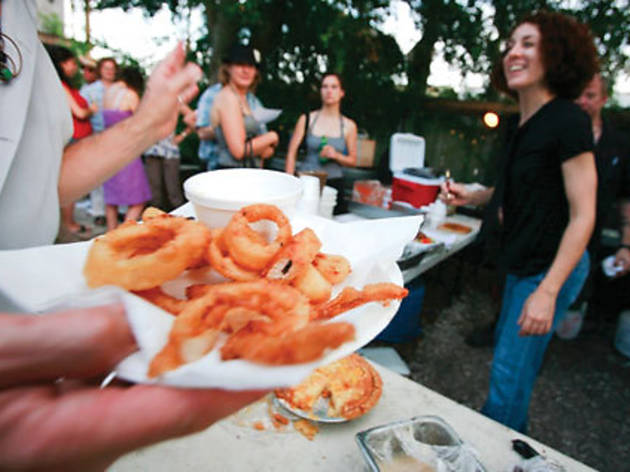 3/4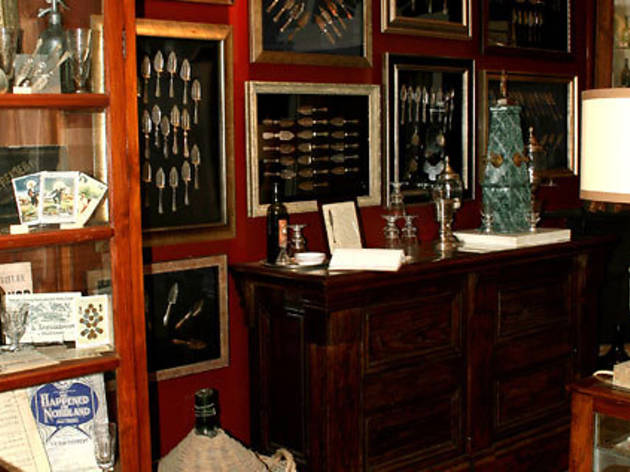 4/4
Absinthe Museum of America
New Orleans (4 hours from NYC)
Do this

New Orleans has a long history of inebriation—in the late 19th century, the city was considered the absinthe capital of the U.S. Salute the green fairy at the Absinthe Museum of America (823 Royale St; 877-737-2772, absinthemuseumofamerica.com; $5), where you can peruse two rooms filled with vintage absinthe spoons, fountains, bottles and brouilleurs, plus antiabsinthe propaganda. To actually taste the spirit for yourself, head to timeworn tavern Old Absinthe House (240 Bourbon St; 504-523-3181, oldabsinthehouse.com). AMA co-owner Stacy Bonnecaze recommends sipping your tipple (try the signature Absinthe House Frappe, made with anisette and a splash of soda water for $15) in the back bar. "It's hidden and out of the way, so you'll probably have to ask a bartender how to get there," she says. "But when you do, you will be amazed—they have an antique, working fountain from pre-ban absinthe days." If you're more of an oenophile, Baccahanal Wine (600 Poland Ave; 504-948-9111,bacchanalwine.com) is not to be missed: The easygoing wineshop and bar hosts live music nightly in its courtyard, where you can often find visiting chefs cooking up a feast on the grill.
Though NOLA has no shortage of upscale restaurants and celebrity chefs, sometimes it's best to get down and dirty. The Joint (801 Poland Ave; 504-949-3232,alwayssmokin.com) is a rickety dive where you can chow down on top-notch barbecue, like a smoky beef brisket sandwich ($7.34). At some point, you might want to trade in that alcoholic buzz for a caffeine-induced one. Order an industrial-strength Vietnamese iced coffee ($3) at The Orange Couch (2339 Royal St; 504-267-7327,theorangecouchcoffee.com), which Ann Tuennerman, founder of the annual spirits-and-cuisine festival Tales of the Cocktail (talesofthecocktail.com, July 21--25), describes as "one of the more sophisticated but relaxed coffeeshops in the Bywater." Savor a blueberry- or mango-flavored mochi ice cream ($2)—and the caf's mod design—from its namesake sofa.
Stay here

Since you can't exactly hunker down in a restaurant, consider the next best thing: staying on top of one. The aroma of samosas and po' boys will filter up to your room at Balcony Guest House (2483 Royal St; 504-945-4425, balconyguesthouse.com; $79--$129), a petite B&B above Schiro's Caf. In addition to serving both Indian and traditional N'awlins grub, Schiro's is home to a bar, a grocery market, a liquor store and a Laundromat. "It is so naturally New Orleans, with all of the many concepts meshing into one," says Tuennerman. It's also convenient: Hearty breakfasts like salmon eggs Benedict and pain perdu are gratis, and you'll have a complimentary Hurricane in your hand the moment you walk through the door.
Providence (3 hours from NYC)
Do this

Even if you're not in town during Providence Restaurant Week(goprovidence.com/restaurantweek, July 11--24), you can still sample the local flavor of Providence courtesy pastry chef Cindy Salvato. Her three-hour Savoring Federal Hill walking tour (401-934-2149, savoringrhodeisland.com; Sat 9am, $50) stops at bakeries, wine shops, butchers and specialty food markets in Providence's Italian neighborhood, where you can nibble on cheese, antipasto and cookies, watch ravioli makers in action, and walk through the kitchens of some of the city's top toques. Local food blogger Lydia Walshin (theperfectpantry.com) also recommends visiting theJohnson & Wales Culinary Arts Museum (315 Harborside Blvd; 401-598-2805,culinary.org; $2--$7), which she calls "a one-of-a-kind repository of all things food-related." There, you'll find displays of utensils and tableware, old cast-iron stoves, menus from White House banquets and even a life-size diner exhibit. But you're not here merely to learn about food—you're here to devour it. Begin your gorging with a homemade spicy pork sausage ($6.50) topped with marinated peppers, onions and feta from Hewtin's Dogs Mobile (twitter.com/chezpascal), an haute food truck run by Chez Pascal chef-owner Matt Gennuso. For more portable eats, check out artisan fromagerieFarmstead (186 Wayland Ave; 401-274-7177, farmsteadinc.com), where co-owner and master cheesemonger Matt Jennings can help you assemble a cheese picnic. Next door, Farmstead's cheap and satisfying sister bistro La Laiterie (184--188 Wayland Ave, 401-274-7177) embodies the city's strong locavore movement with its seasonal menu; try the charred ramps served in a sunflower-seed romesco with lemon juice and olive oil ($5), and the blue-shell mussels cooked with blue cheese, bacon, leeks and Belgian ale ($15). Are you full yet?
Stay here

Rest your distended belly at the 14-room Christopher Dodge House (11 West Park St; 401-351-6111, providence-hotel.com; $130--$180), which was built in 1858 as a private residence. Though some of the accommodations come equipped with a kitchenette, you may want to forgo assembling your own breakfast to sit down for at least one of the B&B's lavish breakfasts—pancakes, Belgian waffles, strata—served in a brick-walled dining room.
North Fork, Long Island (2 hours from NYC)
Do this

Wineries aren't the only thing the North Fork has in spades. You'll find acre after acre of sprawling farmland, where you can pick your own produce or simply purchase the goods straight from the source. Arrive hungry and make a beeline for Catapano Dairy Farm (33705 North Rd, Peconic; 631-765-8042, catapanodairyfarm.com), an award-winning, family-run goat dairy, and pick up a lemon-pepper chvre roll ($8) and a bar of hydrating goat-milk soap in Country Lavender ($6) from the barn store. Another must-visit is Sang Lee Farms (25180 Country Rd 48, Peconic; 631-734-7001,sangleefarms.com), which specializes in organic Asian produce like bok choy, mizunaand edamame.
Love Lane Kitchen
To experience the area's bounty prepared for you on a plate, drop by laid-back eateryLove Lane Kitchen (240 Love Ln, Mattituck; 631-298-8989, lovelanekitchen.com), which uses local ingredients for dishes such as a house-roasted-pork loin Cuban sandwich ($12) at lunch and braised Long Island duck tagine ($26) during dinner—the restaurant also roasts its own small-batch java. "Their food, coffee and service is just amazing," raves Lynda Calimano, an event organizer for the North Fork Craft Beer, BBQ & Wine Festival (northforkcraftbeerfestival.com; Aug 14 2--6pm, $50). While you're in Mattituck, consider stopping by The Village Cheese Shop (105 Love Ln, Mattituck; 631-298-8556, thevillagecheeseshop.com) to ogle the wide variety of international cheeses. "If you feel like hanging a bit, the fondue pots are awesome," suggests Juan Eduardo Micieli-Martinez, head winemaker at Martha Clara Vineyards in Riverhead. We hope you saved room for dessert, because a pie to end all pies awaits at Briermere Farms (4414 Sound Ave, Riverhead; 631-722-3931, briermere.com). There's usually a line queueing outside the farm stand's tiny bakery, so you'll want to arrive earlier in the day to avoid having your favorite flavor sell out. Calimano recommends the peach cream pie ($28)—which is "kind of like a very frothy cheesecake, but not heavy," and is topped with fresh peach slices—though we wouldn't turn down the raspberry peach pie ($16) or classic apple crisp ($16). You better call Grandma and break the bad news: Her baking prowess has been outdone.
Stay here

Wake up in the heart of wine country at Andrew's Legacy Bed & Breakfast (35995 Main Rd, Cutchogue; 631-734-6052, andrewslegacy.com; $190--$220), located within walking distance of six wineries. Breakfast here consists of fresh-laid eggs from the backyard chickens, homemade fruit spreads, house-baked bread and herbs picked from the on-premise garden—you'll be hard-pressed not to stuff yourself silly first thing in the morning, but you should attempt to restrain yourself.