Heads up! We're working hard to be accurate – but these are unusual times, so please always check before heading out.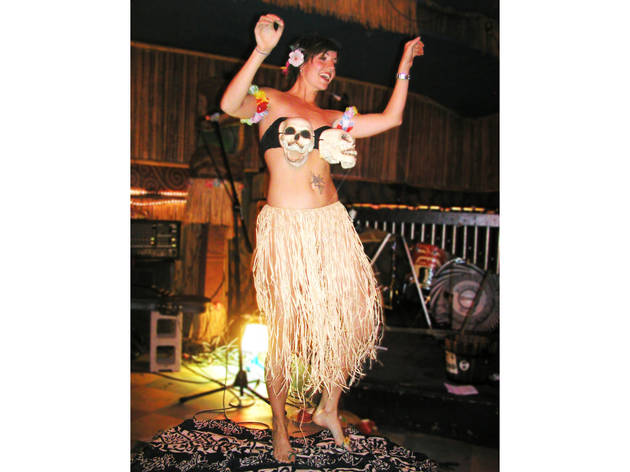 1/12
Photograph: Larisa Fuchs
June 2005: Exotica "Exotica was our first non-Valentine's party, a Tiki lounge with appropriately '60s-inspired acts and surroundings. The chattering-skull hula-dancing act by Amy G was a huge hit. Possibly a larger hit was an albino boa constrictor that a guest brought as their party companion. It was quite friendly!"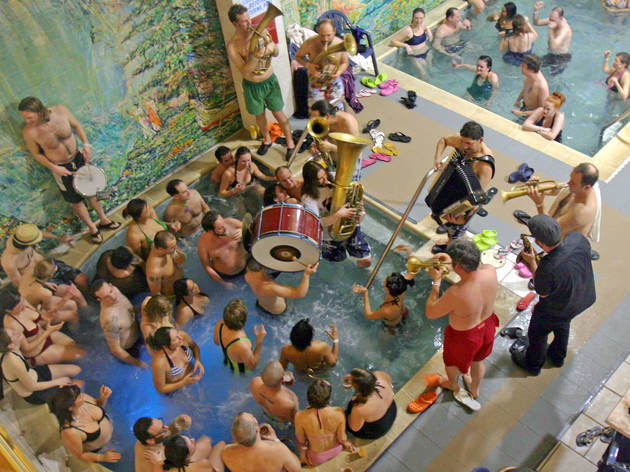 2/12
Photograph: Larisa Fuchs
2006-2013: Banya parties "Miss Gemini and I had talked about this for years on our near-weekly banya visits as customers. Seven years later, the Russian-baths parties are a signature G&S event, taking place annually on February 14 and a few other cold winter nights. The brass-band-in-the-Jacuzzi thing just doesn't get old for me, no matter how many times it happens; in this photo, it's Slavic Soul Party!"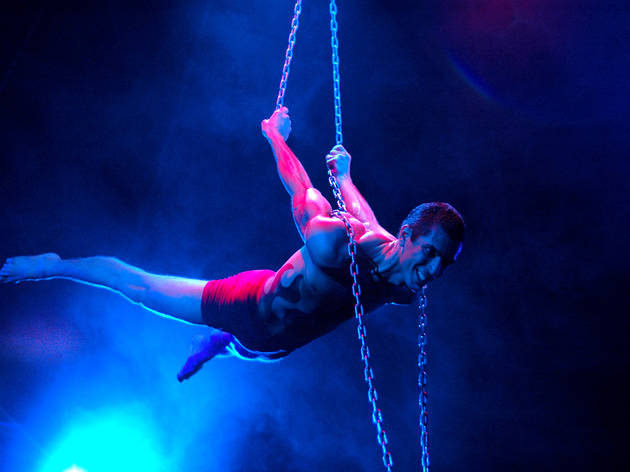 3/12
Photograph: Gene Hun
August 2007: Radiate Fire! "In 2007 I was getting into NYC's Burning Man circles, having met numerous burners via G&S events. Radiate Fire! was a send-off party, bringing together various camps that are otherwise separately focused on prep and fund-raising at that time of year. We took over the gorgeous Spiegeltents—turn-of-century wood-and-mirror circus tents—at the South Street Seaport. One of many aerialists, Aaron Bonventre, stunned the crowd with his chains act."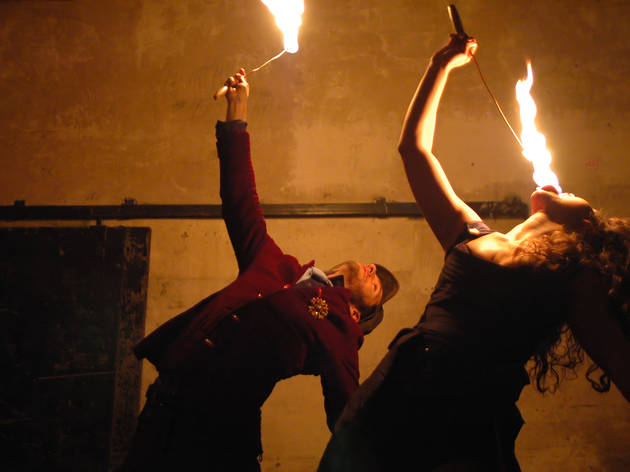 4/12
Photograph: Gene Hun
February 2008: Roaring Twentieth "By 2008, it was clear that the parties were increasingly my personal project;  Miss Gemini moved to L.A. later that year, and this was her last G&S event. We celebrated our fifth birthday with a trip through the 20th century: Each decade was represented by an act, but the strongest response by far was to the 1920s–'40s era, and that's how our ongoing Swing House series was born."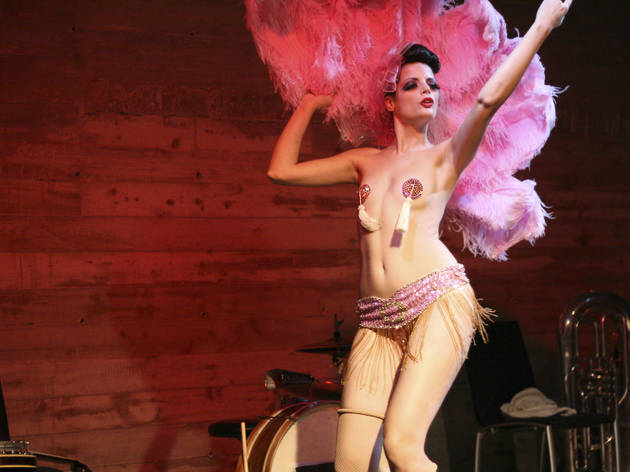 5/12
Photograph: Gabe Hollombe
2008-2013: Swing House "While Swing House has always showcased traditional jazz and swing bands, we've also brought in electro-swing DJs and encouraged guests to do modern takes on 1920s–'40s. However, nothing beats the appeal of traditional, glittering, classy burlesque. This is Pandora doing her beautiful thing at one of the first Swing House parties."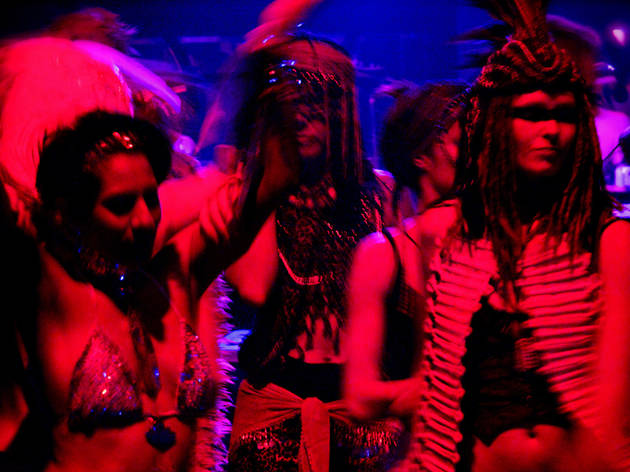 6/12
Photograph: Caryn Waechter
October 2008: Voodoo Culture Clash "This was a huge Halloween blowout with about 800 guests, and the last party at the Spiegeltents at South Street Seaport. Halloween is always the time that our already-highly costumed parties become even more outrageous, but there was something particularly spectacular about this one. I remember looking down the wide walkway of the Seaport to see it filled with feathers, bones, skulls and face paint."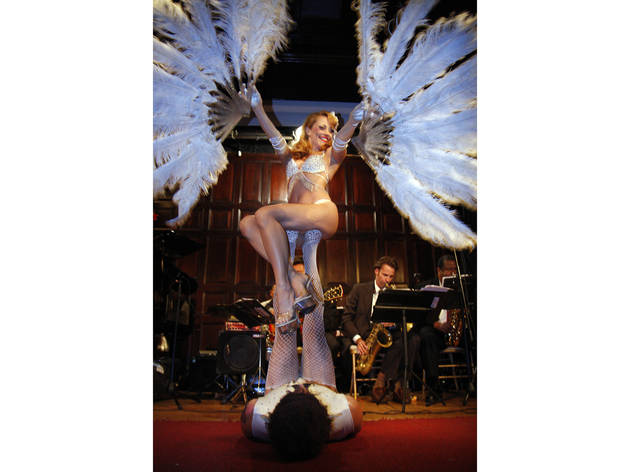 7/12
Photograph: Don Spiro
July 2009: Nouvelle Époque Cabaret-Salon "This event will always stand out in my mind because of one special guest. Fashion designer Jean Paul Gaultier—a hero of my teen years—had read about the party somewhere and showed up as a paying guest. I was speechless. The photo is of acro-burlesque duo Trixie Little & the Evil Hate Monkey, accompanied by the JC Hopkins Biggish Band."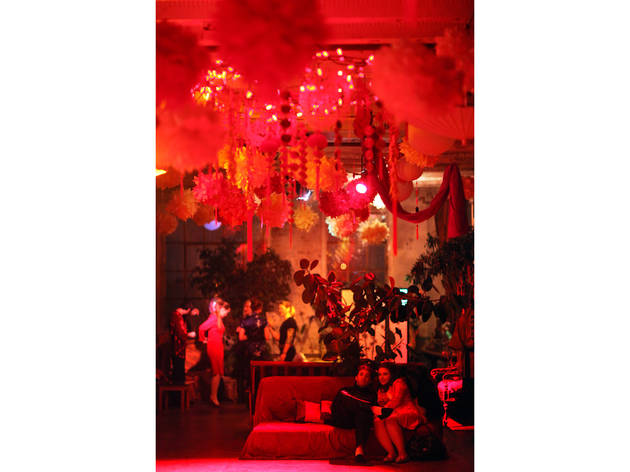 8/12
Photograph: Michael Falco
February 2010: The Vault of Golden Vapors "This snapshot represents the culmination of about a week of work. The New York Times had wanted to cover G&S specifically from the perspective of transforming raw spaces into beautiful party zones, so we really had to deliver. I love that all the posh oriental decor was really sourced from dollar stores, thrift stores and cheesy souvenir shops. The elaborate chandelier is all string lights and cheap Chinese New Year baubles."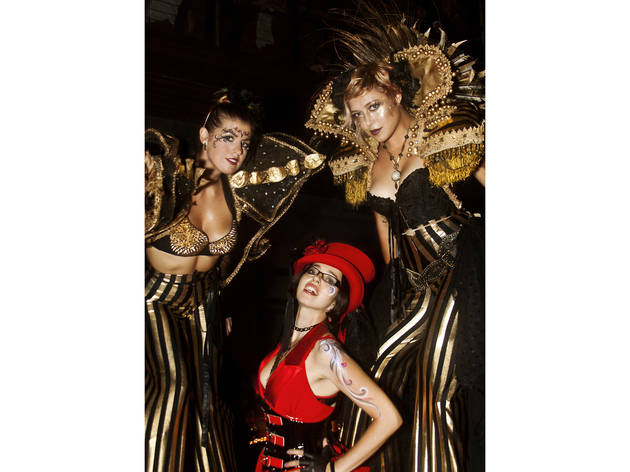 9/12
Photograph: Linus Gelber
2010-2013: The Lost Circus "Our newest annual series is a celebration of steampunk, circus and dark cabaret; it launched in July 2010 and is about to be the centerpiece of our tenth anniversary. The gorgeous stilted creatures behind me in the photo are Dana Abrassart and Maxine Nienow. My favorite moment with Dana was a collaboration with musician Shayfer James that had her gracefully landing on top of his piano after doing wild drops on her aerial silks."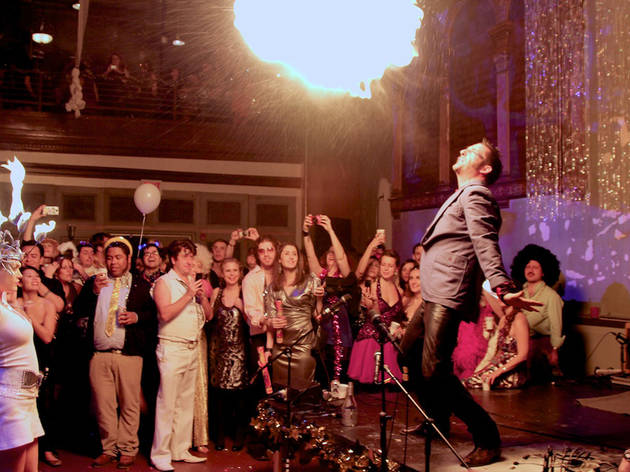 10/12
Photograph: Samantha Levin
December 2011: The Glitter Ball New Year's Eve "The Glitter Ball referenced the 1979 Studio 54 event of the same name, when the club brought in four tons of glitter to cover the whole floor. Our version consisted of 200 confetti cannons going off at the stroke of midnight. The cleanup was painful. I recall my go-to helper, Charlie, still in his trademark Rollerblades, balancing on top of a ladder, itself on top of a table, prodding a long broom at the lights 25 feet aboveground to shake out the remaining paper strips."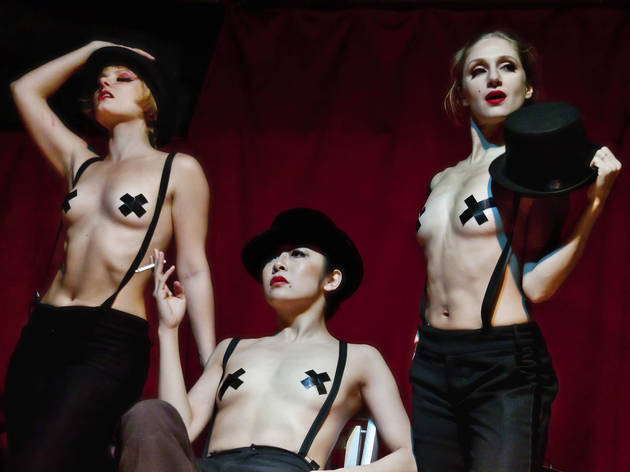 11/12
Photograph: Linus Gelber
February 2012: Meet Me in Paris "This was the first party to take place in the Gowanus loft I've been building out since late 2011. This has been the biggest undertaking for G&S—I have seen too many spaces, legal and underground both, fold to developers valuing cash over culture, and think it's important to do something to reverse this trend. The trio of dancers in the photo is part of the Love Show troupe, who have performed for G&S for probably five years."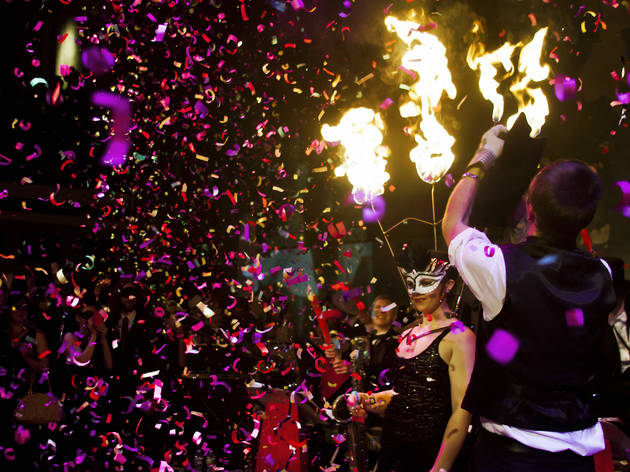 12/12
Photograph: Linus Gelber
December 2012: The Black And White Masked Ball New Year's Eve "Probably my favorite photo from the whole decade of G&S, this is from exactly the stroke of midnight on New Year's Eve 2013. What you see was actually a total accident: The confetti was intended for after we'd put out the flames and reached one in the countdown, but the crowd got a bit overexcited. The terrifying combination of thousands of flying pieces of paper and open flames lasted only about 30 seconds, though—you can see the fire safety rushing over to extinguish the headpiece."
Gemini & Scorpio's Tenth Anniversary: A decade of parties in NYC
As Gemini & Scorpio prepares for a blowout anniversary weekend, we look back at some of the indie event producer's past parties in NYC.
(geminiandscorpio.com)
, has a lot to celebrate this year. Thanks to a
successful Kickstarter campaign
, she can continue converting a warehouse loft in Gowanus into a permanent venue and arts space. And it's been ten years since she (Miss Scorpio) and her friend Jamie Kiffel (Miss Gemini) staged the first G&S event: a Valentine's Day singles party at Remote Lounge. Since then, the Bowery bar has closed down, Kiffel (now Kiffel-Alcheh) has moved to L.A., and Fuchs has continued to produce events under the G&S banner, shifting her focus from dating toward vintage-inflected alt nightlife. Costumes are de rigueur at Gemini & Scorpio parties, burlesque and circus performers are typical, and off-the-beaten-path locations—such as Brooklyn Banya, a Russian bathhouse in Flatbush—are not uncommon. A steampunk weekend has been planned around the occasion, headlined by
Amanda Palmer and the Grand Theft Orchestra at Lincoln Center
(Fri 9,
watch a live stream of the concert here
), and featuring a
ball in a 19th-century church
(Sat 10) and a
Mississippi-style paddleboat cruise
(Sun 11). As the milestone approaches, we asked Fuchs to take us through some highlights of the past decade.