Greece staycation
Party like a Greek.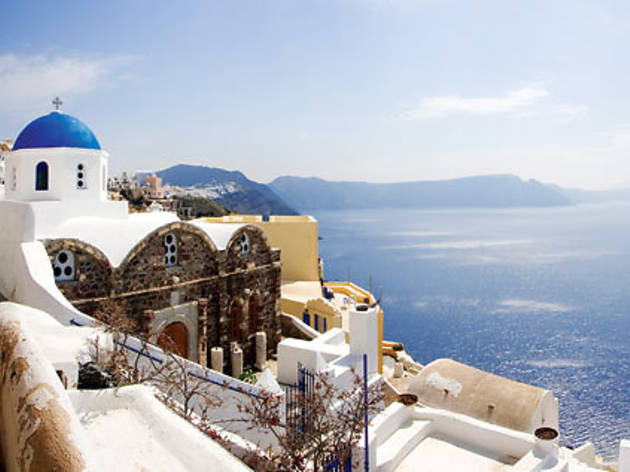 Party like a Greek
In Greek, kerasma means "treat," but at midtown taverna Molyvos(871 Seventh Ave between 55th and 56th Sts; 212-582-7500, molyvos.com) the word roughly translates to "happy hour" (Mon--Fri 3--6:30pm). Bar patrons snack on complimentary mezedes like spanakopita (spinach pie) and Cypriot meatballs known as keftedes, and can pair them with one of the 300 wines or 18 types of ouzo, an anise-flavored aperitif. General manager Kamal Kouiri recommends the Mitilini brand, raving, "There is not a better ouzo than the one produced in Lesvos Island. [They have] the best raw materials." Throw back a few shots, and you'll be exclaiming opa! in no time.
RECOMMENDED: Our most recent Staycation Guide
If you're not a fan of the fiery liquor straight, try it in the form of a specialty cocktail at spacious eatery Barbounia(250 Park Ave South at 20th St; 212-995-0242, barbounia.com), where the Greekjito ($14)—a combination of ouzo, lemon juice, and muddled mint and lime—puts the tired Cuban concoction to shame. A weekday happy hour (Mon--Fri 3--7pm) features $4 beers, $5 wines, $6 champagne cocktails and a $12.50 cocktail of the day (plus a two-foot pizza of the day for $17).
The Greeks are known for being great thinkers (Plato, Aristotle, etc.), but are they great comedians? Decide for yourself on Friday 4 at The Comedy Bazoukia presents the OPA Olympics(Lafayette Grill & Bar, 54 Franklin St between Broadway and Lafayette St; 212-732-5600, lafayettegrillandbar.net; 9pm; $20 plus two-item minimum). The evening of Hellenic-themed entertainment features the music of folk band the Magges and a roster of "stand-up philosophers," including The Complete Idiot's Guide to Comedy Writing author Jim Mendrinos and Wall Streeter--turned-humorist Ellen Karis.
Make like a true Greek by welcoming friends (and strangers) into your home for food, music and—most important—lively conversation, all fueled by wine from Omega Wines and Spirits(29-15 23rd Ave between 29th and 31st Sts, Astoria, Queens; 718-726-0056, omegawinesandspirits.com). Though the liquor store carries an international selection, you'll find Greek wines and ouzo aplenty. Owner Tony Gounaris recommends a bottle of Gaia Agiorgitiko ($16) for red lovers and Amethystos ($19) for white drinkers.
Inside info

In 2007, a team of archaeologists discovered crushed grapes dating back 6,500 years in the prehistoric settlement of Dikili Tash, which indicates Greece is one of the world's oldest wine-making countries.
Eat like a Greek
As an introduction to the country's sweeter side, pop by Artopolis(23-18 31st St between 23rd St and 23rd Ave, Astoria; 718-728-8484, artopolis.net) for kourabiethes ($1 each or $13/lb), a buttery dessert topped with confectioners' sugar. "It should be claimed the national cookie of Greece," says co-owner Regina Katopodis. "It's present at all celebrations of life." Even if you settle on something different, like a Cretan diple (75 each or $10/lb), a vodka-infused flour pastry, you can't go wrong. "All of our recipes are out of different homes from all over Greece," says Katopodis. Exercise restraint by taking your treat to go—bring it to Athens Square Park(30th St at 30th Ave; nycgovparks.org), where you can chow down amidst bronze statues of Athena and the rest of the gang.
Astoria may have the highest concentration of expats here, but the East Village has what is widely considered one of the city's most authentic—and delicious—Grecian restaurants, Pylos(128 E 7th St between Ave A and First Ave; 212-473-0220, pylosrestaurant.com). "Our food is rustic but elegant, and regional in inspiration," says consulting chef Diane Kochilas. Try the pastitsio, a sort of lasagna ($17), or the artichoke heart moussaka ($11), layered with caramelized onions and three different cheeses.
Inside info

Opa! is a way of expressing pleasure—akin to cheering "hooray!"
Be cultured like a Greek
After a nearly $220 million renovation of the south wing, old is new again in the Greek and Roman Art Gallery at the Metropolitan Museum of Art(1000 Fifth Ave at 82nd St; 212-535-7710, metmuseum.org), which houses 7,769 works, including a limestone sarcophagus that likely belonged to a king of Amathus, and a bronze chariot inlaid with ivory.
If you can't wait until September to see the bilingual Greek Theater of New York(ellinikotheatro.org)perform its modern-day reenactment of Socrates' trial in The Apology of Socrates, pay tribute to the tradition of outdoor amphitheaters with a double dose of Shakespeare in the Park at the Delacorte Theater(Central Park, southwest corner of the Great Lawn; 212-539-8500, publictheater.org; free). This summer's lineup includes two shows: The Merchant of Venice with Al Pacino and The Winter's Tale starring Ruben Santiago-Hudson, performed in repertory from Wednesday 9 to August 1.
Inside info

For almost 60 years, Fifth Avenue has served as the location of the annual Greek Independence Day Parade, which attracts more than 150,000 attendees each April.
Shop like a Greek
You don't need to travel to Cyprus to steal Aphrodite's beauty secrets—simply head to mod apothecaryMastihashop(145 Orchard St between Rivington and Stanton Sts; 212-253-0895, mastihashopny.com), which specializes in products made with mastiha, a rare tree resin found only on the isle of Chios. According to co-owner Artemis Kohas, this "ancient therapeutic ingredient" has proven antioxidant, antibacterial and anti-inflammatory qualities. Pick up mastiha-spiked rose-petal gum ($2.50) and shampoo ($17.25) to combat gingivitis and strengthen hair, respectively.
Aegean grocery Titan Food(25-56 31st St at Astoria Blvd, Astoria, Queens; 718-626-7771, titanfood.com), is stocked with goods from Greece and Cyprus, including coffees, teas, honey and olive oil.
Seaburn Books(33-18 Broadway at 34th St, Astoria, Queens; 718-267-7929, seaburn.com) "has been part of the literary culture of Greece in New York for over 15 years," says owner Sam Chekwas of his no-frills bookstore. Seaburn pays tribute to its multicultural neighborhood with a friendly staff, which happens to be fluent in at least a half dozen languages, and by stocking tomes in just as many tongues. If Nicholas Gage'sEleni looks Greek to you (and for good reason—it is), sign up for one of Seaburn's free hour-long beginner language classes on Thursdays at 7pm.