Heads up! We're working hard to be accurate – but these are unusual times, so please always check before heading out.
1/9
Photograph: Jessica Lin
"Back in the '20s, Henri Bendel brought Chanel to America for the first time," Santana says. "And [1920s fashion] is a huge trend on the runways now. I knew that the Brooklyn Museum had fashion sketches, and that some of them were designed for Henri Bendel. To my surprise, they had tons and tons of sketches, all the way from the turn of the century into the 1940s."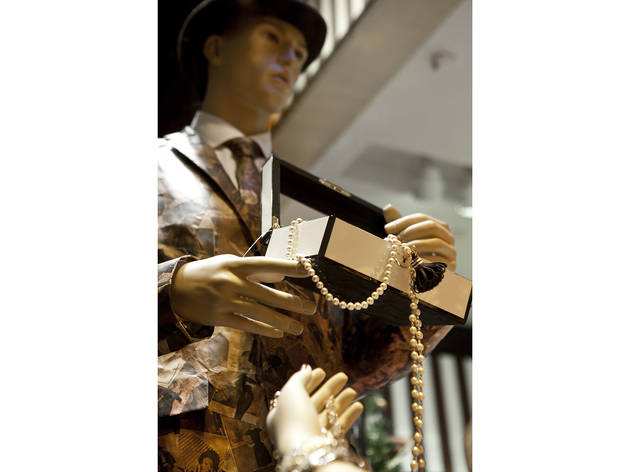 2/9
Photograph: Jessica Lin
"This guy is supposed to be Henri Bendel. The whole suit is made with advertising from the store."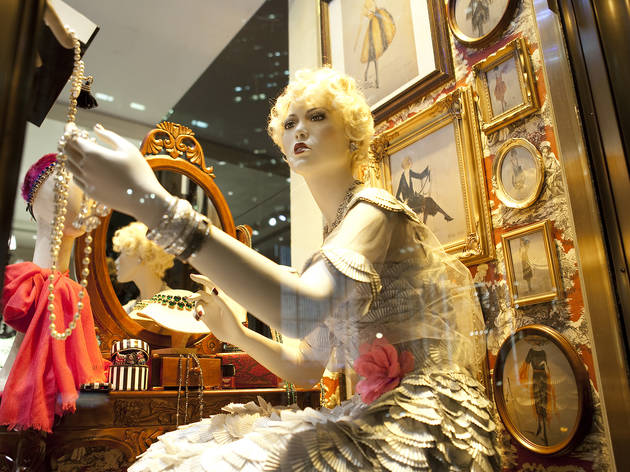 3/9
Photograph: Jessica Lin
"We went through hundreds of sketches that the Brooklyn Museum has. You can see [reproductions] on the wall. They're real 1920s sketches. We picked a few and re-created [the outfits they depicted]."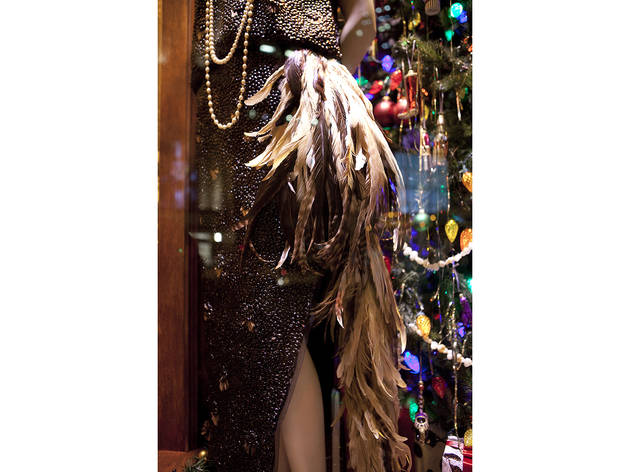 4/9
Photograph: Jessica Lin
"This dress, which is my favorite, is made from feathers and 12,000 black beans that were glued on one by one. The incredibly talented freelancers and my staff—they are all brilliant—were able to re-create the dress exactly as is, but in a material different than what it was at the time."
5/9
Photograph: Jamie McCarthy
"The dress on this mannequin is made with licorice on the top and feathers on the bottom. All the mannequins are by Atrezzo, which is a Spanish company. They were custom made for us with custom poses."
6/9
Photograph: Jessica Lin
"There's a girl in a champagne glass that's attached to the front of the tree. Her dress is made with more than 3,000 safety pins. It reflects the decadence of the Roaring '20s. I think we tried to reflect what Henri Bendel is—it's a girls' playground. We wanted to be playful, to fit the spirit of the holiday."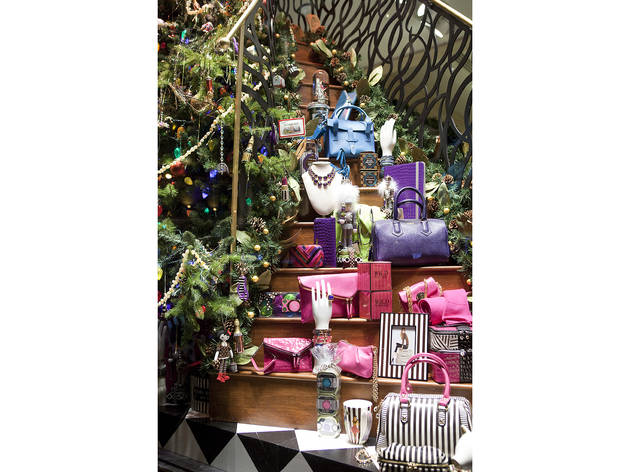 7/9
Photograph: Jessica Lin
"Our old store used to have a grand staircase, and we re-created it with notes of the existing one. So this railing that we have here—once you go inside, you will see it on the actual railing of our store as well."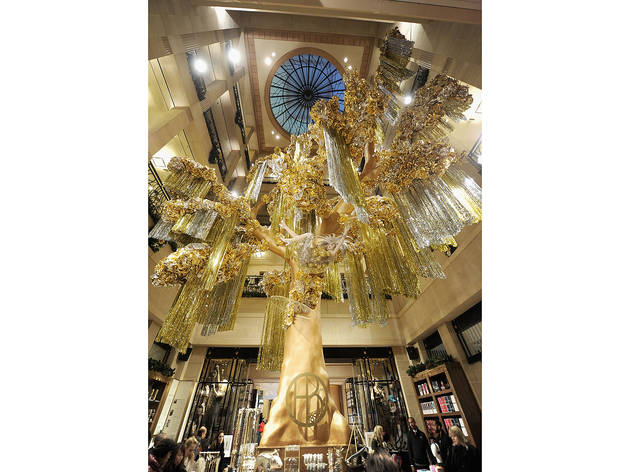 8/9
Photograph: Jamie McCarthy
"We are the only store in New York to have the luxury of this fabulous space. Every year, we dress this two-story-tall tree in different ways. So we tried to create this very metallic, gold and silver 1920s feel. The tree has more than 15,000 handmade metallic paper flowers."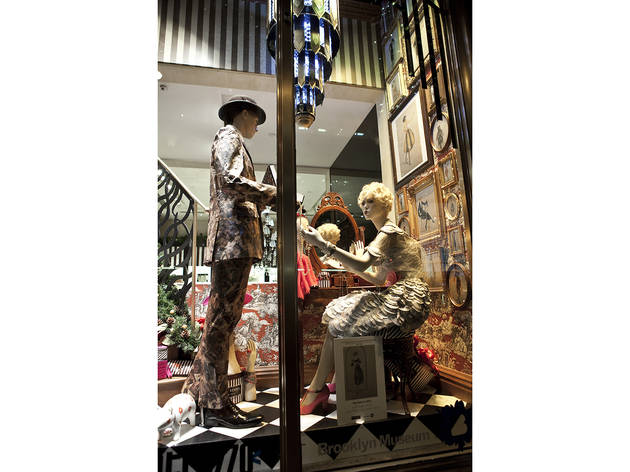 9/9
Photograph: Jessica Lin
"When we looked at the sketches, we started thinking about what materials we could use. Here you have the picture of the real sketch, and that's a re-creation [of the dress] that was done with 800 cupcake liners. Anything could be an element to use; anything could be an inspiration. It's just thinking out of the box."
Henri Bendel: The season's chicest holiday window display
Go behind the scenes of Henri Bendel's luxe '20s-themed holiday window display, with dresses made of licorice, a tree covered in paper flowers and more.
Christmas starts in February for Gilberto Santana, the visual director at Henri Bendel (712 Fifth Ave at 56th St; 212-247-1100, henribendel.com). That's when he and his team begin conceptualizing the store's holiday window display, which encompasses not only the front windows, but also its sumptuous atrium. This year, Santana took his inspiration from 1920s fashion sketches in the Brooklyn Museum's archives. Using unlikely materials like filmstrips and red licorice sticks, he worked with a team of more than 100 to reinterpret dresses made to order for the period's Bendel customers. The result: a Jazz Age spectacle that recalls the retailer's early-20th-century roots in high style.
RECOMMENDED: Christmas in New York guide