The best hidden spots in Koreatown, NYC
Koreatown, which is widely known for its great food and karaoke joints, is bursting with underrated spots to explore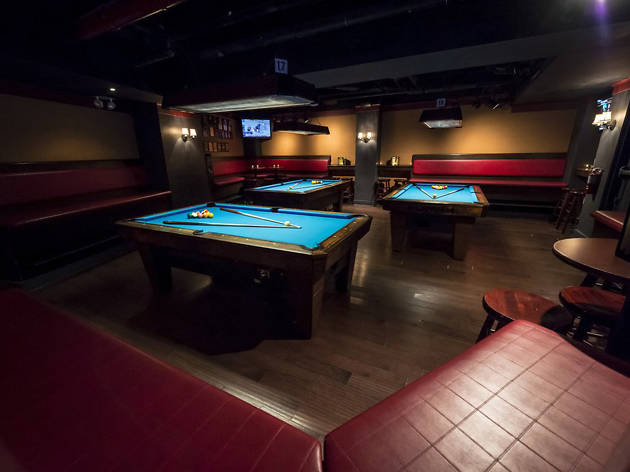 One of the best parts of New York is its cultural mosaic. At the center of its Korean influence, Koreatown might feel like an alien land to some (good luck reading the signs, English-speakers), but once you snoop around, you'll discover some of the best hidden spots in the nabe. Did you know that K-town is home to some great karaoke bars and plenty of tasty Korean BBQ restaurants? How about something a little more low-key, like excellent spots to relax and play billiards at pool halls? We've come up with a list of lesser-known or underrated joints that are definitely worth checking out, so read on to make sure you get this neighborhood right.
RECOMMENDED: Full guide to Koreatown, NYC
Hidden gems in Koreatown, NYC
1
Ready for your super-star moment? Alert the squad, rent a room ($30 an hour) and get comfy on a red leather sofa, while you and your friends belt out some choice numbers. Gagopa's got a generous BYOB policy, and its own soft selection of booze (no liquor) stocked in a cooler behind the bar. Moreover, it's open till 5am, so there's plenty of time to get down in this down-and-out K-town spot.
Read more
2
If you're into K-pop culture at large, this is where you should throw your Gangnam-style birthday party (invite us). Whatever kind of obscure merch you're into (say, a notebook with Goo Hara plastered on the cover), they've got it in stock. They even carry actual CDs, DVDs, and actual books, which in 2016 seems downright quaint (even for a K-pop bookstore).
Read more
3
In New York City, a clean, well-lighted place is a rare thing indeed. A trip to your local coffee shop or the public library is likely to provide neither of those things. So where can you go to read or write? This K-Town study hall is a good option. Hit the books before you hit the karaoke bar (see Gagopa), and if you need a snack, they've got scrumptious noodles on deck (and on the cheap).
Read more
4
If you need to relax, unwind at this misty main lounge, furnished with modern white chairs and nature-scenes projected on the wall. Find your zen in the meditation room, repose in the rooftop hydro-pools, laze in the jacuzzi-laden spas (which vary by temperature) or do whatever strikes your tranquilizing aims inside this soothing oasis.
Book now
Read more
5
This wacky pool hall would seem out-of-this-world weird anywhere but K-Town. Where else can you eat steamed vegetable dumplings (10 for $10) and shoot pool under neon lights and the twirling glint of disco balls? But beware: It might have "space" in the name, but this place can get crowded quick.
Read more
Looking for a place to rejuvenate?
Treat yourself to an entire day of relaxing with a massage, full-body exfoliation or hot-tub soak at a Korean spa in NYC
Read more
Sponsored listing
The Kings Beer Hall
Suds lovers will want to swing by this international beer hall in Park Slope. Whether you live in the neighborhood or stop by after a Brooklyn Nets game at the nearby Barclay Center, you'll surely find something you like on the menu of nearly 30 different beers. Old standbys like Krombacher Pilsner are listed alongside more unusual, seasonal finds like Harpoon Camp Wannamango. You can order several small beers to create your own tasting, or go all in with a larger size ($5 for 0.2 liter, $8 for a 0.5 liter, $15 for one liter, $20 for a boot and $65 for a five-liter stein). Some snacks might be nice—the jalapeno hush puppies ($7) or a beer-braised bratwurst ($6) ought to do the trick. If you need a full meal, order up some buffalo wings ($8) or a grass-fed burger ($12). Beer, bar snacks, jenga, pool tables—what more do you need?