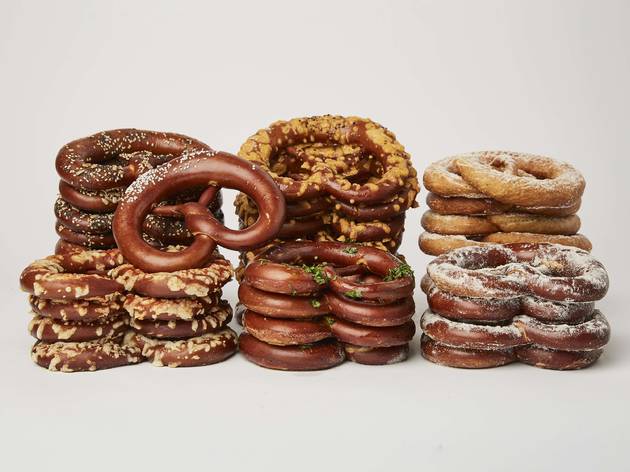 Nine iconic New York eats you'll want to revisit this fall
Your challenge, if you choose to accept it, is to sink your teeth into the grub Gotham knows best — think hot dogs, pizza and pastrami sandwiches
The minute the air turns crisp in New York, your comfort food cravings should awaken. (If they haven't already!) Fortunately, city dwellers have no shortage of savory chow to eat, and there are far too many takeout choices to consume in a year let alone a season as short but sweet as fall in NYC. That's why we've narrowed down our picks to nine iconic bites you'll be itching to go out and grab once the leaves start changing colors. Here are nine NYC delicacies to fall for.
For more inspiration on how to make the most of NYC this fall, head to our interactive map.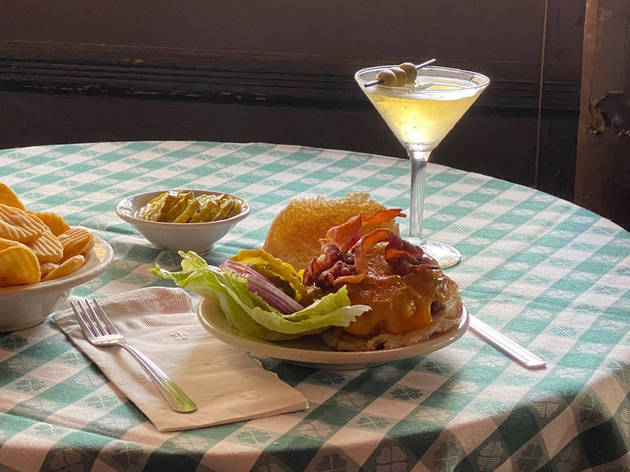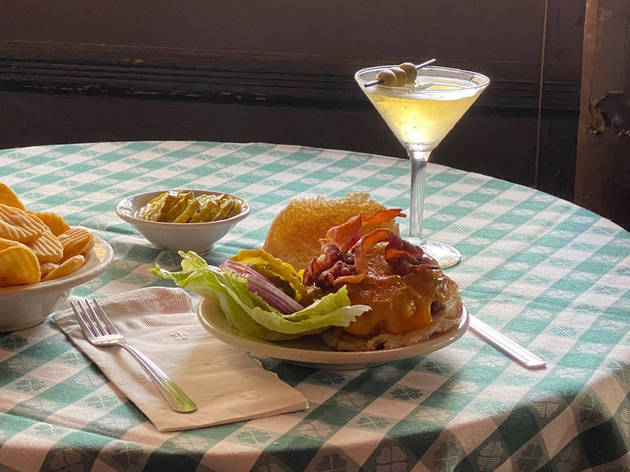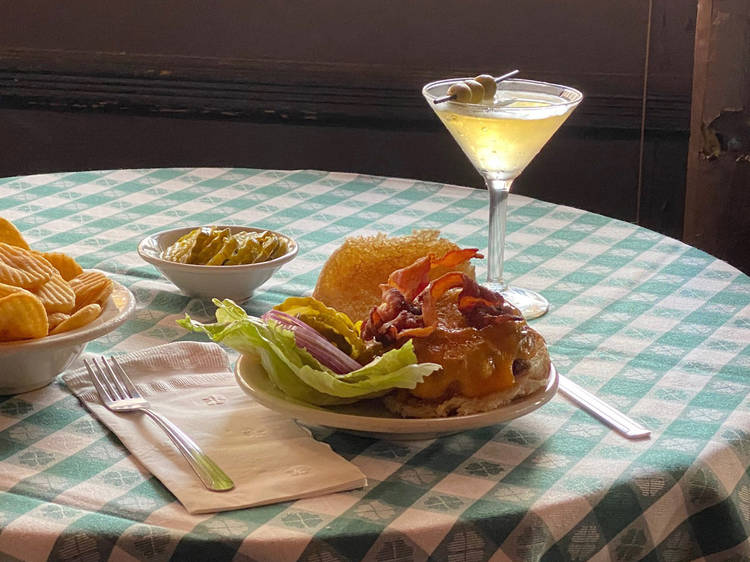 Photograph: Courtesy JG Melon
1. JG Melon: Cheeseburger
When you're jonesing for a cheeseburger, you want to look for buzzwords like simple, old-school and famous. Enter JG Melon, a charming West Village staple that understands patties and buns like it's no one else's business. Their secret? They keep things modest. Its signature burger is adorned with only the essentials: thinly sliced pickles, red onion, sliced tomato and lettuce. (2020 is all about scaling back, right?) This digestible and delicious classic is a genuine delight.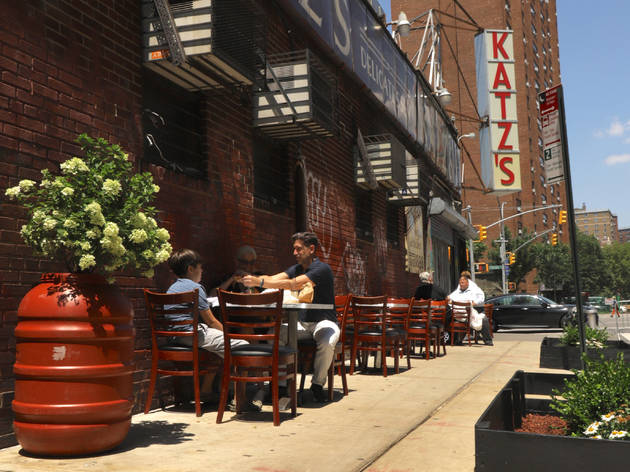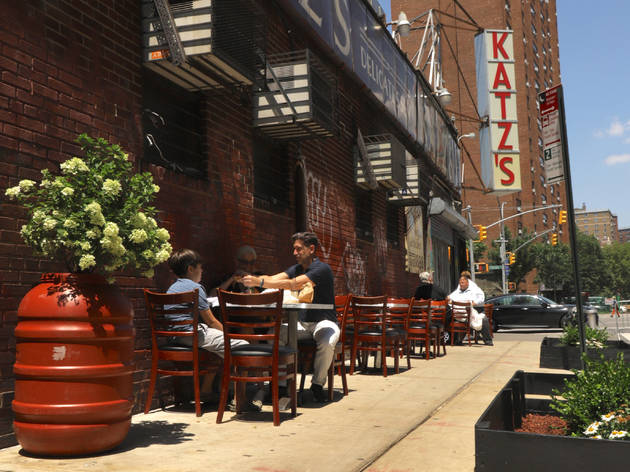 Photograph: Courtesy Katz's Deli
2. Katz's Delicatessen: Hot Dog
Everyone thinks Katz's is the spot to hit for a pastrami on rye, but you'd actually be better off ordering another New York classic: the hot dog. The Lower East Side landmark's beef frankfurter is no weenie. It's well seasoned with garlic, salt and paprika, charred to campfire perfection and loaded with tart sauerkraut and golden mustard. It's the overall taste that really hits it out of the ballpark.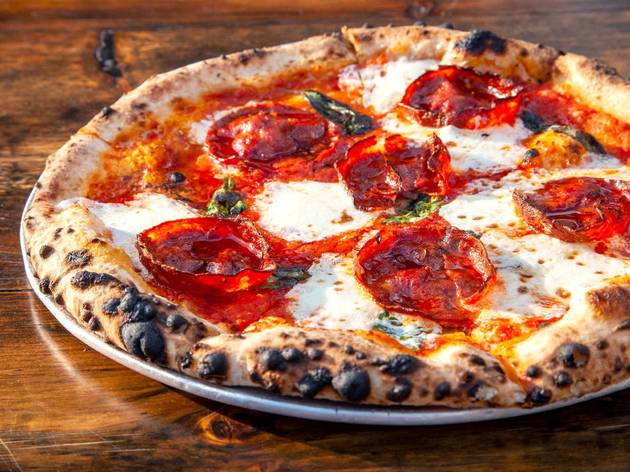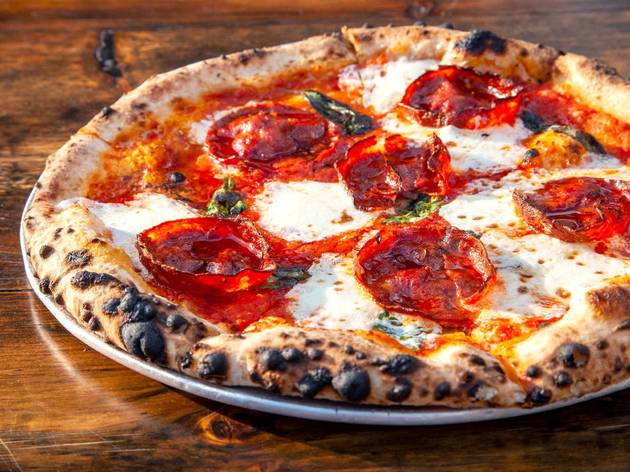 Photograph: Time Out/Ali Garber
3. Roberta's: Bee Sting Pizza
Why grab a measly slice when you can have the whole pie? That must be this slice-less, sustainable-food mecca's motto. While the beloved Bushwick pizza joint makes a mean rigatoni, they're all about the 'za, and have mastered the art of the dough to churn out mouthwatering brick oven pies. Our fave is the sweet and spicy Bee Sting, a medley of mozzarella, tomato, sopressata, chili, basil and honey. Trust that it's all yum and no bite.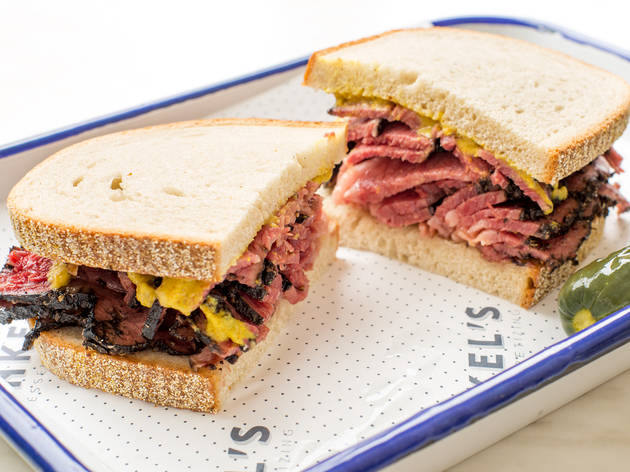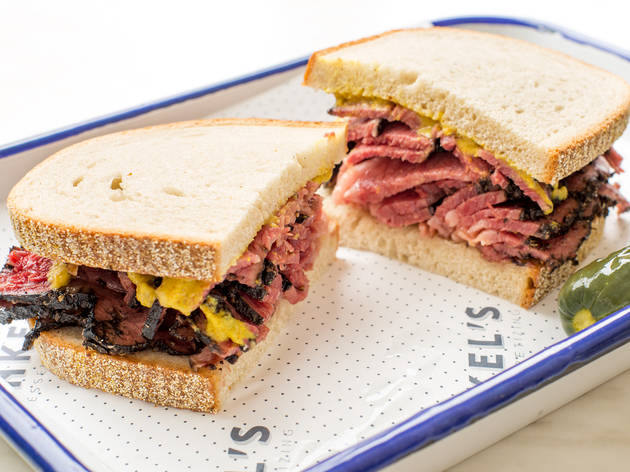 Photograph: Courtesy Frankel's Delicatessen & Appetizing
4. Frankel's Delicatessen & Appetizing: Hot Pastrami
The menschy brothers, Zach and Alex Frankel, and proprietors of this Greenpoint sandwich shop are making their Jewish elders proud. The spot solely serves the deli staples, offering a well-curated selection of smoked fish, smoked and braised meat and salads to be thrown on a bagel, rye or challah roll. Order the hand-cut, thick-sliced hot pastrami sandwich drizzled with mustard for an euphoric lunch or dinner.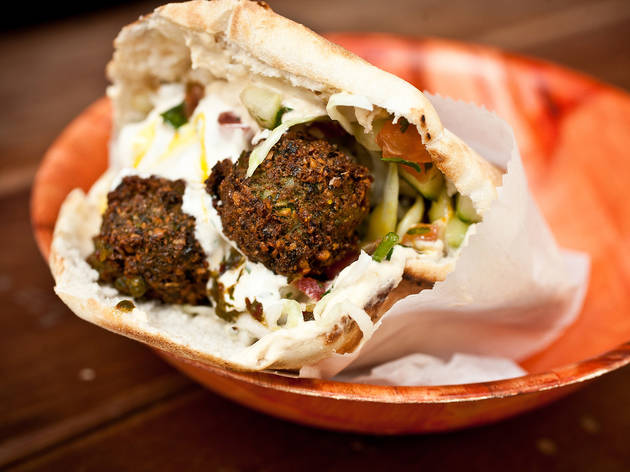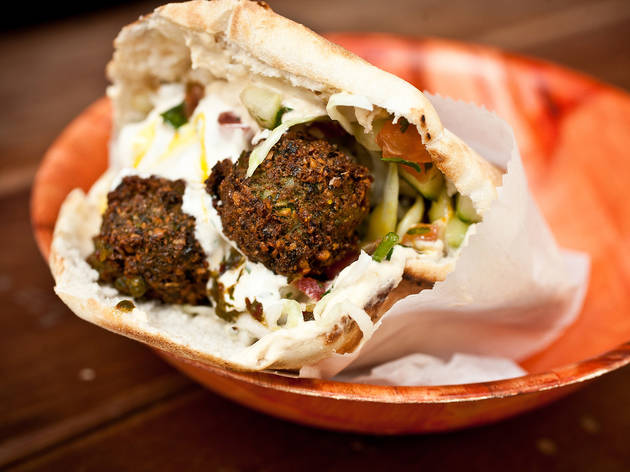 Photograph: Jakob N. Layman
The secret to this woman-owned falafel chain's success? The quality ingredients, foolproof recipe by way of Tel Aviv and chef Einat Admony's ability to create tasty comfort dishes that make you feel a level of fullness comparable to eating your mama's home cooking. Head to either the West Village, Nolita or Flatiron locations to grab the flavorful green or harissa falafel — a.k.a. heaven in a pita (or on a salad or a platter). You do you.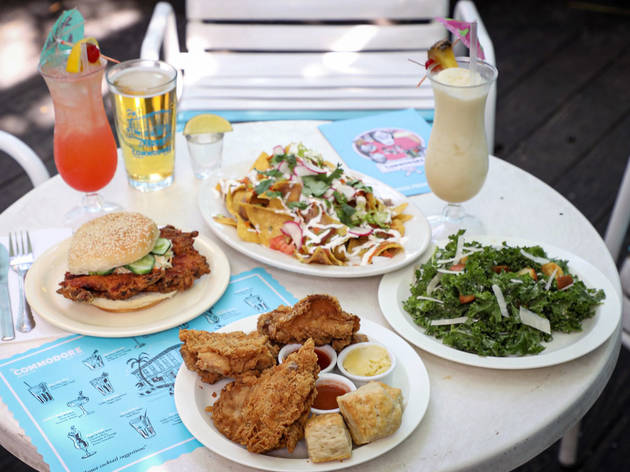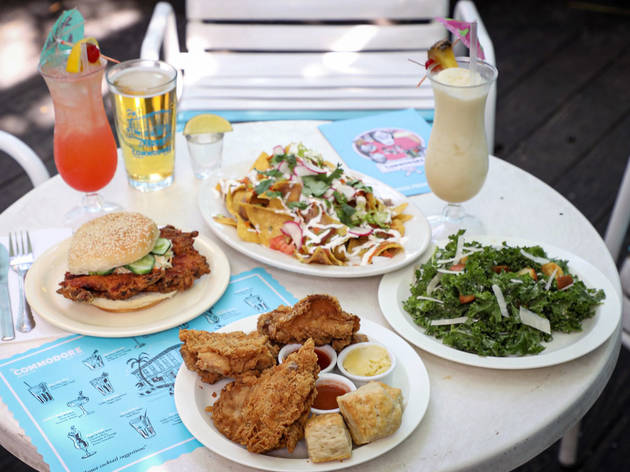 Photograph: Courtesy The Commodore/Chase Doerflinger
6. The Commodore: Fried Chicken Plate
On first blush, you wouldn't think this unassuming, nautical-themed gastrodive serves some of the best fried chicken in the city (not to mention an otherworldly queso dip). Even still, both items are on the menu at the Williamsburg hangout offering signature dishes like the fried chicken plate to-go. Just the sound of biting into one of the three gloriously crunchy thighs is our kind of ASMR. And the dish comes with a side of biscuits and honey butter to sweeten the already immeasurable deal.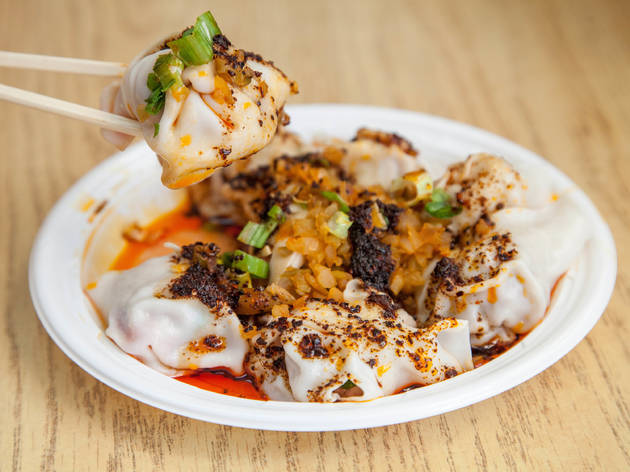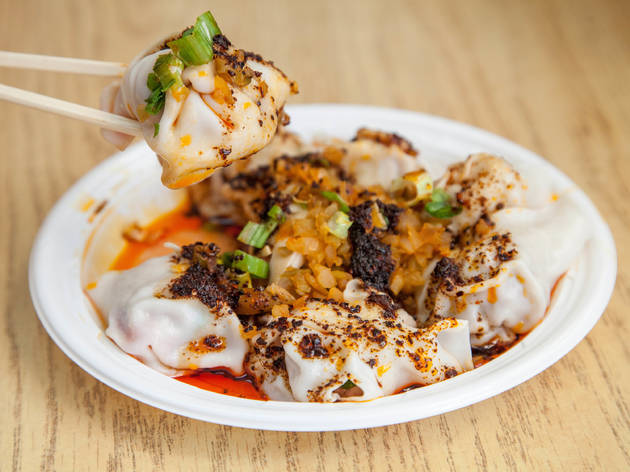 Photograph: Time Out/Ali Garber
7. White Bear: No. 6. Wontons with Hot Sauce
When you've got a hankering for dumplings, the first place you should turn is White Bear in Flushing, Queens. But, hang on, our instructions get even more specific. While the no-frills spot serves a vast amount of dishes — all of which sound exceptionally tasty — there's one offering in particular you can't deny: No. 6 Wontons with Hot Sauce. As it's the most popular item on the menu, you won't regret ordering the 12 pork and cabbage wontons floating in a non-overpowering pool of chili oil, roasted chilies and pickled greens.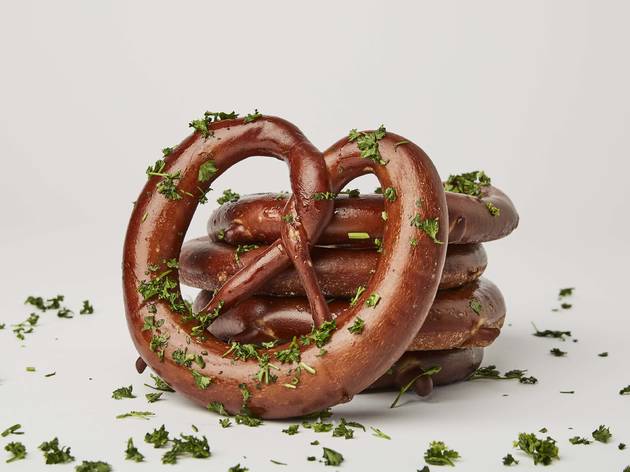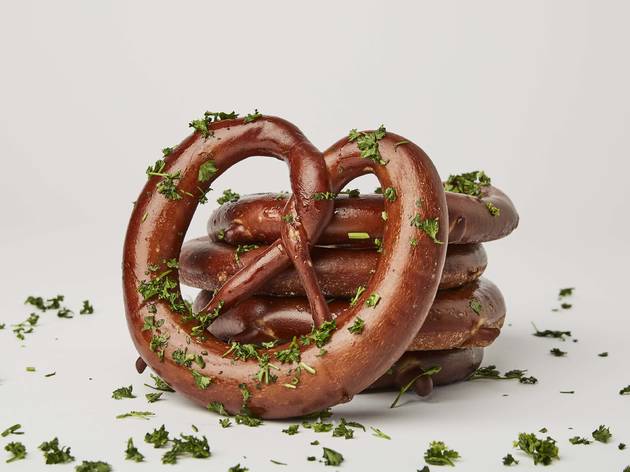 Photograph: Courtesy Sigmund's Pretzels
8. Sigmund's: Soft Pretzel
Here's a snack so satisfying, it's twisted. Jokes aside, a warm soft pretzel makes for a totally acceptable meal when it's (ahem) artisanal, and it's that kind of quality you can expect from this Brooklyn pretzeler that has been blessed by Martha Stewart. With options like "Just a Hint of Truffle," "Churro," and "Everything But the Burned Garlic," it's a tough call as to which drool-worthy, traditionally-baked softie to order. We're in the middle of a pandemic: treat yourself and build a box (12 pretzels, from three flavors). You'll reap the doughy goodness for days!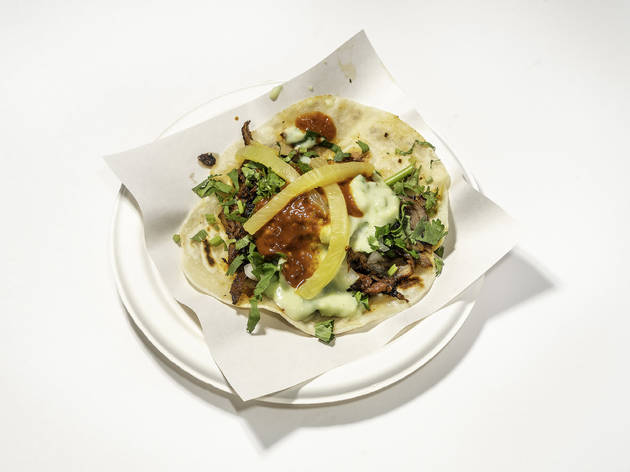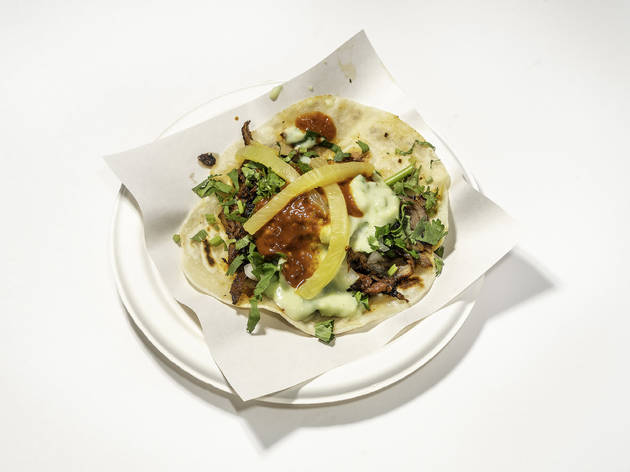 Photograph: Noah Fecks
9. Los Tacos No. 1: Adobada Taco
We'll be the first to admit Los Angeles has New York City's Mexican-food scene beat by a long shot, but when you're craving South of the Border eats, the Adobada Taco from Los Tacos No. 1 is our West Coast-approved champion. We're lucky to have three locations in Manhattan to get our hands on those made-from-scratch corn tortillas topped with red-chili adobada pork, that is also marinated with hints of pineapple and lime.
Best selling Time Out Offers