If you haven't had bottomless brunch on a boat, are you even really living?
Eat, drink, and party the day away with incredible views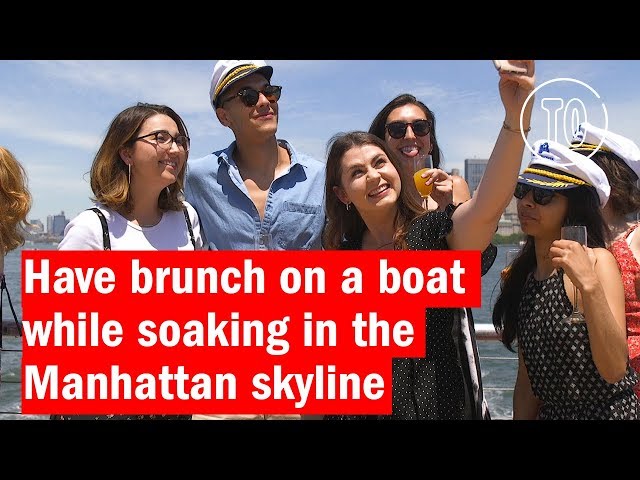 New York City is an amazing metropolis filled with endless entertainment, like some of the world's best theater on Broadway, globally recognized bars and restaurants and, of course, the iconic buildings and sights that the city is known for. The only problem you'll have in visiting the Big Apple (or living it up in the city you call home)? Packing as much as possible into one weekend without turning your bucket list into a chores list. To keep your weekend easy and breezy, Hornblower's year-round Bubbles, Beats & Brunch Cruise offers an escape from the hustle and bustle for guests 21 and older that's just the right mix of sightseeing, food and fun. All you have to do is climb aboard the yacht at Pier 15 at South Street Seaport, and Hornblower takes care of the rest.
On Saturdays and Sundays (only Sundays from November to March), the 75-minute cruise pulls away from the pier at 12:30pm (sail times end at 3pm). Once on board, claim a seat in the enclosed dining area, and fill your plate to overflowing from the brunch buffet (included in your ticket starting at $50!) , which is heavily laden with fresh-made mini waffles with loads of toppings, crispy fried chicken and doughnuts, plus the—ahem—healthier options like skewers of fresh fruit, cups of parfait, and veggie and cheese frittatas. And because you can never have too much of a good thing, there's a Bloody Mary bar and free-flowing mimosas that you can sip the entire cruise long while shaking your shoulders to the beats of the in-house DJ. The indoor space of the yacht has huge windows for taking in the scenery as you chow down—and that also means that rain or shine.
Once you've filled up on the delicious brunch feast, grab yet another glass of the unlimited mimosas to keep in hand as you show off your moves on the dance floor or explore the outdoor decks of the yacht to see gorgeous vistas of the city from every angle. As the yacht sails along New York's iconic waterways, you'll get up close and personal with views of the Brooklyn Bridge, Freedom Tower and the Statue of Liberty and can take selfies and photos with your friends that'll last a lifetime. After it's over, not only will you have refueled with a meal and crossed major items from your bucket list, but also you'll still have plenty of weekend left to enjoy everything else New York has to offer.