Improv Everywhere's No Pants Subway Ride took over the NYC subway (slide show)
Pranksters stripped down to their skivvies and took to the rails for the annual, multi-city celebration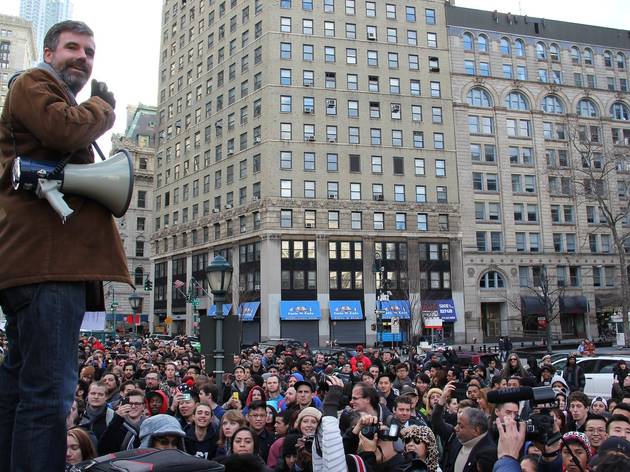 1/22
Photograph: Tessa Hartley
No Pants Subway Ride 2014
2/22
Photograph: Tessa Hartley
No Pants Subway Ride 2014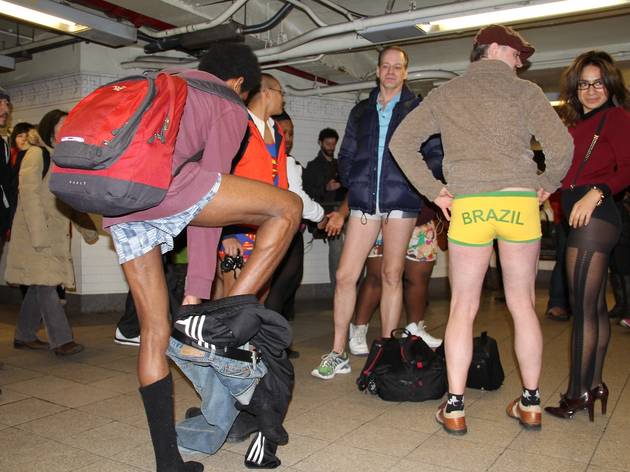 3/22
Photograph: Tessa Hartley
No Pants Subway Ride 2014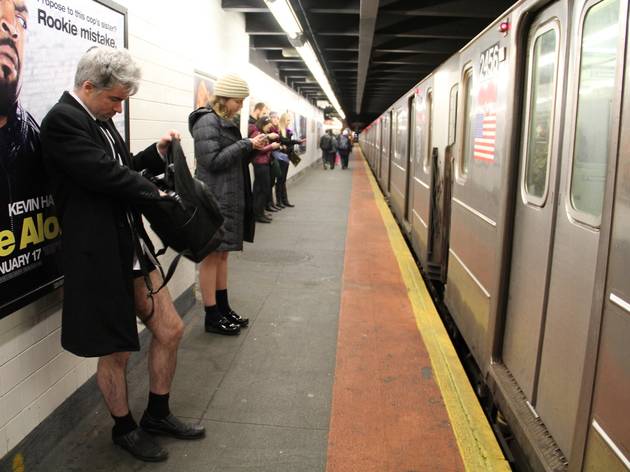 4/22
Photograph: Tessa Hartley
No Pants Subway Ride 2014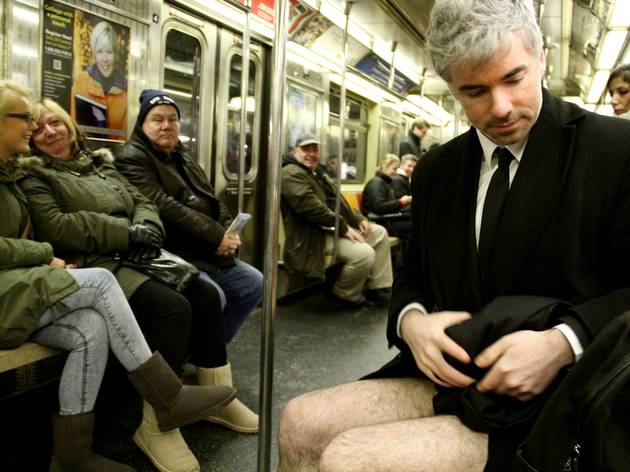 5/22
Photograph: Tessa Hartley
No Pants Subway Ride 2014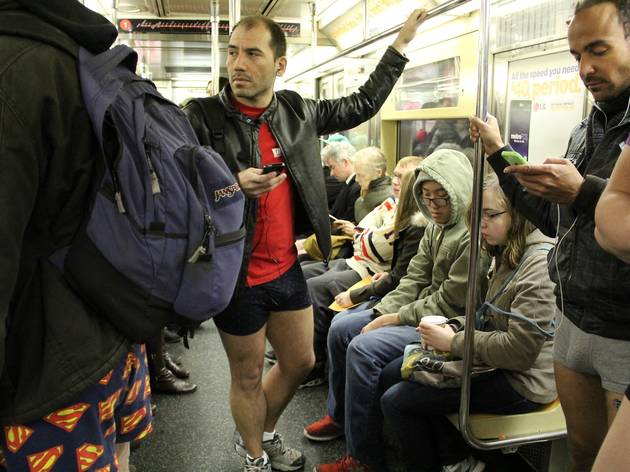 6/22
Photograph: Tessa Hartley
No Pants Subway Ride 2014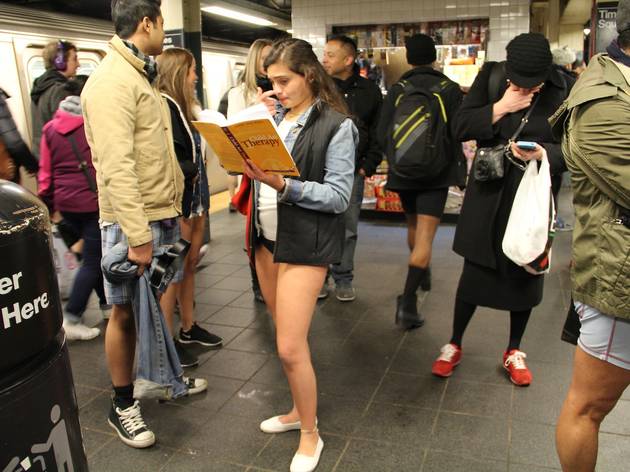 7/22
Photograph: Tessa Hartley
No Pants Subway Ride 2014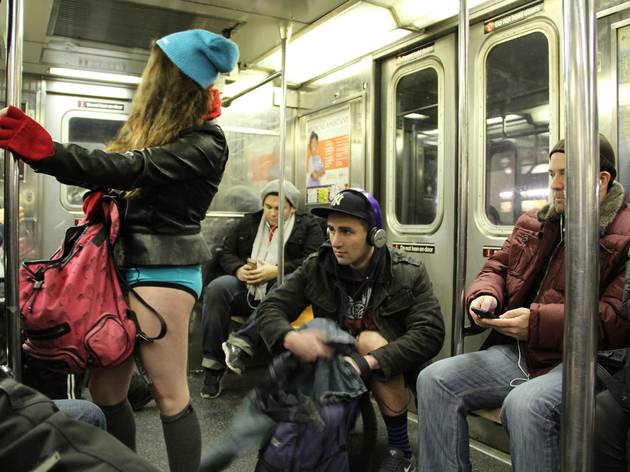 8/22
Photograph: Tessa Hartley
No Pants Subway Ride 2014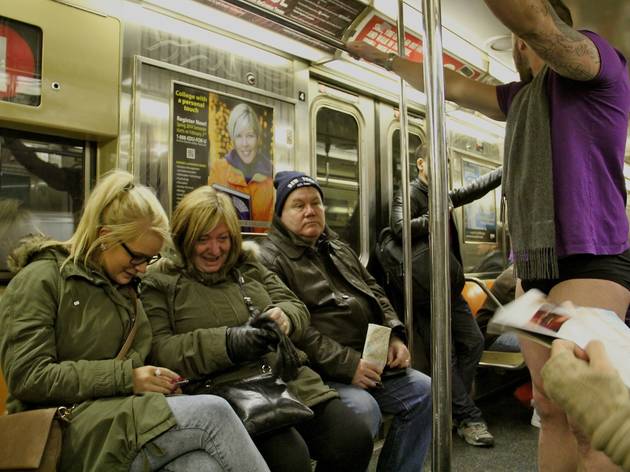 9/22
Photograph: Tessa Hartley
No Pants Subway Ride 2014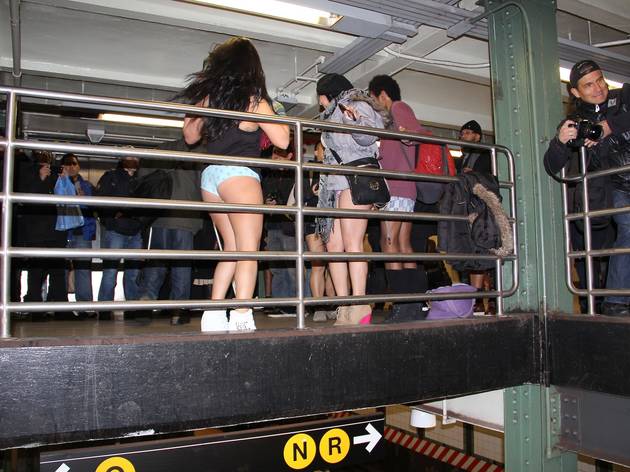 10/22
Photograph: Tessa Hartley
No Pants Subway Ride 2014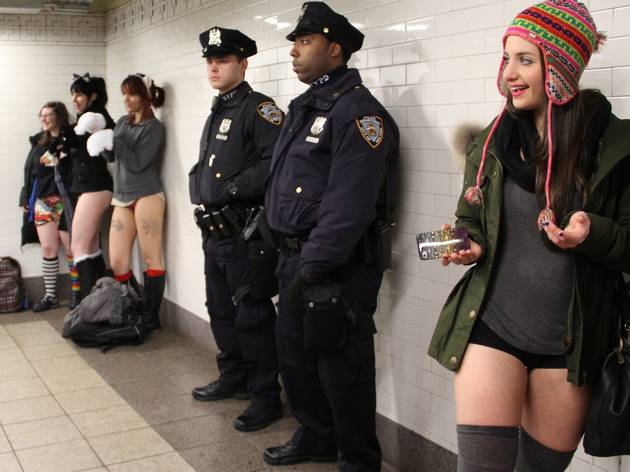 11/22
Photograph: Tessa Hartley
No Pants Subway Ride 2014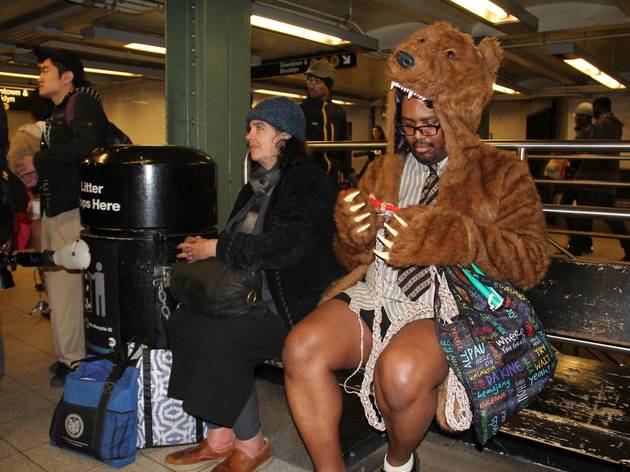 12/22
Photograph: Tessa Hartley
No Pants Subway Ride 2014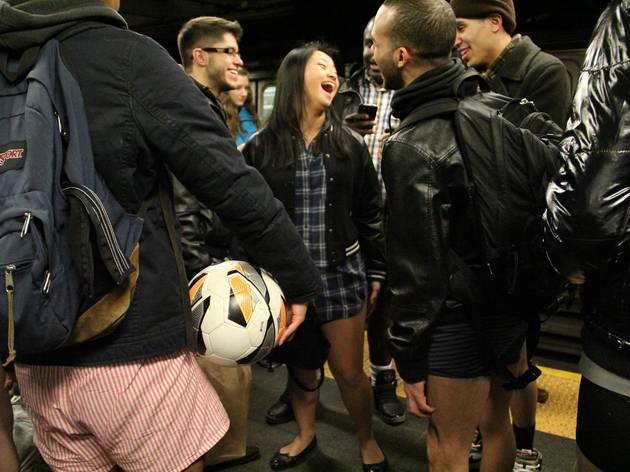 13/22
Photograph: Tessa Hartley
No Pants Subway Ride 2014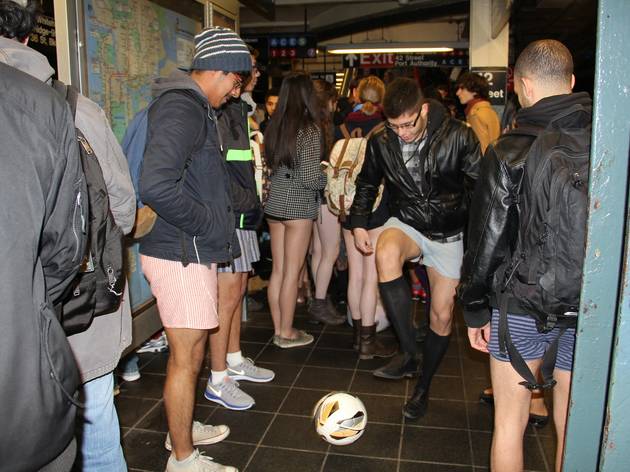 14/22
Photograph: Tessa Hartley
No Pants Subway Ride 2014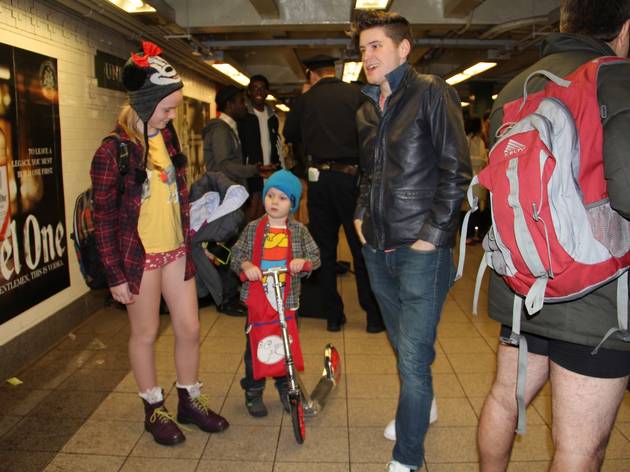 15/22
Photograph: Tessa Hartley
No Pants Subway Ride 2014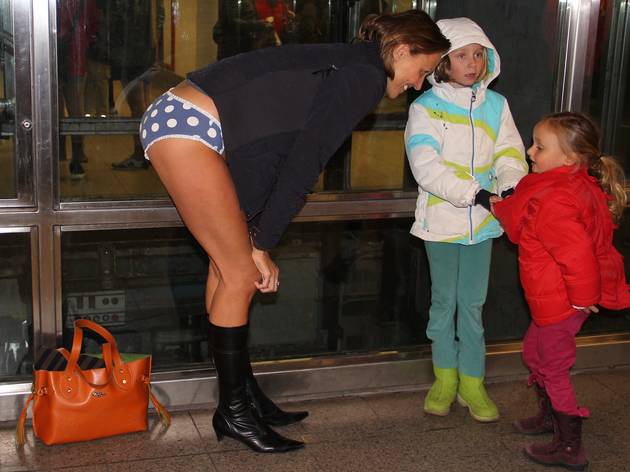 16/22
Photograph: Tessa Hartley
No Pants Subway Ride 2014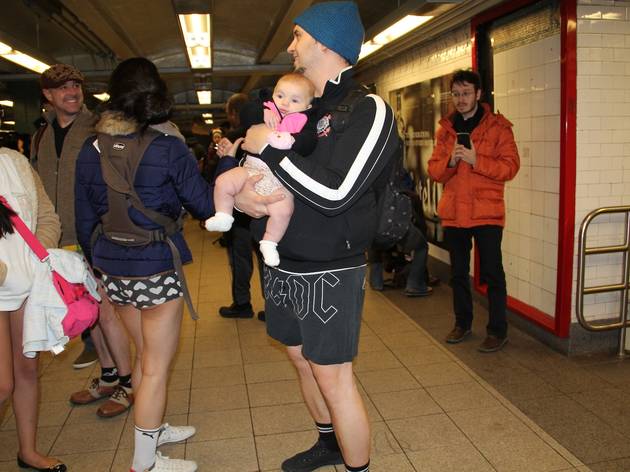 17/22
Photograph: Tessa Hartley
No Pants Subway Ride 2014
18/22
Photograph: Tessa Hartley
No Pants Subway Ride 2014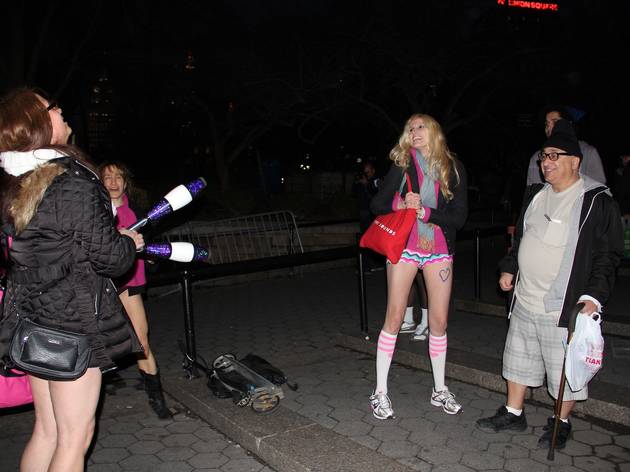 19/22
Photograph: Tessa Hartley
No Pants Subway Ride 2014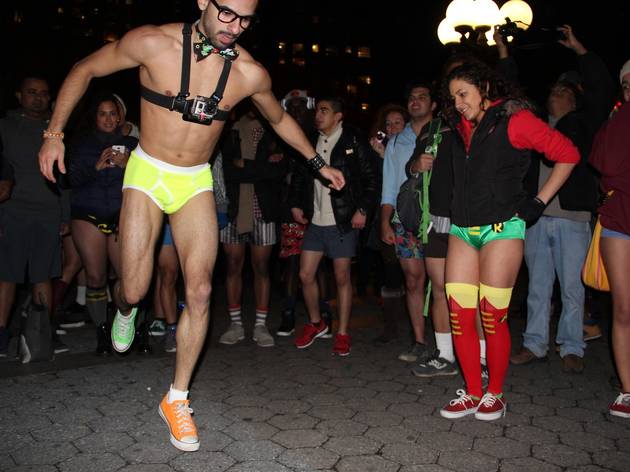 20/22
Photograph: Tessa Hartley
No Pants Subway Ride 2014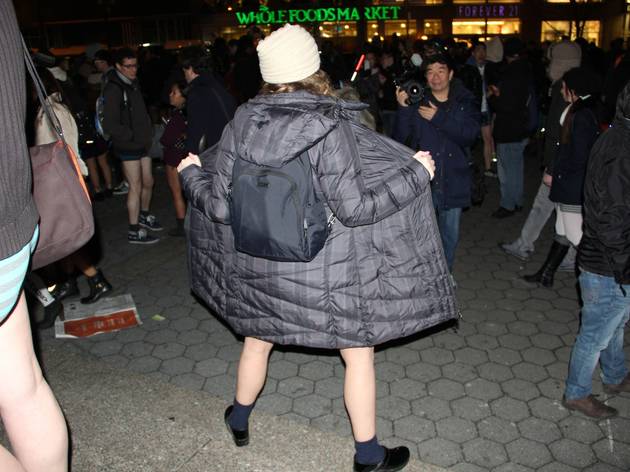 21/22
Photograph: Tessa Hartley
No Pants Subway Ride 2014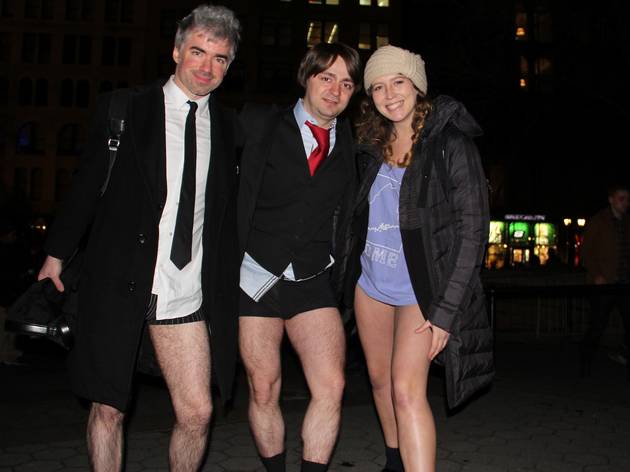 22/22
Photograph: Tessa Hartley
No Pants Subway Ride 2014
It's a good thing the polar vortex had passed through New York City before the weekend; we can't imagine how participants in this year's No Pants Subway Ride would have fared in below-freezing temps. But it was a downright balmy 45 degrees yesterday, and so thousands of brave folks stripped down to their underthings for Improv Everywhere's annual prank.

RECOMMENDED: The No Pants Subway Ride
Riders dropped trou on various subway lines, although at this point, we're guessing that most people weren't that surprised by the sight of bare legs and silly underoos during their afternoon commute. Participants converged at Union Square for a celebration before moving to Greenwich Village Country Club for an after-party. Fun times.
Click through the slide show above for shots from the festivities. Improv Everywhere also got its own photos of the event, and captured some video; check that out below.
Sponsored listing
Battery Harris
Vets of Village Pourhouse and the Taïm truck turn to Caribbean comfort food and Latin cocktails with this 144-seat bar. The Queens-born owners pay tribute to the Rockaways with the name—a nod to an abandoned beach bunker in Fort Tilden park—and shore-inspired decor, including colorful stained-wood interiors, a transparent geometric roof and a wraparound deck. Richard Gibbs (Caracas Arepa Bar) dispatches spiced plates like jerk chicken wings, jalapeño mac-and-cheese pie and roasted-corn-and-cabbage slaw tossed in a Scotch-bonnet vinaigrette. Rum-heavy tipples include the Double Impact (lemon, kumquat shrub, vanilla and orange-blossom water) and the Quest (lime, basil and Angostura bitters). Also on offer: nearly 20 domestic beers and four wines on tap.
Venue says: "Beach Bar and Kitchen! Mon, Tue & Wed Happy Hour 4-7PM, Thur SUNDUB (Reggae & Roots) Live Band, Fri & Sat DJs 11-4am, Sat and Sunday Brunch!"