Meet five types of only-in–New York apartment dwellers
Living in New York—yes, actually living—can be a bitch. Learn how to find that dream pad and simplify your space from those who've done it and lived to tell the tale.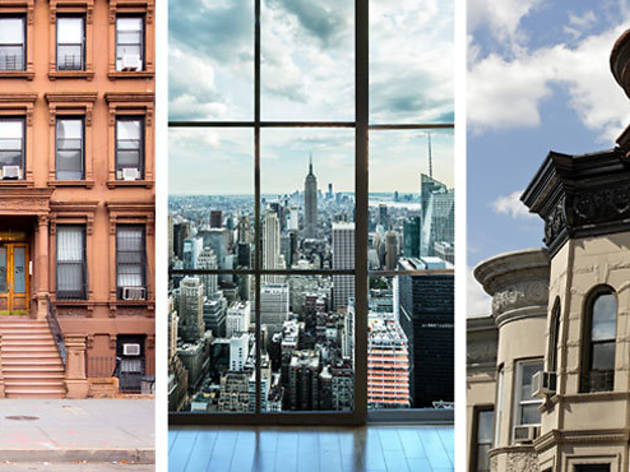 apartment
in NYC? Short answer:
Any way you can.
New Yorkers are a cunning bunch, and many people have found
creative ways
to get by, from subletting to
tourists
to living in their own closets. Below, you'll meet five very different types of apartment dweller with just one thing in common: You'll only meet people like this in New York.
Cameron Hunt and Karen Hobowsky; Williamsburg, Brooklyn
These lovebirds, who moved in together in April after just ten months of dating, may adore each other. But as locals know, the Big L isn't the only reason to take the next step in NYC. What sparked this couple's decision? Hunt needed to get out of his pad with the perpetually flooded basement: "My roommates would say, 'See you in Hell' whenever we had to go down there." But the studios Hunt looked at in the 'Burg were around $2,000—too pricey. "Moving in together allows us to get more bang for our buck," says former solo-dweller Hobowsky. How much bang? It saved the happy duo 20 percent from what they would have been paying seperately. Now they rave about their sunny one-bedroom with bay windows, an elevator and two balconies. Best of all? To quote Puff Daddy, a Romantic poet if there ever was one: "It's all about the Benjamins."
"Guy Incognito," Hell's Kitchen
Perpetual roommate "Guy"—we've changed his name to preserve his anonymity, as Airbnb's legality is still being sorted out—finally got a studio of his own in his early thirties. But as he started spending most of his time at his boyfriend's, he recognized the opportunity to make a quick buck—by renting out his place. (The going rate for a studio in Guy's 'hood averages around $180 per night. If he rents it out just two nights a week, that could add up to $1,440 in savings a month.) And he's not alone: In 2013, more than 7,000 New Yorkers listed spaces on on Airbnb, and for visitors, using the service has almost become the norm. Guy's experience has been overwhelmingly positive, save when he came home one night and found an orgy (kidding!).
Elizabeth Flores; Bushwick, Brooklyn
To make extra money while she was working on a film shoot outside the city, Flores sublet her pad (illegally) to a European couple. Then funding for the movie went bust—and she was literally forced into a corner: into a walk-in closet while her boarders took the bedroom. Her approximately seven-by-three-and-a-half foot digs consisted of a twin-bed mat and a rack of clothing. As if that weren't a tight enough fit, her dog slept there too. Weirdly, in New York, this scenario isn't unique. Just peep the Worst Room blog
(worstroom.com),
which showcases Craigslist ads like sharing a bunk bed for $400 per month. "My endless commitment to NYC has allowed me to embrace quirky survival tactics," says Flores, who got out of the closet two months ago.
Gordy Rogers; Park Slope, Brooklyn
Everyone hates a trustafarian, whether he's an exquisite princeling of Park Avenue or a downtown scenester whose skinny jeans can barely contain his bulging wallet. But there are plenty of regular New Yorkers who've hit the real-estate jackpot through sheer luck. And we hate them. Take Rogers (who, we must add, is a totally nice guy). His father and stepmother purchased his current Park Slope brownstone—complete with a garden—for $160,000 in 1993, a decade before Brooklyn became Brooklyn. "My dad has always believed real estate is the best investment," Rogers says. "Even though you never have to fix a pipe or deal with psycho tenants if you just buy stocks." He and his wife and two kids live a Huxtable lifestyle—they have the top two floors of the three-story building— that costs them less per month than a studio in Manhattan. Oh, and their savings allowed them to pay for their kids' private education, too. Jerk.
Alyssa, Paul and Meredith Kaufman Younger; Ditmas Park, Brooklyn
News flash: New York real estate is ridiculously expensive. In Ditmas Park, for instance—where Paul, his sister Alyssa and his wife, Meredith, now live—homes frequently sell for more than $1 million. Which is why joint buying (with either pals or family) has become increasingly common in NYC. "We understand why people advise against it," Paul admits. "It can be annoying to spend extended periods hanging out with family members." Yes, yes it can. Their solution was to divide the abode into two units, each with its own entrance, four bedrooms, kitchen and three bathrooms. "The separate living spaces and the huge common areas give us the best of both worlds," says Alyssa, noting the 3,500-square-foot Victorian house's backyard and huge porch. "What we pay for an eight-bedroom house, we paid before for two one-bedroom apartments that this house would eat for a snack," adds Meredith. Eight bedrooms? Wait, when can we move in?