Meet the new Duane Park and Bowery Poetry
Two downtown arts venues—the former Bowery Poetry Club and Tribeca transplant Duane Park—join forces in the East Village.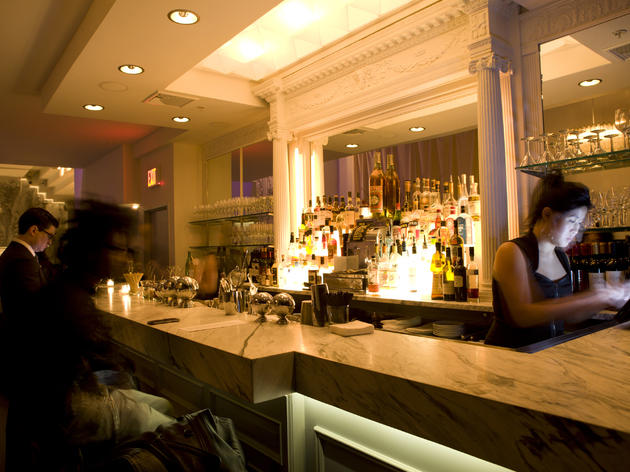 1/13
Photograph: Virginia Rollison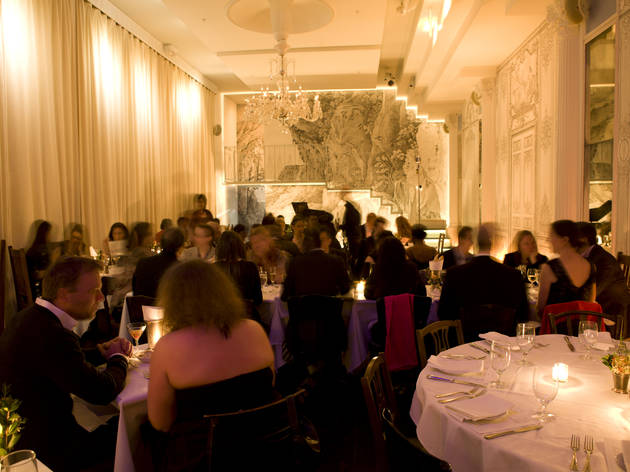 2/13
Photograph: Virginia Rollison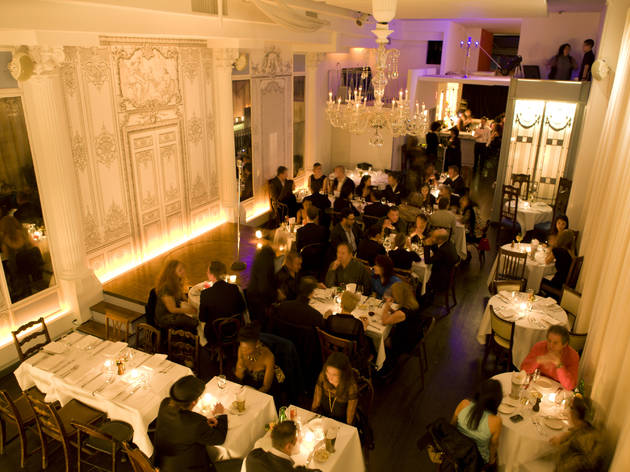 3/13
Photograph: Virginia Rollison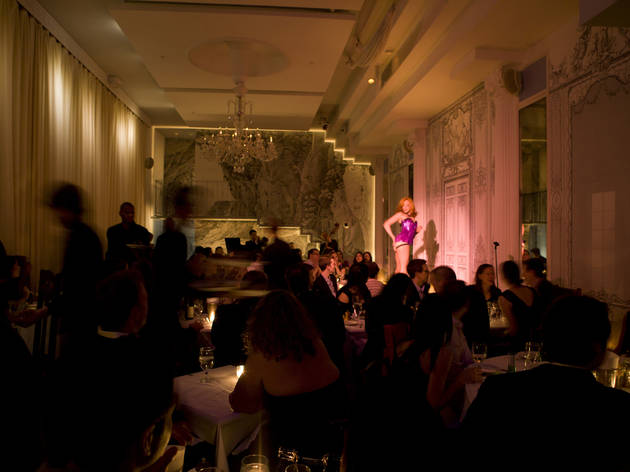 4/13
Photograph: Virginia Rollison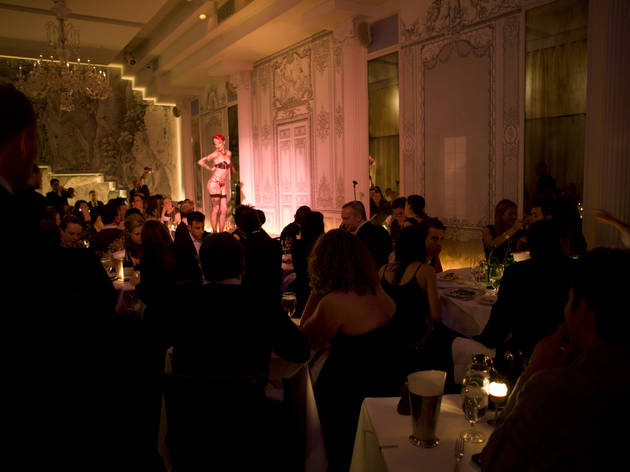 5/13
Photograph: Virginia Rollison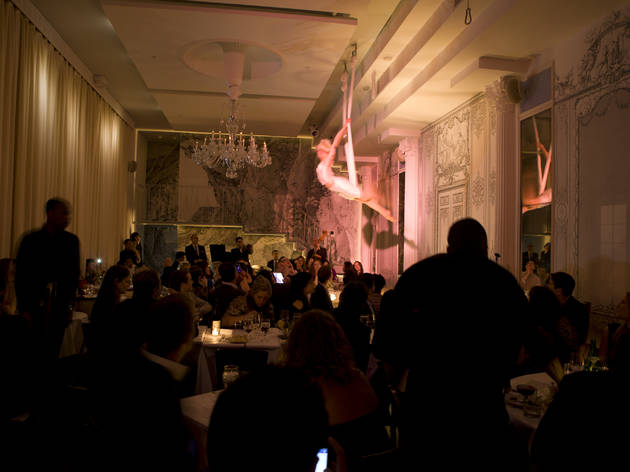 6/13
Photograph: Virginia Rollison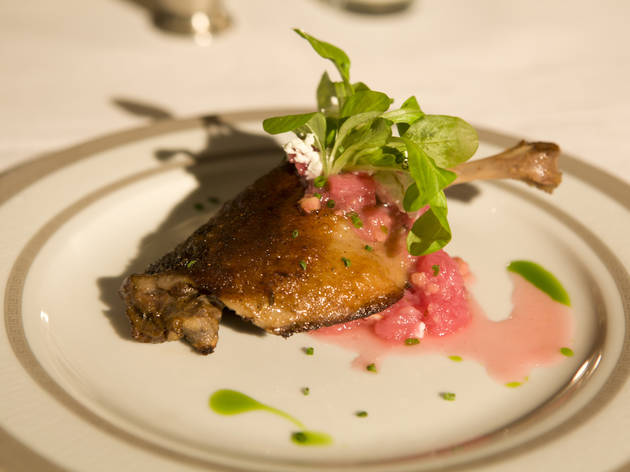 7/13
Photograph: Virginia Rollison
Warm duck confit with rhubarb and walnut compote at Duane Park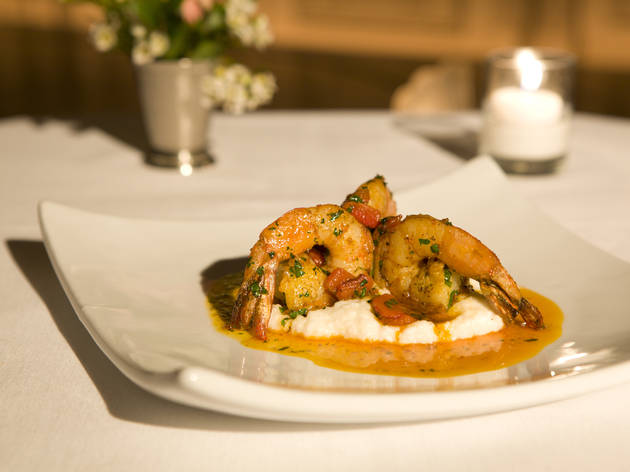 8/13
Photograph: Virginia Rollison
Roasted shrimp with Nora Mills cheese grits at Duane Park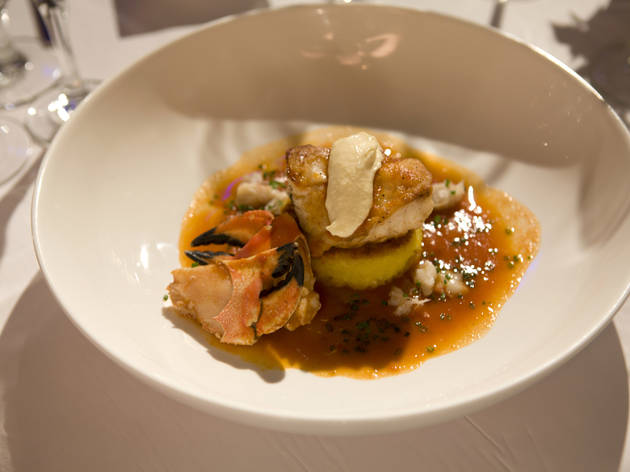 9/13
Photograph: Virginia Rollison
Pan roasted monk fish with saffron risotto cake and Jonah crab claw at Duane Park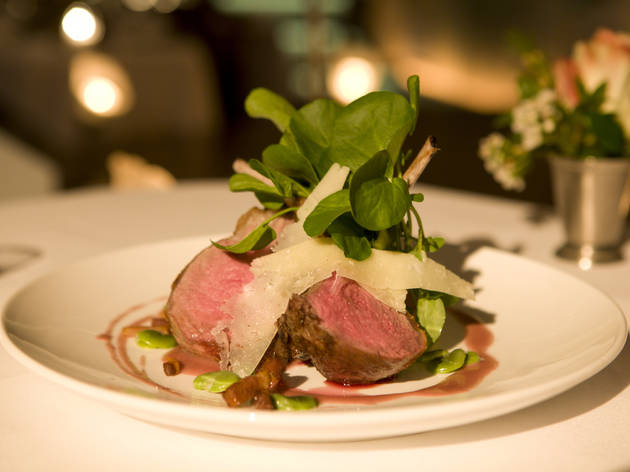 10/13
Photograph: Virginia Rollison
Roasted rack of New Zealand lamb with polenta cake and beurre rouge at Duane Park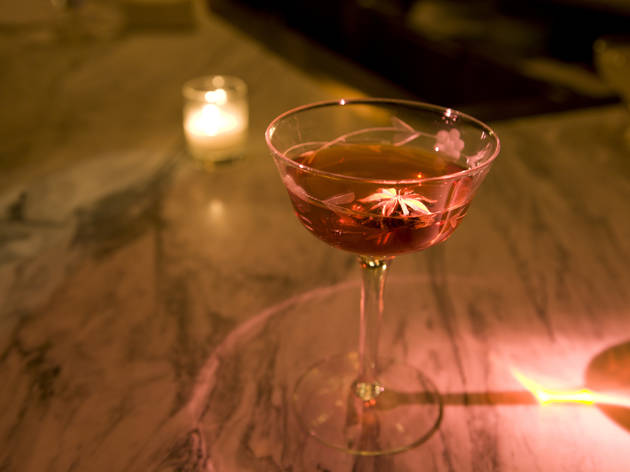 11/13
Photograph: Virginia Rollison
The Widow cocktail at Duane Park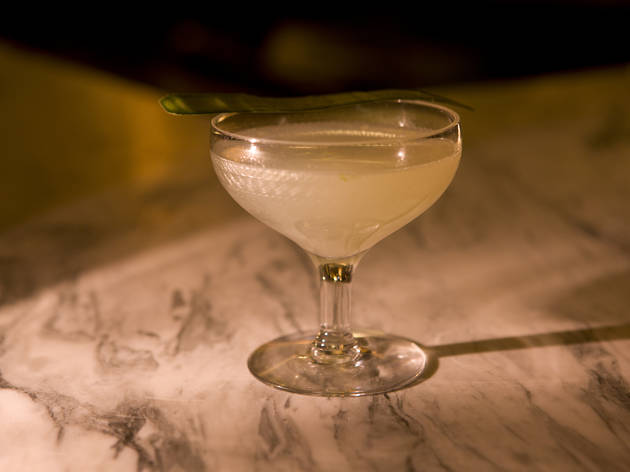 12/13
Photograph: Virginia Rollison
Cucumberade cocktail at Duane Park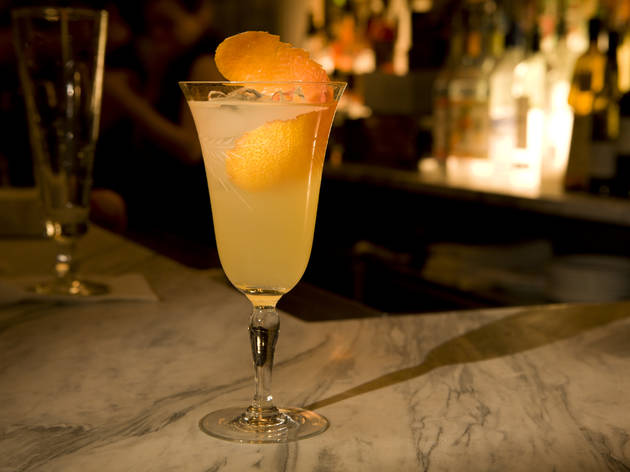 13/13
Photograph: Virginia Rollison
Midnight Lover cocktail at Duane Park
For a city that thrives on its subcultures and scenes, there are surprisingly few poetry-dedicated spots in New York. So when verse-slinger and event organizer Bob Holman opened the Bowery Poetry Club in 2002, it was with the gambit that, as he puts it, "poetry would be able to sustain itself seven nights a week, from the coffeeshop in the morning to the end of the slam at night."
Though that business model didn't ultimately shake out, a decade down the line Holman has found a canny compromise. The rechristened "Bowery Poetry" is joining forces with Southern-inflected supper club Duane Park to share the space at 308 Bowery, which closed temporarily last July. The location will operate as Duane Park from Tuesday through Saturday, and will be given over to poetry on Sundays and Mondays starting this week. This mash-up of spoken word with burlesque and variety aims to ensure the ongoing survival of both in the neighborhood.
Last year, both venues were at a crossroads. At Duane Park's previous location in Tribeca, the landlords were raising the rent beyond the club's means. Meanwhile, Bowery Poetry Club was looking to rejigger its business model. Holman and Duane Park owner Marisa Ferrarin, who are old friends, made the decision to fuse the two ventures.
"It's a perfect match," explains Ferrarin. "Tribeca was the totally wrong area for us—it's a very sleepy neighborhood. Here, we'll actually get people walking in off the street." The relocation involves a complete overhaul of the old BPC space, courtesy of British artist Paul Etienne Lincoln, to re-create the glamorous New Orleans–style aesthetic of Duane Park's previous digs. "We're turning it into a magnificent palace. It's going to be gorgeous," says Ferrarin.
For Holman, the partnership relieves the financial pressures of running the venue full-time, allowing him to refocus on his original goal: "to give poets a place to speak their words." He says, "I'm a poet; I'm not really wanting to be on the business end. And Duane Park knows how to run a business."
The new venture fits firmly in the continuum for the neighborhood, whose history as a downtown arts hub dates back to the early 19th century. "It's really the birthplace of the populist arts in New York," says Holman. "Up and down the Bowery, you'll find the birthplace of vaudeville, tap dance, burlesque, Yiddish theater, the punk scene, free jazz.… I see the programming that's going on at Duane Park as a continuation of that."
308 Bowery between Bleecker and E Houston Sts. Bowery Poetry: 845-304-4318, boweryartsandscience.com. Duane Park: 212-732-5555, duaneparknyc.com.
Coming soon
The Tassel Room
Duane Park's regular Saturday night show continues post-relocation, featuring classy burlesque and old-school jazz. Irrepressible downtown impresario Murray Hill hosts, performers Amber Ray and Gal Friday twirl the titular tassels, and swing quintet the Stiff Gimlets provides the soundtrack. The price also includes a three-course feast with your choice of dishes from the Southern-inspired menu, such as spicy Creole bouillabaisse. Sat 16 at 8, 10:30pm; $80–$90
Garifuna-Breton Party
Bowery Poetry rings in its reopening with a shindig dedicated to two endangered languages—a cause championed by Holman, who's currently shooting a documentary for PBS called Language Matters. The night will feature live music, dance and poetry from the Breton (from northern France) and Garifuna (from Central America) cultures, plus speakers of both tongues who live in NYC. Mon 18 6–11pm; $10