Midsummer Night Swing in NYC guide
Dance beneath the stars at Midsummer Night Swing—one of the biggest outdoor dance parties this summer in NYC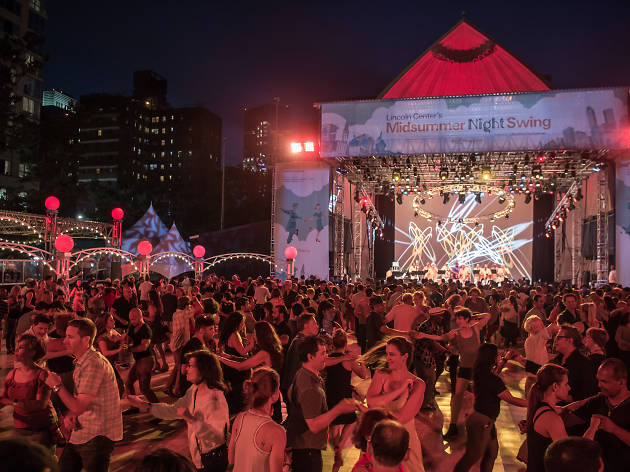 Midsummer Night Swing brings together the best of music and things to do outside, but we have a few tips to help you make the most of the three-week festival. Lovely Damrosch Park at Lincoln Center can get crowded, so be sure to book in advance and get there when the dance floor opens at 6pm. Pro tip: Purses and backpacks must be left at the bag check, so ladies, you'll need a frock with pockets. Whether your favorite dance genre is swing dancing or salsa dancing, this event has a night for you. People who really love to get down should go on June 27 and July 2 when the four hours of dancing are followed by an additional hour-and-a-half of silent disco. (DJs spin tunes channeled directly into wireless headphones.) Don't be bummed if a particular night sells out—you'll still be able to hear the music and dance the night away from outside the tent with other toe tappers in Damrosch Park.
RECOMMENDED: Full guide to things to do in the summer in NYC
What is Midsummer Night Swing?
For three weeks this summer, folks can twist, turn and twirl under the stars to jams provided by incredible live bands and artists such as trumpeter Bria Skonberg leading a new iteration of the Sisterhood Swing (now with seven other musicians, plus vocalist Catherine Russell). Other highlights include Los Hacheros salsa band, Bobby Valentin and his orchestra, Eyal Vilner Big Band, Charles Turner & Uptown Swing and many more. Although the term swing is included in the title of the main event, each one of the bashes covers a different genre of dance, including disco, ballroom, salsa and more. You can also attend a late-night Silent Disco on select nights!
When is Midsummer Night Swing?
Midsummer Night Swing begins Tuesday, June 25, 2019 and ends Saturday, July 13, 2019. Group dance lessons kick off at 6:30–7:15pm, so if you already know your bolero from your barrida, get there closer to 7:30pm once the live music begins.
Where is Midsummer Night Swing?
Midsummer Night Swing takes place at Damrosch Park at Lincoln Center (W 62nd St).
How do I get tickets for Midsummer Night Swing?
Tickets (four dances $60, six dances $84, season pass $170; advance tickets for select evenings $18, $22 day of) can be purchased here.
Midsummer Night Swing in NYC
Archive Midsummer Night Swing