New York attractions: Radio City Music Hall (slide show)
As the Art Deco landmark celebrates its 80th birthday, we take a peek inside and behind-the-scenes of the storied venue.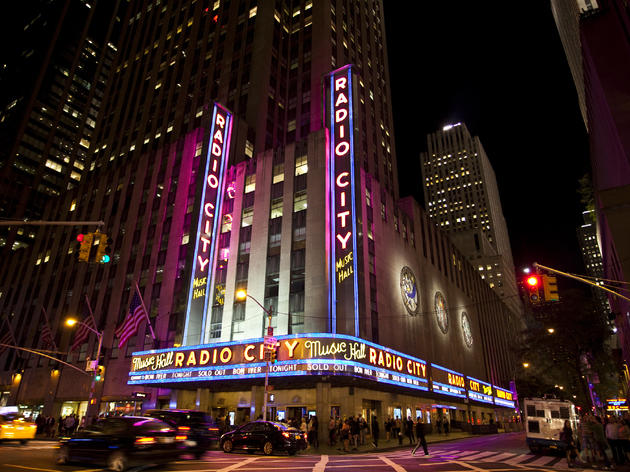 1/14
Photograph: Virginia Rollison
Theater entrepreneur Samuel "Roxy" Rothafel conceived Radio City Music Hall as a lavish entertainment center that the average person would still be able to afford. Choreographer Martha Graham, actor Ray Bolger and singer-comedian Gertrude Niesen performed on opening night.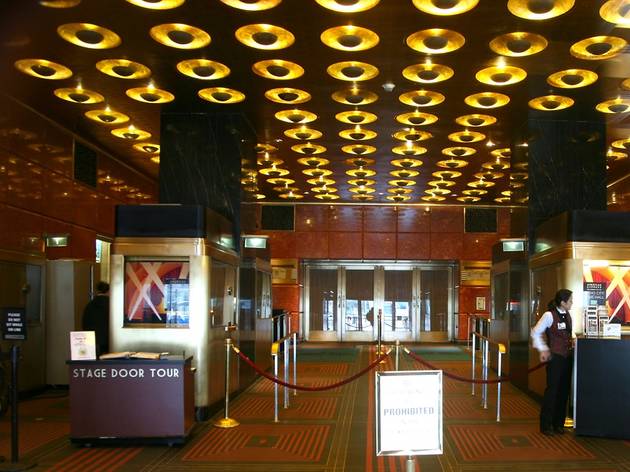 2/14
Vincent DeJardins
More than 300 million people have visited Radio City Music Hall over the past 80 years.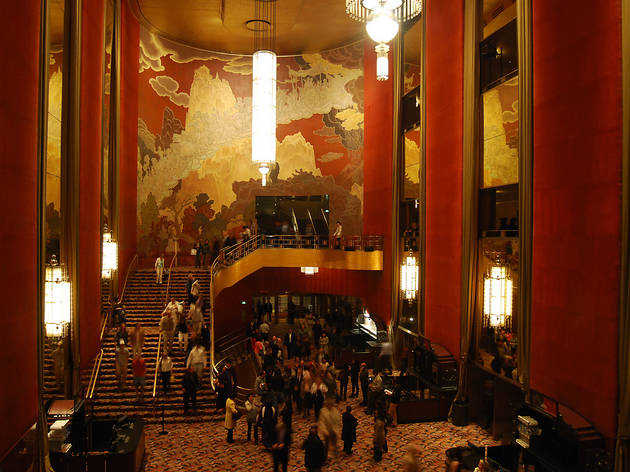 3/14
Allistair via Flickr
Radio City Music Hall's opulent foyer boasts 60-foot-high ceilings, from which lavish draperies and chandeliers hang. The interior was restored in 1979, when the building was declared a New York City landmark. According to tour guide Joyce Hancock, "The interior of the theater was designed to look like an ocean liner, from the slightly ramped entrance in the ticket lobby and the oval shape of the foyer, to the mezzanine sections, which resemble the decks of a ship."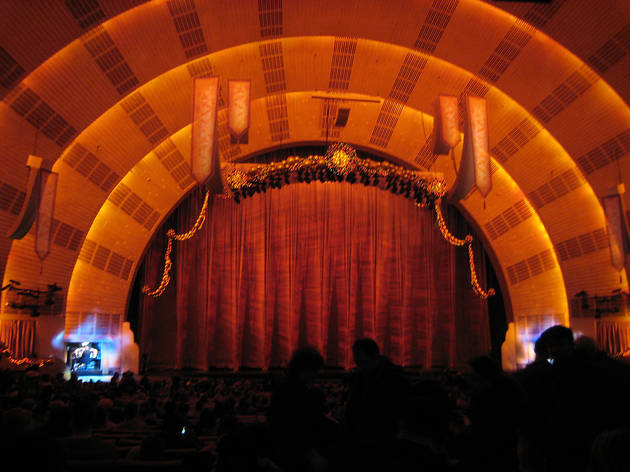 4/14
Photograph: Virginia Rollison
Industrial designer Donald Deskey modeled the stage and proscenium after a setting sun. The stage is 60 feet high and 100 feet wide, and its iconic gold curtain is the world's largest draperies.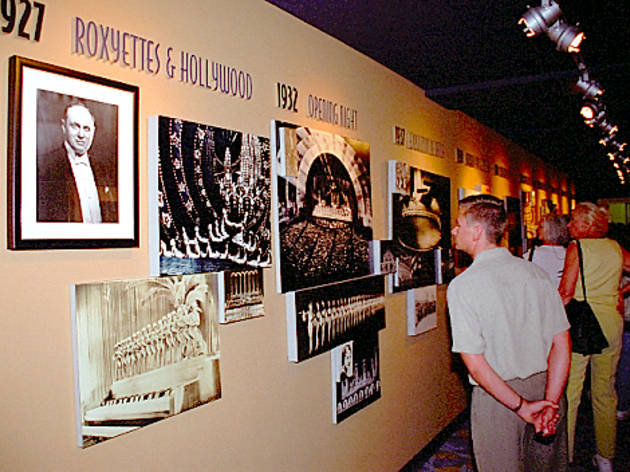 5/14
David Paul Ohmer via Flickr
The Radio City Stage Door Tour takes visitors through the venue's collection of memorabilia, including vintage photographs of celebrities who have performed there. Those A-listers include the likes of Frank Sinatra, Ella Fitzgerald and Ray Charles.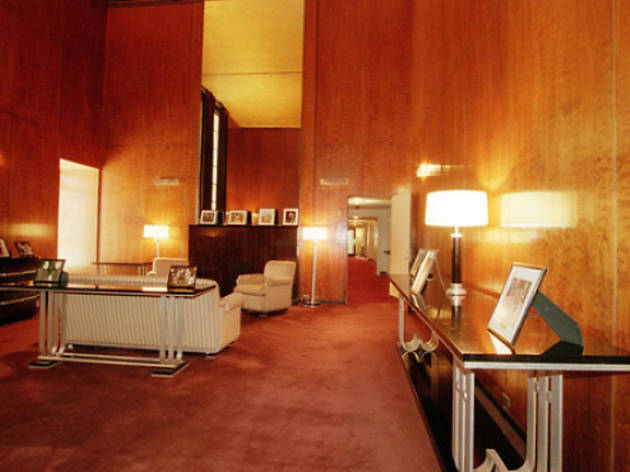 6/14
Photograph: Courtesy of Radio City Music Hall
When he was designing the building, Rothafel decided that he wanted his own lavish digs inside the Radio City, and had an exclusive suite constructed on the fifth floor. Glamorous touches in the space include 20-foot-high domed ceilings, cherrywood walls and an intimate dining area. Rothafel never actually moved in, but today the room (dubbed Roxy's Suite) is reserved for performers and other VIPs.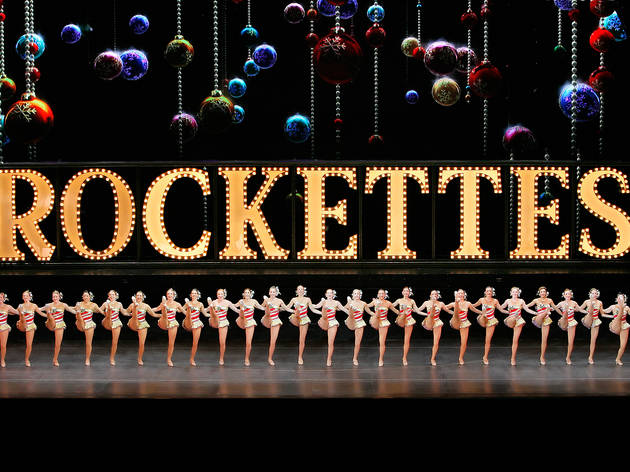 7/14
Photograph: MSG Entertainment
Since the dance company's inception in 1925, more than 3,000 women have performed as part of the troupe. They first performed as the Rockettes at Radio City Music Hall in 1927.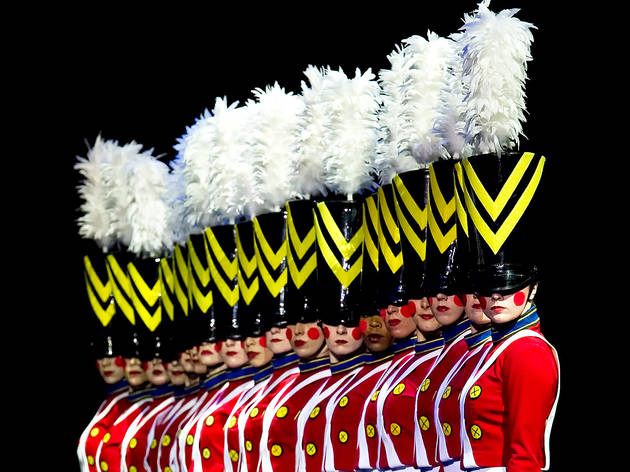 8/14
Photograph: MSG Entertainment
In addition to measuring between 5'6" and 5'10" in height, any womann auditioning for the Rockettes must be proficient in tap, jazz, ballet, and of course, must be able to perform the troupe's iconic eye-high kicks. The stature requirement is in place to help create the illusion that every member is the same height; the tallest stands in the middle of the line, and the women on each side are progressively shorter.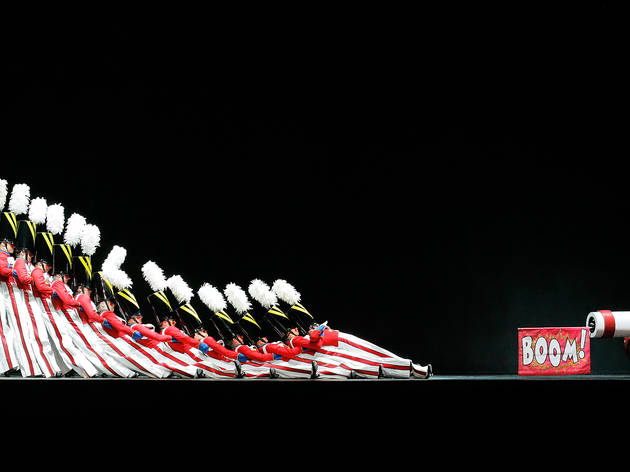 9/14
Photograph: MSG Entertainment
Toy Soldiers, performed during the Radio City Christmas Spectacular, is among the Rockettes signature routines and includes this precision-timed, cascading "fall."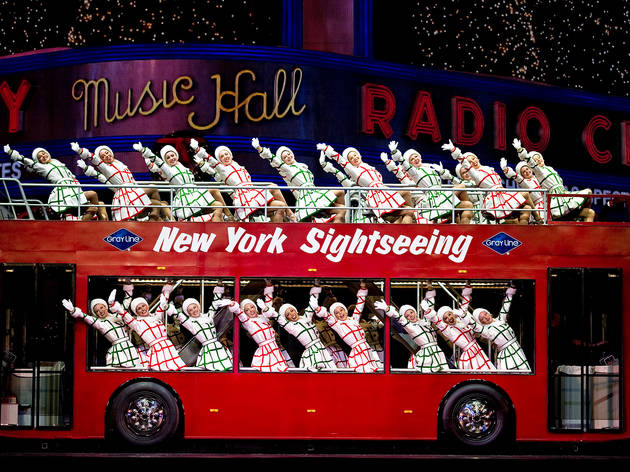 10/14
Photograph: MSG Entertainment
Another New York City icon—the double-decker Gray Line bus—first appeared in the Radio City Christmas Spectacular in 2007.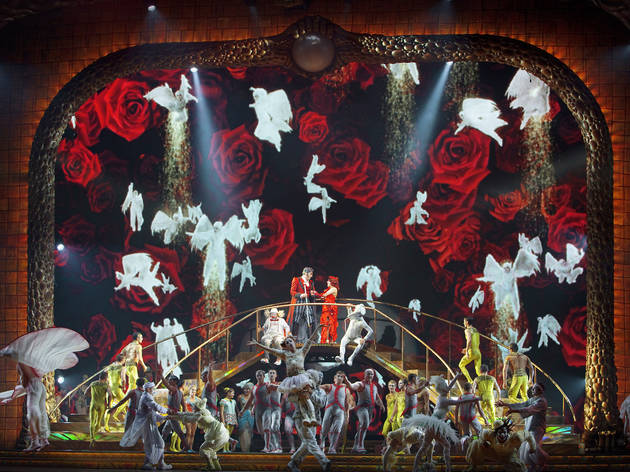 11/14
Photograph: Richard Termine
Among the talented acts to have graced the Radio City Music Hall stage is Cirque du Soleil, which took up a residency at the venue in 2011 and 2012 for its show Zarkana.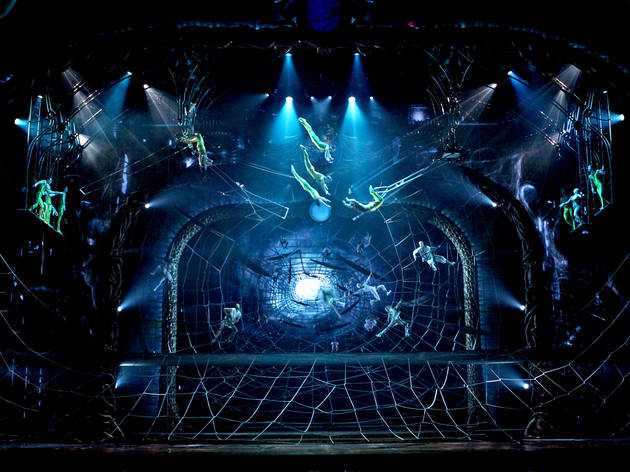 12/14
Photograph: Richard Termine
The acrobats of Cirque du Soleil perform awe-inspiring catch-and-release moves as part of Zarkana at Radio City Music Hall.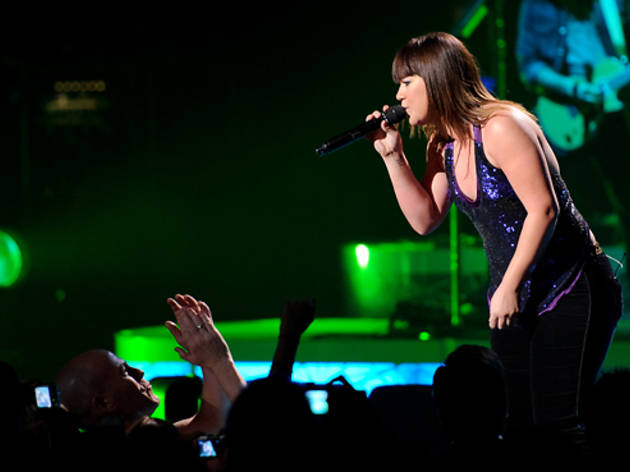 13/14
Photograph: Jon Klemm
The original American Idol, Kelly Clarkson, recently took the stage at Radio City Music Hall for her Stronger tour.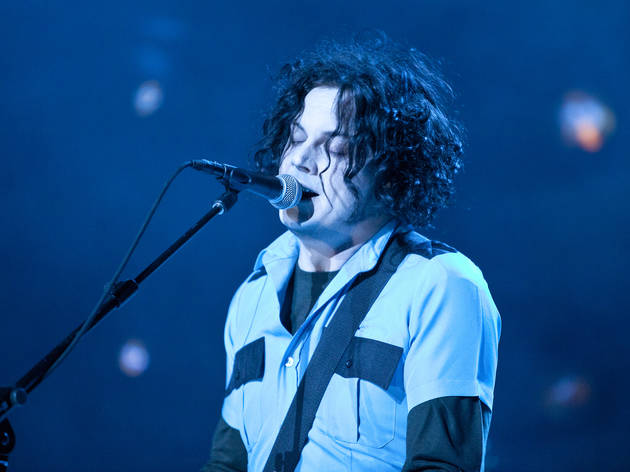 14/14
Photograph: Virginia Rollison
Former White Stripes frontman, Jack White, performed at Radio City Music Hall in support of his debut solo album, Blunderbuss.
Sponsored listing
Amami Sushi
This izakaya-style restaurant in Greenpoint offers all sorts of Japanese favorites, from yakitori to ramen to sushi and sashimi. Owner Nick Wang puts a focus on quality, and the restaurant sources only high-quality seafood and free-range meats. Amami even ferments its soy sauce in house. But before you order dinner, why not start with a signature cocktail, like the Ms. Daisy with saffron-infused gin, yuzu sake and lime juice ($12)? Notably, the expansive drink list also features sake by the bottle and Japanese whiskies. Now, on to the food: The vast menu includes every variety of sashimi, hand roll and specialty roll you can think of. If that doesn't tempt you, maybe the miso-glazed black cod ($6), soy-glazed pork buns ($7) or grilled squid with basil and ginger ($9) might. Or perhaps you'd like a steaming bowl of the tonkatsu ramen ($15) with pork belly and a soft-boiled egg—and another cocktail to wash it down, of course.
Venue says: "Try our delicious authentic Japanese weekend brunch specials and signature cocktails!"