New York history: New York City buildings then and now
Find out the secret history of New York buildings like Max's Kansas City, the '21' Club and Madison Square Garden.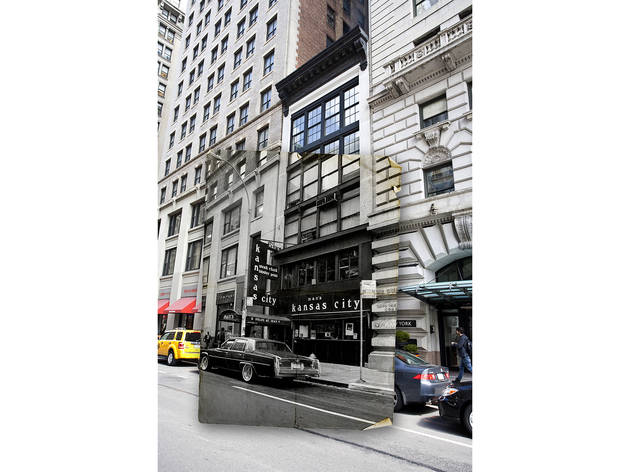 1/2
Photograph: Camille A Fernandez
Then and now: Max's Kansas City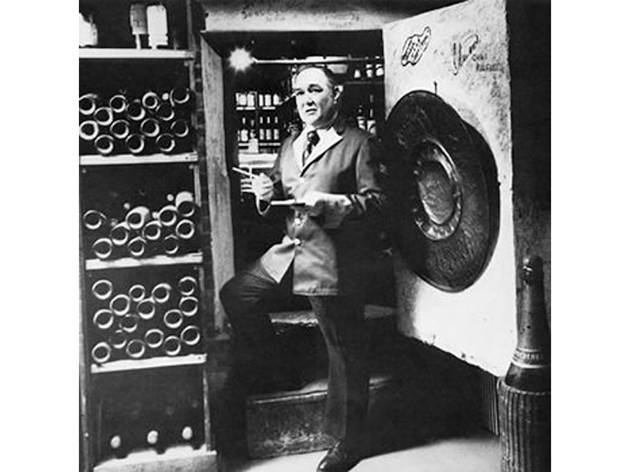 2/2
Photograph: Courtesy 21 Club Archive
Then: The '21' Club's secret wine vault
135 Broadway at Bedford Ave, Williamsburg, Brooklyn
Then: Kings County Savings Bank
Now: Williamsburg Art and Historical Center
Long before tourists and hipsters arrived, Williamsburg was a booming industrial area; this building, erected in 1867, served businesses and their owners. The first floor held the bank itself; the second, a ceremonial room; and the third, a ballroom for high-society functions. The institution closed in the 1980s, and artist Yuko Nii bought the building in 1996, transforming it into a space to support the neighborhood's growing art community. Inside the structure, which is on the National Register of Historic Places, you'll find its original cast-iron columns, chandeliers and woodworked walls.
19 W 52nd St between Fifth and Sixth Aves
Then (and now): The '21' Club's secret wine vault
This schmancy bar and restaurant's origins are less than pure—owners Jack Kriendler and Charlie Berns opened it as a speakeasy in 1930. (It was just one of several illegal bars the pair operated throughout Prohibition.) The duo made clandestine improvements to the building that allowed the establishment to flourish: Liquor bottles were hidden using trigger systems and tipped shelves, and a secret passageway that led to the wine cellar was concealed by a false wall covered with hanging meats. These all came in handy in 1932, when the restaurant was raided by federal agents; they found no trace of liquor.
Ave M at 15th St, Midwood, Brooklyn
Then: Vitagraph Company Studios
Now: The Shulamith School for Girls
Vitagraph opened in 1906, using Midwood's open, rural space for its silent films, including World War I propaganda movies, Westerns and literary adaptations. Its stars included comedian John Bunny, Florence Turner, Norma Talmadge and Maurice Costello (Drew Barrymore's great-grandfather). In the late 1960s, the studio was converted into a Jewish girls' school; all that remains of the production company is a tall smokestack located near the Avenue M subway station, with the word VITAGRAPH emblazoned vertically on it.
213 Park Ave South between 17th and 18th Sts
Then: Max's Kansas City
Now: An apartment building
Throughout its tenure, Max's was the place to be for counterculture figures, from 1960s artists and poets to 1970s glam- and punk-rockers. The Velvet Underground recorded a live album here in 1969, near the end of its career; Bruce Springsteen played an early New York City show at the venue in 1972; and Sid Vicious started his short-lived post–Sex Pistols solo career here with a performance in 1978. The club officially shuttered this location in 1981 and—like many other legendary venues in the city—it's now a nondescript building.
Then: Madison Ave at 26th St
Now: Seventh Ave at 33rd St, atop Penn Station
There've been four iterations of this iconic arena: The very first version was built at Madison Avenue and 26th Street in 1879 (hence the name). It held 10,000 seats and frequently hosted boxing matches, but was demolished and replaced by a new edifice in 1890. That second version became notorious after architect Stanford White was shot and killed on its roof by his mistress's husband. The third MSG was located on Eighth Avenue and 49th Street, where it stayed for 40 years before moving, in 1968, to its current location on Seventh Avenue between 33rd and 31st Streets.
Book now
Read more
Then: 1341 Sixth Ave between 54th and 55th Sts
Now: 141 W 54th St at Sixth Ave
During its midcentury heyday, the glitzy Ziegfeld Theatre was home to musical performances, film screenings and, for a brief period, a television studio (The Perry Como Show filmed live from the stage). The original Art Deco building was demolished for skyscraper construction (it's now home to AllianceBernstein, an investment management company), and a second Ziegfeld, solely focused on movie showings, was built nearby. But part of the original theater lives on: One of the female faces from the original facade can be found at 52 East 80th Street.
Read more
Sponsored listing
Ayza Wine and Chocolate Bar
There's not much better than sipping wine while nibbling on a quality bar of chocolate, and Ayza Wine and Chocolate Bar has based their business off this perfect pairing. Try something off the restaurant's extensive wine list, or choose from its wide selection of chocolate martinis, ranging from raspberry with chambord and kahlua, to almond with frangelico and a hazelnut truffle, to peppermint with creme de menthe (each $15). For dessert, Ayza not only offers cacao-themed desserts like chocolate pizza ($9) and fondue ($11), but also gourmet chocolate bars from the likes of Jacques Torres ($2.50) and Cioccolada($3). It's not all sweets, either—diners can also choose from assorted cheese plates, charcuterie boards and tapas, or order off the full dinner menu. If you want it all—wine, cheese plates, tapas and chocolates—check out the group dining option, where $60 gives you access to a two-hour open bar and plenty of small plates.   
Venue says: "Our outdoor seating is completely open! Happy Hour is great at the patio. Every weekday, 3-6pm. Join us!"