Heads up! We're working hard to be accurate – but these are unusual times, so please always check before heading out.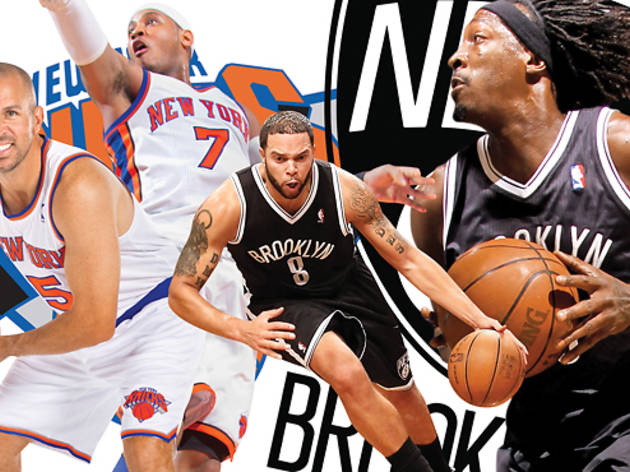 New York Knicks vs. Brooklyn Nets
Before Gotham's basketball teams face off in their first regular-season game, see how the two clubs compare.
New York Knicks
Location: Midtown
Home court: Madison Square Garden
Star player: Carmelo Anthony, small forward
Biggest off-season move: Letting Jeremy Lin take Linsanity to Houston
Celebrity boosters: Spike Lee, Woody Allen, Howard Stern
2012-13 prospects: The Knicks lost Lin, and gained Raymond Felton, Marcus Camby and Jason Kidd. To put things in perspective, Lin was about six years old when Kidd started in the NBA, playing for the Dallas Mavericks. Camby is just as senior, and power forward Amar'e Stoudemire has the knees of an even older man. So this season could get ugly.
A fan's defense: "It's an exciting time to be a Knicks fan because this has to be the year for them to reach the pinnacle. For the last few years, the Knicks compiled youthful assets and cap space. [The team] redeemed those assets in order to pull a superstar or two into the Garden's orbit and surround them with veterans. Carmelo's Knicks are quite literally the oldest team ever assembled in the history of basketball. Succeed, and excitement follows. Fail, and a different kind of excitement follows (e.g., bloodletting on the back pages)."—Dan Litvin, the Knicks FanBlog (knicksfanblog.net)
Brooklyn Nets
Location: Prospect Heights, Brooklyn
Home court: Barclays Center
Star player: Deron Williams, point guard
Biggest off-season move: Signing enough supporting talent to keep Williams happy
Celebrity boosters: Jay and Bey, duh.
2012-13 prospects: The Nets failed in their off-season attempt to land superstar big man Dwight Howard, but added some intriguing new players nonetheless. The front court of Brook Lopez and former Kardashian pawn Kris Humphries won't scare anyone, but the combination of Williams, Joe Johnson, Gerald Wallace and the young MarShon Brooks will cause serious matchup problems for opposing coaches.
A fan's defense: "The Nets have been embarrassingly awful these past few years. The franchise was halfway out the door in a rented building, with fan apathy matched only by player apathy. But now, all has changed. The Brooklyn Nets are as night-and-day a turnover as you can get in one season: a different state, arena, and color scheme; a turned-over roster; and a buzz never before seen. As someone who lived in Jersey and now resides in Brooklyn, I've never seen so much Nets gear worn in my life. Championship? Probably not. But they've already won over most of the borough. Now, with the strongest starting five since their last finals run and a deep bench, they'll be in a position to win every single night."—Devin Kharpertian, the Brooklyn Game (thebrooklyngame.com)
Due to the effects of hurricane Sandy, the game has been rescheduled for Nov 26.