New York like you've never seen it
Feast your eyes, Gothamites: You won't see these beautiful NYC views and strange sights on a postcard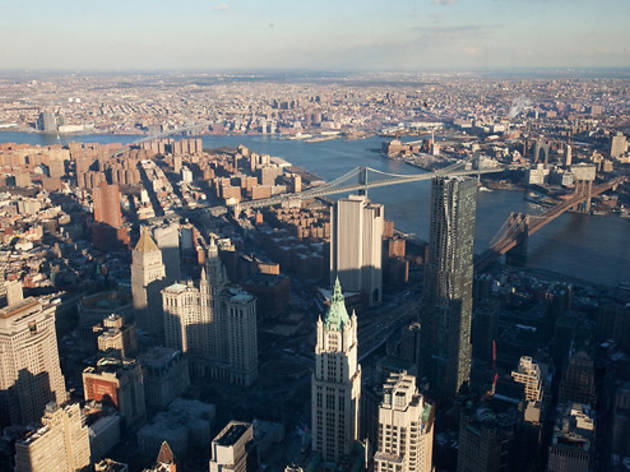 100th floor of One World Trade Center
and then congratulate yourself on living here while looking at pictures of
New York bridges
.
Photograph: Geo. P. Hall & Son/L
It's hard to imagine, but way back in the day (around the turn of the 20th century), trains traveled across the Brooklyn Bridge—along with trolleys, horse-drawn carriages and pedestrians. (And they all coexisted more peacefully than the pedestrians and cyclists who use the bridge nowadays.) This 1898 shot captures the Brooklyn side of the East River landmark, which opened 15 years earlier; it would be another 30 or so before trains stopped running over the bridge.
Photograph: Navid Baraty
Navid Baraty's images of New York City from above aren't just arresting—they're positively "How the hell did he do that?!?" inspiring. The photographer's trick: He straps a camera to his wrist and leans out through the windows of tall buildings to capture kinetic snaps of busy intersections. The resulting vertiginous images can be viewed huge at the Bowling Green subway station, where they're part of an MTA Arts for Transit exhibit running through the end of 2014.
Photograph: Jorge Quinteros
For Jorge Quinteros, inspiration comes from the parts of New York that no one really knows or possibly even notices. By capturing the vibe of off-the-beaten-path locales—a boat graveyard near Staten Island, a desolate subway tunnel in Bushwick—he shows a wholly unique (and compelling) side of the city. "I don't know every nook and cranny of New York," he admits, "but I'm absolutely more cognizant of neighborhoods than I ever was prior to tinkering with photography. I feel inexorably attached to New York and its streets."
Photograph: courtesy New-York Historical Society; Gift of Bill Cunningham
Utterly charming photographer Bill Cunningham is best known for wending through the city on his bike, looking for stylish Gothamites to shoot (most often for The New York Times). But an exhibit at the New-York Historical Society spotlights one of his early series, "Facades," in which the spiffy shooter dressed society ladies in ornate Victorian garb, then stuck them in front of quintessential Big Apple backdrops, like the Guggenheim and a graffitied subway car. "It's kind of a valentine to the city," explains Valerie Paley, who curated the exhibit (through June 15). "It brings back a time and a place."
Photograph: MTA/Patrick Cashin
Throughout his 13-year career as the MTA's photographer-in-residence, Patrick Cashin has traveled to New York's creepiest depths and most intense apexes. In addition to documenting the organization's Capital Construction projects (its marquee programs, like the Second Avenue subway and East Side Access), he's also climbed bridges, including the Verrazano-Narrows. Does he worry about working in such extreme locations? "Having a camera around your neck gives you a false sense of security," he says. "I don't take it lightly, but I don't really get nervous about it."
Photograph: Jennifer Arnow
When you're used to seeing New York from the ground, suddenly finding yourself at eye level with the tips of skyscrapers—hell, above the tips of skyscrapers—can be extremely disconcerting. The view from the near-top of One World Trade Center is just that—and soon enough, all New Yorkers will be able to experience its awe-inspiring vistas of Brooklyn, lower Manhattan and beyond. The 100th floor is the site of the forthcoming One World Observatory, tentatively scheduled to open in the spring of 2015. If you're afraid of heights, may we suggest bringing along some Xanax?