Heads up! We're working hard to be accurate – but these are unusual times, so please always check before heading out.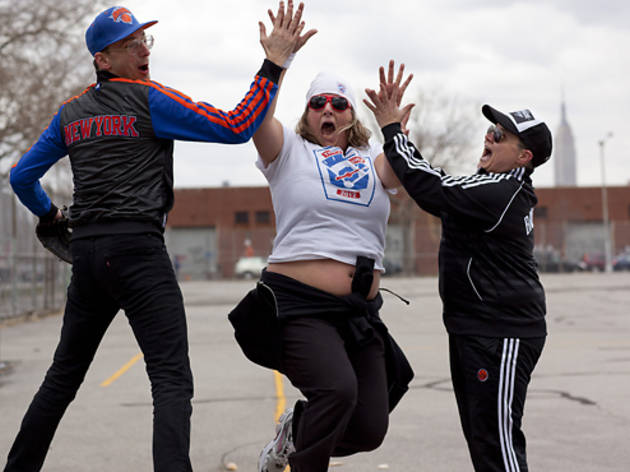 New York stories: Bridget Everett shares a New York memory
Guest blogger Bridget Everett tells us about Team Pressure, the softball league that helped her start her band and release her new album.
Welcome to "New York stories," in which some of our favorite New Yorkers tell a story—funny, heartwarming, sad, whatever—about this great city. This week, Bridget Everettremembers the softball league that provided a launchpad for her new album.

A few years ago, I was depressed—the kind of depressed where you sit in the dark and drink wine till you not only black out, but wet the bed. I called my friend Murray Hill and he said, "Kid, you gotta get some vitamin D. Come play softball with me and my buddies." Turns out Murray's buddies are a collection of New Yorkers: musicians, journalists, photographers, actors...you name it. Known as Team Pressure, the crew is led by Adam Horovitz, the equipment manager. After one game, I snapped out of my depression, joined the team and, in one of my prouder moments, was named Rising Star, MVP and co–Rookie of the Year for the 2009 season.
This team of New Yorkers has enriched my life in many ways, but probably most dramatically in the way they're helping my dreams come true. Downtown legend Murray Hill encouraged me to start a band, and I did—Bridget Everett and the Tender Moments. Neal Medlyn, a.k.a. Champagne Jerry, showed me how to let go. Adam Horovitz pushed me to write my own songs.
I was playing catch with Murray, Neal and Adam one afternoon in McCarren Park (as people in their thirties and forties do), and while I was shagging balls, I came up with a hook for a song all about titties. I thought it was pretty silly, but I sang it to Adam after practice and he said, "Sounds like a hit. Go home and write that shit." Adam not only plays bass in my band, but is one third of Rock and Roll Hall of Famers the Beastie Boys. I took his advice, and "Titties" became the lead single off our new album, Pound It.
Pound It is being produced by Adam and another Team Pressure buddy, Andre Kellman (clutch player). Drums are by pitcher and lover of socks Carmine Covelli. Remixes by 2010 MVP Max Tannone. Videography by third baseman Jose Tapia. These people (along with Mike "Magic Fingers" Jackson on guitar and Matt "Dr. John Tesh" Ray) are making my dreams a reality.
This album and the songs on it only could have been birthed in NYC. Our audiences at Joe's Pub are wild, boisterous and up for some seriously ridiculous shit. They keep coming back and allowing me to go further and further. If I hadn't moved to New York and met my teammates and had those audiences, this album would not be happening. My favorite New York moment will be the release of Pound It on October 1.
Bridget Everett and the Tender Moments perform at Joe's Pub tomorrow night at 9:30pm ($25, advance $22, plus $12 minimum); tickets are available on the Joe's Pub website.