The NYC Marathon 2019 route
Whether you're a runner or a bystander, check out the NYC Marathon 2019 route map spanning all five boroughs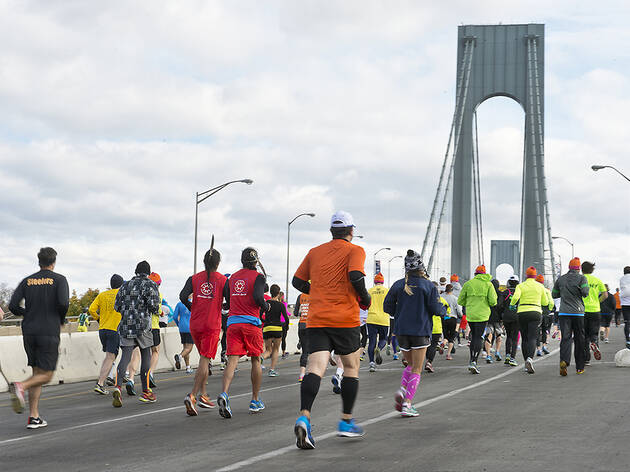 Folks running the the TCS New York City Marathon probably have the map memorized by now, but in case you're planning to watch, here is the NYC Marathon 2019 route. Since the 26.2-mile block party is one of the biggest and largest NYC events in November, you'll want to be prepared in time for race day. So make sure to study the route map below, and don't forget to pay attention to NYC Marathon road closures. You should also be aware of the best New York attractions near the course in case you need a bathroom break!
RECOMMENDED: Full guide to NYC Marathon 2019
Where does the NYC Marathon route start?
The starting line for the race begins at the Western end of Verrazano-Narrows Bridge on Staten Island.
Where does the NYC Marathon route end?
The finish line for the TCS NYC Marathon is at 67th Street on West Drive. To see the final yards of the race, you must purchase Grandstand Seating tickets here. The Family Reunion area in Central Park is open from noon to 5:30pm. There is also a standing spectator area located inside Central Park from Columbus Circle to the south end of the grandstands, about 500 feet before the finish line. Study the finish area map here.
Where can I watch the race?
Unfortunately, you can't watch the runners take off at the start of Verrazano-Narrows Bridge, but you can check out all the action through the WABC-TV, Channel 7 broadcast. If you want to support the runners in-person, The TCS NYC Marathon website suggests the following cheer zones.
Fourth Avenue, Brooklyn (Miles 2–4)
Williamsburg and Greenpoint, Brooklyn (Miles 10–13)
Pulaski Bridge (Mile 13.1)
First Avenue, Manhattan (Miles 16–18)
East Harlem (Miles 18–20)
Fifth Avenue, East 90th Street-East 105th Streets (Miles 23–24)
NYC Marathon 2018 route
Need some practice?
Strap on those running shoes and hit the road with these five beautiful running routes in New York City