Heads up! We're working hard to be accurate – but these are unusual times, so please always check before heading out.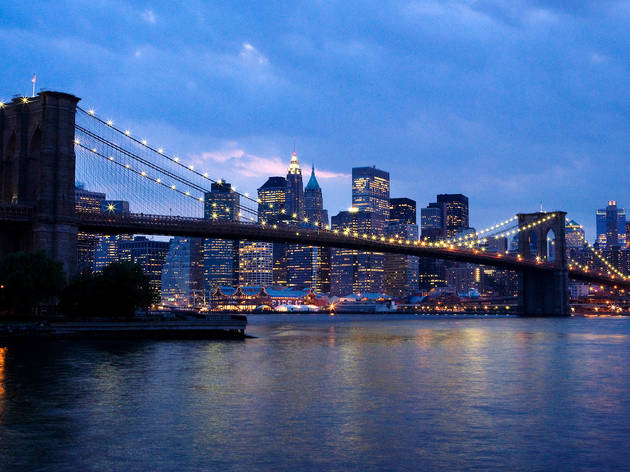 1/23
Photograph: Michael Kirby
Brooklyn BridgeWhen this mile-long landmark was completed in 1883, it held two noteworthy distinctions: It was the first structure to span the East River, as well as the longest suspension bridge in the world. While those accolades no longer apply, the crossing is still one of the city's finest sights. It's best seen on foot: Start on the Brooklyn side, where construction began in 1870, and pause to admire the Gothic archways as well as the views of Governors Island, the Statue of Liberty and the iconic skyline as you make your way to Manhattan. Enter at Cadman Plaza East near Prospect Street, Dumbo (nyc.gov).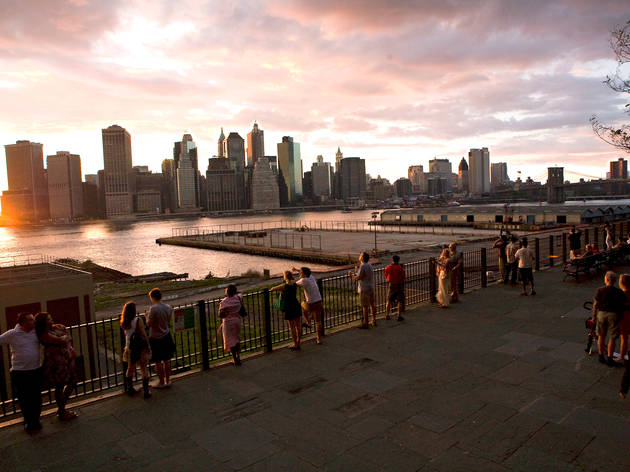 2/23
Brooklyn Heights PromenadeIt's easy to forget that you're standing atop the hectic Brooklyn-Queens Expressway while strolling along this esplanade, which opened in 1950. But the thoroughfare is inextricably linked to the Promenade's existence: Community opposition to the BQE—which was originally intended to cut through Brooklyn Heights—led city planner Robert Moses to reroute the highway along the waterfront. He also proposed building a park atop the road to block noise. Today, the space is popular with both tourists and locals, thanks to its stunning views of the Manhattan skyline and proximity to spots like Brooklyn Bridge Park. Columbia Heights between Middagh and Montague Sts, Brooklyn Heights (nyc.gov/parks)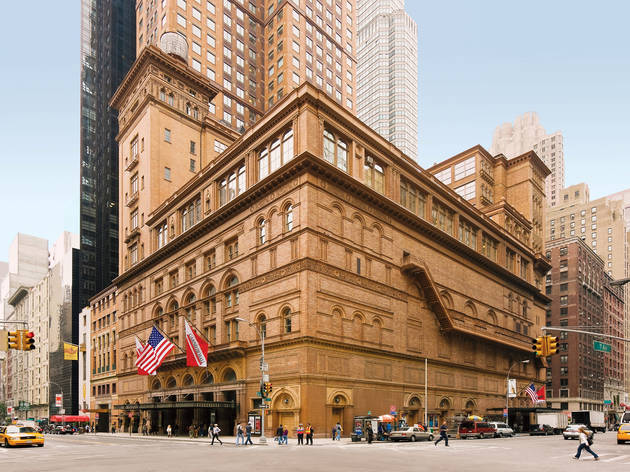 3/23
Carnegie HallHard to believe that in 1960, this space was at risk for demolition to make way for one more soulless skyscraper. Thanks to the legendary violinist Isaac Stern, whose name now graces the venue's 2,804-seat main auditorium, the concert hall that once hosted Tchaikovsky (during its opening-night concert in May 1891), Benny Goodman, Duke Ellington and the Beatles survived. The world's greatest orchestras, instrumentalists and singers continue to honor its three stages (including the gemlike Weill Recital Hall and the chic subterranean Zankel Hall); lately, a growing number of prominent world-music acts and even rock bands have joined the mix. 154 W 57th St between Sixth and Seventh Aves (212-247-7800, carnegiehall.org)
4/23
Photograph: Virginia Rollison
Central ParkTrying to explore the entirety of this massive green space in one day would be an exercise in futility. There's simply too much to see, from wide-open expanses like Sheep Meadow and the Great Lawn to landmarks like Strawberry Fields, Bethesda Fountain and the Reservoir. But the plethora of things to do—along with the park's gorgeous design, the work of landscape architects Frederick Law Olmsted and Calvert Vaux—ensure that it remains one of the city's most beloved spots. Check out our ultimate guide to Central Park for a comprehensive look at the green space's attractions. 59th St to 110th St between Fifth and Eighth Aves (212-310-6600, centralparknyc.org)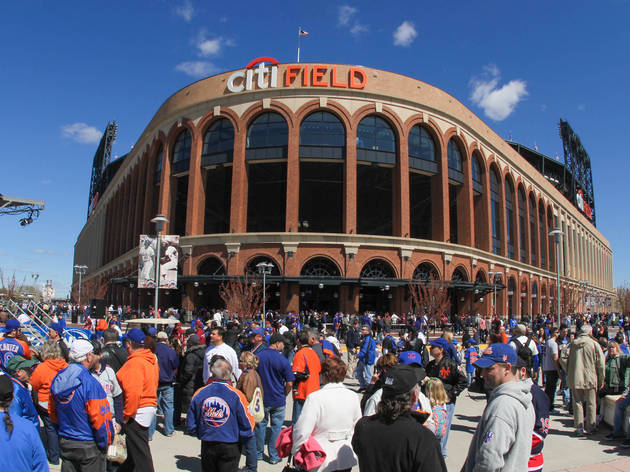 5/23
Photograph: Dominick Totino
Citi FieldThe three-year-old home of the New York Mets features a wide-open design that offers a good view of the field from any angle. Plus, the new, smaller dimensions of the stadium's outfield may send a few more home runs into the stands. The stadium was even bestowed with a quirky honor when it opened in 2009: A model of the ballpark was added to The Panorama of the City of New York, a to-scale representation of the five boroughs built for the World's Fair in 1964 (currently on view at the Queens Museum of Art). Find more things to do near the stadium in our Citi Field neighborhood guide. Roosevelt Ave at 126th St, Flushing, Queens (718-507-6387, mets.com)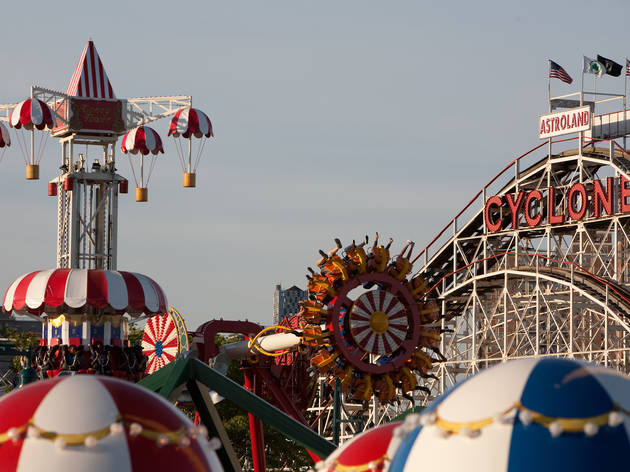 6/23
Photgraph: Robert & Robbie Bailey
Coney IslandThe gritty charm of old Coney may be on its way out, but there are still plenty of ways to experience the seaside area's quirkier past. Ride the 85-year-old Cyclone, which still packs as much of a punch as any of the newer coasters in splashy Luna Park (which opened in 2010), or pop into the Coney Island Museum, a repository of artifacts—like fun-house mirrors and vintage bumper cars—that offer a glimpse into what it was like on the Poor Man's Riviera in the early 20th century. Learn about more of the area's attractions with our Coney Island guide.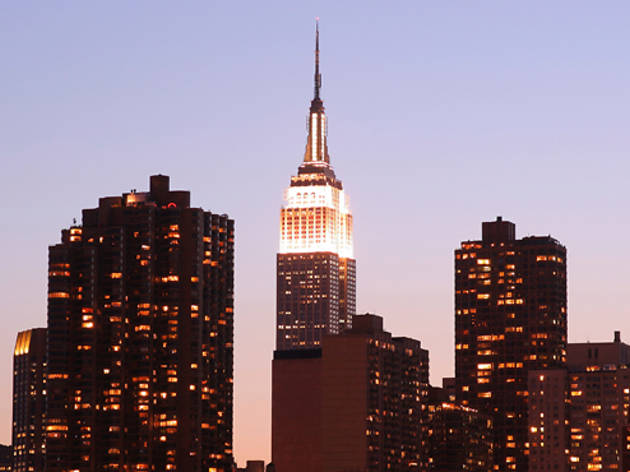 7/23
Empire State BuildingNo mere sightseeing spot, this 80-year-old landmark is simply one of the most stunning buildings in New York City. Even though more modern skyscrapers have sprung up around it, the building's Art Deco flourishes—check out the lobby, restored to its original gilded splendor in 2009—and sheer size cause us to crane our necks and stare upward every time we pass by. The views from the building's observatory decks (on the 86th and 102nd floors) have always been among the city's best. 350 Fifth Ave between 33rd and 34th Sts (212-736-3100, esbnyc.com)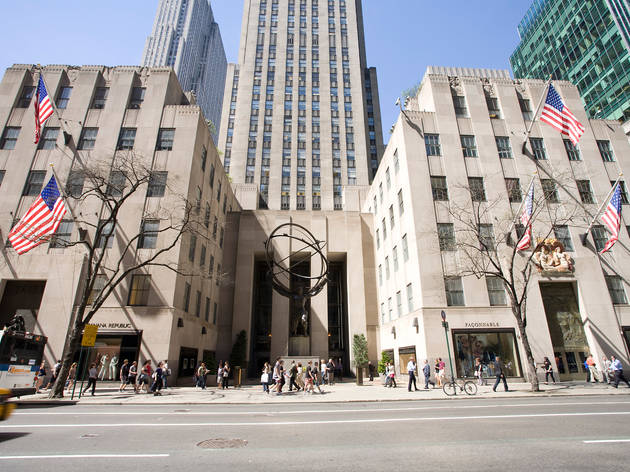 8/23
Photograph: Jay Muhlin
Fifth AvenueYes, it's basically an upscale shopping mall stretched over several blocks, but there are still plenty of amazing sights along this storied thoroughfare. Don't miss the landmark main branch of the New York Public Library at 42nd Street, or the plethora of cultural institutions that line Museum Mile, from 82nd to 110th Streets.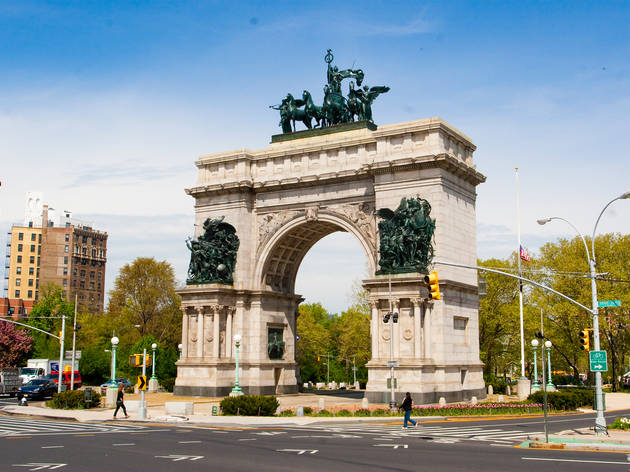 9/23
Grand Army PlazaNavigating around this spot can be slightly terrifying—several of Brooklyn's major thoroughfares, including Eastern Parkway and Flatbush Avenue, converge here. But the space, which marks the northern entrance to bucolic Prospect Park, features a number of noteworthy attractions: The Grand Army Plaza Greenmarket sets up shop every Saturday, while the Soldiers and Sailors Memorial Arch in the middle of the plaza serves as a monument to Union soldiers who fought in the Civil War. Enter at Flatbush Ave and Prospect Park West, Prospect Heights, Brooklyn (prospectpark.org).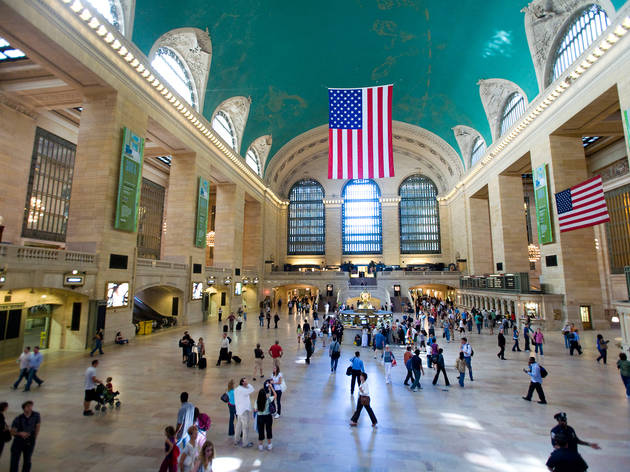 10/23
Photograph: Jeffrey Gurwin
Grand Central TerminalThis much-trafficked commuter hub celebrates its centennial in 2013 with a whole host of special events. Until then, we recommend wandering through the station (preferably not during rush hour) to glimpse of its historic sights: For instance, the ceiling above the Main Concourse is printed with a celestial pattern, but one blackened spot—a remnant from when the ceiling was covered with smoke and soot—remains above the Michael Jordan Steakhouse. You can also spot a hidden staircase in the Main Concourse: Look for the brass cylinder at the center of the main information booth. 42nd St to 44th St between Vanderbilt and Lexington Aves (212-340-2583, grandcentralterminal.com)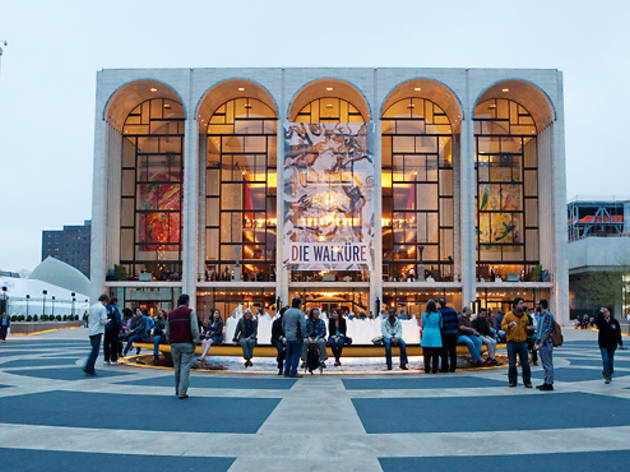 11/23
Lincoln CenterThis cultural mecca is home to some of New York City's most important institutions, including the Metropolitan Opera, New York City Ballet and the Film Society of Lincoln Center. Its campus is nearly as well-known as those organizations: The fountain in its main plaza, for instance, has been featured in films such as Ghostbusters and Moonstruck. Enter at Broadway and W 65th St (lincolncenter.org)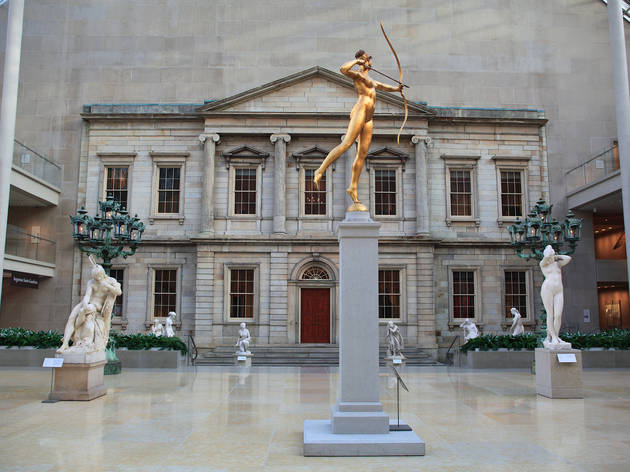 12/23
Photograph: Wendy Connett
Metropolitan Museum of ArtYou need more than just 24 hours to fully explore the masterworks on display at this venerable institution: The Met's collection is seemingly endless, spanning creepy Egyptian tombs to shimmering Impressionist paintings to an unparalleled costume collection. During the summer, the Iris and B. Gerald Cantor Roof Garden features a contemporary sculpture exhibit—and doubles as one of NYC's best rooftop bars. Once you're there, check out these ten must-see works of art at the Met. 1000 Fifth Ave at 82nd St (212-535-7710, metmuseum.org)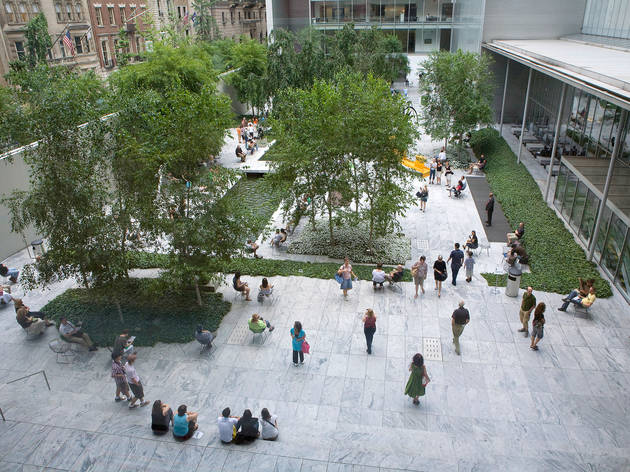 13/23
Museum of Modern ArtIn addition to its unparalleled holdings of 20th- and 21st-century art, MoMA offers cool amenities like its plush movie theater, which has multiple screenings throughout the day. And then, of course, there's the MoMA Design Store. Oh, did we mention that besides spending the day, you might be tempted to spend some serious money? 11 W 53rd St between Fifth and Sixth Aves (212-708-9400, moma.org).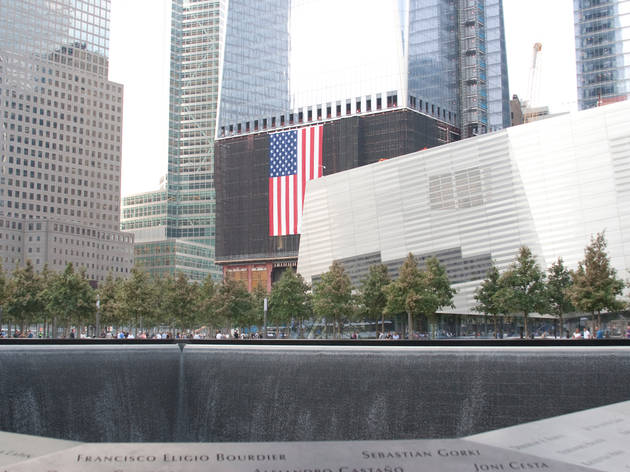 14/23
Photograph: Lee Magill
The 9/11 MemorialYears of planning went into this monument, which opened on the tenth anniversary of the September 11 attacks. Called "Reflecting Absence," the design by architect Michael Arad features two reflecting pools that sit within the footprint of each of the Twin Towers. The water elements are surrounded by oak trees, which were planted in the spots where structural steel columns for each tower once stood. The resulting 16-acre plaza is a somber, yet peaceful, remembrance of those lost on 9/11. Enter at Albany and Greenwich Sts (212-312-8800, 911memorial.org).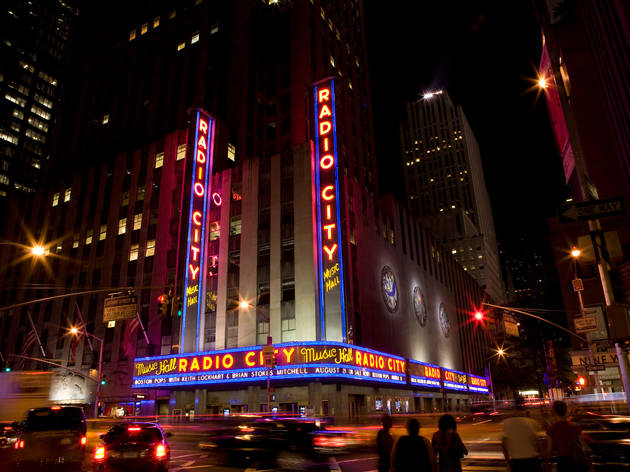 15/23
Photograph: Michael Kirby
Radio City Music HallFew rooms scream "New York City!" more than this gilded hall, which opened in 1932. Its Art Deco interior is as impressive as the notable names that have performed there—recent headliners include Pulp and Barry Manilow. (Not to mention its long-running Christmas Spectacular, featuring the Rockettes.) You can get a behind-the-scenes look at the venerable theater during its regular Stage Door Tour. 1260 Sixth Ave at 50th St (212-247-4777, radiocity.com)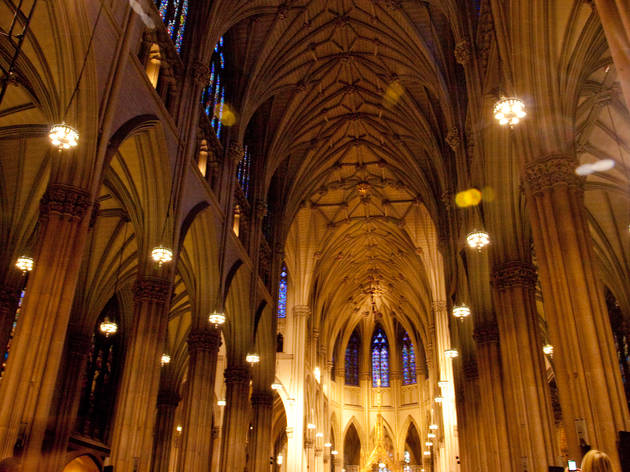 16/23
St. Patrick's CathedralThis legendary house of worship counts Presidents, movie stars and business moguls among past and present attendees. While its intricate marble towers are a marvel of Gothic Revival architecture, St. Pat's interior—including the Louis Tiffany–designed altar and spectacular rose window—is tremendous as both a feat of master craftsmanship and a source of spiritual inspiration. 14 E 51st St between Fifth and Madison Aves (212-753-2261, saintpatrickscathedral.org)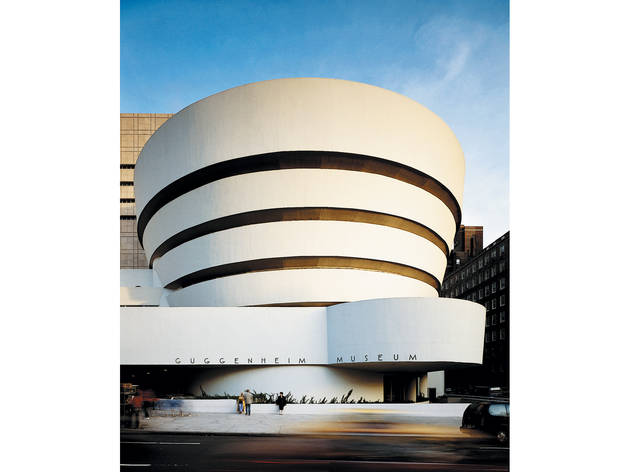 17/23
Solomon R. Guggenheim MuseumThe Gugg is as famous for its landmark building—designed by Frank Lloyd Wright and restored for its 50th birthday in 2009—as it is for its impressive collection and daring temporary shows. The museum owns Peggy Guggenheim's trove of Cubist, Surrealist and Abstract Expressionist works, along with the Panza di Biumo Collection of American Minimalist and Conceptual art from the 1960s and '70s. In addition to works by Manet, Picasso, Chagall and Bourgeois, it holds the largest collection of Kandinskys in the U.S. 1071 Fifth Ave at 89th St (212-423-3500, guggenheim.org)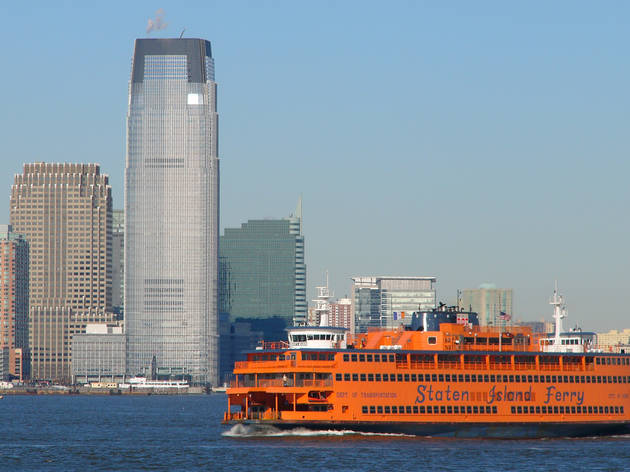 18/23
Staten Island FerryReasons to love this commuter barge: It's free, you can drink beer on it, and during its 25-minute crossing, you get superb panoramas of lower Manhattan and the Statue of Liberty. South St at Whitehall St (siferry.com)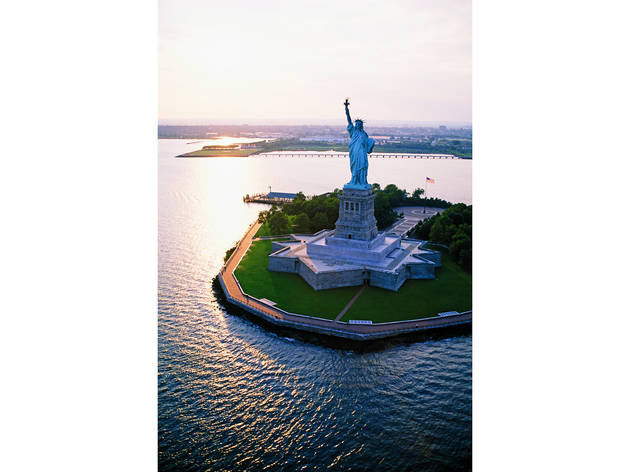 19/23
Statue of LibertyThe monument also known as Liberty Enlightening the World was dedicated on October 28, 1886, after decades of planning and fund-raising. Though the interior of the massive sculpture is currently closed for renovations, visitors can still stroll around Liberty Island—while you're there, look for an iron statue of Joseph Pulitzer at the walkway near the left entrance to the statue, one of five pieces commemorating individuals who helped bring Lady Liberty to our shores. Liberty Island (212-363-3200, nps.gov/stli)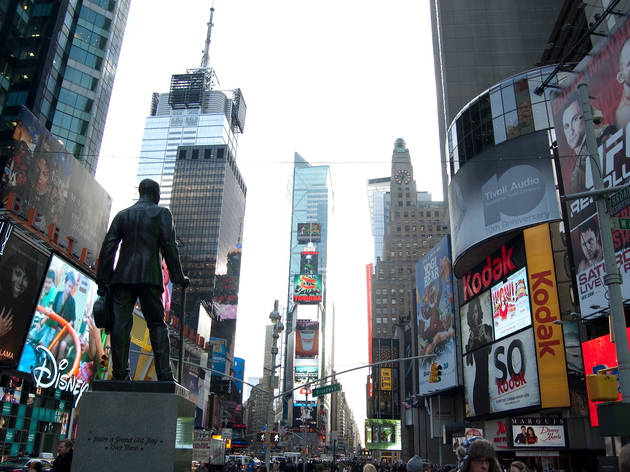 20/23
Times SquareFun fact: When The New York Times moved into 1 Times Square on December 31, 1904, the paper threw an all-day party with a fireworks finale to celebrate the occasion. The spectacle was so legendary that New Yorkers quickly stopped celebrating New Year's Eve at Trinity Church in favor of the new spot. A tradition started three years later, when a 700-pound sphere made from wood and iron was lowered at midnight to ring in 1908. Times Square Visitor Center, 1560 Broadway between 46th and 47th Sts (212-484-1222, timessquarenyc.org)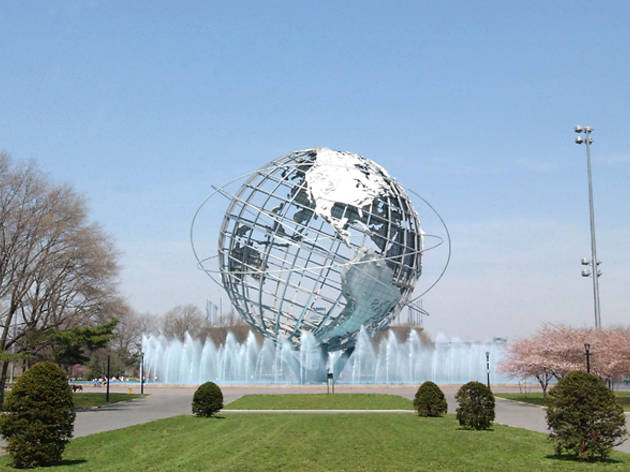 21/23
The UnisphereThis towering landmark within Flushing Meadows–Corona Park, which weighs in at more than 30 tons and stands 140 feet high, was built for the 1964 World's Fair. Keeping with the exposition's theme of the space age and new technologies, the rings circling the steel globe represent three celestial achievements: Yuri Gagarin's orbit of the Earth, John Glenn's trip around the planet and the launch of the Telstar communications satellite. 111th St to Van Wyck Expwy between Flushing Bay and Grand Central Pkwy, Flushing, Queens (nyc.gov/parks)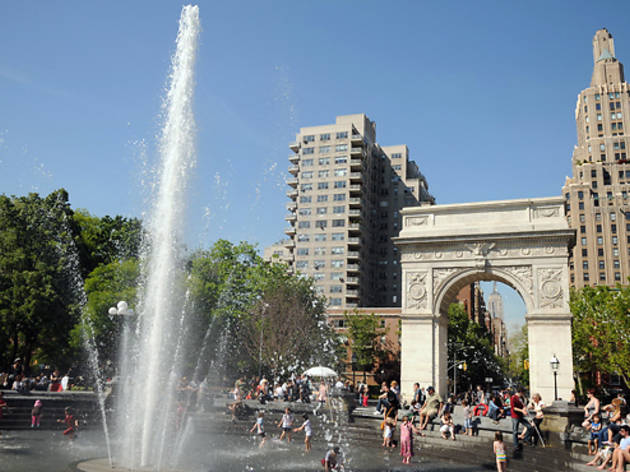 22/23
Washington Square ParkThis Greenwich Village space and the iconic arch situated at its northern end are both named for George Washington. A wooden version of the marble structure was first erected in 1889 to celebrate the centennial anniversary of Washington's inauguration as the country's first President; the permanent memorial followed in 1892.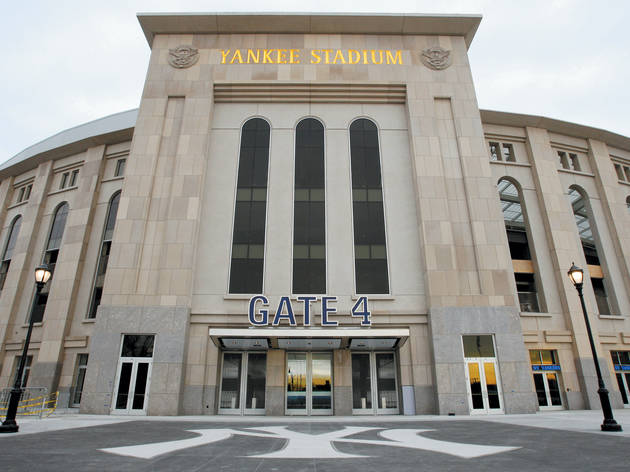 23/23
Photograph: Courtesy New York Yankees
Yankee StadiumThe Bronx Bombers' schmancy new stadium opened in 2009, and boasts wider seats and more legroom than its predecessor. Those looking for mementos of the old ballpark can check out spots such as Monument Park, which honors former Yankees, behind center field. For more things to do near the ballpark, check out our Yankee Stadium neighborhood guide. 1 E 161st St between Jerome and River Aves, Bronx (718-293-4300, newyork.yankees.mlb.com)
Photos: New York City's top attractions
Take our photo tour of the city's best-loved sights and learn what makes these New York landmarks such icons.